Classic Irish Colcannon Recipe The Ultimate Comfort Food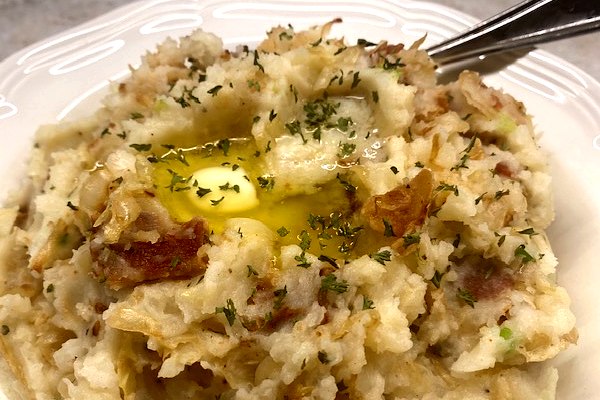 Classic Irish Colcannon is the ultimate comfort food, and it's cheap to make. How can you go wrong with a dish loaded with butter, cabbage, onions, mashed potatoes, and bacon?
Irish Chef Richard Corrigan maintains, "there's no such thing as a recipe for Colcannon, really. It's something that is put together with love, not measurements." Generally speaking, that's the way I cook, which is why my biggest challenge in writing about food is to provide specific measurements.
I've been eager to learn about Classic Irish Colcannon for a long time because it is a potato-based dish. I made my first batch a while back, and we devoured it. But then, my full-blooded German husband never met a potato he didn't like. I thought it would be good to try something new, but it wasn't a tough audience. We've found a new favorite dish!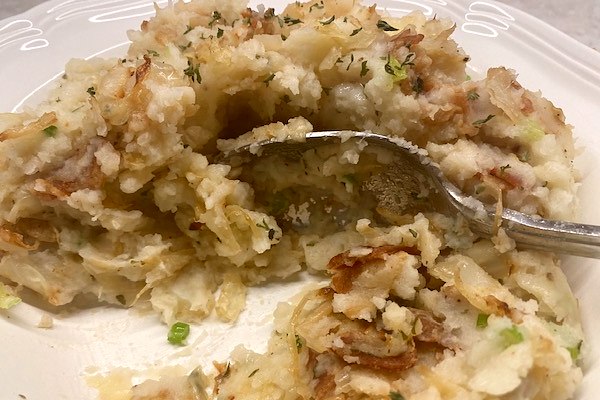 I joke about my husband's German ancestry (he can't help it) and his affinity for spuds, but there was a time in Ireland when potatoes weren't just a thing; they were everything to a certain population sector.
Potatoes were once the staple of existence for the poor in Ireland. Potatoes were the difference between sickness and health, almost to the point of life or death. Here is a fascinating article about the importance of the potato in nineteenth-century Ireland.
How To Make Classic Irish Colcannon
Remember the words of Irish chef Richard Corrigan, "there's no such thing as a recipe for Colcannon, really. It's something that is put together with love, not measurements." Colcannon does not require precision. 😉 That's good for me because precision is not my gift!
After 50 years of marriage to Papa, I thought I knew everything there was to know about potatoes. Still, the term "floury" is a relatively new bit of potato terminology for me. Begin by boiling some "floury" potatoes like Russets. Floury potatoes are low in water content, and most of their sugar has been converted to starch by harvest time. This quality leads to a dry, fluffy, cooked texture accentuated by baking and mashing. 
The dry, starchy consistency of Russet potatoes enhances their ability to absorb all the wonderful butter, cream, or bacon drippings that give Colcannon such massive flavor.
I peeled the potatoes, but some suggest cooking them in the skin, peeling them, then mashing them for more flavor. I peeled mine first because I hate burning my fingers! Put the potatoes in a pot with just enough water to cover them.
While the potatoes are boiling, cut the bacon into small pieces, fry them until they are crisp, and set the bacon aside. Saute shredded cabbage and chopped onion in the bacon drippings until they are soft and start to get transparent.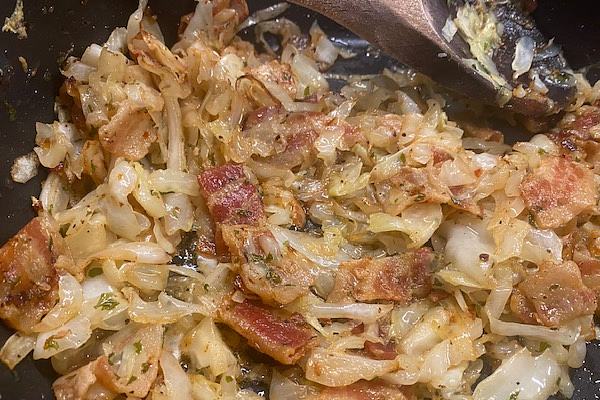 Then, drain and mash the potatoes but leave them a little chunky and rustic. Colcannon isn't the place for whipped potatoes. Now, fold the green onions, cabbage-onion-bacon mixture, and every bit of the drippings into the mashed potatoes. Sprinkle the bacon bits over the top, dot with more butter, sprinkle with parsley for pretty, and serve it piping hot!
Yield: 8 servings
Classic Irish Colcannon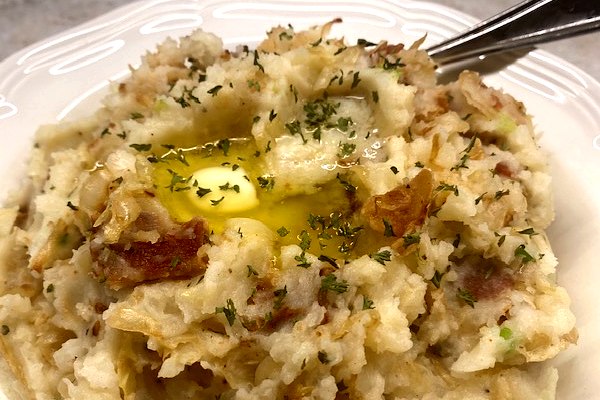 The ultimate Irish comfort food combines mashed potatoes, cabbage, onion, butter, and bacon!
Ingredients
3 pounds of Russet or other floury potatoes, peeled and cut into chunks
I tsp salt
2 sticks of butter
1 cup of milk or light cream
I small head of white cabbage, cored and finely shredded
1/2 pound of good quality bacon, cut into pieces about 1" long
1 medium yellow onion, chopped
4 green onions, thinly sliced, including part of the green.
Fresh ground pepper
Parsley for garnish, optional
Instructions
Put potatoes in a pot with salt and just enough water to barely cover them.
Put potatoes on the stove to boil.
Put bacon pieces in a skillet and fry over medium heat until crisp, then set bacon aside.
Put chopped onion and shredded cabbage in the skillet with bacon drippings and two tablespoons of butter and fry until cabbage is soft and wilted and onions are transparent and fragrant.
Drain and mash the potatoes with the milk or cream, and one stick of butter cut into pats. Potatoes should be mashed, leaving some texture. Don't whip the potatoes.
Fold the cabbage-onion mixture and the green onions into the potatoes and sprinkle with bacon and parsley if desired. Put one tablespoon pat of butter on each serving. Serve piping hot.

Nutrition Information:
Yield:
8
Serving Size:
1
Amount Per Serving:
Calories:

554
Total Fat:

44g
Saturated Fat:

22g
Trans Fat:

1g
Unsaturated Fat:

20g
Cholesterol:

122mg
Sodium:

1452mg
Carbohydrates:

17g
Fiber:

2g
Sugar:

3g
Protein:

22g
We had some wonderful beef Polska kielbasa with our Classic Irish Colcannon. I had charred it a bit, so it looked really tasty. It was a good-looking plate, but imagine what you could do with a wee bit more effort! The humble food of potatoes, cabbage, onion, carrot, and sausage in the photo below makes a feast for a king!
Have you ever had Colcannon? Have you ever heard of it? It would be a perfect dish to serve for St. Patrick's Day, but any cold night when you need something cozy to eat is a wonderful night for Colcannon! You would probably enjoy it with Irish Stew with Guinness and Irish Soda Bread! We hope you try it and if you do, send us a picture!! We would be so tickled we'd dance a jig in a green bowler hat!!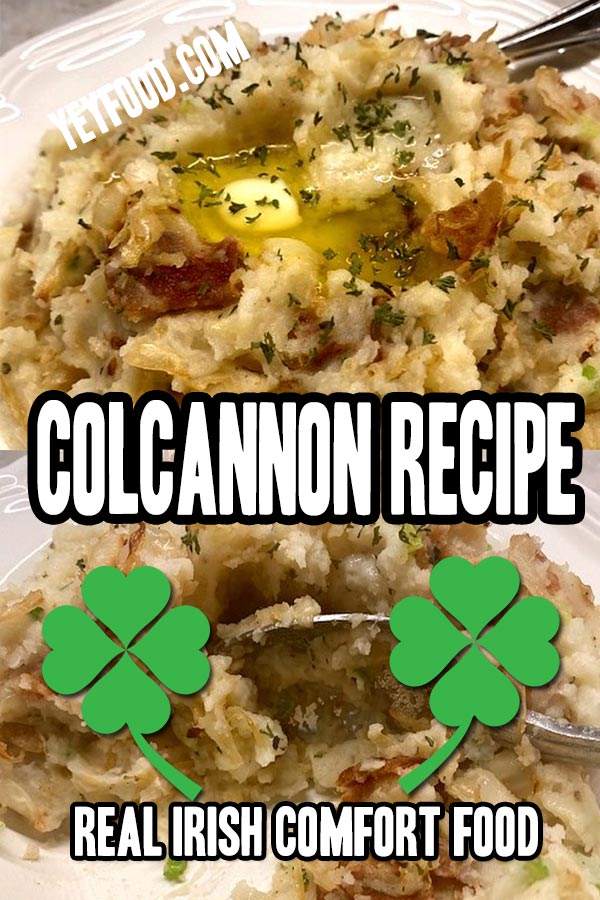 MORE OF OUR QUICK AND EASY FAMILY-STYLE RECIPES:
The Ultimate Bread and Butter Pickle Recipe
The Number 1 Practically Perfect Poppy Seed Bread
Oven-Baked Steak With Brown Gravy
If you like these recipes, you are our people! You can check some related articles below or search via categories on the right. But, be warned; you will be on here for hours. Enjoy!