Traditional Irish Soda Bread With Raisins Recipe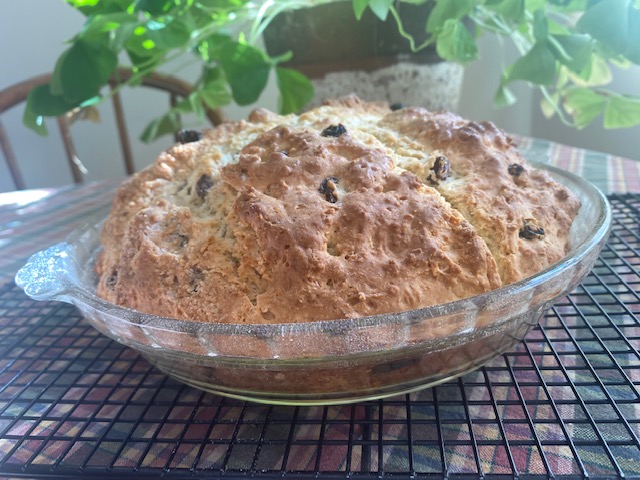 Here is a recipe for Irish soda bread as it's meant to be! The raisin-studded loaf is tender, moist, and not too sweet. It slices beautifully and has a slightly chewy crust. I slathered the first wee bite with sweet, creamy butter while the loaf was still warm. Aye, it was pure heaven!
St. Patrick's Day is a perfect excuse for some revelry, fun, and great food! It's been said that we are all Irish on March 17! By the time March rolls around, most of us are winter-weary, hungry for some green and a little excitement. But this bread is so easy and so good, don't limit it to a once-a-year treat!
Irish Soda Bread Was A Product Of Native American Ingenuity
While soda bread is almost synonymous with Ireland, it was an invention of Native Americans. The Native Americans discovered they could use pearl ash, a natural form of soda in wood ash, to leaven their bread. This process inspired baking soda, first introduced commercially in about 1830.
The Irish later discovered and replicated the process. While it seems like an ancient recipe, Irish soda bread came into existence when baking soda, also known as sodium bicarbonate, was first introduced to Ireland.
Various flavors like molasses, Guinness, orange zest, or nuts make endless possibilities in the variety of Irish soda bread. While the basic ingredients have remained the same, many Irish families add unique extras like raisins, caraway seeds, or honey. No matter the flavor, the way to eat it remains the same, slice it or split it and slather it with creamy Kerrygold Irish butter!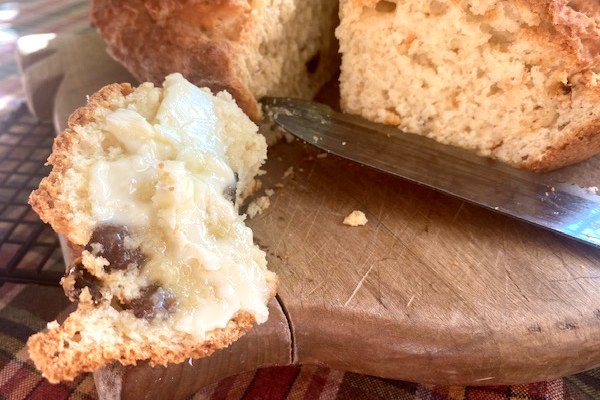 Irish soda bread is a "quickbread." There is no yeast involved in the baking process. Instead, soda bread uses the reaction between baking soda, an alkali, with buttermilk and sour cream, which are both acidic, to create the carbon dioxide bubbles that give the bread it's leavening.
That means you can whip out a loaf of the incredibly delicious bread in about an hour, including cooling time!
I used a food processor to make my first loaf. The first step is to combine the dry ingredients. Then, butter is thoroughly worked into the dry ingredients until the mixture resembles coarse crumbs, then pour it into a mixing bowl.
The wet ingredients are beaten together in a separate bowl. Form a well in the dry ingredients and pour in the buttermilk, egg, and sour cream mixture. Start with just a cup of buttermilk and add more if the batter seems too dry.
Once the dough is evenly moist, fold in the raisins. I always like to plump up raisins by giving them a short soak in hot water. This process makes them stay more tender while they bake. Be sure to drain off the water and press out any excess moisture before stirring the raisins into the dough.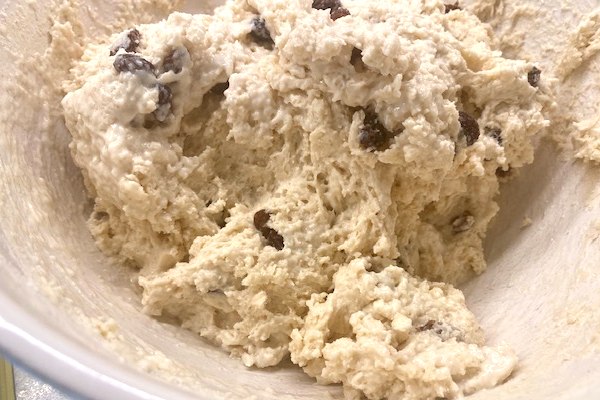 Form the dough into a ball and place it in a greased nine-inch pie plate, round baking dish, or cast-iron skillet. Use a serrated knife to slash an equal-sided cross on the top of the loaf, dust the top with about a teaspoon of flour, then bake it for about thirty to thirty-five minutes at 350 degrees.
The crust should be a golden brown, and a cake tester or skewer should come out clean when inserted in the fattest part of the loaf. If it does not, bake five more minutes and test again. Repeat if necessary; all ovens are different! I brushed my loaf with melted butter because I love how it looks!
Did You Ever Wonder Why The Irish Cut A Cross On Their Soda Bread
Are you wondering about the purpose of the cross on top of the loaf? I found this brilliant explanation on a website called eatouteatwell.com.
"Before baking, a cross is traditionally cut on the top of the soda bread loaf with a knife – often said to ward off the devil and to protect the household.
Legend and symbolism aside, there's a practical reason for the cruciform shape cutting into the dough's top. Slashing the dough lets heat penetrate the thickest part of the bread and allows the loaf to stretch and expand as it rises.
Slashing a round loaf with a cruciform shape also divides the bread into quadrants that can be broken apart (the breaking of the bread.) Ireland is a Catholic country, so the symbolism of the cross can represent a blessing by crossing the bread and giving thanks."
I found the cross made it easy to cut the loaf in fourths for sharing, and each quadrant sliced into perfectly portioned servings!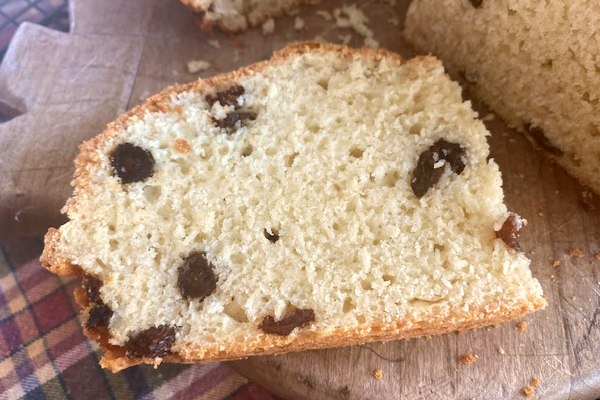 Everyone in the family is crazy about this bread and can't wait for me to bake another loaf. It is great toasted, by the way! This bread is the perfect accompaniment to a traditional St Paddy's day feast of colcannon and Irish stew!
It's just what you need for mopping the bowl clean, so you don't miss a drop! If you have room, here are some wonderful Irish desserts to top of the meal!
Yield: 16
Irish Soda Bread With Raisins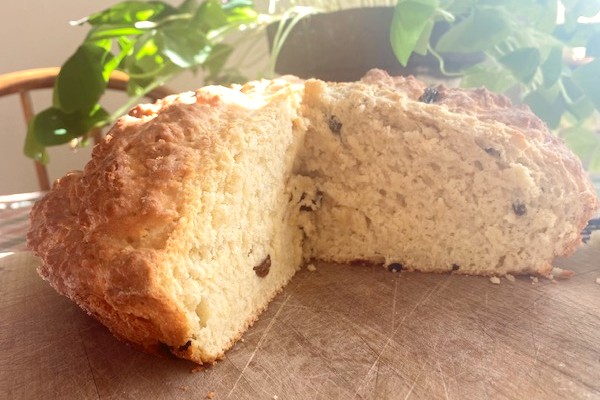 A beautiful, moist bread that's slightly sweet. Traditional for St. Patrick's Day, perfect any time!
Ingredients
4 cups all-purpose flour plus more for dusting
1/2 cup sugar
1 tsp salt
1 tsp baking powder
1 tsp baking soda
4 Tbsp butter, softened to room temperature
1 large egg
1 to 1 1/2 cups low fat buttermilk
1 cup sour cream
1/2 to 1 cup raisins depending on how much you like raisins.
Melted butter for brushing, optional.
Instructions
Preheat oven to 350 degrees.
Grease a 9" round baking pan, pie plate, or cast-iron skillet.
Pour hot water over raisins to plump them.
Mix all dry ingredients in a large bowl. I used a food processor.
Add softened butter and blend well until the mixture resembles coarse crumbs. You can use your hands. However, I also used the food processor for this step and then emptied it into a large mixing bowl.
Beat together the egg, one cup of buttermilk, and sour cream in a separate bowl. I did this in the empty food processor.
Make a well in the dry ingredients and pour in the wet mixture. Start with this and if the mixture seems too dry, add buttermilk a little bit at a time.
Drain the raisins, press out any excess moisture, and fold them into the dough.
Form the dough into a ball and place it in the greased pan of your choice.
Use a serrated knife to slash a cross in the center of the loaf.
Dust with a teaspoon of flour.
Bake for about 35 minutes or until the crust is golden brown and a skewer or cake tester comes out clean when poked in the center of the loaf.
Brush the loaf with melted butter if you like, and let the loaf cool for at least 30 minutes before slicing.
What do you do to celebrate St. Patrick's Day? Do you make a special meal? Have you ever baked Irish soda bread? If you do, we will dance a jig if you'd send us a picture! We LOVE hearing from you!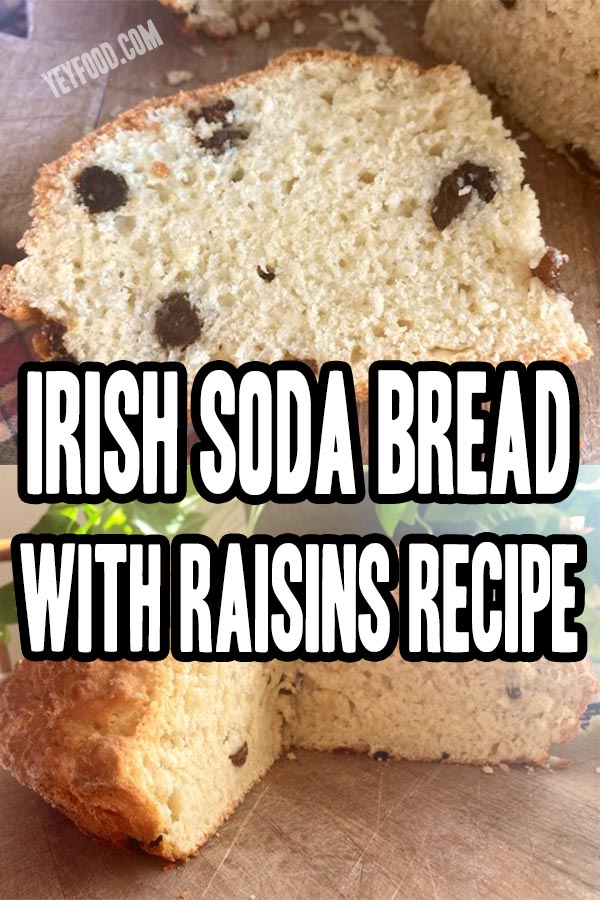 MORE OF OUR QUICK AND EASY FAMILY-STYLE RECIPES:
The Ultimate Bread and Butter Pickle Recipe
The Number 1 Practically Perfect Poppy Seed Bread
Oven-Baked Steak With Brown Gravy
If you like these recipes, you are our people! You can check some related articles below or search via categories on the right. But, be warned; you will be on here for hours. Enjoy!