Rhubarb Skillet Cake With Strawberries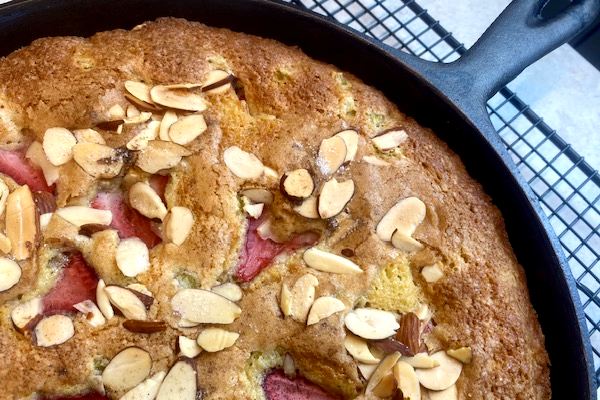 Make this simple, rustic rhubarb skillet cake in a cast-iron skillet for a beautiful presentation. The rich, buttery batter is studded with diced rhubarb, then garnished with fresh strawberries, sliced almonds, and coarse sugar for a sweet, crunchy top.
You can stir it up quickly. The strawberries bake into yummy little pockets of jamminess. Serve it right from the skillet, warm, with a scoop of ice cream! It makes a beautiful presentation, and eating it is pure bliss!
The tangy stalks will be available for a few more weeks, so we rhubarb fanatics will eat as much as possible and continually invent new ways to prepare it.
One Easy Step Will Keep Rhubarb From Sinking To The Bottom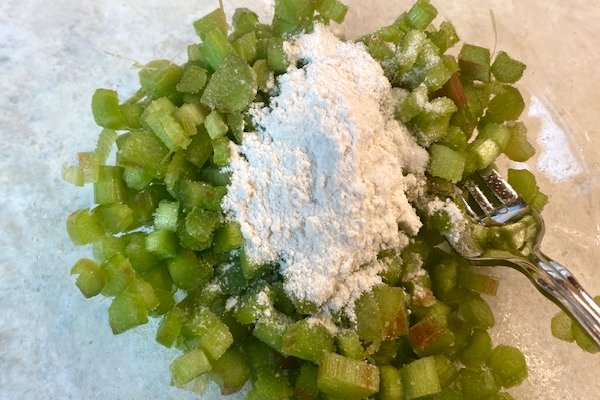 Begin by tossing the diced rhubarb with two tablespoons of sugar and a tablespoon of flour. This step coats the rhubarb and helps to keep it suspended and evenly distributed in the cake. Set it aside while you make the simple batter.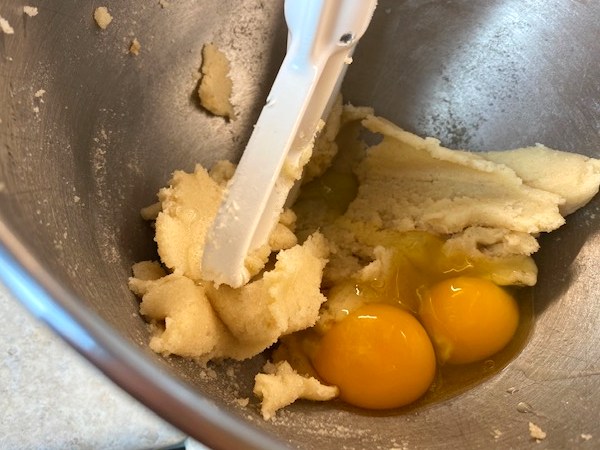 Cream the butter and sugar until it is light and fluffy, then add the eggs, sour cream, and vanilla and beat again until everything is blended nicely. Fold in the rhubarb and spread the batter evenly in a ten-inch cast-iron skillet you have sprayed well, sides and bottom, with non-stick spray.
Here's a fun little trick with strawberries I came up with accidentally! Wash whole fresh strawberries and pat dry. Remove the hull by cutting a v-shape on the top of the berry. Before baking, add a delicious and beautiful garnish.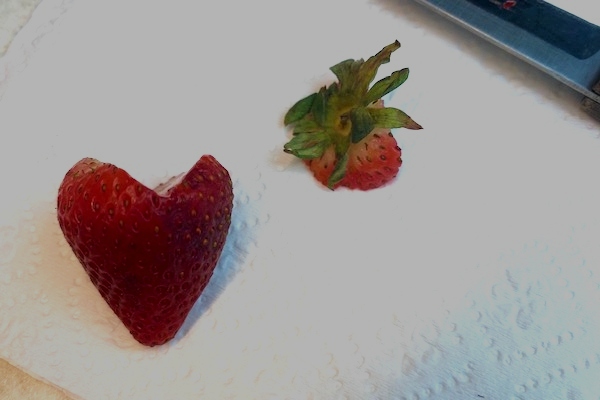 Now cut it in half lengthwise across the "v," and tada! You have sweet heart-shaped berries! These are so cute on sundaes or shortcakes and in fruit salads!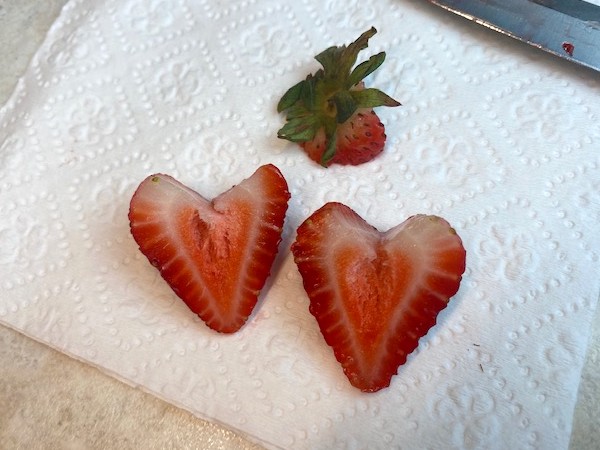 Cut six or more fresh strawberries into heart-shaped halves, and press them into the batter. Next, add about one-half cup of sliced almonds and two tablespoons of coarse sanding sugar.
This rhubarb skillet cake is gorgeous before it ever hits the oven! The berries will bake into sweet little heart-shaped surprises, and the sugar provides sparkle and crunch! It's gorgeous!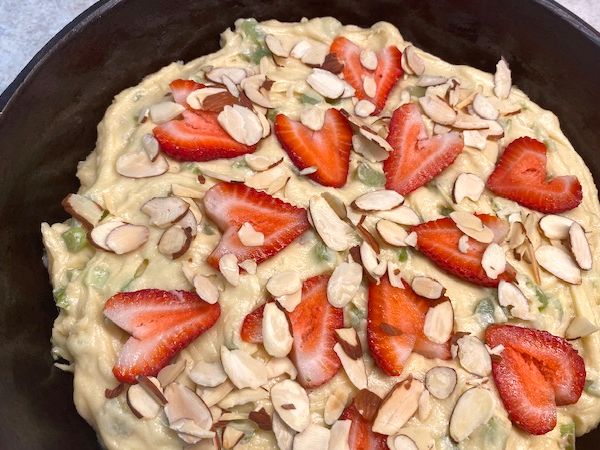 There is something magical about cast iron. It is virtually indestructible and, with proper care, can last longer than a lifetime. Cast-iron produces a lovely crisp crust on anything you bake in it, so cake in a skillet? Yes, please! My cast iron skillets are all older than me, and I'm old!😉
Yield: 10 servings
Rhubarb Skillet Cake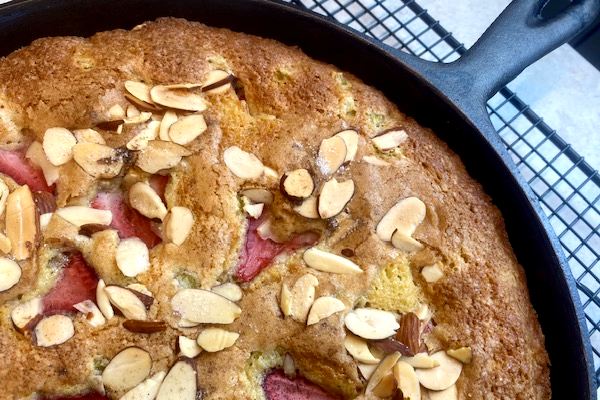 A simple, rustic, buttery cake studded with diced rhubarb, garnished with fresh strawberries and sliced almonds, then baked in a cast-iron skillet. Serve it right from the skillet!
Ingredients
CAKE INGREDIENTS
2 cups raw rhubarb, diced fine
1/2 cup butter, softened to room temperature
2 eggs
1 tsp vanilla
1/2 cup sour cream
1 cup sugar plus 2 Tbsp sugar for rhubarb
1/4 cup brown sugar
1 tsp baking powder
1 tsp baking soda
1 1/2 cup flour plus 1 Tbsp for rhubarb
1/2 tsp kosher salt
GARNISH
1/4 cup sliced almonds
6 fresh strawberries
2 Tbsp coarse sugar
1/2 tsp ground nutmeg or cardamom (optional)
Instructions
Preheat the oven to 350 degrees.
Spray the bottom and sides of a 10-inch cast-iron skillet with non-stick spray.
Sprinkle the diced rhubarb with 1 Tbsp flour and 2 Tbsp of sugar, and stir until it coats the rhubarb evenly.
Cream the butter and sugar.
Add the eggs, vanilla, and sour cream and beat with a mixer at medium speed until the batter is well blended.
Gradually add the flour, scraping down the sides of the bowl until all of the flour is incorporated.
Fold in the rhubarb.
Spread the batter evenly in the skillet.
Wash, dry, and cut the strawberries in half, forming a heart shape. Press strawberries attractively on top of the batter.
Sprinkle with sliced almonds and coarse sugar, then with nutmeg or cardamom if desired.
Bake for about 40 minutes until a toothpick inserted in the center comes out clean, and the crust is golden brown.

Forgot How To Compute Square Inches How To Choose A Different Pan
Even if you do not have a cast-iron skillet, make this cake anyway! You can use a nine-inch square or a ten-inch round pan. If your math is rusty, here are some comparisons. A 10″ skillet (or round baking pan) has 78.5 square inches. A nine-inch square pan has 81 square inches, so either would work great!
I love my 11″ x 7″ glass baking pan, and it would be perfect, too. You could even bake it in a 9″ x 13″ cake pan. At 117 square inches, the cake would be thin, and you would need to watch the baking time, but it could work. Don't let a pan size stop you from enjoying this yummy rhubarb skillet cake, skillet or no skillet!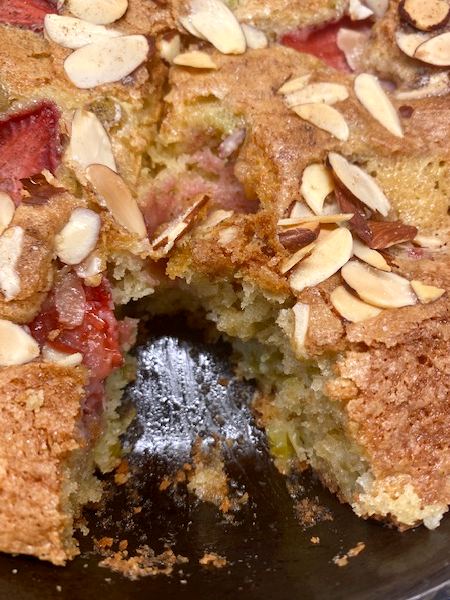 If you do not eat all the cake, I suggest moving it into another covered container for storage. Use lots of hot water and a brush to clean your cast-iron skillet. You shouldn't use detergent on cast iron as a rule.
Dry the skillet well and put a very light coat of vegetable oil or olive oil before putting it away. Be sure to wipe out any excess so the skillet doesn't get gummy in storage.
Do you love rhubarb? We sure do! Some of our most popular rhubarb recipes are Rustic Rhubarb Bread, Rhubarb Muffins with Streusel Top, and Magic Rhubarb Pudding Cake.
Hungry for even more rhubarb recipes? Type rhubarb in the search bar! Do you have a favorite you'd like to share? We hope so, and we LOVE it when you send pictures! ❤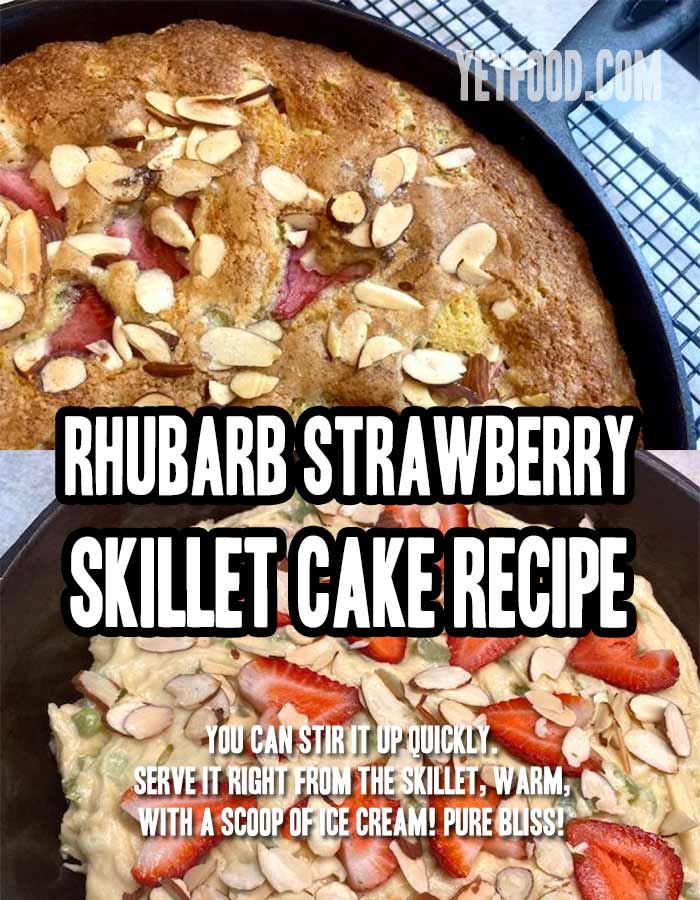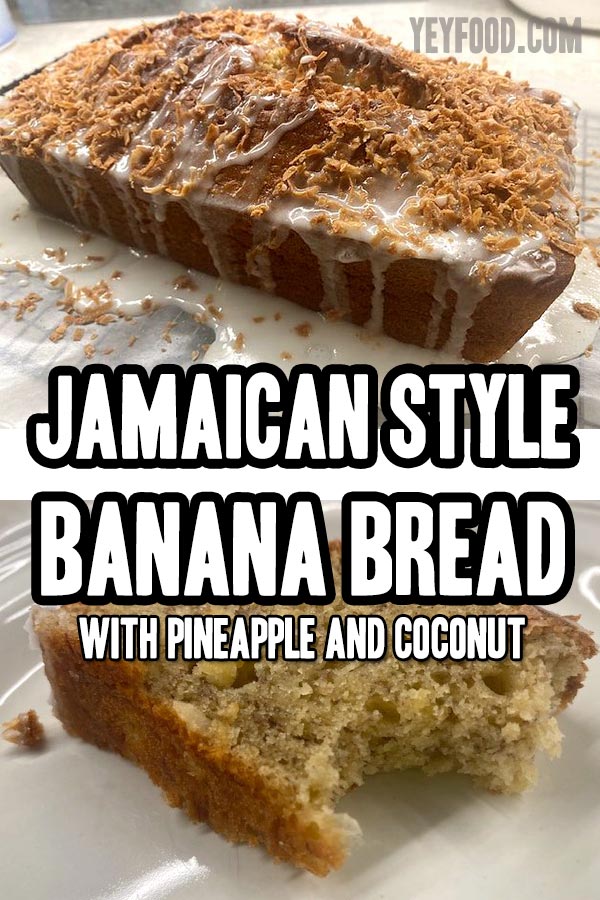 The Ultimate Bread and Butter Pickle Recipe
The Number 1 Practically Perfect Poppy Seed Bread
Oven-Baked Steak With Brown Gravy
If you like these recipes, you are our people! You can check some related articles below or search via categories on the right. But, be warned; you will be on here for hours. Enjoy!