One Bowl Rhubarb Muffins With Streusel Top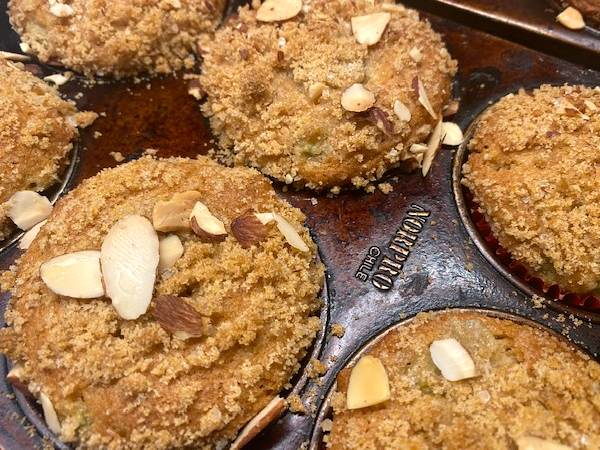 These one-bowl rhubarb muffins are the sweet children of my wildly popular rustic rhubarb bread. It is the exact recipe, baked in muffin tins with cupcake liners. I only changed one thing. I added a streusel topping and some crunchy sliced almonds for good measure.
Despite the drought and seemingly endless wind, I was ecstatic to find that my rhubarb had grown enough to pull a few stalks and try a batch of muffins. I could not resist, even though I have a little left in the freezer, but I will use it up before the new rhubarb crop starts producing heavily.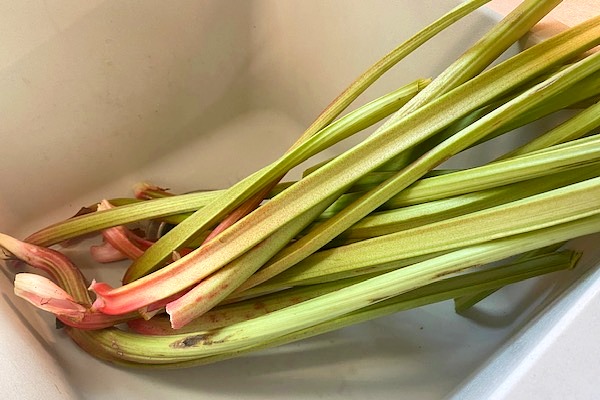 It is such a faithful plant, one of the first green things to poke out of the soil every year at the first hint of spring. For centuries, it has been hailed as a tonic to reinvigorate us after a long, dreary winter.
Rhubarb can range in color from green to pink to red. The color is no indication of ripeness or sweetness like it is with other fruits. Our rhubarb is a green stem variety, not as red as others. It's every bit as tasty, though!
One of my hardy plants is from stock that was first nestled into the Nebraska soil over one hundred years ago by early Phelps county settlers with great anticipation of pies and jam. The oldtimers often referred to rhubarb as a "pie plant."
Grab A Knife And Get Busy Chopping Up Some Fresh Rhubarb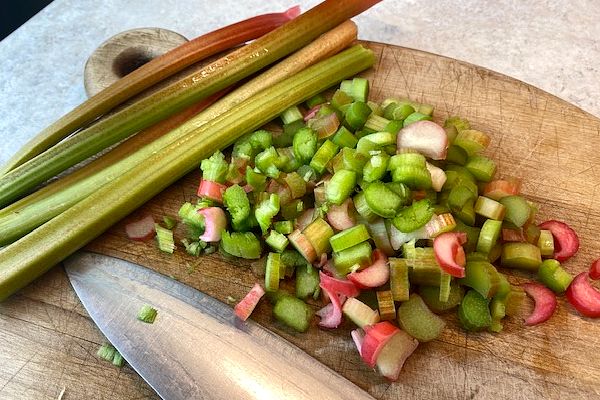 I love my old wooden cutting board. It's been a friend for over 25 years. Now I have silicone ones that are very handy and even dishwasher-safe. I'm trying to develop some new habits and make them my go-to, but Piggy is the one I still grab first.
Slice the rhubarb fairly thin, and if the stalks are very thick, you can even split them. You can use frozen rhubarb, too. Defrost the rhubarb and place it in a strainer to drain off any excess liquid, then proceed as if you are using fresh rhubarb.
Toss The Crisp Rhubarb In A Bowl With Sweet Brown Sugar And Flour
Mix all the dry ingredients thoroughly before you toss them with the rhubarb. Mixing the rhubarb with the dry ingredients assures the diced rhubarb will stay suspended in the batter, evenly distributed throughout the rhubarb muffins as they bake.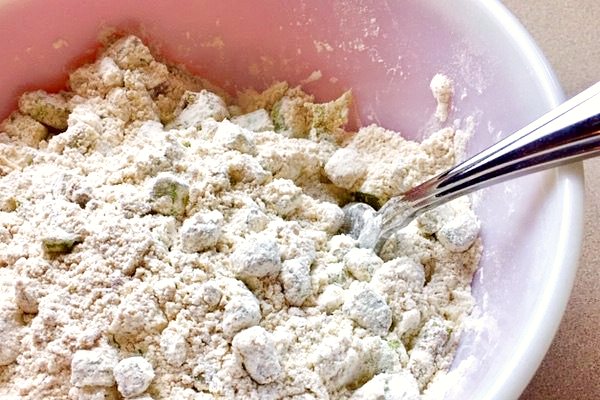 Let that mixture sit while you combine the streusel ingredients in a small bowl, and use a fork or your clean fingers to mix it all up into a crumbly topping.
Next, you will add one egg, some cooking oil, and a teaspoon of fragrant vanilla to the rhubarb mixture, but the next step is when the magic happens!
Julia Child wisely taught that fat is what gives a thing flavor. This recipe calls for thick, tangy full-fat plain Greek yogurt. Yogurt is acidic, and the acid tenderizes the gluten in the flour, lending to the more delicate texture after baking. You may need to look a little harder to find it in the dairy case, but it delivers the best results.
The batter will be quite stiff, but don't be alarmed! When the yogurt meets the soda and the acidic rhubarb, the mixture gets all excited, and the bread rises! Then, the rhubarb releases its moisture as the bread bakes, and the delicious result will blow your mind!
How Can Such Weird-Looking Batter Make Such Amazing Muffins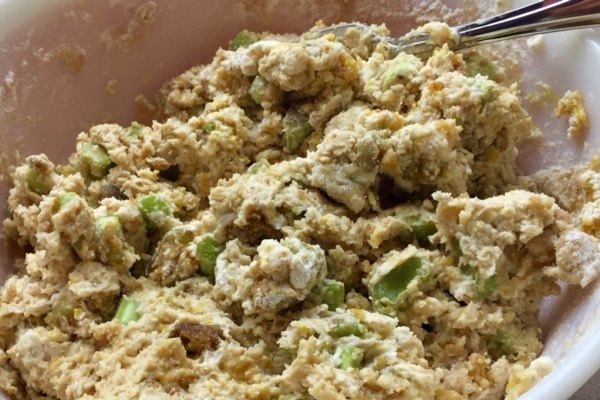 What seems impossible happens in the magic of the oven when you spoon the lumpy, bumpy batter into the muffin tins. I like to use cupcake liners in the muffin tins, so each muffin is a neat single serving! You will wonder what happens to the crisp chunks of rhubarb! Never fear; the rhubarb releases its moisture into the batter and gets very soft and tender.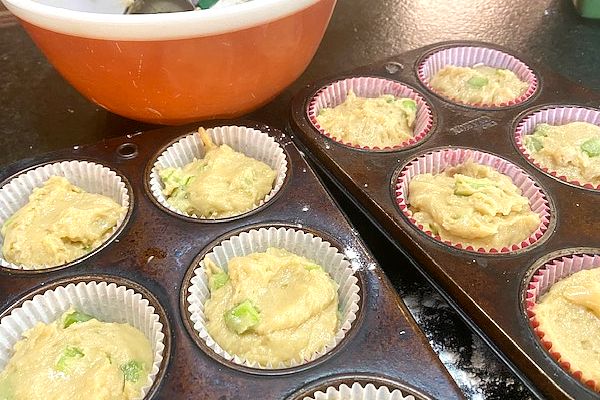 The baking soda used in this recipe is an alkaline compound. It combines to form tiny carbon dioxide bubbles when it meets the acid in the rhubarb and yogurt. Those little bubbles get trapped in the batter, which makes it rise. There is your chemistry lesson for today! You're welcome!
Before you pop those one bowl rhubarb muffins into the oven, top each one generously with the streusel mixture and add, if you like, a few sliced almonds to each one for extra crunch on top!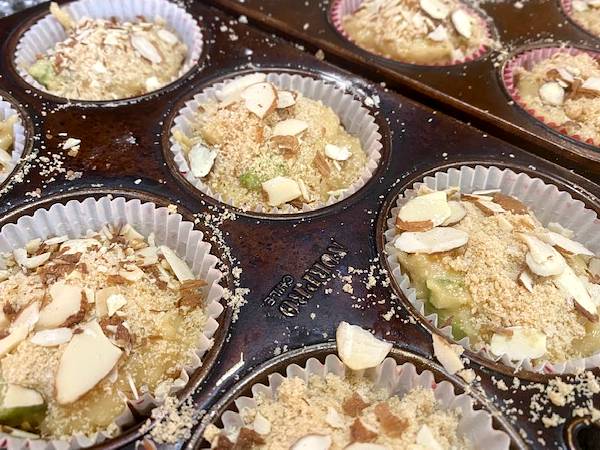 Now you know just how magical these one bowl rhubarb muffins are! But you won't be thinking about chemistry when you smear butter on one and pop it in your mouth. All you will be thinking about is a second muffin!
Yield: 18 muffins
Rhubarb Muffins With Streusel Topping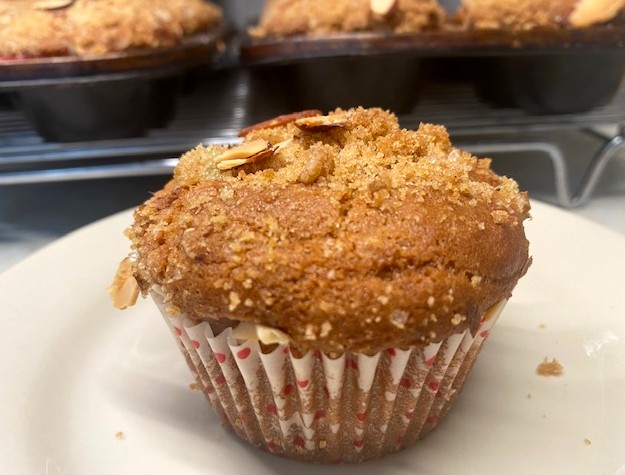 Here is a recipe for lovely rhubarb muffins with streusel topping. They are slightly tangy and not very sweet. You do not need a mixer, just a bowl and a spoon. Tender and moist, lovely crumb.
Ingredients
Muffins
1 1/2 cups raw rhubarb, sliced thin or diced
2 3/4 cup flour, unbleached is best
1 1/2 cup brown sugar
1 tsp baking soda
1 tsp salt
1 cup full-fat plain Greek yogurt
2/3 cup vegetable oil, Canola oil preferred
1 egg
1 tsp vanilla
Streusel Topping
3 Tbsp butter, softened
1/2 cup brown sugar
1/2 cup flour
1/2 tsp cinnamon
1/4 tsp nutmeg
1/4 tsp salt
1 Tbsp sanding sugar (optional but it add a lovely crunch!)
1/2 cup sliced almonds (optional)
Instructions
Combine streusel ingredients in a small bowl and use a fork to mix butter into the other ingredients. Clean fingers work very well for this step, too!
Mix the rhubarb, brown sugar, flour, salt, and baking soda until the rhubarb is well coated.
Add egg, oil, and vanilla. Stir well until blended.
Add yogurt to the batter and stir well. The batter will be thick!
Use cupcake liners in muffin pans or spray liberally with non-stick spray
Spoon batter into muffin tins, filling about half full
Sprinkle with streusel mixture; add a few sliced almonds if you like.
Bake at 350 degrees for about 25 minutes or until toothpick or skewer comes out clean.
Cool the muffins in the tin for 10 minutes before removing them.

Nutrition Information:
Yield:
18
Serving Size:
1
Amount Per Serving:
Calories:

290
Total Fat:

13g
Saturated Fat:

2g
Trans Fat:

0g
Unsaturated Fat:

10g
Cholesterol:

16mg
Sodium:

262mg
Carbohydrates:

40g
Fiber:

1g
Sugar:

21g
Protein:

5g
What are your favorite recipes for rhubarb? Will you share, pretty please? Here are a couple of my favorites; Magic Rhubarb Pudding Cake and Strawberry Rhubarb Jam. If you end up with too much rhubarb, here's how to freeze rhubarb for later.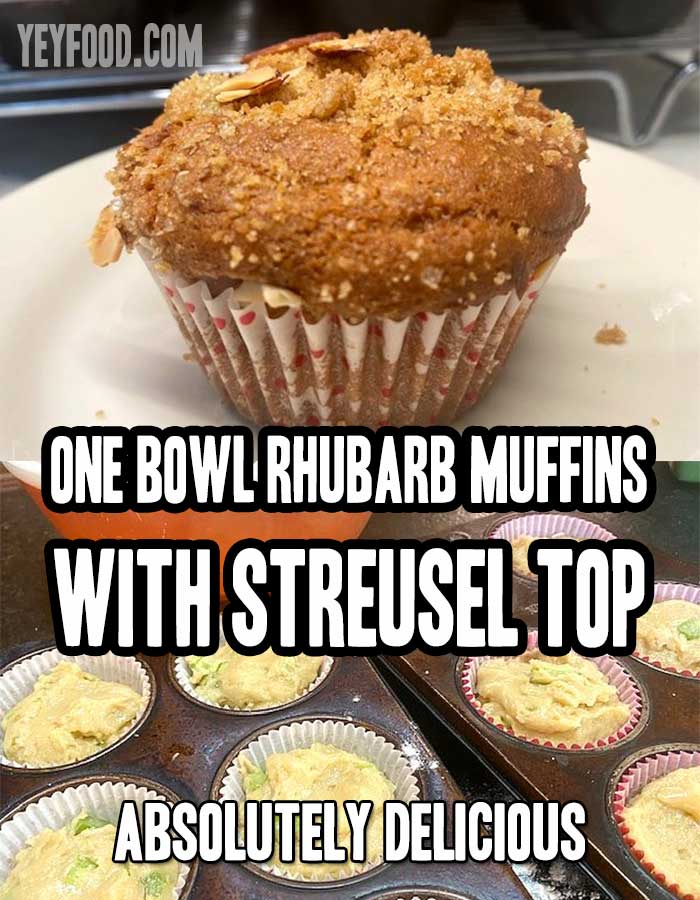 More tasty recipes from us: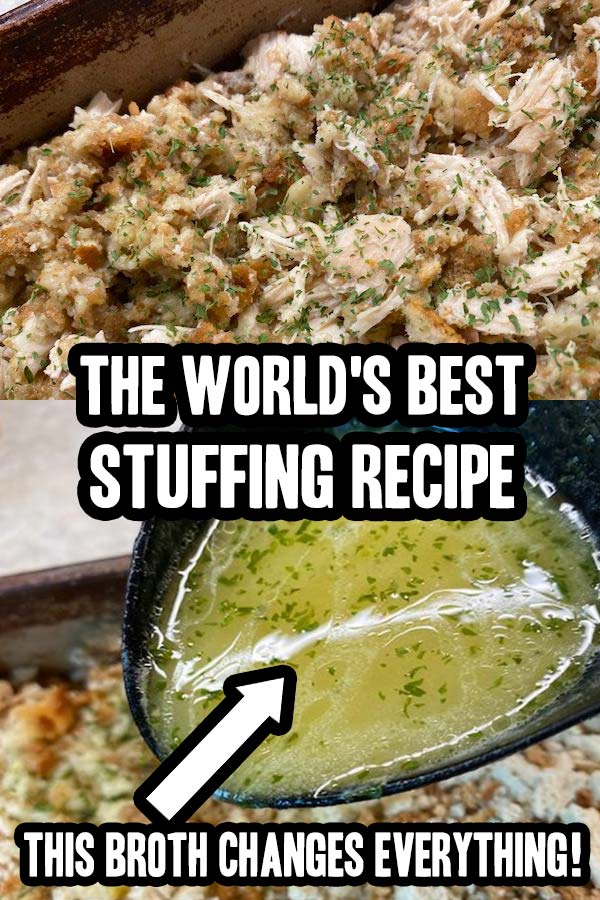 Easy 1 Pan Classic American Goulash
German Sauerkraut Casserole With Bacon And Brown Sugar
If you like these recipes, you are our people! You can check some related articles below or search via categories on the right. But, be warned; you will be on here for hours. Enjoy!
So, please share this recipe on your social media accounts like Facebook, Instagram, Twitter, and Pinterest. We would be honored and ever so grateful; thank you!