Light And Luscious Pistachio Dessert Recipe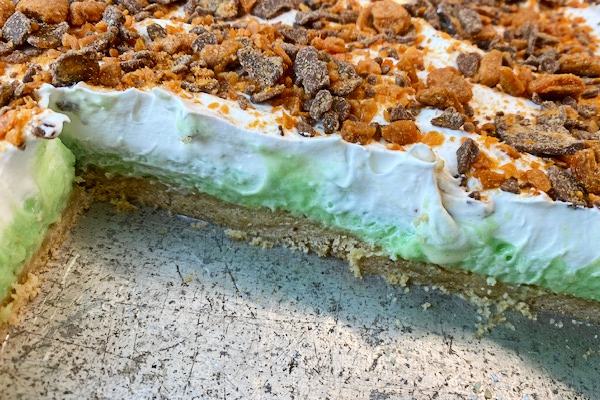 The luscious pistachio dessert sports a combination of a slightly salty Ritz cracker crust, vanilla ice cream, and pistachio pudding. That's a great start! But when you crown it with whipped topping and crushed Butterfinger bars? How can anyone say no to something this delicious?
Pistachio desserts were a huge thing in the 1970s. We couldn't get enough of the tasty nuts! Unlike Nehru jackets and plaid polyester, this dessert has stood the test of time. It's still a winner!
Make This No-Bake Dessert What's Not To Love
Here is an easy pistachio dessert, but it does take a teeny bit of planning. For example, the whipped topping needs to defrost. So, start by moving the tub from the freezer to the refrigerator the night before.
I learned a slick trick when I made this recipe often. Buy the ice cream in an old-style half-gallon carton. That way, you can just cut the block in half without measuring! The pudding and ice cream will be easier to mix when it has softened a little bit, so set it out while you make the crust.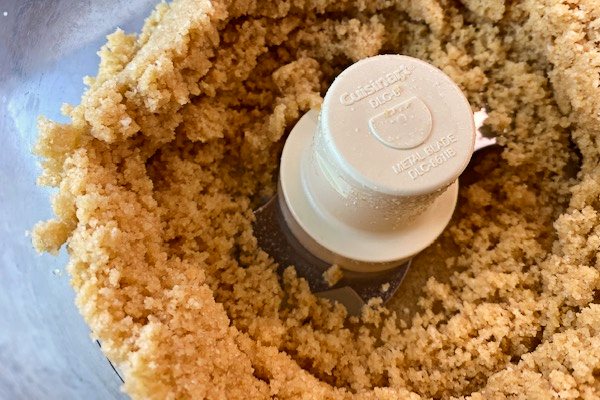 The crust is a snap to make with a food processor! Crush the crackers, add some sugar, and then drizzle melted butter through the chute on top.
I discovered a slick, no-mess trick for melting butter! Put a stick of butter, wrapper, and all, in a glass measuring cup with the cut sides down. Then, lay a paper napkin on top to catch spatters and put it in the microwave. Easy peasy and no mess! It takes just over 30 seconds to melt the butter.
Drizzle the melted butter into the food processor with the cookie crumbs. Pulse until they are blended. Some recipes omit the sugar in the crust. I think it helps hold the crust together, but it's optional. Toss the wrapper and the napkin in the trash.
Pat the crumb mixture firmly in a nine-by thirteen-inch pan. A glass pan is especially nice because you can see the pretty layers. I forgot to use a glass pan this day, as you can see! 😂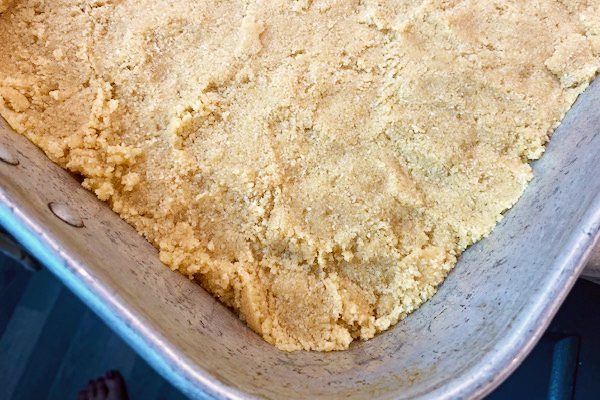 Let the crust cool a little while mixing the milk, ice cream, and pudding mix. Next, pour that lovely green filling on the crust and chill until the pudding sets. It will take about four hours, or you can let it hang out in the refrigerator overnight.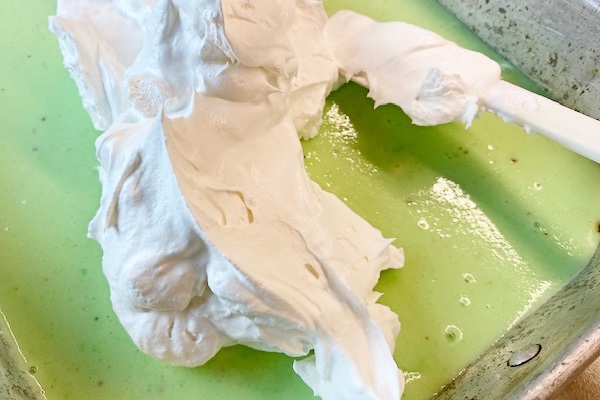 All that's left is to spread a whipped topping tub over the pudding layer and sprinkle crushed Butterfinger bars on top. Something about the peanut butter and chocolate in that particular candy brings it all together deliciously!
We've come a long way since the 1970s, baby! Maybe I was late to the party, but I was so excited about my latest discovery! Now you can buy Butterfinger Bits in the baking aisle! I must say that's crushing it! Tee hee!!
Yield: 16 servings
Light And Luscious Pistachio Dessert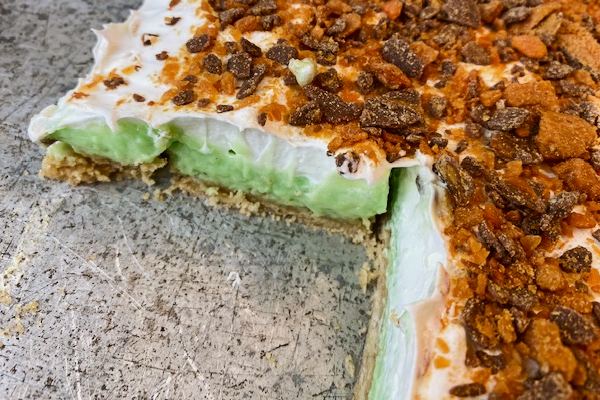 A no-bake dessert. Ritz crackers, butter, and sugar form the tasty crust. Ice cream, milk, and pistachio pudding combine in the creamy filling. It's all covered with a layer of whipped topping and sprinkled with crushed Butterfinger candy. Simple and delicious!
Total Time
4 hours
15 minutes
Ingredients
50 Ritz crackers, crushed.
1/2 cup butter (one stick) melted.
1/4 cup sugar (optional)
One quart of vanilla ice cream softened.
1 1/2 cups cold milk.
2 small 3.4-ounce packages of instant pistachio pudding mix.
1 regular size tub frozen whipped topping, defrosted.
3 Butterfinger candy bars, crushed (or Butterfinger bits.)
Instructions
Crush Ritz crackers with sugar in a food processor.
Drizzle with melted butter and pulse until all the butter is incorporated.
Pat crust into a 13" x 9" pan.
Let cool.
Beat together ice cream, milk, and pudding mix until well blended.
Pour over crust.
Refrigerate for 4 hours or overnight.
Spread a tub of whipped topping over the pudding layer.
Sprinkle with crushed candy or candy bits.
Keep refrigerated.
Pistachio Dessert Instead Of Birthday Cake
My friend Kim told me this dessert is requested for every family birthday at her house instead of a birthday cake! What a fun tradition! It's been going on for over forty years, starting when we had baby girls just eight days apart!
Do you have an interesting birthday tradition at your house? My mom always gave me a quart of real cream that I could eat any old way I wanted! Another family I know always has their birthday cake for breakfast! Do you have a fun one? I hope you will share!
Did you grow up with pistachio desserts? Do you remember a favorite or have a pistachio dessert recipe you'd share with us? We will be green with envy if you have an extra good one and you're holding out!!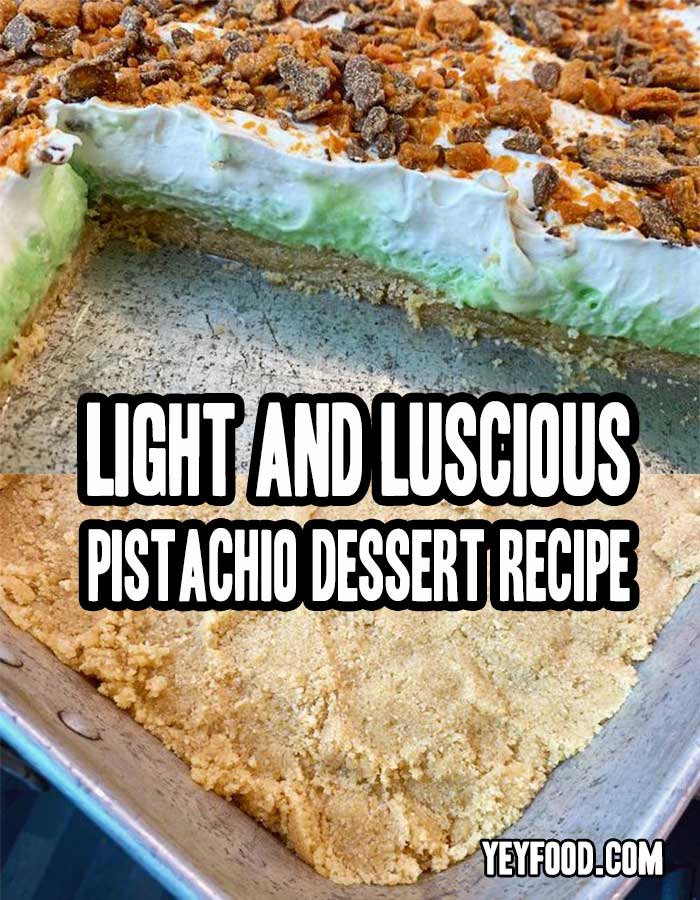 More recipes from us
4 Reasons You Should Freeze Some Sweet Corn This Summer
How To Make The White BBQ Sauce That's Fascinated Us Since 1925
German Sauerkraut Casserole With Bacon And Brown Sugar
If you like these recipes, you are our people! You can check some related articles below or search via categories on the right. But, be warned; you will be on here for hours. Enjoy!
So, please share this recipe on your social media accounts like Facebook, Instagram, Twitter, and Pinterest. We would be honored and ever so grateful; thank you!