No-Bake Four-Layer Chocolate Dessert Recipe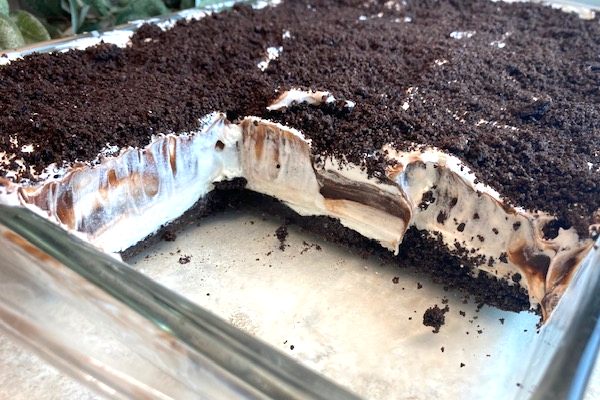 Someone you know will be crazy about this no-bake chocolate dessert. For some people, chocolate is a food group. We all know a person who honestly believes there's no such thing as too much chocolate.
For them, the creamiest, chocolatiest chocolate desserts are a sacrament. This recipe is for those people.
This impressive-looking creation is a no-bake chocolate dessert! You do not need to turn on your oven for a single minute and it only requires seven ingredients. The kitchen stays cool, so it's perfect on those warm days when you don't want to heat up the house.
It's easy to put together, and you can make it a day or two ahead, saving time when kitchen demands are greater. It feeds a crowd who will probably want to lick their fork before picking up the plates!
Here's what you need to make it:
Butter
Chocolate sandwich cookies
Milk
Instant Chocolate Pudding Mix
Cream Cheese
Powdered Sugar
Whipped topping
Smash 39 Chocolate Sandwich Cookies Then Pour In Melted Butter
OK, I'll admit the number is a little random, but you may understand it if you have a cookie snitcher (Papa) at your house. Typically, a package of chocolate sandwich cookies, famous or store brand, contains 45 cookies.
It turns out fine with a full package or a few less. It's not worth a fuss!! But if there's a cookie thief around, sometimes a few "fall in the sink," like my old Danish grandma used to say.
This step is super easy if you have a food processor. (If not, a zip lock bag and a rolling pin will work just fine!) First, crunch the cookies up a little, then pulse until you have fine crumbs.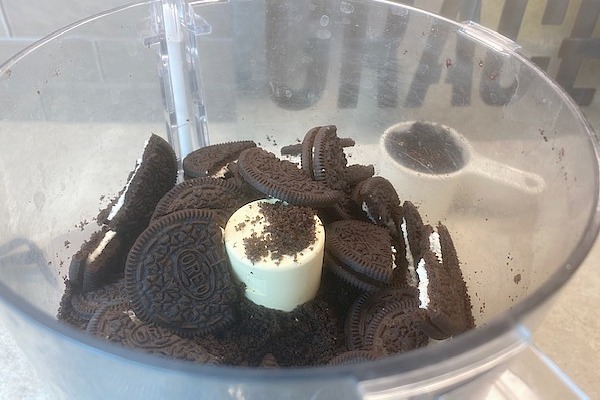 Hint: Next, I put a half stick of butter, wrapper and all, in a glass measuring cup. Then, I lay a paper napkin on top to catch spatters and put it in the microwave. Easy peasy and no mess! It takes just over 30 seconds to melt the butter.
Drizzle the melted butter into the food processor with the cookie crumbs. Pulse until they are blended. Toss the wrapper and the napkin in the trash.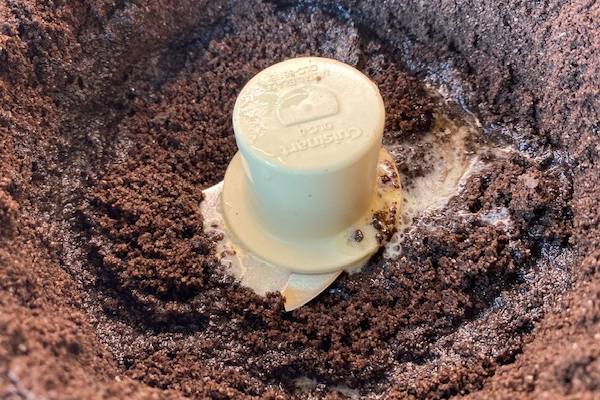 Save back a cup of crumbs for the topping, then press the rest into a 13″ by 9″ pan. I like to use a glass pan to show off the attractive layers!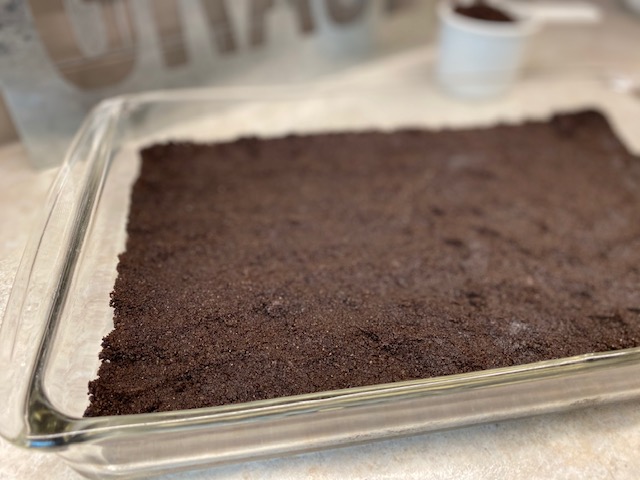 Stop And Mix Up The Chocolate Pudding And Refrigerate It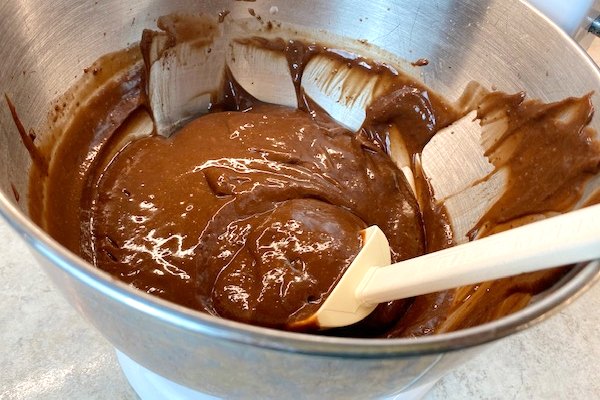 Next, make the chocolate pudding the way it says on the box and set it in the fridge, so it has time to set up. Don't forget to lick the beaters. Someone has to! While that is chilling, you can whip up the yummiest layer!
Now Make The Second Layer With Cream Cheese
Cream cheese is the magic ingredient in so many desserts, and in this no-bake chocolate dessert, it's sweetened a bit with powdered sugar and fluffed up with a carton of whipped topping.
Spread this carefully over the chocolate crumb crust. This step made me slow down a bit. It would be best to push the topping gently toward the edges to avoid pulling up the crumbs from the crust. Everything else is fast!! It's worth it to take this step slowly.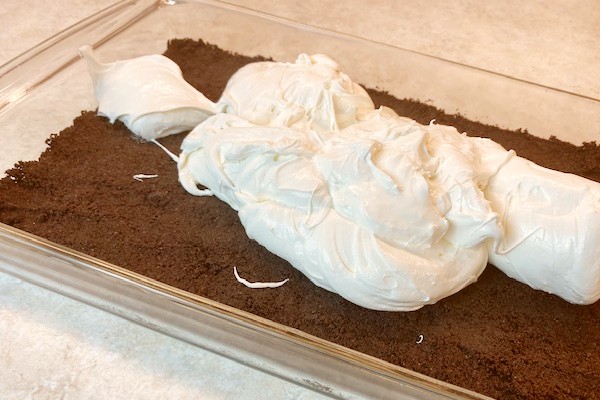 Once that step is complete, spread the chocolate pudding on top of the cream cheese layer. Then, add a whole carton of whipped topping over the pudding layer. Yep, the entire carton! Remember, this feeds a bunch! It's getting better by the minute!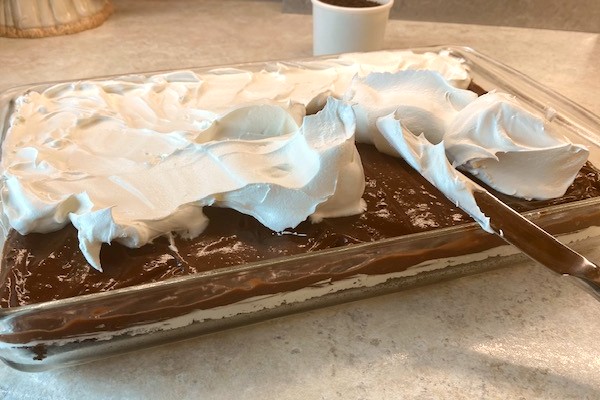 Remember that cup of cookie crumbs you saved? You did keep them, didn't you? I'll never tell; it will be our secret forever!! If you forgot, you could use toffee bits, chocolate chips, or sprinkles.
Sprinkle them over the whipped topping layer and refrigerate your beautiful no-bake chocolate dessert for at least two hours until you are ready to serve it. And remember, you can make this two days ahead and stash it in the fridge until you are prepared to serve it!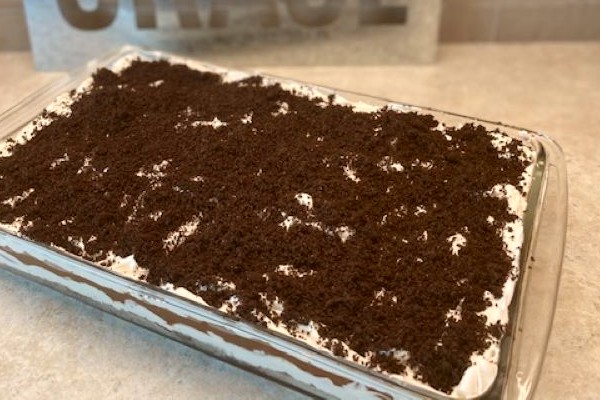 Yield: 16 servings
No-Bake Four-Layer Chocolate Dessert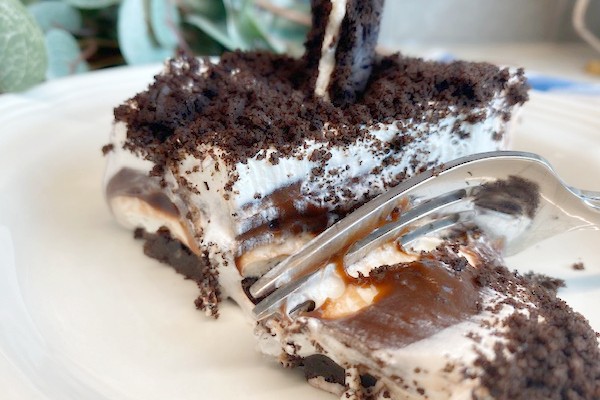 An easy, no-bake chocolate dessert using just seven simple ingredients. Perfect when you don't want to turn on the oven and heat the kitchen.
Total Time
2 hours
30 minutes
Ingredients
One 14.3-ounce package of chocolate sandwich cookies
8 Tbsp melted butter (one stick)
One 8-ounce block of cream cheese softened to room temperature.
16 oz whipped topping, defrosted ( two 8-ounce tubs)
1 cup powdered sugar
2¾ cups milk
One 5.1-ounce "family size" package of instant chocolate instant pudding (or two 3.4-ounce regular size packages)
Instructions
Crumble cookies into a food processor and pulse until they form fine crumbs.
Add melted butter and pulse until the butter is all incorporated.
Reserve 1 cup of cookie crumbs for topping.
Press the crumb mixture into a 13" by 9" pan.
Make pudding with 2 3/4 cups milk according to package directions and refrigerate to thicken.
Mix softened cream cheese with powdered sugar and beat until smooth.
Fold in one carton of whipped topping and beat until well blended.
Carefully spread the cream cheese mixture over the crumb crust.
Spread the pudding over the cream cheese layer.
Spread the second carton of whipped topping on top of the pudding layer.
Sprinkle crumbs evenly over the whipped topping.
Cover and refrigerate for at least two hours until ready to serve or make up to two days ahead and refrigerate.

This Impressive No-Bake Chocolate Dessert Will Please The Crowd
There will be ooohing. There will be ahhs. Someone will try to sneak an extra piece, but I doubt anyone will ever leave the table disappointed! It will be a dessert win! I hope you try it soon!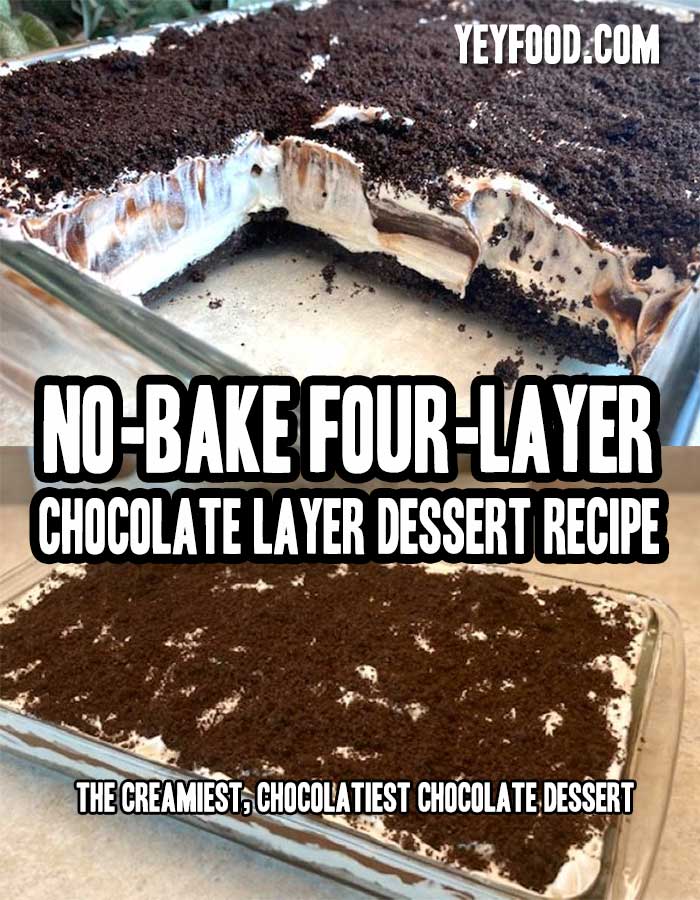 I can't resist sharing another cool, creamy chocolate dessert recipe here! This one has a cream puff crust, and it's divine! Crazy Good Chocolate Cream Puff Dessert. If there are chocoholics at your house, you'll probably want to check out this recipe, too! Triple Dark Chocolate Bundt Cake.
MORE RECIPES FROM US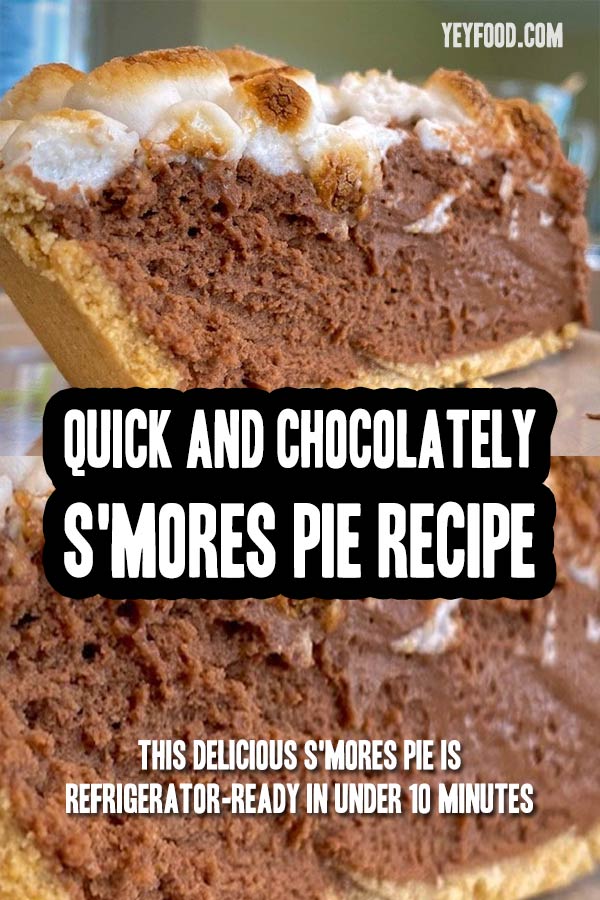 S'mores Bars How To Make Them Super Fast and Super Good
How To Make The White BBQ Sauce That's Fascinated Us Since 1925
German Sauerkraut Casserole With Bacon And Brown Sugar
So, please share this recipe on your social media accounts like Facebook, Instagram, Twitter, and Pinterest. We would be honored and ever so grateful; thank you!