Luscious No-Bake Layered Lemon Dessert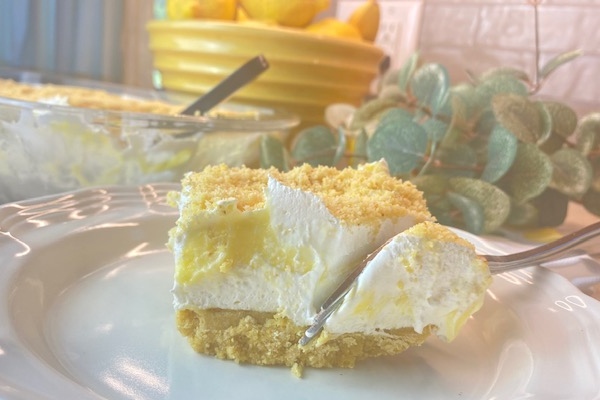 This layered lemon dessert is a perfect fit for springtime! Sunny, tart, and lovely to see. This one is especially terrific because it's no-bake! Who wants an easy lemon dessert? Me! Me! I adore lemon, and I love cool, creamy desserts! Who doesn't?
This layered lemon dessert starts with very simple ingredients and is easy to make! Add these items to your grocery list so that you can make it at the drop of a hat! It makes 16 generous servings, and you can make it a day or two ahead and stash it in the fridge.
Butter
Lemon sandwich cookies
Milk
Instant Lemon Pudding Mix
Lemon extract (optional, but adds some zing!)
Cream Cheese
Powdered Sugar
Whipped topping
Have Fun Smashing Cookies When You Make This Dessert
I've always loved cheap lemon sandwich cookies. They are a house brand and come in about a 25-ounce package most of the time. I love the tangy lemon cream filling.
This recipe starts with crushing about 45 of these cookies in a food processor and adding a half stick of melted butter. Pulse until the butter is all incorporated into the crumbs.
I discovered a slick, non-messy way of melting the butter. First, I cut a stick of butter in half with the wrapper still on it. Next, I put it in a glass measuring cup, with the cut sides down, and place a paper napkin on the top to catch any spatters.
In about 30 seconds, the butter melts in the microwave. Finally, I toss the wrapper and the napkin in the trash and pour the butter over the crumbs. Easy and fast, just the way I like it!
Of course, if you don't have a food processor, just put the cookies in a zip lock bag and smash away with a rolling pin. Then, dump the crumbs into a bowl and stir in the melted butter. I know you are resourceful like that!
Press the crumb mixture into a 13″ x 9″ pan. A clear glass baking pan is especially nice because it shows off all the pretty layers!
Remember to save back a cup of this crumb mixture to sprinkle artfully over the dessert for the final finishing touch!
Stop And Make The Lemon Pudding Now
Next, mix up the lemon pudding as directed on the box. If you have trouble finding the large 5.1-ounce family-size pudding mix, use two small 3.9-ounce boxes. There is not much difference in the volume. Use it all in the dessert or save some back to eat plain; either way, it's a win. Finally, stick the pudding in the fridge to set up a bit.
How To Make The Delicious Cream Cheese Lemon Dessert Layer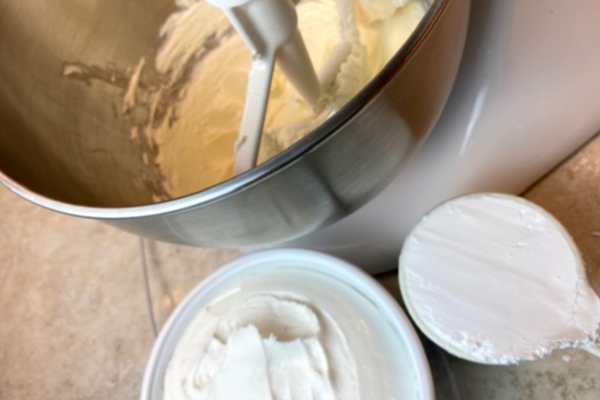 I have to admit that I have a fat tooth. It's bigger than my sweet tooth by a mile, so I love this rich, creamy layer most of all! The cream cheese should be at room temperature, nice and soft. Beat it with a cup of powdered sugar and a teaspoon of lemon extract until it's all blended.
The lemon extract is optional, but I love the little bit of pucker it adds to this layer. Next, fold in a whole carton of whipped topping, which you cleverly defrosted ahead of time. (You did defrost it, didn't you?) When that's all mixed up and fluffy, spread it evenly over the crust.
Spread this carefully over the crumb crust. This step is important because if you rush it, you'll pull crumbs into the cream cheese mixture. It works best to push the topping gently toward the edges to avoid pulling up the crumbs from the crust. Please take your time. It's worth it.
Keep Going You Are Almost Done Just Two Layers To Go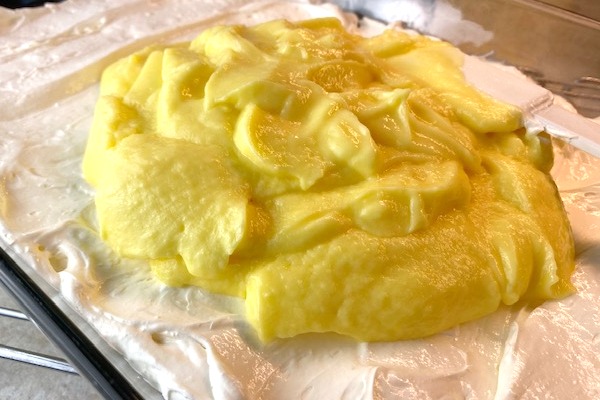 Now, grab that lemon pudding out of the fridge and smooth it on the cream cheese layer. I hope you are licking the beaters, spoons, and bowls as you go because that is the privilege bestowed on the dessert maker in every well-run kitchen! Now you know!
And here is why it's so fun to use a glass pan when you make this! Look at the gorgeous layers forming!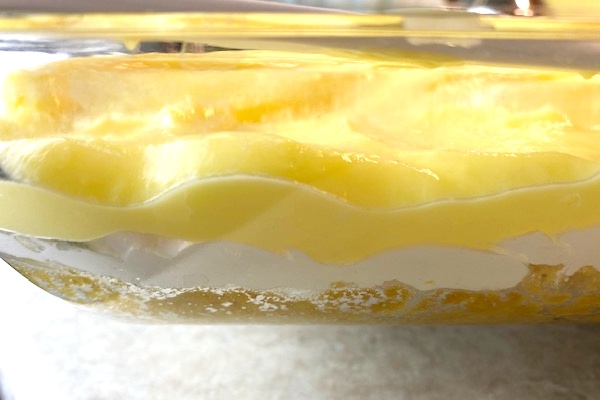 How To Finish Up This Luscious Lemon Dessert With The Final Layer
The last layer is another whole carton of (defrosted) whipped topping. Yes, it's a lot of whipped topping! However, it does make 16 generous servings, and it is a rich, delicious dessert that's quite appropriate for a special occasion!
All that's left is to sprinkle the crumbs you saved back evenly over the top. So you did remember to keep them? Just kidding, I know you did. With this step complete, you are done! Please stick the pan in the refrigerator for at least a couple of hours or up to two days until you are ready to serve it!
Now proudly serve your beautiful, impressive dessert that you made without breaking a sweat! You didn't even have to turn on the oven! Sit back and let the compliments roll in!
Yield: 16 servings
No-Bake Layered Lemon Dessert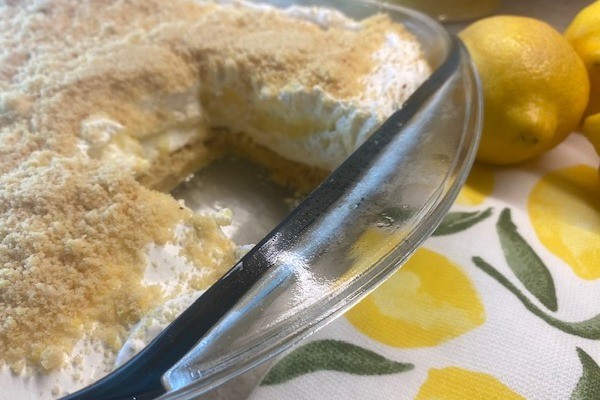 Here is a recipe for an impressive-looking no-bake 4-layer lemon dessert with a crunchy crust and layers of sweetened cream cheese, pudding, and whipped topping garnished with cookie crumbs. Easy to make ahead.
Total Time
2 hours
30 minutes
Ingredients
45 lemon sandwich cookies, crushed
1/2 cup of melted butter
One 5.1-ounce family size package of instant lemon pudding or two 3.4-ounce packages
2¾ cups milk
8 ounces of cream cheese, softened to room temperature
1 tsp lemon extract (optional but nice!)
1 cup powdered sugar
Two 8-ounce tubs of whipped topping, defrosted
Instructions
Crumble the cookies into a food processor and pulse until they form fine crumbs.
Add melted butter and pulse until the butter is all incorporated.
Reserve 1 cup of cookie crumbs for topping.
Press the crumb mixture into a 13" by 9" pan.
Make pudding according to package directions using 2 3/4 cups of milk, then refrigerate to thicken.
Mix softened cream cheese with powdered sugar and lemon extract. Beat until smooth.
Fold in one carton of whipped topping and beat until well blended.
Carefully spread the cream cheese mixture over the crumb crust.
Spread the pudding over the cream cheese layer.
Spread the second carton of whipped topping on top of the pudding layer.
Sprinkle crumbs evenly over the whipped topping.
Cover and refrigerate for at least two hours before serving or up to two days ahead.

Do you have a favorite lemon dessert? Here are two more I know you'll love! Busy Day Lemon Bars and Lemon Meringue Pie. Do you have a tried-and-true lemon dessert recipe you'd share with us? We'd pucker up and kiss you if you would!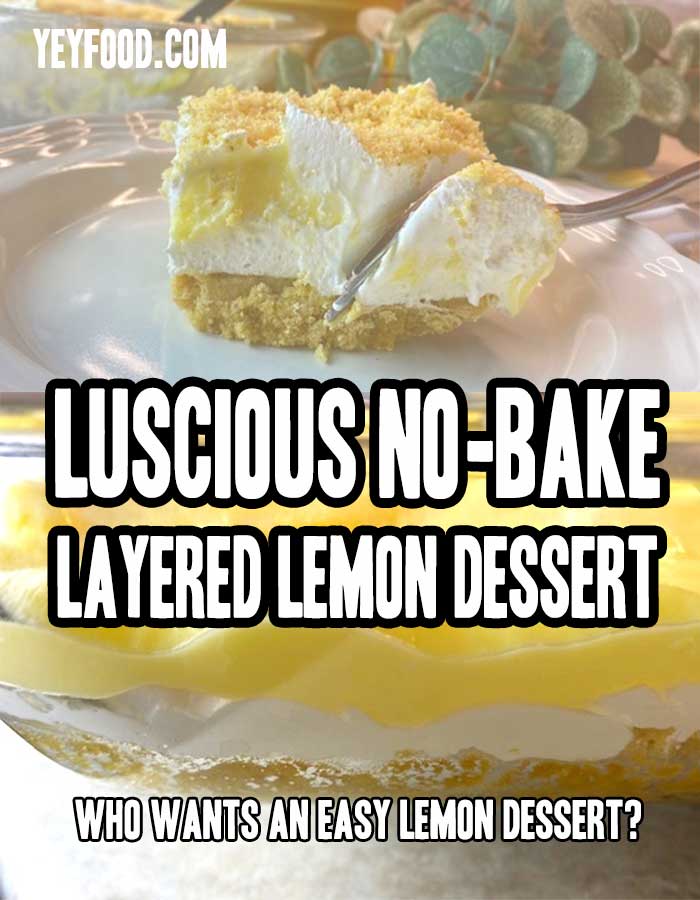 MORE RECIPES FROM US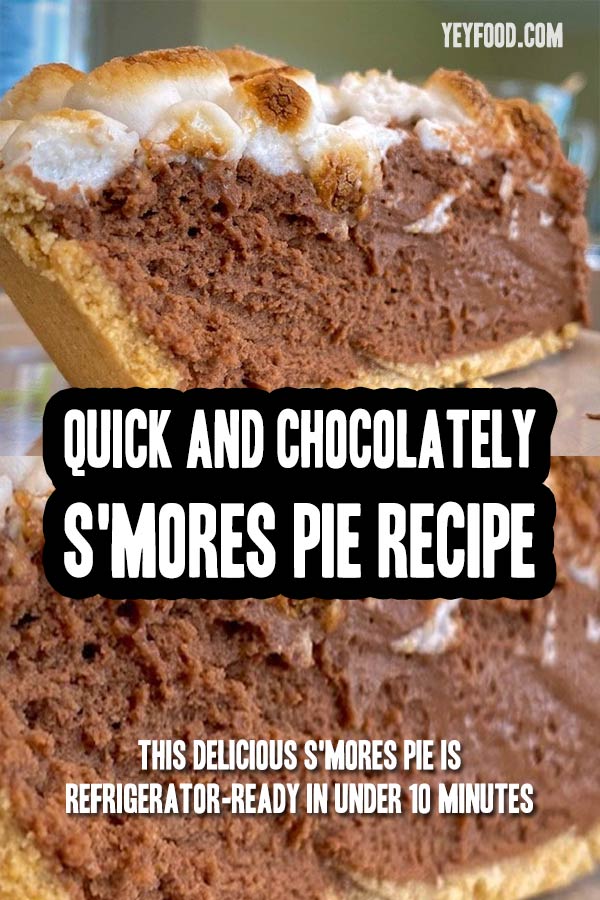 S'mores Bars How To Make Them Super Fast and Super Good
How To Make The White BBQ Sauce That's Fascinated Us Since 1925
German Sauerkraut Casserole With Bacon And Brown Sugar
So, please share this recipe on your social media accounts like Facebook, Instagram, Twitter, and Pinterest. We would be honored and ever so grateful; thank you!