Quick Candy Bar Poke Cake Recipe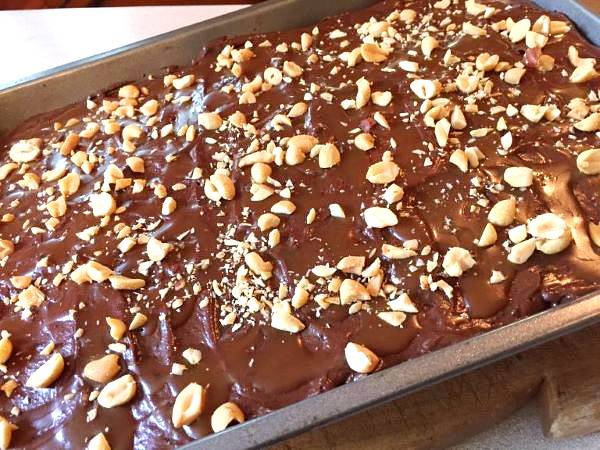 I scored a basic chocolate cake mix on sale for $.89. I baked it according to the directions on the package. While it was still hot, I used the round handle of my favorite old wooden spoon to poke lots of caramel-catching holes in my candy bar poke cake!
I had a few "oopsies" when I pulled the spoon handle out, but I knew a thick cloak of chocolate frosting would hide them beautifully. (You should see that old spoon! It's all crooked from the dishwasher and burned in a couple of spots!)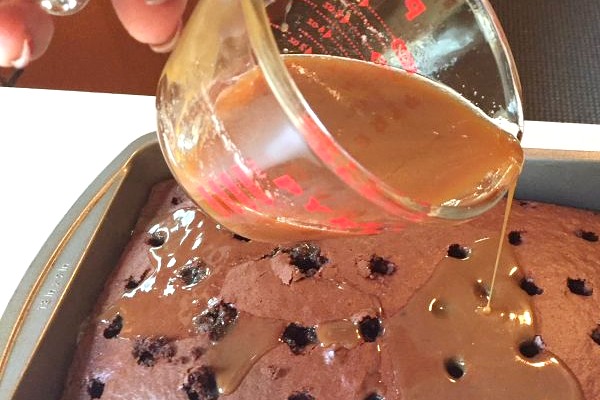 Next, I poured about a cup of ready-made caramel ice cream topping into the still-warm cake. I used a store-brand topping that comes in a plastic squeeze bottle. While the cake was warm and welcoming, I drizzled that golden caramel sauce lovingly into the awaiting cake craters.
I wanted to ensure that the candy bar cake had a nice caramel glaze, so I added a smidge more for good measure. Then, I let the cake rest on my cooling rack until I couldn't feel any warmth on the bottom of the pan. Cooling is an important step, so please be patient.
I could have used a boxed frosting mix or the kind that comes in a can, and maybe I will if I'm in a pinch for time. The knock on those frostings is that they tend to be rather skimpy, and I don't believe for a minute that frosting should ever be thin!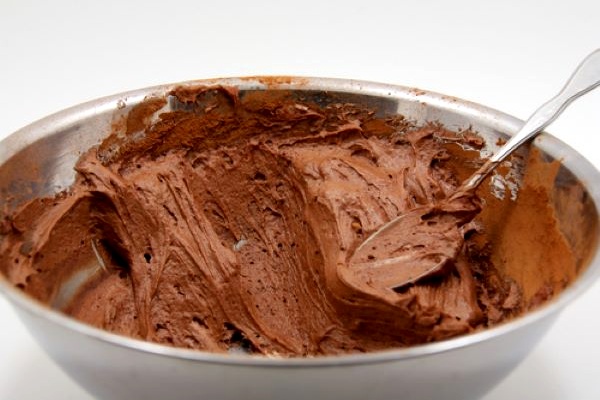 Besides, years ago, I found a chocolate frosting recipe on the side of a Hershey's cocoa tin that's quick and easy AND tastes so much better than any other; it's been my go-to forever. It's called "lickety-split frosting," I always especially enjoyed the "lickety" part on the spoon and the beaters! 😊
While the cake was cooling, I whipped up my frosting using this time-tested recipe!! I cloaked the cake generously with frosting, and before it set, I tossed on about 3/4 cup of coarsely chopped, salted peanuts. I used the shiny kind they call "party peanuts" because they are more like the ones in the famous candy bar!
Boom! Here you have it! One of the most delicious chocolate poke cakes to ever meet up with a fork! I almost always have cake mixes in the cupboard. I usually snatch them up when they are a dollar or less.
You never know when someone will need a cake for a funeral dinner or school event. I once shared this cake with the sweetest young family, and they called it a "chocolate lovers dream!" I bet your family will think so too! Please share Thanks!
Yield: 15 servings
Candy Bar Poke Cake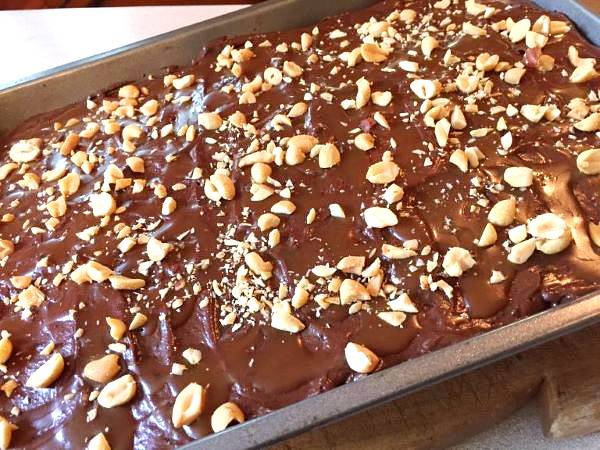 This is a recipe for a quick and easy "poke" cake that starts with a basic chocolate cake mix. Top it with thick chocolate frosting and chopped peanuts!
Additional Time
15 minutes
Ingredients
One boxed chocolate cake mix, made according to package direction with eggs, water, and oil.
1 to 1 1/4 cup bottled caramel ice cream topping
1 recipe of Hershey's lickety split chocolate frosting
3/4 cup chopped salted "party" peanuts
Instructions
Prepare the cake according to the directions on the box.
Pour the batter into a greased 13" x 9" cake pan.
Bake at 350 degrees for about 35 minutes, or until a cake tester or toothpick comes out clean.
While the cake is still hot, poke holes all over the cake with the round handle of a wooden spoon.
Pour caramel topping into the holes.
Cool cake completely.
Frost with chocolate frosting and salted peanuts.

Yield: Hershey's Cocoa
Hershey's Famous Lickety Split Chocolate Frosting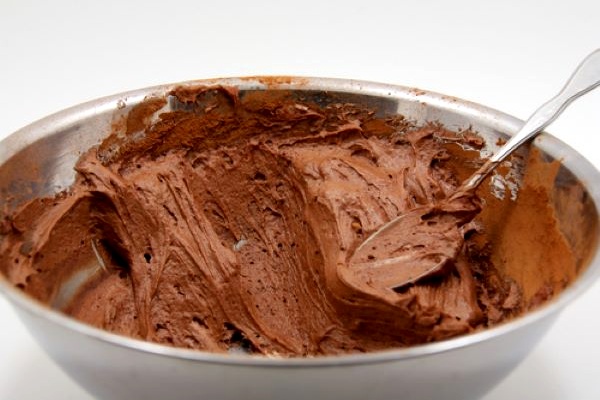 A quick and tasty chocolate frosting you can make with simple pantry ingredients. You can use regular cocoa or dark cocoa to enhance your cake.
Ingredients
1/2 cup (one stick) butter, softened to room temperature.
3 to 3 1/2 cups powdered sugar
2 tsp vanilla
6 Tbsp milk or cream
3/4 cup Hershey's unsweetened cocoa powder, regular or dark chocolate.
1/8 tsp salt
Instructions
Cream butter, add remaining ingredients, and beat, starting slowly, then increasing the speed until you achieve the desired spreading consistency. You may need to adjust the milk and powdered sugar quantities a bit.

You might try using a yellow or white cake mix poked with strawberry or pineapple ice cream topping and a basic buttercream frosting. A spice or butter pecan cake mix might taste great, poked and loaded with butterscotch topping and peanut butter frosting! Don't be afraid to experiment! I've never met a bad poke cake, have you?
Need some inspiration? Try these recipes! Strawberry Cheesecake Poke Cake, Pumpkin Caramel Poke Cake. There's virtually no end to the possibilities!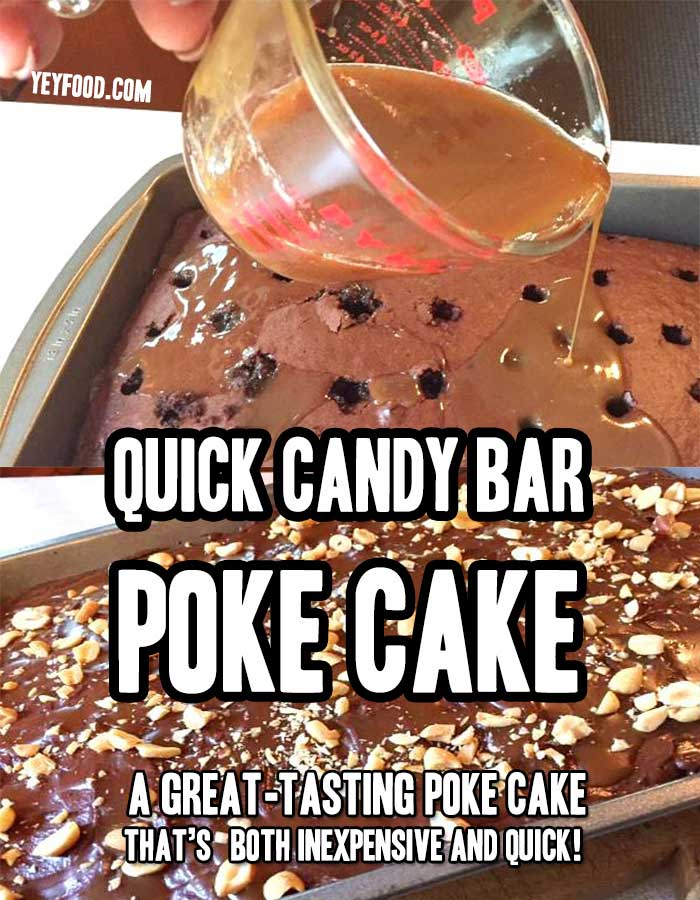 OK, we want to hear about your favorite poke cake! Please send us a picture of you and your cake because we'd love to hear from you! Seeing you would be the frosting on the cake! 😍
More tasty recipes from us: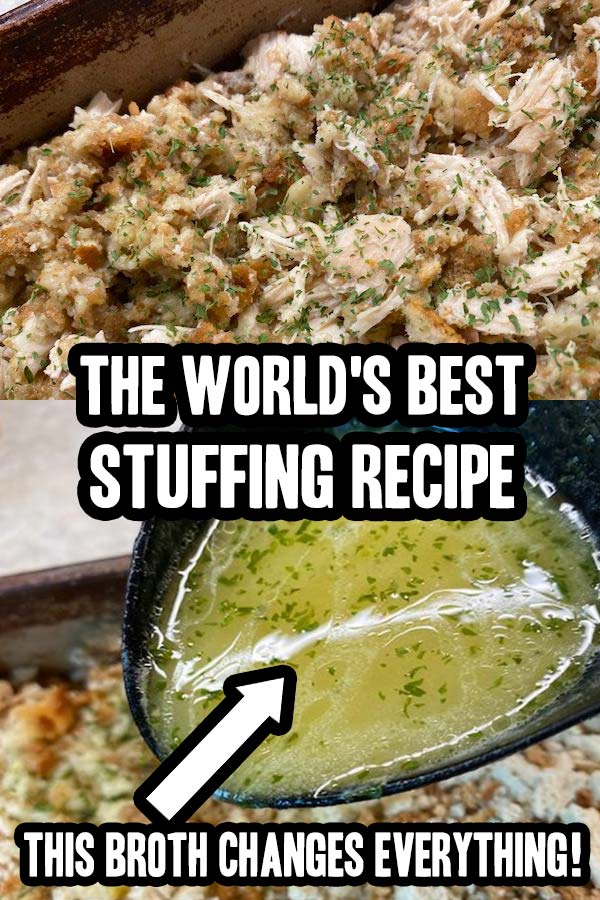 Easy 1 Pan Classic American Goulash
German Sauerkraut Casserole With Bacon And Brown Sugar
If you like these recipes, you are our people! You can check some related articles below or search via categories on the right. But be warned; you will be on here for hours. Enjoy!
So, please share this recipe on your social media accounts like Facebook, Instagram, Twitter, and Pinterest. We would be honored and ever so grateful; thank you!