Roasted Red Cabbage Steaks Recipe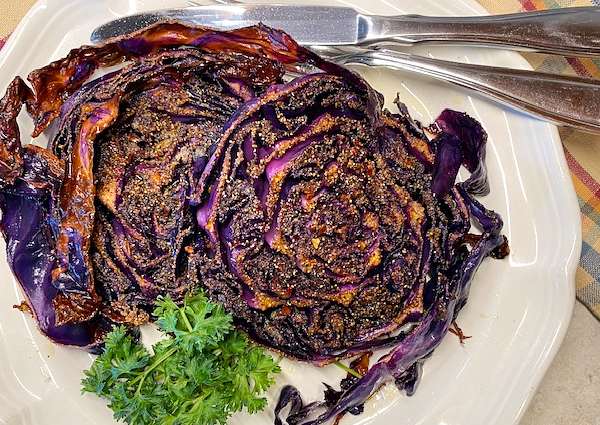 Roasted red cabbage steaks look unique and taste amazing! They are super easy to make, and they are a great vegan main dish! Red cabbage steaks also make a great side dish and pair especially well with sausage, pork, or chicken. Cabbage develops a sweeter taste when roasted and the oven creates tasty crispy caramelized edges.
We've seen lots of roasted green cabbage recipes lately, but I was raised on red cabbage with my Scandinavian family background, so I thought I'd try it! The flavor of red and green cabbage are very similar. Red cabbage usually forms a tighter, smaller, denser head, and the taste is a teeny bit more peppery.
Red Cabbage Is Way More Than Just A Pretty Face
I tried this dish because I knew it would taste terrific, but I'll get a little sciencey here. Red cabbage is much more than just a bold, pretty face! The red or purple color comes from the pH levels of the soil in which it's grown and the pigment that comes from the nutritionally valuable cancer-fighting anthocyanins it contains.
There's no contest when comparing the nutrition between green and red cabbage. Both are highly nutritious, but red cabbage contains greater amounts of vitamin C, Vitamin A, antioxidants, and iron than green cabbage. That means it does more to improve eye, teeth, bone, and immune health.
Red cabbage also fights inflammation and arthritis with its powerful phytonutrient content! A high level of Vitamin K is essential to good bone health and preventing osteoporosis.
Here's How To Make A Beautiful Roasted Red Cabbage Steak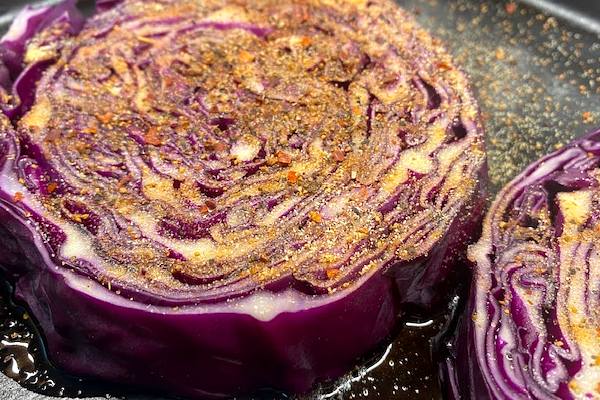 Roasted cabbage steaks are such a simple dish you'll be amazed! To make the "steaks," remove any sad-looking outer leaves from the head and discard them. Use a sharp chef's knife to slice the cabbage about one inch thick. I cut the steaks so the core of the cabbage was at the center of every slice.
You could even cut the cabbage in wedges, but we want them to look like steaks this time! If you cut them thicker, they will need longer in the oven. If you cut them thinner, they will cook faster, and you'll have more of the yummy, crispy, caramelized edges,
Lay the slices on a rimmed baking sheet. I used my trusty old Pampered Chef Bakestone, which is now black from years of use. All that's left to do is drizzle some good olive oil over each steak. Brush it in if you need to distribute it more evenly.
You can tuck whole peeled garlic cloves into the cabbage or use minced garlic. Garlic is a huge component of the amazing flavor, so don't leave it out!. My garlic press broke, and I haven't gotten around the replacing it, so I used garlic powder this time, and it turned out fine!
Cabbage is so accommodating; it happily marries and absorbs any flavors you roast with it! You may want to add some fennel seed or caraway seed for extra depth of flavor. Besides the garlic, I also used Lawry's seasoned salt and their seasoned pepper. You could also use plain kosher salt, sea salt, smoked sea salt, and fresh cracked pepper. (We love Lawry's.)
Flip the steaks over and repeat with oil, salt, pepper, and garlic on the other side.
Now pop those bad boys in a 400-degree oven for about 40 minutes, or until the core is tender enough you can pierce it easily with the tip of a knife.
What Shall We Eat With Our Cabbage Steaks
We had some Polska kielbasa with roasted red cabbage steaks, but they would be great with your favorite pasta and pasta sauce. If you use marinara sauce, this could be a delicious vegan dinner!
This dish is so incredibly yummy and simple to make!
Yield: 6 servings
Roasted Red Cabbage Steaks
This is an easy way to enjoy red cabbage by roasting it in your oven with garlic, olive oil, salt, and pepper.
Ingredients
One medium head of red cabbage, sliced into 6 "steaks"
About 1/2 cup (or more) of olive oil
Fresh peeled garlic cloves, minced garlic or garlic powder to taste
Seasoned salt or kosher salt or smoked salt to taste
Seasoned pepper or fresh cracked pepper to taste
Fennel seeds or caraway seeds to taste, optional
Instructions
Discard the outer leaves of cabbage
Slice about one inch thick
Drizzle generously with olive oil
Add garlic, salt, and pepper to taste.
Add caraway seed or fennel seed if desired, to taste
Flip and repeat on the other side
Roast at 400 degrees on a rimmed baking sheet for about 40 minutes or until the core is easily pierced with a knife.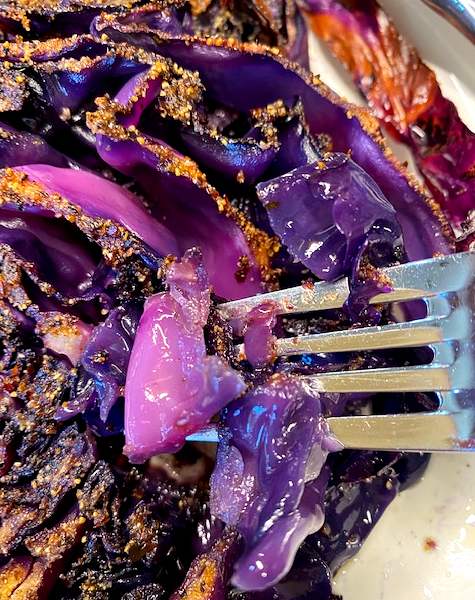 Have you ever made roasted green cabbage this way? I encourage you to be adventurous and try red cabbage, too! It is so good and so good for you! Here are some other ways to use red cabbage we think you will love. Sweet and Sour Red Cabbage, Asian Slaw. Do you have a favorite?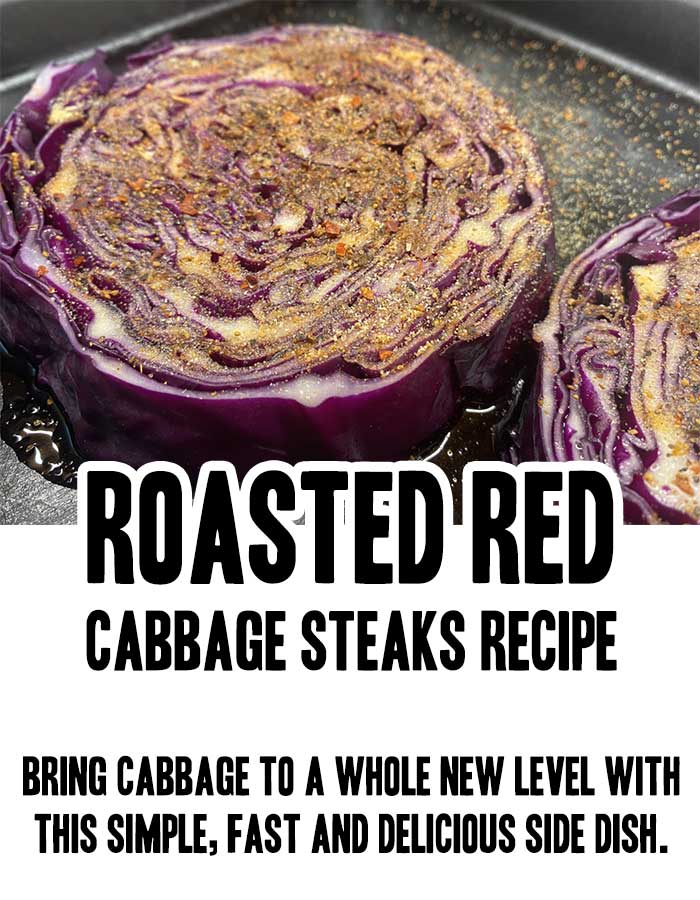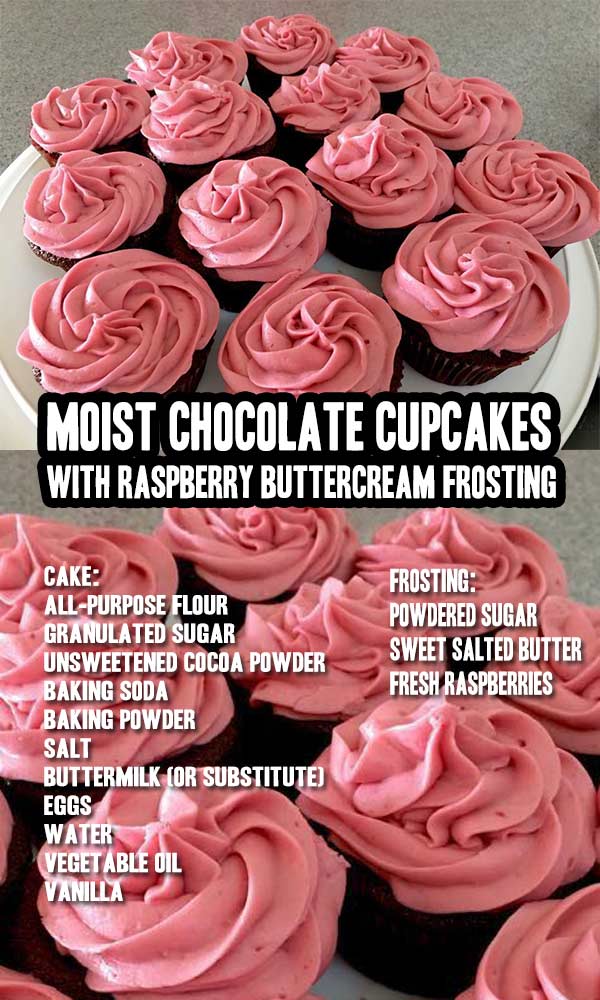 The Ultimate Bread and Butter Pickle Recipe
The Number 1 Practically Perfect Poppy Seed Bread
World's Best Stuffing No Turkey Required
If you like these recipes, you are our people! You can check some related articles below or search via categories on the right. But, be warned; you will be on here for hours. Enjoy!
So, please share this recipe on your social media accounts like Facebook, Instagram, Twitter, and Pinterest. We would be honored and ever so grateful; thank you!