World's Best Stuffing Recipe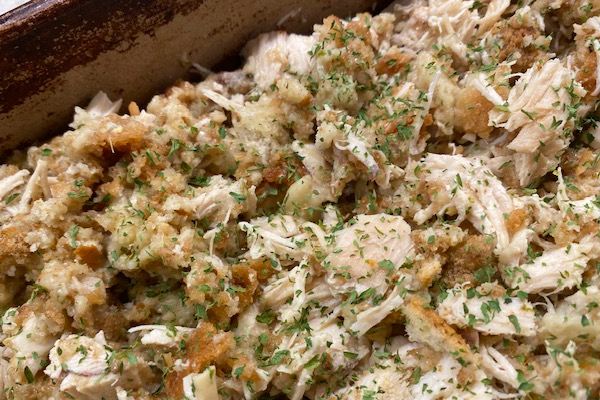 This stuffing recipe has been a family favorite for over 30 years. A brimming casserole of this dish is essential to a successful Thanksgiving feast in our family, and it's simply not optional. It all began years ago when my husband's beautiful cousin Norma Jean, a legendary cook, taught me how to make it. It's a great do-ahead dish you can make a day or two before so your kitchen is less overloaded on the big day.
Dressing or stuffing? What do you call it? When I was a kid, moms everywhere made stuffing the same way. Traditionally, cooks added chopped-up gizzards, liver, and turkey neck to a bread, onions, and celery mixture. Then, it was all stuffed inside the Thanksgiving turkey and roasted with the bird.
I thought it was the grossest thing ever. I cringed when I watched Mom dig it back out of the turkey's rear end and put it in a bowl, and I still think it's gross. This recipe is NOT that kind of stuffing.
If you are a fan of turkey liver and giblets in your dressing/stuffing, you probably don't want to give this one a try. But this has proved to be a dish even picky young kids eat up!
The One Big Question Is Do You Call It Stuffing Or Dressing
It seems that stuffing a turkey goes way back to the first Thanksgiving. Historians believe the Pilgrims made a wild rice mixture to put inside the bird while it cooked. Over time, they added chestnuts and oysters to the stuffing.
A hundred and some years after Jamestown, the prudish Victorians shuddered at the vulgar term "stuffing." They declared everyone would call it "dressing" henceforth.
Ree Drummond, The Pioneer Woman, follows a recipe from her late mother-in-law called Thanksgiving Stuffing/Dressing, so there you have it! It seems everyone is conflicted about what to call it!
The confusion continues. The packaged bread mixture we use to make it is labeled "stuffing mix." And the instant kind you can buy in a box is called "stovetop stuffing." But it's doubtful you will ever find that inside a bird. Go figure.
I always use Pepperidge Farm Classic Stuffing in the bag trimmed in blue. They don't pay me to say so, but there's nothing as good on the grocer's shelves—the end.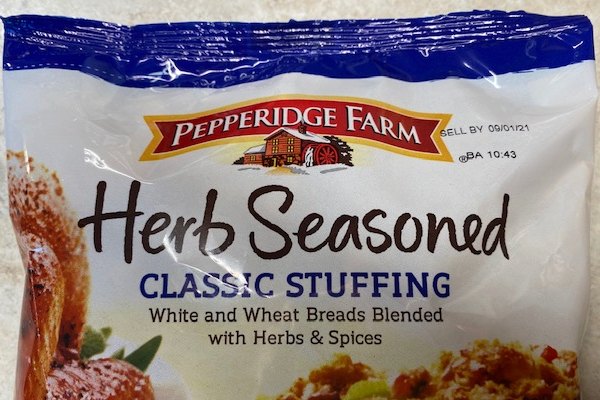 The Best Stuffing/Dressing You Ever Ate Is From Pepperidge Farm
This stuffing is easy and quick to put together. I've been serving this dish for over 30 years, and last year was the first time I used an Instant Pot to make it. In the past, I simmered chicken breasts along with celery and onion in a big stockpot.
The great aroma was always part of my Thanksgiving preparations. And it would still work just fine to do it that way. However, that day, I had frozen chicken at noon and a plan to serve it for dinner that night. I'm sure many of you find yourself with frozen meat when it's time to make dinner. Would you please say I'm not the only one?
I used bone-in chicken breasts with the skin on, and they were still frozen solid as a rock. Right from the freezer, I put them in the pot with half of a large onion cut into chunks.
Then, I threw in the large outer stalks from a package of celery, leaves, and all, cut into four-inch chunks. Two cups of water and a generous amount of seasoned pepper were the only other ingredients.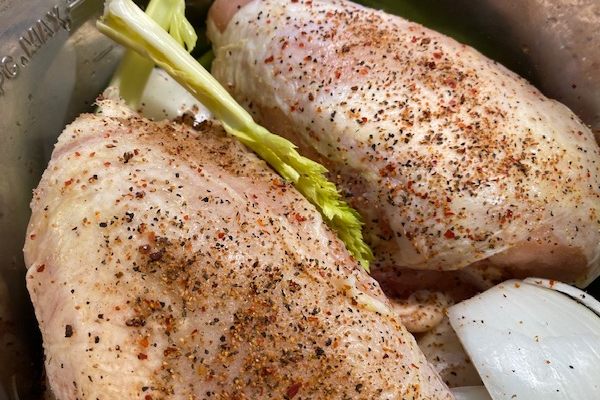 From Here It's A Snap To Put The Dressing All Together
The cooked chicken smelled great, and I easily removed the skin and bones and chopped the tender white meat into a casserole dish.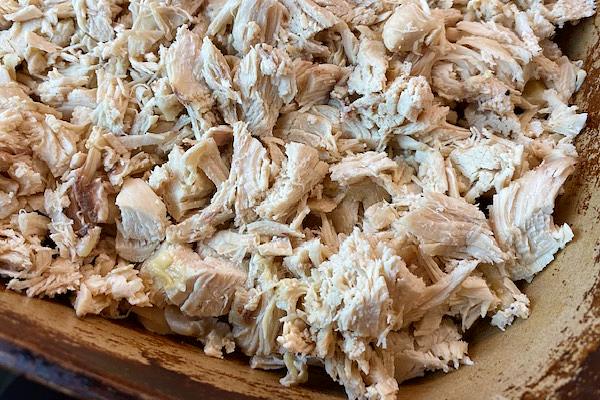 Next, I used a wide-slotted spoon to remove all the broth's cooked vegetables and discard them. You could also puree the vegetables and make a delicious cream soup!
Next, I set the Instant Pot to the saute setting. A stick of butter, some parsley, and two heaping tablespoons of my favorite paste-type chicken bouillon (Hint: it's Better Than Bouillon brand, you've gotta get you some!) went into the Instant Pot. I let it all simmer until the butter melted and added enough water to make about three cups of broth.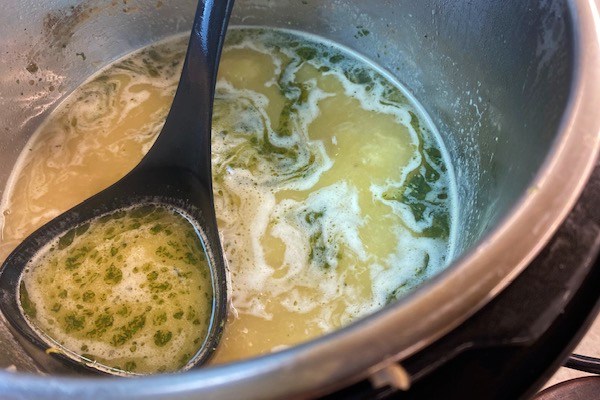 While the broth simmered, I dumped the whole bag of stuffing on top of the chicken in the casserole dish. Finally, I ladled the broth over the chicken and bread mixture, stirring it lightly until the broth was all absorbed and everything was evenly mixed and moistened. It should be moist, not soggy. Yes, that broth tastes every bit as good as it looks!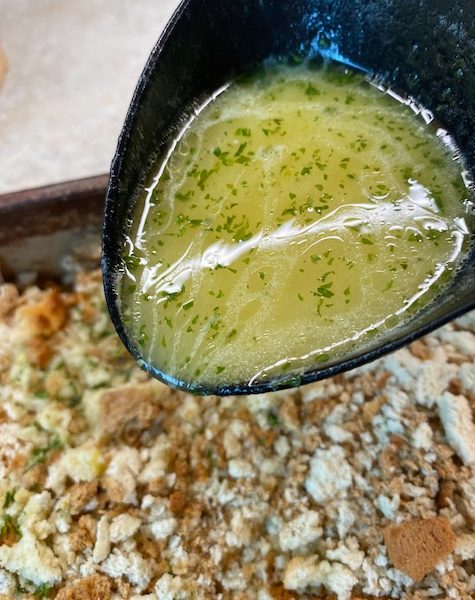 Last, I added more parsley and covered the dish with foil. All that the stuffing needs is a short time in the oven for everything to get nice and warm, then it's ready to serve!
Yield: 16 servings
World's Best Stuffing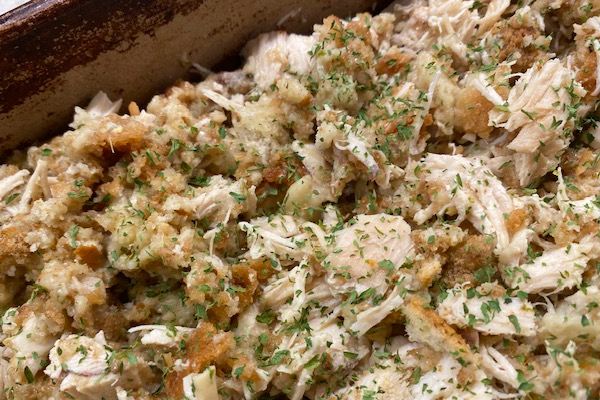 Stuffing you make outside the bird, a great do-ahead for the holidays, and enough chicken it can stand as a main dish! The directions are using an Instant Pot but you can also cook the chicken on the stove.
Ingredients
3 pounds of skin-on chicken breast. These can be cooked from frozen.
Seasoned pepper to taste, I recommend Lawry's brand
1 12-ounce package of Pepperidge Farm Herb Seasoned Classic Stuffing
6 large outer stalks of celery, leaves and all, cut in 4 inch chunks
1 large onion, skin removed and quartered
1 stick butter (1/2 cup)
2 heaping Tbsp paste-type chicken bouillon, I recommend Better Than Bouillon brand.
Lots of parsley
Water enough to cover the chicken if cooking on the stove. If you are using and Instant Pot, use just 2 cups of water.
Instructions
Instant Pot instructions:
Sprinkle chicken breast liberally with seasoned pepper and place in Instant Pot.
Add celery and onion. Pressure cook on high for 45 minutes, then let the pressure drop naturally.
Remove the chicken from the pot. Remove bones and skin. Chop or shred the chicken meat and puy into a greased 13" x 9" pan.
Remove the vegetables from the broth with a slotted spoon and discard or set them aside to use as desired.
You will need about 3 cups of broth. Add water as needed.
Set Instant Pot to saute setting. Add butter, parsley, and bouillon to the broth and simmer until the butter melts.
Empty the bag of stuffing mix on top of the chicken in your baking dish.
Ladle the broth over the chicken/stuffing mixture. Fluff lightly with a fork until everything is evenly moistened and mixed together.
Top with more parsley.
The mixture should be moist but not soggy. If it seems dry, sparingly add more broth, cream, or milk if needed.
The casserole is fully cooked and ready to eat. Cover with foil and heat in a low oven until it is nice and warm
You can also refrigerate it and bake it later. Keep the casserole covered with foil while it reheats in a low oven.
Do-ahead hint: You can stop now, put the foil-covered casserole in the fridge, and reheat it on the big day. Make sure the foil stays nice and tight. If it seems dry, sparingly add a little more chicken broth, milk, or cream. Say no to soggy!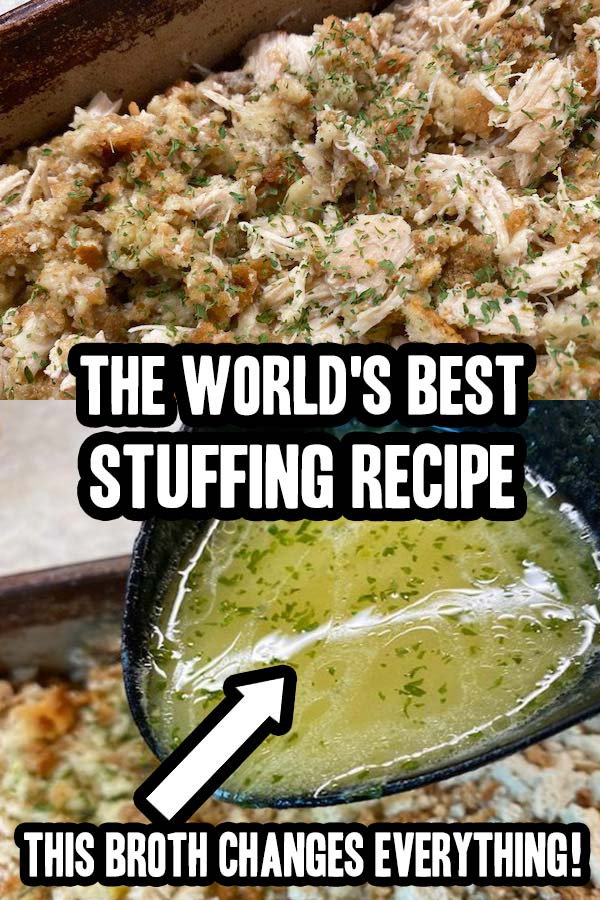 I hope you give this dressing a try. It's been a favorite of four generations in our family, and it would make me so happy to know if you enjoy it, too. There is so much chicken in this recipe it can almost stand alone as a main dish. This stuffing tastes absolutely amazing with my Homemade Red Cabbage!
What are the foods that are must-haves on your Thanksgiving table? We always love hearing about other families and their holiday traditions, so I hope you'll share yours with us!
More recipes from us: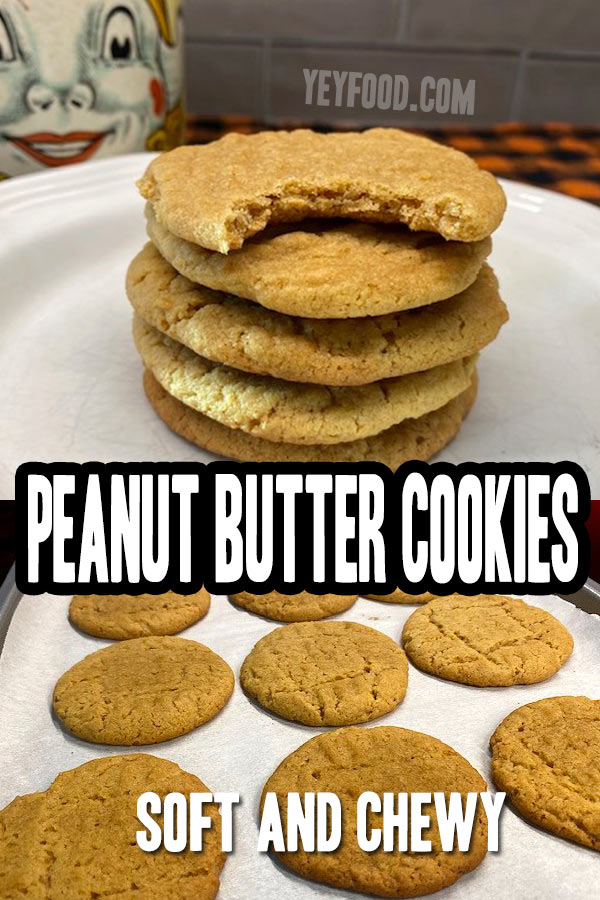 S'mores Bars How To Make Them Super Fast and Super Good
Easy 1 Pan Classic American Goulash
German Sauerkraut Casserole With Bacon And Brown Sugar
If you like these recipes, you are our people! You can check some related articles below or search via categories on the right. But be warned; you will be on here for hours. Enjoy! 
So, please share this recipe on your social media accounts like Facebook, Instagram, Twitter, and Pinterest. We would be honored and ever so grateful; thank you!