Fresh Cranberry And Orange Sauce Recipe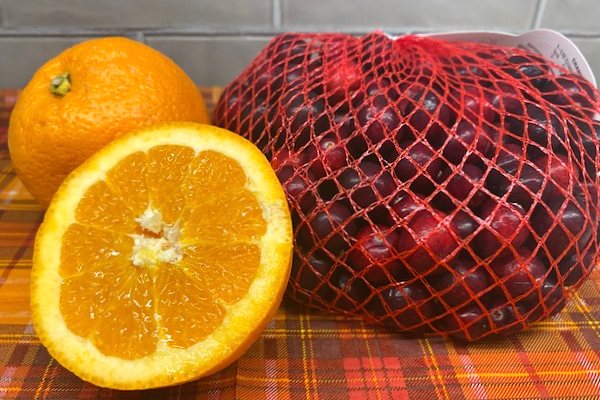 An explosion of bright flavors is what you taste when you make this amazing fresh cranberry and orange sauce! In the world of food pairing, cranberries and oranges create a most incredible couple! Their colors are beautiful together, the deep crimson and sunny orange are a splendid palette, and the sweet-tart combination is amazing!
All you need are a 12-ounce package of cranberries, oranges, a cup of sugar, and about 15 minutes. The speed of preparation leaves no excuses for lack of time, and this dish is well worth it!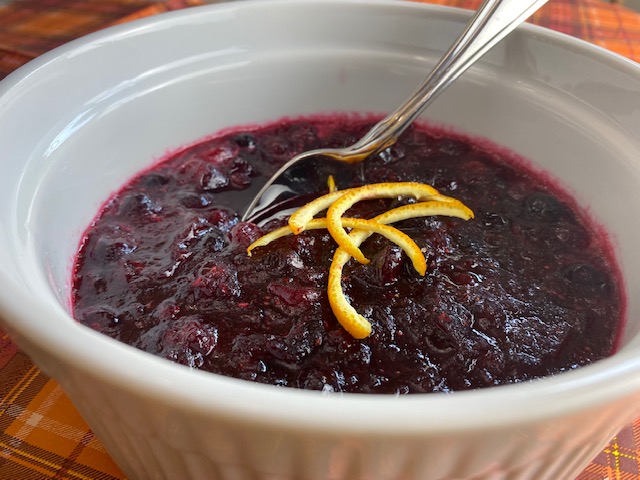 You Can Whip Out This Fresh Cranberry and Orange Sauce in 15 Minutes
Here's all you have to do.
"Zest" is the colorful outside layer of citrus peel, and it adds bright flavor and some texture to a recipe. Zest is one of those words that can be a noun or a verb, a tidbit for you word nerds like me. When instructions tell you to zest a tablespoon of an orange or lemon, for example, it means to scrape off only the outer layer by grating or to use a special zesting tool.
You do not want to use any of the white inner parts of the peel, sometimes called the pith—only the outer colorful skin. I do not own a zester yet, so I use the smallest side of my box grater. Here's a video that explains the process.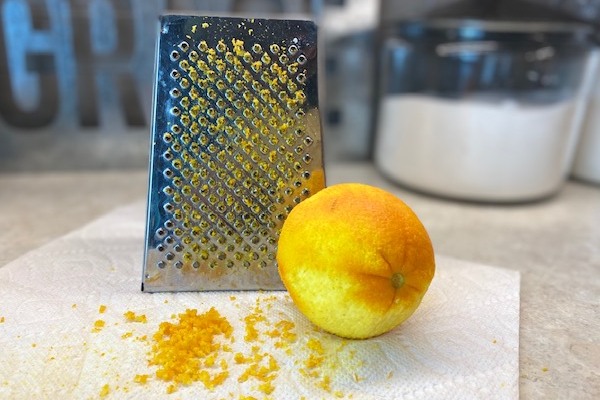 Next, squeeze the juice from enough oranges to make 2/3 cup of fresh juice. The number of oranges you need will vary by the size and type of orange you use, but here are a couple of tips to get the most juice from an orange, lemon, or any citrus fruit. Pop the fruit in the microwave for about 30 seconds to expand the juice-bearing cells inside. Then, roll it around on the counter to soften it up and break down the cells even more.
I use the very old Depression-era juicer passed down to me from my husband's maiden aunts. Be sure to notice the chips. I love it. I used a small sharp knife to carve off some very thin strips of peel to garnish the sauce.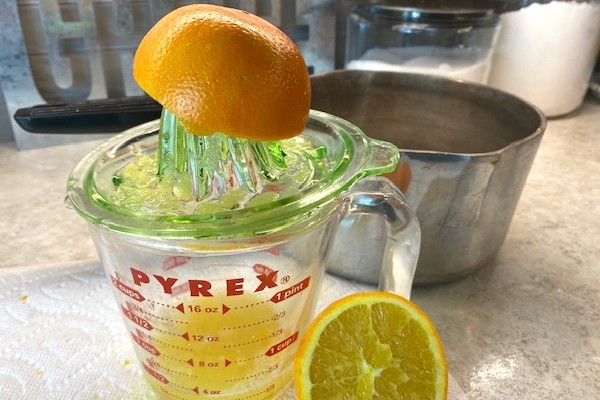 Hint: You can save the peels and put them along with some cinnamon sticks in a pot of water on the stove and let it simmer to make your entire home smell cozy and wonderful! Finally, you can discard the orange peels in the garbage disposal and leave that smelling great, too!
Now rinse the cranberries and put them in a heavy saucepan with the sugar, orange juice, and orange zest.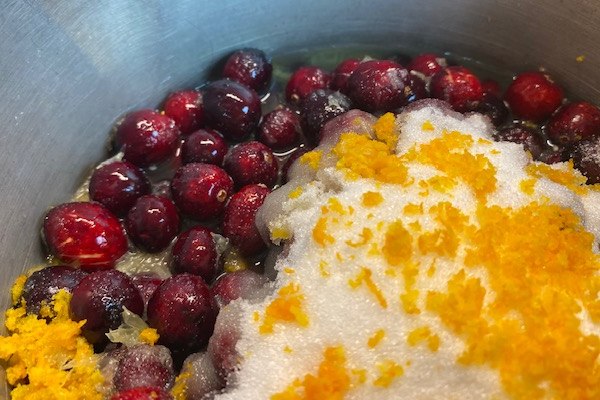 Cook over medium-high heat until the skin on the berries split and the contents start to spill out. You can decide how smooth or chunky you want the sauce to be.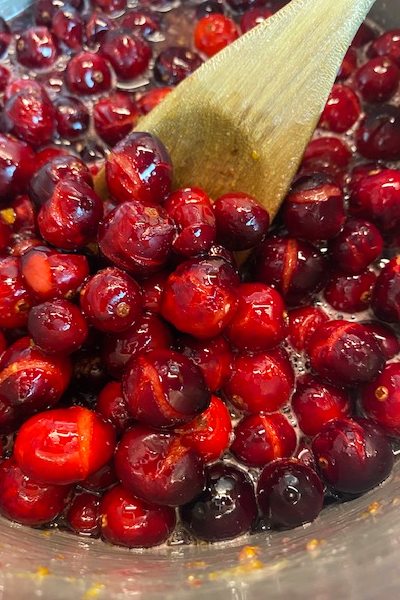 Once the berries began to split, I kept cooking until the sauce reached the consistency I wanted. I wanted a bit of texture in the sauce, so I stopped cooking when the berries were not quite cooked to a pulp. Chunky or smooth, it's delicious either way!
Yield: 2 cups
Fresh Cranberry Orange Sauce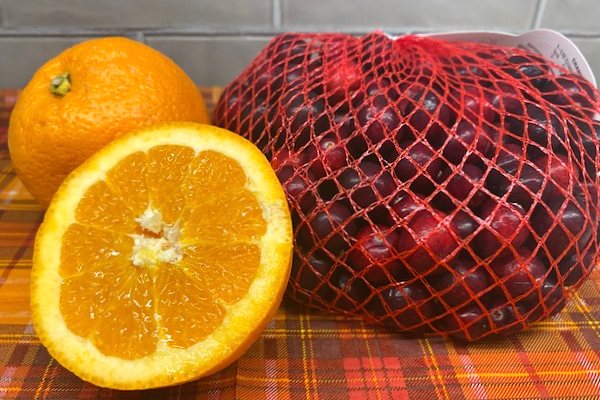 Easy and delicious cranberry sauce using fresh-squeezed orange juice and fresh cranberries.
Ingredients
One 12-ounce bag of fresh cranberries, rinsed
Zest of one medium orange
2/3 cup fresh-squeezed orange juice
1 cup granulated sugar
Instructions
Combine all ingredients in a heavy saucepan and cook over medium-high heat until all the cranberries pop open.
Stir occasionally to make sure all the sugar dissolves.
Continue to cook until you reach the desired consistency.
Cool completely before serving.
The sauce will thicken as it cools.
Pour into a serving dish and refrigerate. The sauce will thicken on its own as it cools.
This sauce is a natural accompaniment to your Thanksgiving table. It tastes amazing with either turkey or ham. IF there is any leftover, it brings a leftover turkey sandwich to a whole new level, and it tastes fabulous with my very special World's Best Stuffing and Homemade Red Cabbage, too!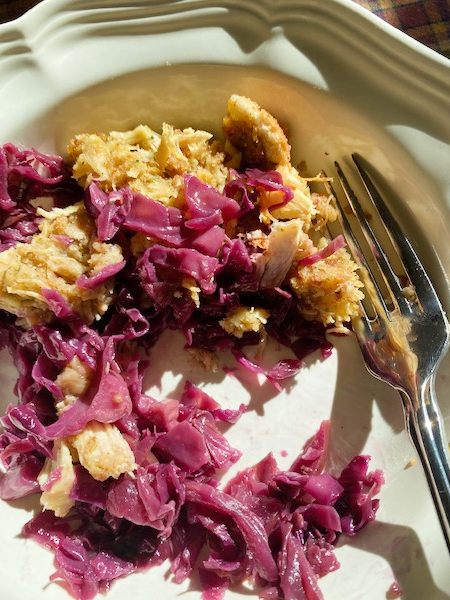 We'd love to hear about your favorite Thanksgiving recipes! What's the one thing that would cause an uproar if you didn't have it on the table?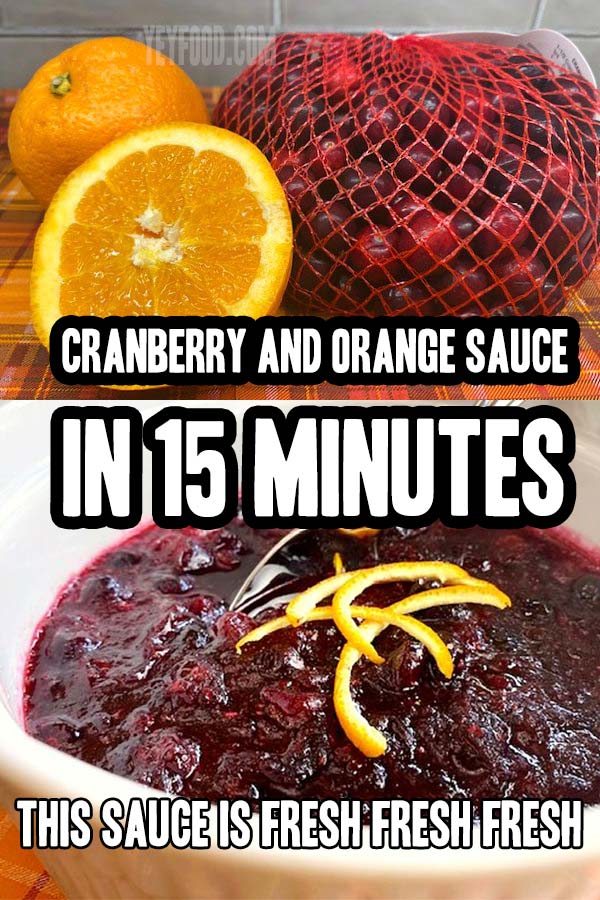 More recipes from us: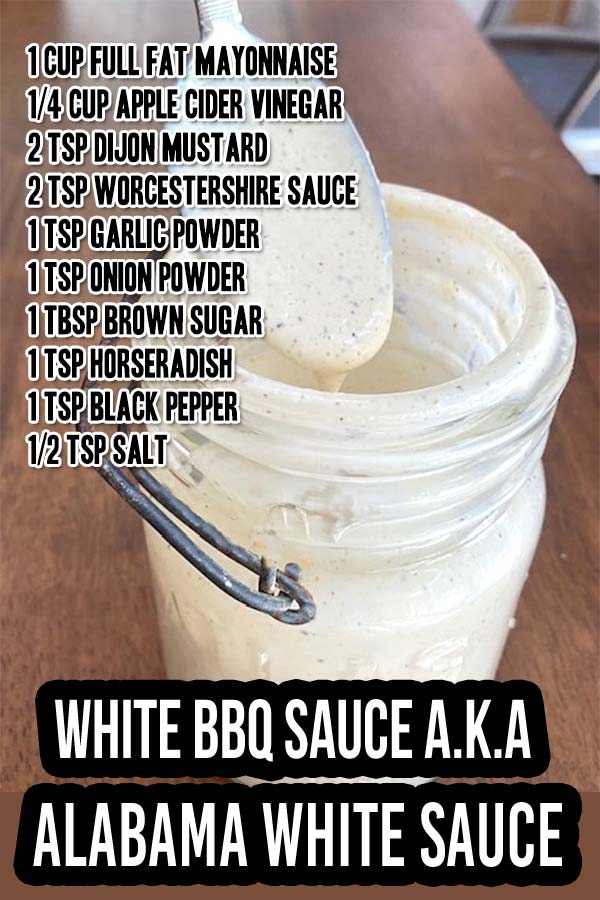 S'mores Bars How To Make Them Super Fast and Super Good
Easy 1 Pan Classic American Goulash
German Sauerkraut Casserole With Bacon And Brown Sugar
If you like these recipes, you are our people! You can check some related articles below or search via categories on the right. But, be warned; you will be on here for hours. Enjoy!
So, please share this recipe on your social media accounts like Facebook, Instagram, Twitter, and Pinterest. We would be honored and ever so grateful; thank you!