Homemade Red Cabbage Recipe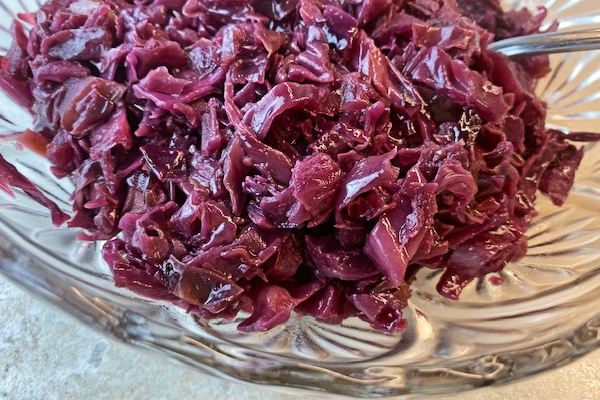 Homemade red cabbage was a staple at holiday meals when I was a girl. My parents immigrated to the United States from Denmark and Iceland in 1950 and brought their traditions along; red cabbage was important!
Homemade red cabbage isn't just a German dish. This sweet and sour combination is loved all over Scandinavia and northern Europe, whether the main course is duck, goose, or a succulent pork roast. It goes great with turkey, too!
Serve Homemade Red Cabbage When You Want A Colorful And Surprising Side Dish
Let's face it. A plate of turkey, mashed potatoes, and stuffing may be delicious, but it can look pretty boring. The pop of color red cabbage adds to the plate is pretty spectacular.
Red cabbage is a little sweet and a bit tangy, and the flavors pair exceptionally well with a typical holiday menu. Unlike other holiday goodies, it's good for you! This dish is extremely nutritious, high in fiber, and low in calories. Winner, winner, turkey dinner!
Red cabbage trivia: The color of red cabbage varies somewhat depending on the soil's acidity where it grows. The color ranges from dark red to nearly purple. The more acidic the soil, the redder the cabbage, while alkaline soil brings out the blue undertones and makes the cabbage look more purple!
Homemade Red Cabbage Is So Easy To Make In One Pot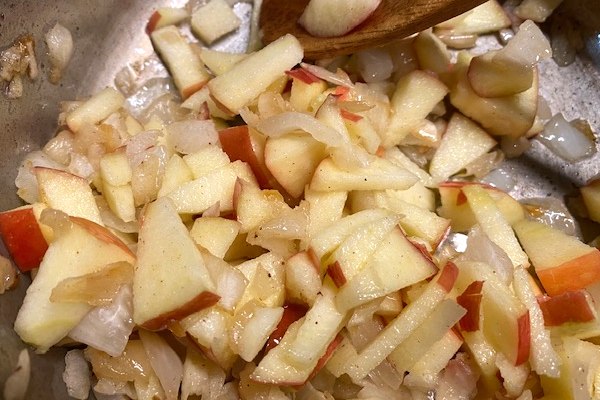 Chop a medium onion and saute it in a heavy pot. Use bacon drippings if you have some because it adds so much great flavor. If you don't, use real butter. Core and chop a whole unpeeled apple and add it to the pot when the onions become transparent and fragrant.
Let that mixture get nice and soft, then add a small head of red cabbage you have shredded. Put 1/4 cup of apple cider vinegar, 1/4 cup of sugar, and a teaspoon or so of coarse salt in the cabbage-apple-onion mixture. Turn heat down to medium-low and let the cabbage braise slowly.
Vinegar is important in this recipe, and not just for the flavor it brings. The acid in the vinegar helps the cabbage retain its striking color. Without vinegar, the cabbage would turn a sickly blue color when cooked!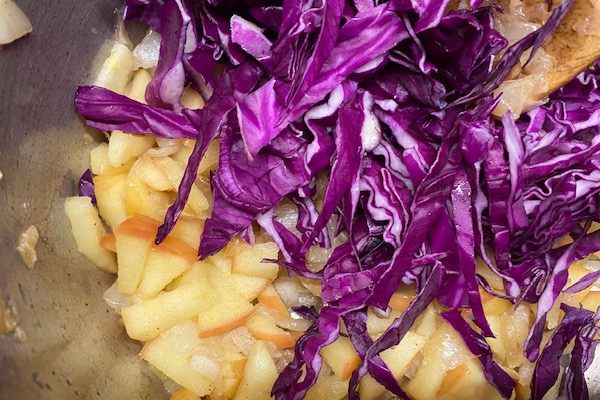 Stir it occasionally. It will form more juice as it cooks down. The cabbage will be tender but not mushy after about an hour or an hour and a half. Now, you can refrigerate it and warm up it up when needed.
This dish tastes even better reheated, so it's a good one to make a day or two ahead of the feast. You may want to add a little more sugar, vinegar, or salt until it tastes just right to you.
Homemade red cabbage is exceptionally good with sausage or pork roast, too! My dad loved to add some cold red cabbage to his turkey or pork sandwich when it was time to enjoy the leftovers!! And speaking of leftovers, it's great with my "world's best stuffing" recipe too!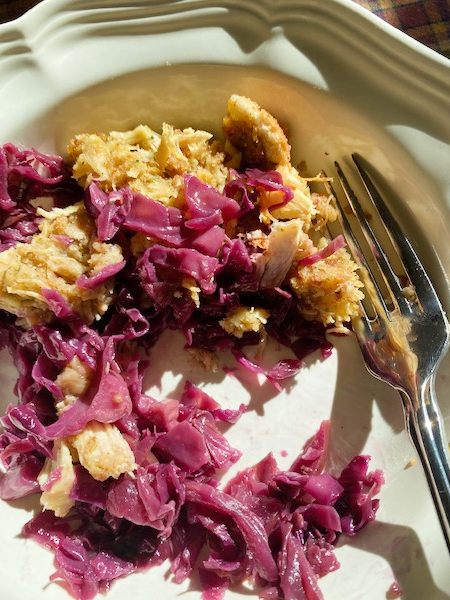 Feature Bright Beautiful Homemade Red Cabbage In Your Holiday Menu
Yield: 10 servings
Homemade Red Cabbage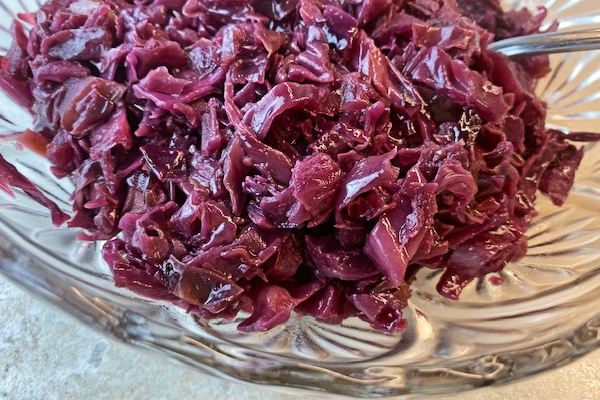 Traditional German-style sweet and sour red cabbage. Great with turkey, goose, duck, or pork roast. Easy to make ahead, and it reheats well.
Cook Time
1 hour
30 minutes
Total Time
1 hour
45 minutes
Ingredients
3 Tbsp bacon drippings or real butter
1 medium onion, chopped
1 tart apple, unpeeled, cored, and chopped
1 small head red cabbage, shredded
1/4 cup apple cider vingar
1/4 cup sugar
1 tsp coarse salt
Instructions
Saute onion in bacon drippings or butter until soft, transparent, and fragrant. Don't brown.
Add chopped apple and continue to saute until apple is soft.
Add shredded cabbage, vinegar, sugar, and salt to the pot.
Turn heat to low and braise slowly, occasionally stirring for 60- 90 minutes.
You can make this 2 or 3 days in advance and refrigerate. The flavor improves when reheated.
Nutrition Information:
Yield:
10
Serving Size:
1
Amount Per Serving:
Calories:

110
Total Fat:

4g
Saturated Fat:

2g
Trans Fat:

0g
Unsaturated Fat:

1g
Cholesterol:

9mg
Sodium:

297mg
Carbohydrates:

19g
Fiber:

2g
Sugar:

13g
Protein:

2g
My daddy has been gone for many years, but every time I make this dish, I think about him and growing up with all the old country traditions.
Our mom is in assisted living, so she couldn't spend Thanksgiving with us because of last year's pandemic. Sadly, no outside visitors were allowed. I filled a little casserole dish for her, and I put our favorite dressing on one side and red cabbage on the other.
I warmed it up, snapped the lid on it, and slipped it into an insulated bag along with a fork. It's only a five-minute trip to the facility where mom lives, and I zipped over there. A kind staff member hustled her little care package to her apartment.
As soon as I got home, I called her to see how she liked it. She was still eating it when I called and said it was "Wonderful! It's just not a holiday without red cabbage." That what I thought, momma, that's what I thought.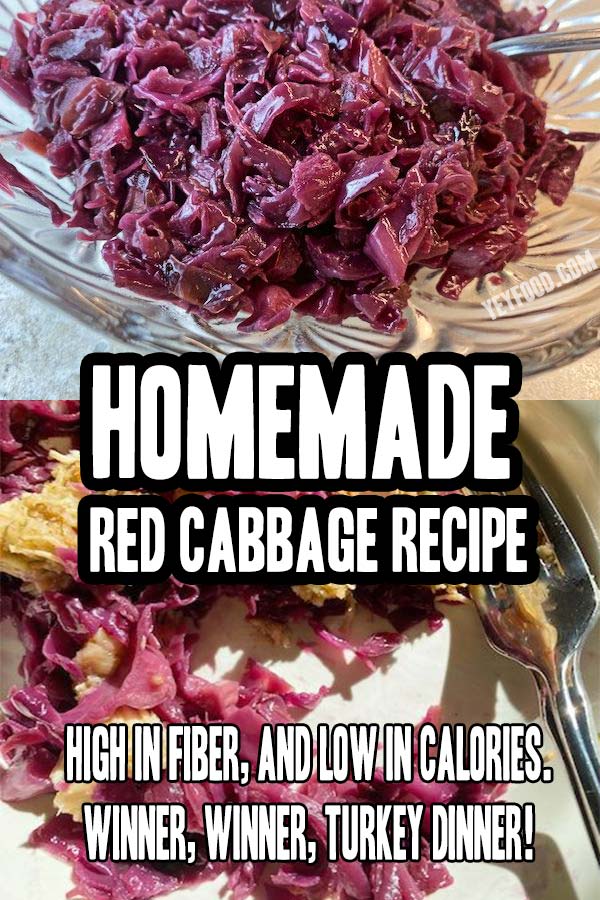 We would just love to hear about your family traditions and holiday dishes! What is the one dish that brings back warm memories of holiday dinners when you were growing up? Have you ever had red cabbage? We hope you try it!
More recipes from us: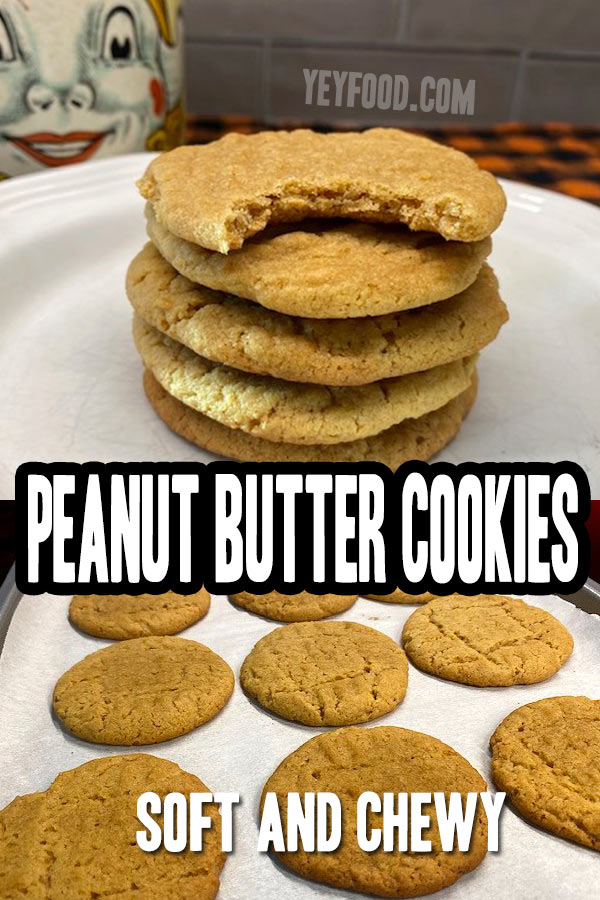 S'mores Bars How To Make Them Super Fast and Super Good
Easy 1 Pan Classic American Goulash
German Sauerkraut Casserole With Bacon And Brown Sugar
If you like these recipes, you are our people! You can check some related articles below or search via categories on the right. But, be warned; you will be on here for hours. Enjoy!
So, please share this recipe on your social media accounts like Facebook, Instagram, Twitter, and Pinterest. We would be honored and ever so grateful; thank you!