Simple and Delicious Cranberry Cake Recipe
This cranberry Christmas cake is the perfect little black dress of desserts. It's so simple, yet beautiful; an absolutely delicious buttery sweet cake studded with whole fresh cranberries. An amazing sugary crust magically forms on top as it bakes. Less is more, and this cake is fabulous.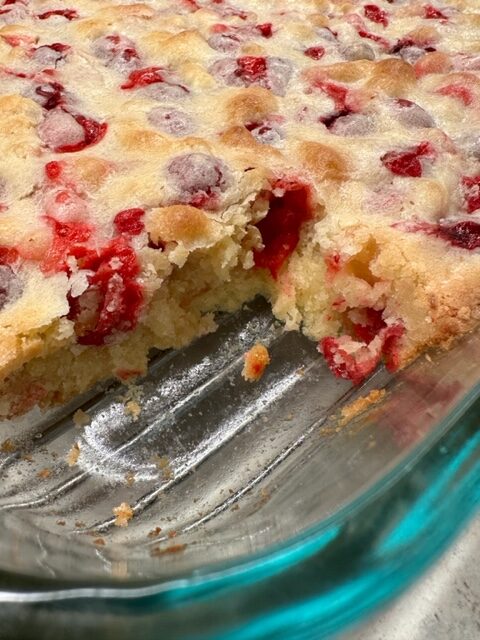 It's peak cranberry season! Americans eat 400 million pounds of cranberries every year! Bags and bags of fresh cranberries are piled high in the produce departments of grocery stores all over America right now.
I love that almost all of our cranberries are grown here in the USA! Grab several extra bags while they are available because cranberries freeze beautifully right in the package, so you can grab some out of the freezer and make your favorite recipes all year long! Don't defrost the, just fold the frozen berries into the batter.
Cranberries are our second favorite berry, right below strawberries, and for a good reason! Cranberries can be used in so many ways, from sweet and savory jams, dips, and salsas to amazing bread, pies, and desserts! Twenty percent or eighty MILLION pounds of cranberries are eaten during Thanksgiving week alone!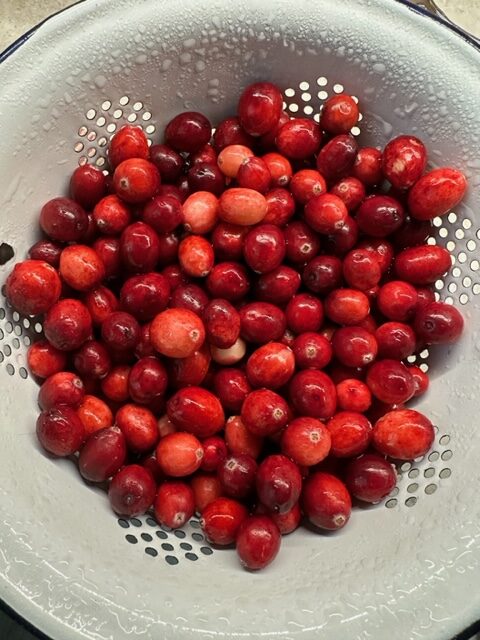 When I saw a recipe for a simple cake using whole fresh cranberries, I knew I would love it, especially when I saw the main ingredients are butter and sugar! This cake did not disappoint; in fact, it might be my best new cake find of the year!
The cake is almost chewy, like a buttery bar cookie. The sweetness and the touch of vanilla play perfectly with the tart berries that burst open as the cake bakes. My favorite part is how the batter magically forms a thin, crisp, sugary layer on top. I think this cake is absolutely perfect in every way.
This Unique Cranberry Christmas Cake Uses Only 3 Eggs To Make It Rise
You may notice the recipe has no baking powder or baking soda. In this tender cake, three eggs beaten with sugar for five to seven minutes are the only leavening in this cake. The beaten eggs trap air bubbles in the dough to create a light, fluffy texture.
Yield: 16 pieces or more
Cranberry Christmas Cake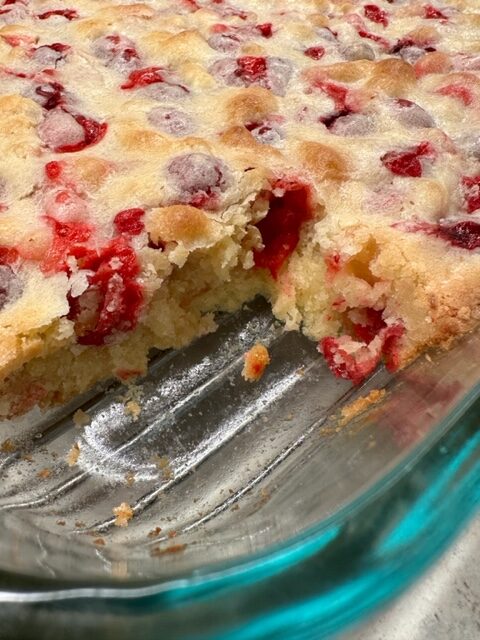 Cranberry Christmas Cake is simple, yet beautiful; an absolutely delicious buttery sweet cake studded with whole fresh cranberries. An amazing sugary crust magically forms on top as it bakes.
Ingredients
3 large eggs at room temperature
2 cups granulated sugar
3/4 cup butter, softened and cut into pats
1 teaspoon vanilla
2 cups all-purpose flour
12 oz bag of fresh cranberries, rinsed and drained
Instructions
Butter or spray a 13" by 9" baking pan.
Preheat oven to 350 degrees.
Beat the eggs with the sugar until slightly thickened, light in color, and about doubled in volume - about 5-7 minutes. This is easiest if you have a stand mixer. Be patient; take your time with this step. The beaten eggs are what give the cake its volume.
Add the butter and vanilla; mix for two more minutes.
Add the flour gradually and beat until there are no streaks of flour showing, but don't overbeat.
Add the cranberries and stir to mix throughout. You can use your stand mixer for this step too. The cranberries will break up even more as the cake bakes.
Spread the thick dough in the pan and pat it in place.
Bake for 40-50 minutes or until the top is a light golden brown and a toothpick inserted near the middle of the cake comes out clean.
Let the cake cool completely before cutting it into serving pieces.
Be patient during this process. As you beat the eggs and sugar together, the mixture gets thicker and lighter in color, almost lemon-colored. The volume increases by nearly double. You know you have beaten them long enough when you pull the beaters out of the mixture, and the batter drips off in a thin ribbon.
Next, add the softened butter and vanilla and beat until the butter is fully incorporated into the egg mixture. To speed that along a little, cut the butter into pats and add them a few at a time.
Now gradually add the flour and mix only long enough so no streaks of flour can be seen. Finally, use the mixer to beat in the whole cranberries. They will break up a little as you do, but as the cake bakes, they will burst open and release their marvelous juice! The batter will be thick, almost like cookie dough!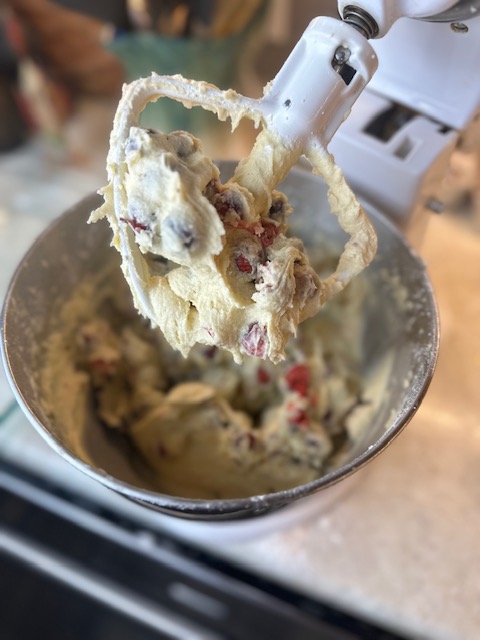 Pat the batter into a thirteen-by-nine pan you have buttered or sprayed. Bake the cake in a 350-degree oven for about 45 minutes. The top should be a light golden brown, and when you poke a toothpick or cake tester near the middle of the cake, it should come out clean.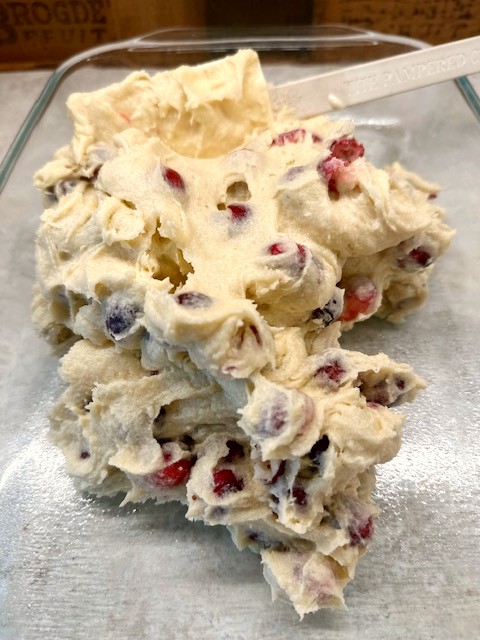 Look at that beautiful cake! A thin crisp sugary glaze will form like magic on the top as the cake cools. It's so pretty it almost looks like frost!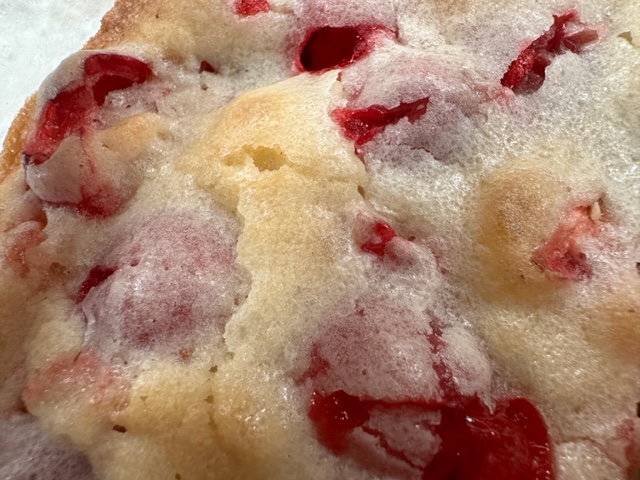 Let the cake cool completely before you cut it because the squares will come out more neat and clean. Confession: I did not wait; I couldn't help myself! It was messy but so incredibly delicious I didn't care.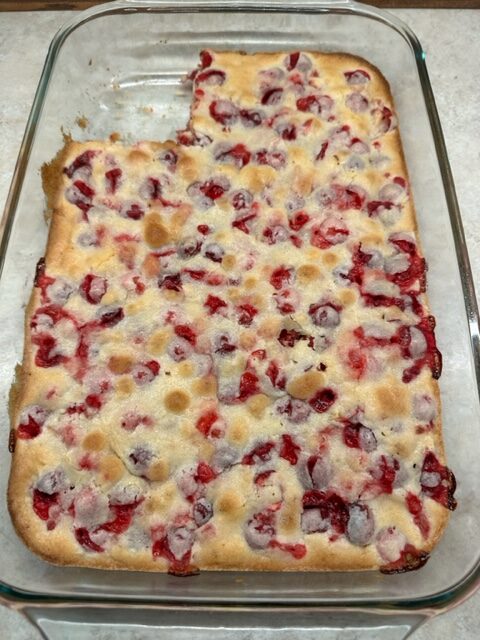 Thanksgiving and Christmas are all about cranberries! Never enough cranberries, I say! What's your favorite way to serve cranberries for the holidays? Here are some more of our popular cranberry recipes: Fresh Cranberry and Orange Sauce, No Bake Cranberry Cream Pie, and Keto Cranberry Chocolate Chip Cookies.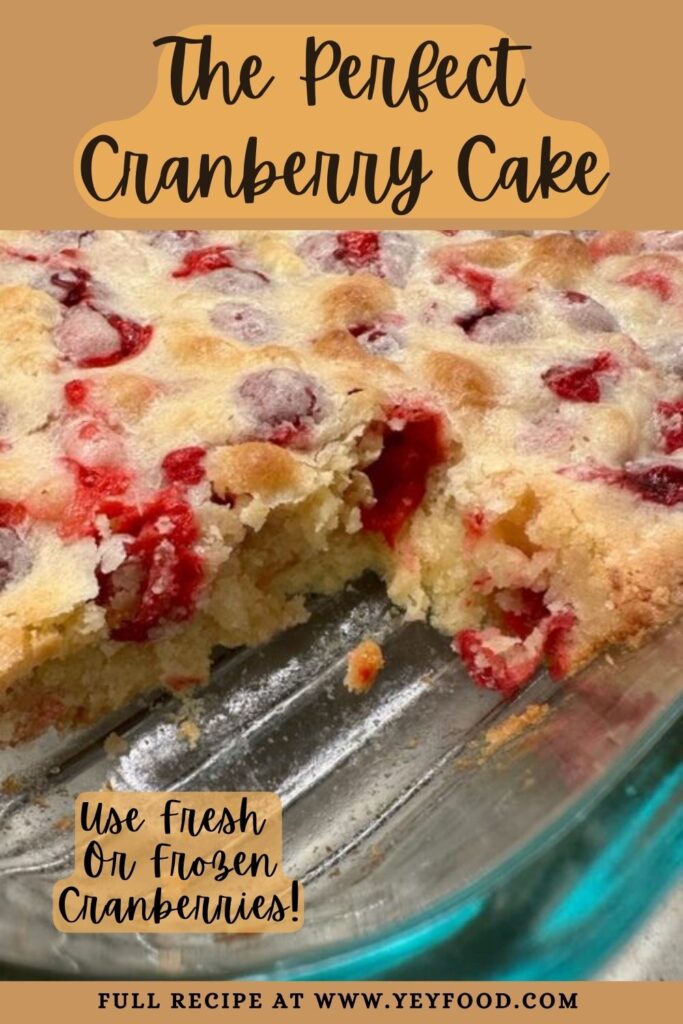 MORE OF OUR TASTY FAMILY-FRIENDLY RECIPES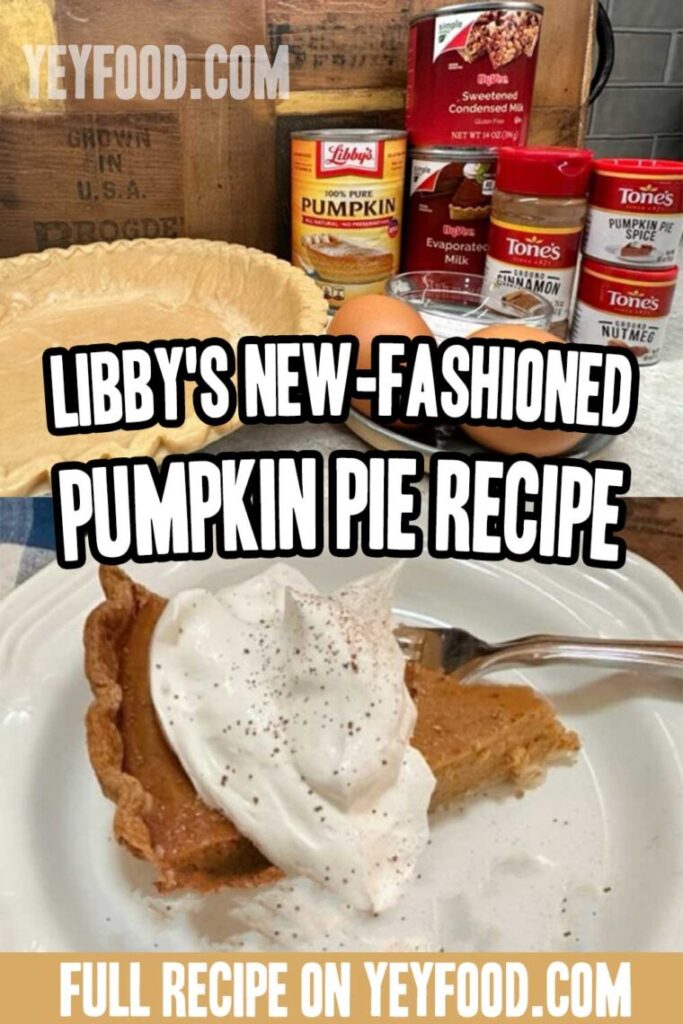 The Ultimate Bread and Butter Pickle Recipe
Oven-Baked Steak With Brown Gravy
If you like these recipes, you are our people! You can check some related articles below or search via categories on the right. But be warned; you will be on here for hours. Enjoy!