Easy Mexican Corn Dip Recipe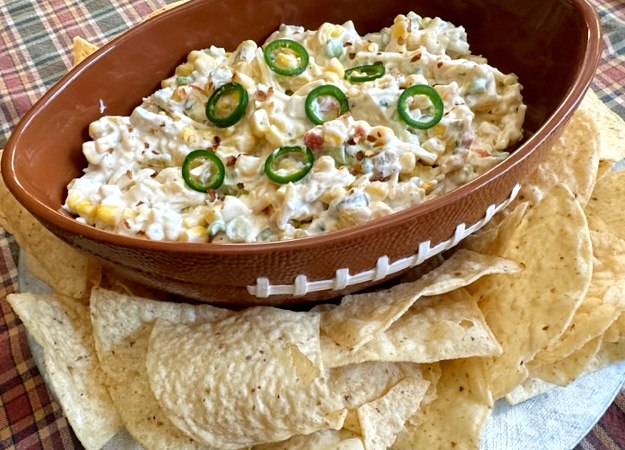 This Mexican corn dip has it all! It was inspired by elote, also known as Mexican street corn. It's a little sweet, a little hot, a little creamy, and oh-so cheesy. It's everything you want on a chip, and you'll be hooked the minute you start eating it.
If that isn't enough to make you want to take this recipe out for a spin, it comes together in a matter of five minutes! The ingredients are very simple, but when you put them together, you have a winner!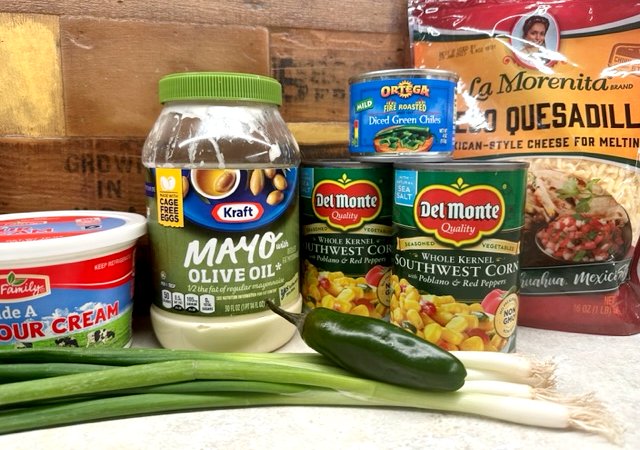 The original recipe calls for three 11-ounce cans of Mexican-style whole-kernel corn. Green Giant still manufactures that product, but my local store doesn't carry it.
I used Del Monte's Southwest Corn instead. It is almost the same thing, but with a different name. Their cans are 15.25 ounces, so two cans of their brand came close enough!
Drain the corn and put it in a mixing bowl. Remove the stems, seeds, and membranes from a jalapeno pepper, and chop it very fine. Chop the green onions finely, and use some of the green parts! It adds lots of flavor.
Be sure to wash your hands thoroughly with soap and water after you handle the jalapeno peppers because the capsaicin, mostly found in the seeds, can painfully burn your eyes.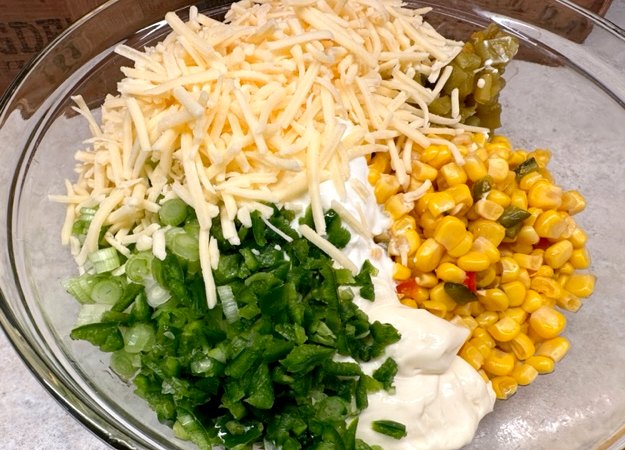 All that's left to do is to mix the vegetables with mayonnaise and sour cream until it's all well blended. Finally, fold in the shredded cheese. I could not resist adding some little rings of jalapeno for a garnish! Let this Mexican corn dip sit in the refrigerator for at least two hours before you serve it so all the flavors can mingle and live happily ever after together.
Yield: 12 servings
Easy Mexican Corn Dip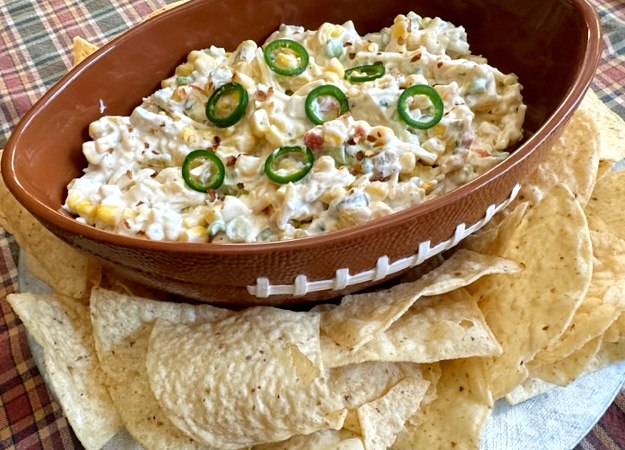 This corn dip is cool and refreshing. A little sweet, a little creamy, a little spicy, and so cheesy! Great on chips, vegetables, crackers, or Hawaiian bread.
Total Time
2 hours
5 minutes
Ingredients
Three 11-ounce cans of Mexican-style corn or two 15.25 ounce cans of Southwest corn, drained.
1 1/2 cups grated Mexican blend cheese
1 cup sour cream
3/4 cups mayonnaise
One four-ounce can of green chiles, drained
5 green onions, chopped fine, include part of the green top.
1 jalapeno pepper, seeded and chopped fine.
Instructions
Drain corn and combine all ingredients in a medium bowl.
Refrigerate at least two hours before serving to let the flavors blend.
That's it, folks, a basic recipe for a yummy Mexican corn dip that will always be a hit and will send you home from the party with an empty bowl every time. But wait. Let's talk about some things you can do to change this dip to make it perfectly suited for your unique palette.
Del Monte also sells canned fire-roasted, seasoned corn with slightly charred kernels. Give that a try!
Are you a mild child? It's okay if you leave out the jalapenos completely. How about if you want more heat? Add more jalapenos, serrano, or even habanero peppers if you dare! Chili powder, you bet. Red pepper flakes? On it! Do you love you some lime? Bring it on!
Are you a vegetable lover, or would you like to add some healthy volume to each batch? Chop up some fresh red and green peppers and add them to the mix! Do you adore cilantro? Chop and add some to the rest of the goodies!
Do you have cheddar cheese on hand and don't want to run to the store? Cheddar cheese works great! So does Cojita cheese, feta cheese, or even Parmesan cheese can be substituted. Heck, you can even design your own special cheesy blend!
Use scoopy corn chips, Doritos, Sun Chips, Tortilla Chips, chunks of bread, especially sweet Hawaiian bread, carrot, or celery sticks, or go wild and spoon it on a baked potato or over tater tots!
Between now and the Super Bowl, there will be umpteen reasons to gather and snack. I can't think of a party, a bowl game, a holiday, or an ordinary Saturday night when this Mexican corn dip wouldn't be welcome. I sure hope you give it a try!
Are you looking for more appetizer ideas? Here are some of our most popular recipes: Little Smokies Jalapeno Poppers, Million Dollar Dip, Puff Pastry Appetizer With Cheese and Garlic, Hot Bacon and Swiss Dip.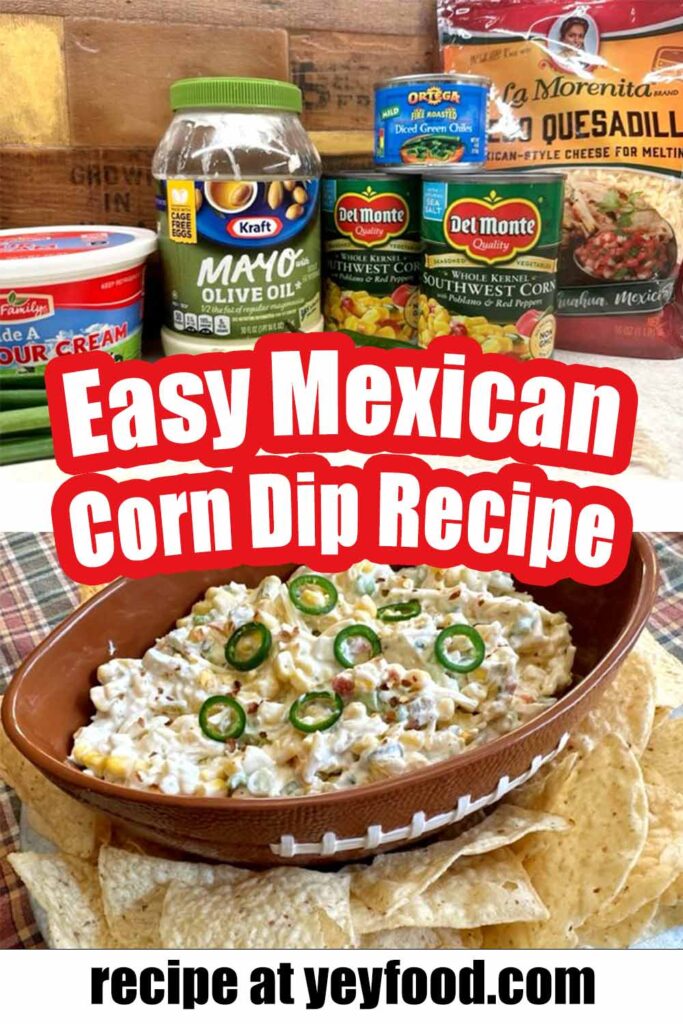 MORE OF OUR QUICK AND EASY FAMILY-STYLE RECIPES: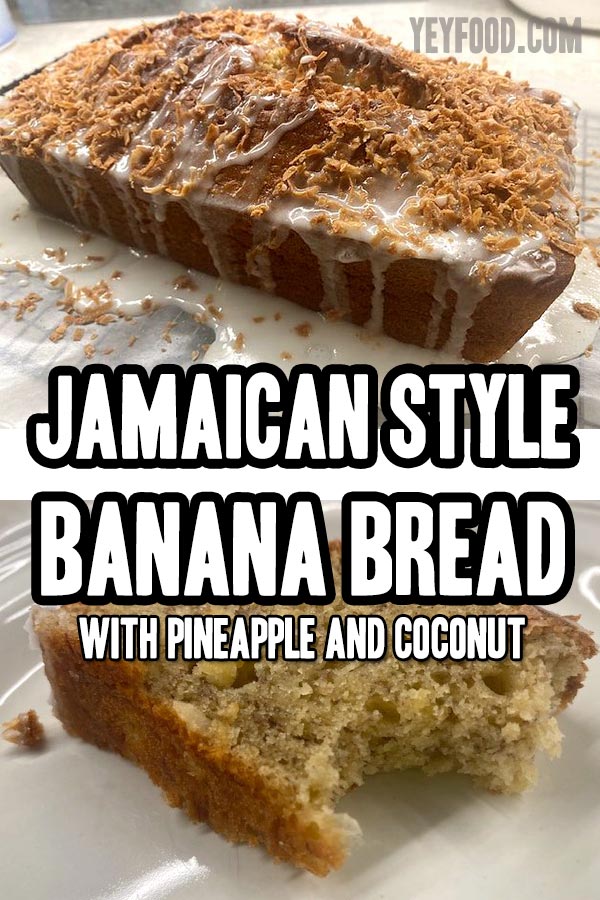 The Number 1 Practically Perfect Poppy Seed Bread
Oven-Baked Steak With Brown Gravy
Delicious Puff Pastry Appetizer With Cheese And Garlic
If you like these recipes, you are our people! You can check some related articles below or search via categories on the right. But be warned; you will be on here for hours. Enjoy!