Smokies Cheese Bacon Jalapenos All In 1 Great Appetizer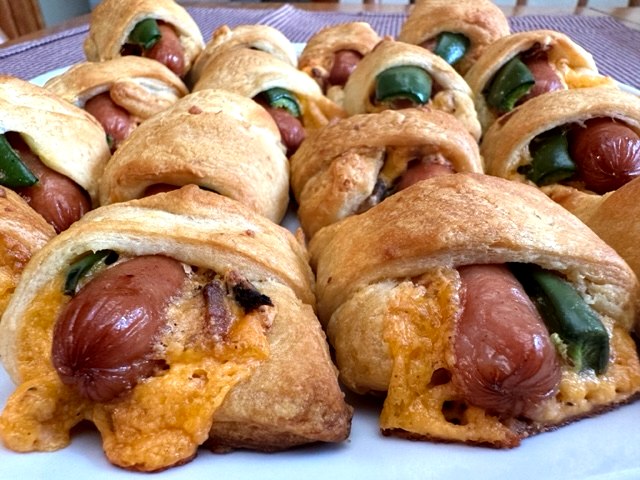 Who says you can't have it all? Here's the ultimate appetizer that defies that thinking and says, "Yes, you can!" Little smokies, loads of cheese, bacon, and slivers of jalapeno all wrapped inside flaky crescent roll dough.
It's like a party in your mouth when you combine all these fabulous flavors! Here is just the thing you want to take to the first party of the holiday season. When I shared this recipe with my daughter, she said, "You had me at crescent rolls!" My son-in-law said, "ANYTHING with little smokies HAS to be good!"
I find it interesting how certain brands become the term we use for a product. For example, not every facial tissue is a Kleenex. Not every cocktail weiner is a little smokie, but Hillshire Farms has made the term "smokies" a household word. Interestingly enough, Hillshire Farms makes a wide variety of these beloved little sausages, and the product's actual name is Lit'l Smokies.
Roll Up Thirty Two Delicious Appetizers In About 15 Minutes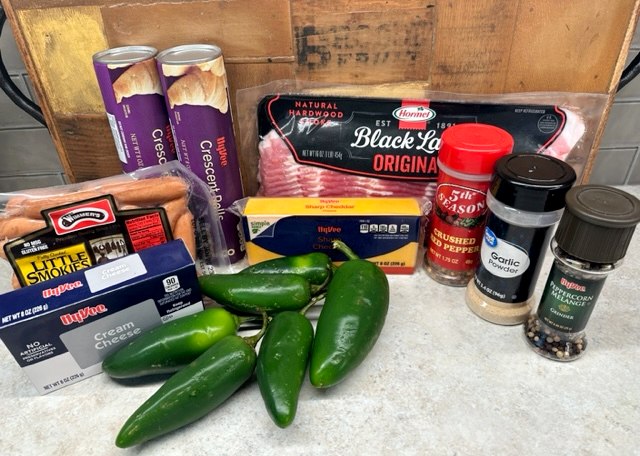 The best method for cooking bacon is to bake it in the oven! It stays flat, and you don't even need to turn it! Cook and crumble four slices of bacon.
Soften half of an eight-ounce package of cream cheese in a medium mixing bowl. Shred an eight-ounce block of sharp cheddar cheese to make two cups of shredded cheese. I always suggest you grate cheese from a block because it tastes better, melts better, and costs less than what you buy in bags.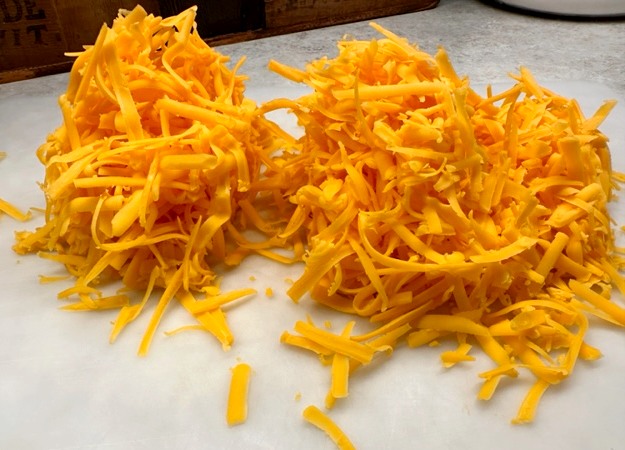 Preheat the oven to 350 degrees. Mix the cream cheese and shredded cheese, then stir in the bacon, garlic powder, black pepper, and red pepper flakes. Set this mixture aside while you prepare the jalapenos.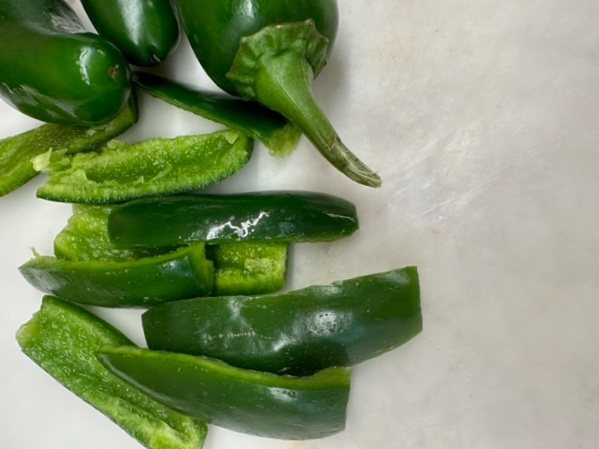 Wash and cut each jalapeno in half lengthwise, then cut each half in half lengthwise. Remove the stems, the center membranes, and all the seeds. The seeds are the hottest part of the pepper! You can cut the jalapenos into smaller strips if you want less heat. Set the jalapenos aside.
After cutting up the peppers, please wash your hands thoroughly with soap and water, rinse them and dry them well. And please do not touch your eyes while cutting up the jalapenos! The capsaicin in the peppers can painfully burn your eyes.
Unwrap the little smokies. Much to my delight, I found a few extra in the package. I ate them, of course!
Unroll a package of crescent rolls and separate the dough into triangles. Cut each triangle in half lengthwise.
Put a generous teaspoon of cheese mixture on the wide end of the crescent roll dough. Add a sliver of jalapeno and a little smokie, roll up the dough from the wide end, and place each popper on a baking sheet. It is not necessary to grease the pan.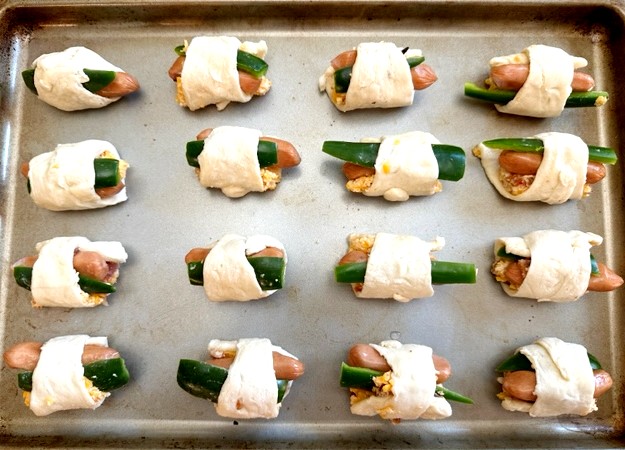 Repeat with the second package of crescent rolls. The dough will expand as it bakes, so allow plenty of space between each popper on the baking sheets.
Yield: 32 appetizers
Little Smokies Jalapeno Poppers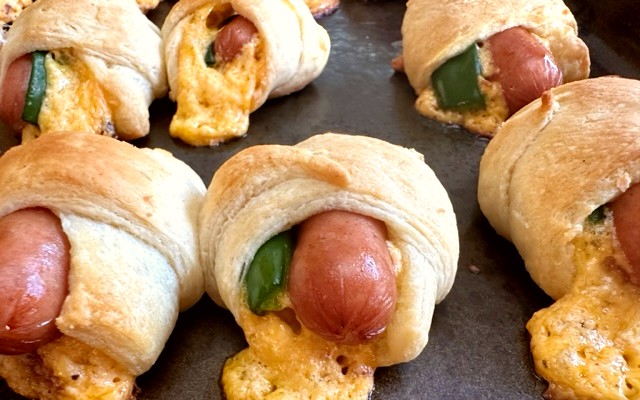 Here is a recipe for the ultimate appetizer because it contains all your favorites! Little smokies, loads of cheese, bacon, and jalapenos all wrapped up in a flaky crescent roll dough!
Ingredients
One 14-ounce bag of little smokies cocktail weiners
2 tubes of crescent roll dough
4 strips of bacon, cooked crisp and crumbled
4 ounces of cream cheese, softened
2 cups of grated sharp cheddar cheese
8 small jalapenos, stem, membrane, and seeds removed, then cut in fourths lengthwise
!/2 tsp red pepper flakes
1/2 tsp garlic powder
1/2 tsp fresh cracked black pepper
Instructions
Preheat oven to 350 degrees
Cook and crumble four slices of crisp bacon.
Wash jalapenos and remove the stem, membrane, and all seeds. Cut each jalapeno into quarters lengthwise.
Soften half of an eight-ounce package of cream cheese in a medium mixing bowl.
Shred an eight-ounce block of sharp cheddar cheese to make two cups of shredded cheese.
Combine softened cream with shredded cheddar.
Stir in the bacon and seasonings.
Unroll a tube of crescent rolls and separate them into triangles
Cut each triangle in half lengthwise.
Place a generous teaspoon of the cheese mixture, a sliver of jalapeno, and a weiner on the wide end of a crescent roll triangle and roll toward the point.
Place each popper on an ungreased baking sheet
Repeat with all the crescent rolls
Bake for 30 minutes at 350 degrees or until the dough is golden brown.
Serve warm.
Notes
An eight-ounce block of cheese will yield two cups of shredded cheese.
Bake the poppers at 350 degrees until they're golden brown, the cheese is all melty, and the little smokies are plump and juicy. These yummy treats made with little smokies are best when you serve them while they're still warm.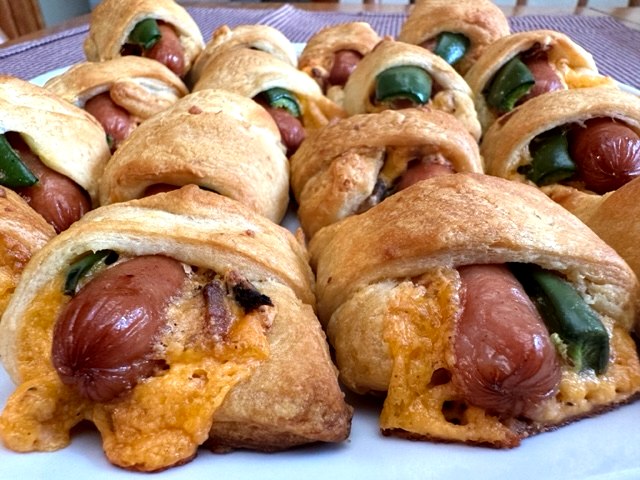 Thanksgiving and Christmas are just around the corner, and we'll all be on the lookout for snack and appetizer ideas!
If you're a football fan, this is a great recipe for all the upcoming bowl game parties, too! Here are some of our favorite appetizer recipes: Ten Minute Cheese Ball, Oven Baked Buffalo Wings, Sheet Pan Nachos, and Beer Cheese Dip. What's your favorite go-to appetizer?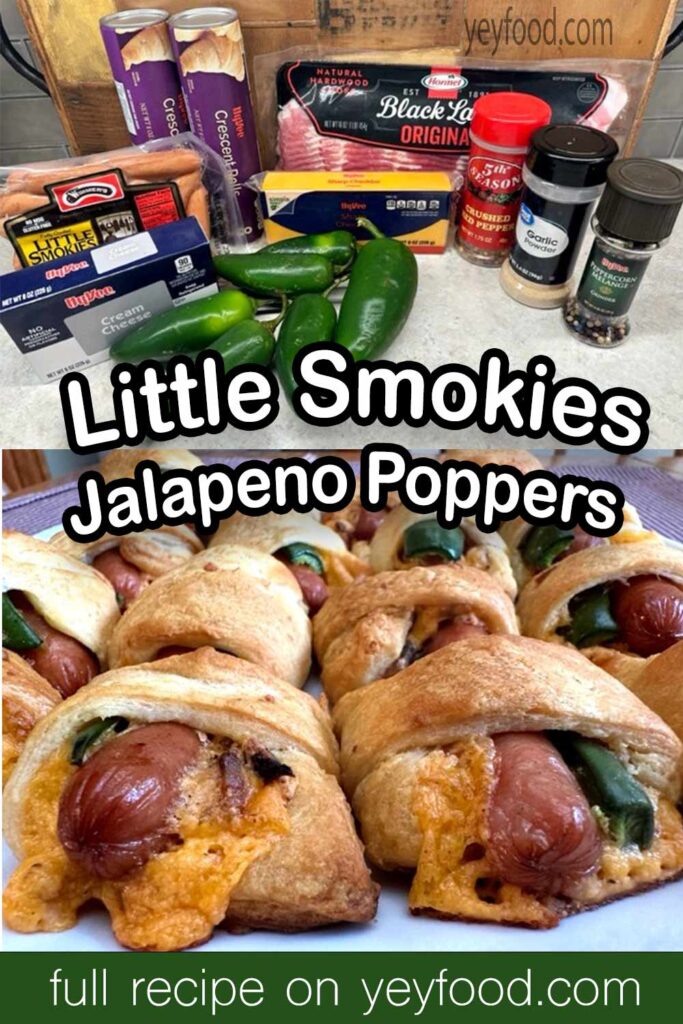 MORE OF OUR QUICK AND EASY FAMILY-STYLE RECIPES: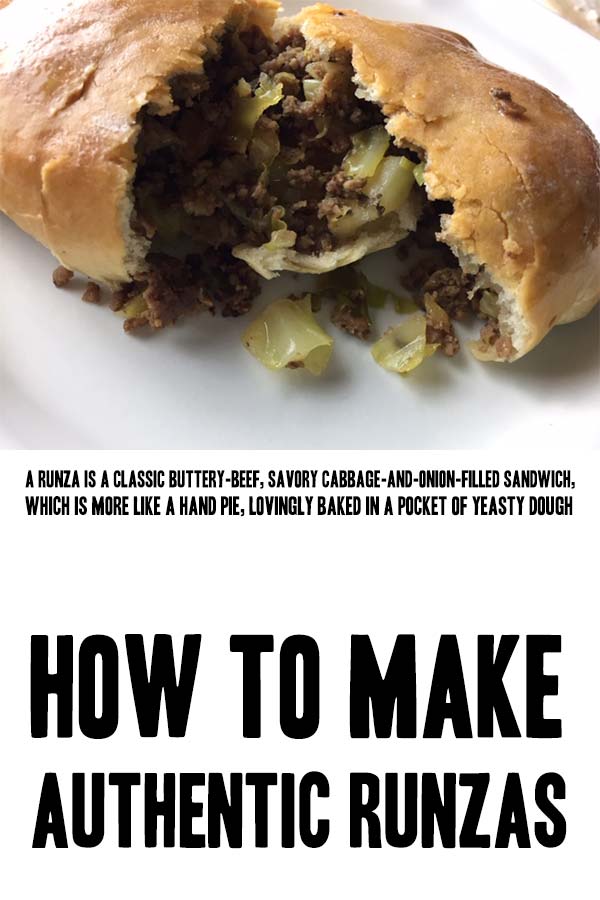 The Ultimate Bread and Butter Pickle Recipe
Oven-Baked Steak With Brown Gravy
If you like these recipes, you are our people! You can check some related articles below or search via categories on the right. But be warned; you will be on here for hours. Enjoy!