Beautiful Apple Cider Bundt Cake Recipe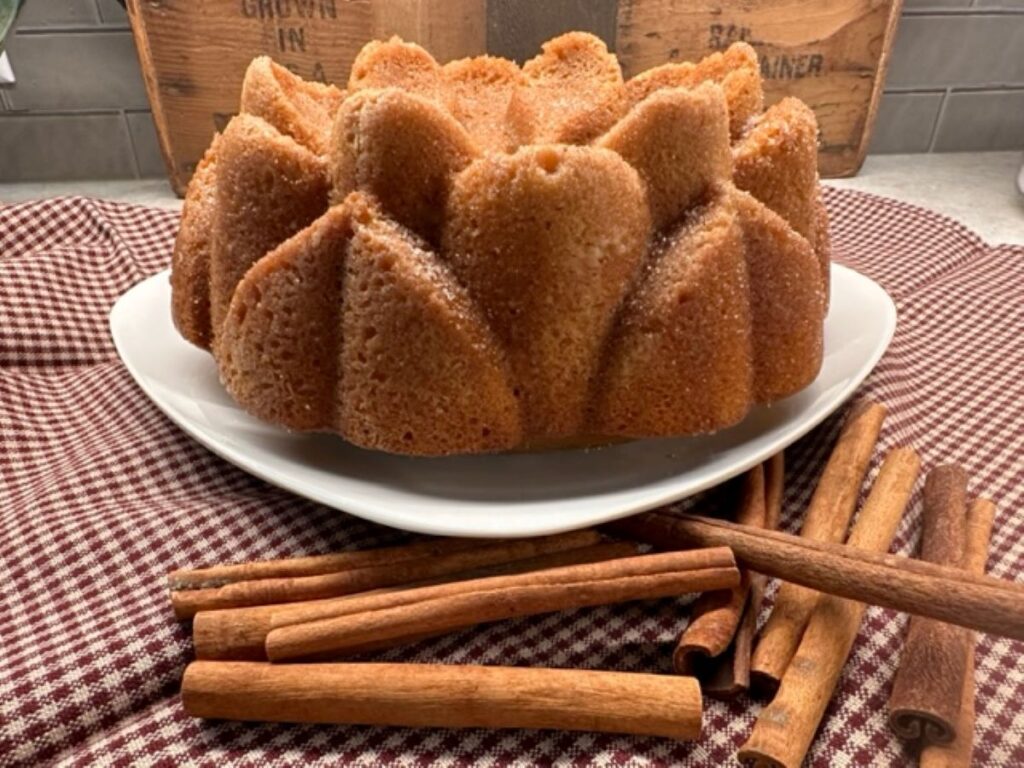 Fall is my favorite season! I was thumbing through the pages of a glossy magazine I love and spotted this recipe for apple cider bundt cake! I was immediately intrigued because it uses a large amount of apple cider. Hmmmm.
When they visited recently, my brother and his sweet wife brought us a goodie bag from Trader Joe's. We live one hundred and fifty miles from the nearest Trader Joe's, so they know it's always a huge treat. I still had some heavenly Honeycrisp apple cider left, so I saw this as a golden opportunity. 😍
Years ago, I won a gorgeous Nordicware magnolia pattern bundt pan, and I love any excuse to use the beautiful pan! Here's your opportunity to use your bundt pan because it should get out of the dark back of the cupboard for a spin once in a while.
But after I baked and tasted this cake, I knew it would also make magnificent muffins and luscious loaves, so don't let the fact you don't have a bundt pan stop you from enjoying the amazing flavor of this recipe! Please try it!
How To Make A Perfect Apple Cider Bundt Cake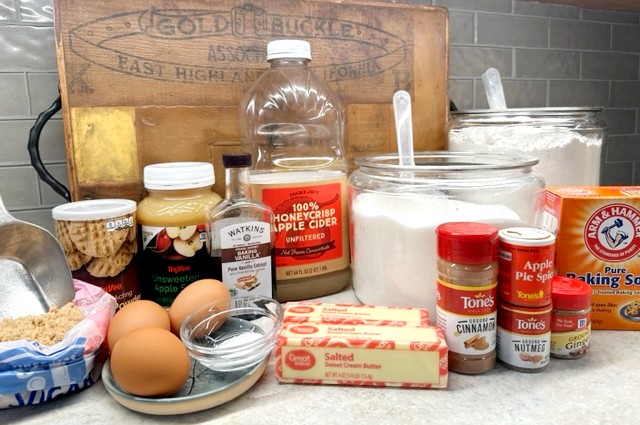 My curiosity about using over two cups of apple cider in a cake made me want to learn more. Answer: You create an apple cider reduction by simmering the cider until the liquid is reduced to about half, intensifying the flavor. Brilliant! And wow, it's incredible.
This process is the only part of this recipe that's a little fiddly and will keep you bustling around the kitchen for ten or fifteen minutes to keep an eye on it. It turns out that an apple cider reduction is nothing new but, my goodness, where have I been? The difference in flavor is miraculous, don't skip it.
While the cider is doing its thing, preheat the oven to 325 degrees, prepare the bundt pan by buttering or greasing every nook and cranny carefully, and then add flour. Shake and tip that pan every which way until every surface, including the center stem, is well coated.
Finally, turn the pan upside down and tap it to ensure any excess flour is gone. Hint: I'm going to try Baker's Joy next time; it is a great product with flour right in with the spray to make even an intricate bundt pan like mine easily let go of the baked goods.
Once the cider is reduced by half (the original recipe says to one cup and two tablespoons,) set aside two tablespoons for the glaze and pour the hot cider into a mixing bowl. Confession: I cheated a teeny bit and added a tablespoon of fresh cider to make the exact amount, and then I set aside two tablespoons. Precision has never been my gift, but full transparency is!
I had cut the butter into pats, and it was pretty much at room temperature. I added the butter and the applesauce to the bowl of warm cider, and when it was cooled off a little, I whisked in the eggs, the egg yolk, the vanilla, the sugars, the salt, and the spices. Next, I whisked in the baking powder and soda; then, I gradually whisked in the flour a little at a time.
In my opinion, magazine recipes always seem to require a lot of steps, and I often try to bypass some of them because, after half a century in the kitchen, I have gotten lazy, no – smarter.
The original recipe used two bowls, but I can never see doing that when one bowl will do. However, it is important to distribute the leavening well before adding the flour. The cake's texture turned out perfect, and I didn't have to wash two bowls!! Now spoon the batter into the bundt pan and ensure it is level.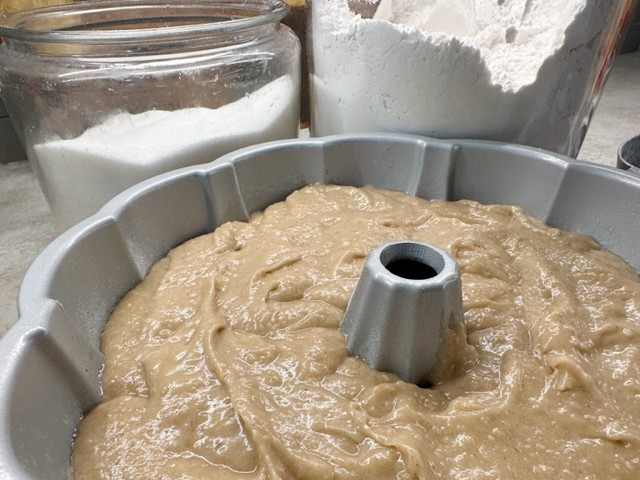 Bake it in a 325-degree oven for about forty to fifty minutes. A cake tester inserted near the center should come out clean. Let the cake sit in the pan on a rack for 15 minutes or so, then run a thin knife around the edges of the pan to loosen it and invert it on a wire rack. It took longer for my cake to cool but after a little longer, it obliging plopped out intact. I moved it onto a serving plate before the last step.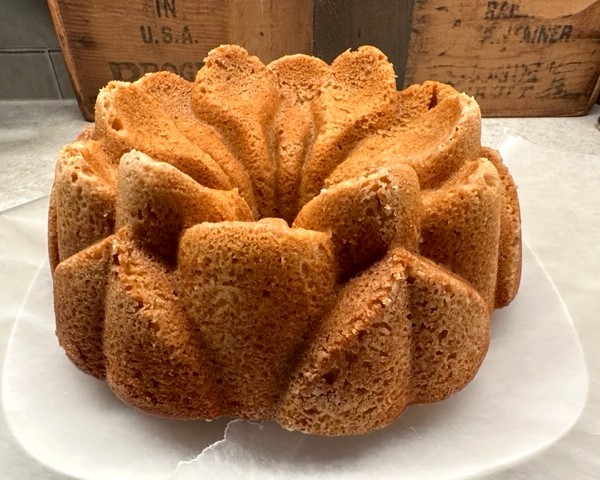 Here's a handy tip: Put three strips of waxed paper on the cake plate. Looking closely at the picture, you can see the waxed paper. The edges should be just under the cake. When you are all finished glazing the cake, pull them out gently. You will have a clean and tidy plate under your gorgeous cake!
Add Two More Steps To Make This Apple Cider Bundt Cake A SuperStar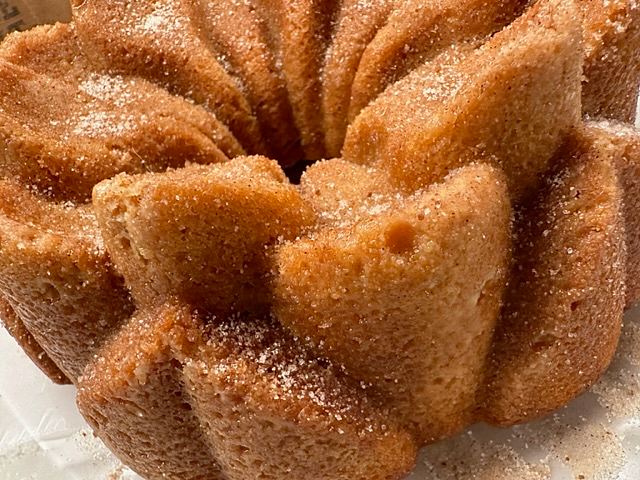 Mix two tablespoons of melted butter with the two tablespoons of cider reduction you set back. Brush this mixture all over the cake while it's warm and receptive. Make sure to get every crease and bump. Now sprinkle it with cinnamon sugar for the final crowning glory. When it has had time to stick, gently pull out the waxed paper, and voila! Celebrate your beautiful creation.
Yield: 12 generous servings
Apple Cider Bundt Cake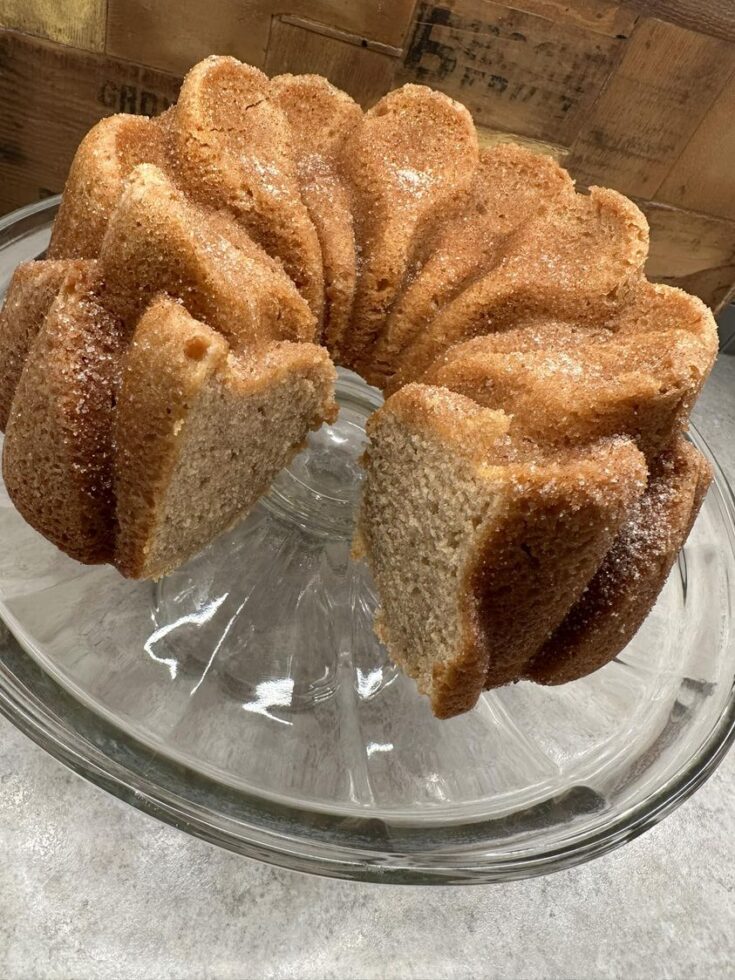 Here is a recipe for a moist, buttery bundt cake made with an apple cider reduction for intense flavor. It is finished by brushing with a mixture of butter and cider reduction, then sprinkled with cinnamon sugar. Delightful!
Total Time
1 hour
10 minutes
Ingredients
Cake
1 cup of softened butter
3 cups of all-purpose flour
2 1/4 cups fresh apple cider
3/4 cups unsweetened applesauce
2 tsp vanilla
2 large eggs plus one egg yolk at room temperature
1 1/2 tsp baking powder
1/2 tsp baking soda
1 1/4 tsp kosher salt
1 tsp cinnamon*
1 tsp apple pie spice*
1/2 cup packed brown sugar
1 cup granulated sugar
Glaze
2 Tbsp melted butter
2 Tbsp cider reduction
Cinnamon sugar for dusting. (1/4 cup granulated sugar plus 2 tsp cinnamon)
Instructions
Put the cider in a saucepan and bring to a boil, then turn to simmer for about 15 minutes, or until the cider is reduced by half to one cup plus 2 tablespoons. RESERVE 2 TBSP of the cider reduction for the glaze
Preheat the oven to 325 degrees
Carefully grease and flour every nook and cranny of the bundt pan.
Pour one cup of the hot apple cider into a large mixing bowl and add butter, applesauce, vanilla, salt, spices, and sugars.
Beat or whisk in the eggs, baking powder, and soda and make sure it is well blended to distribute the leavening evenly.
Gradually whisk in the flour and continue until no streaks of flour show.
Pour the batter into the prepared bundt pan, making sure the batter is level.
Bake on the center rack of the oven for 45 to 50 minutes or until a cake tester inserted near the center comes out clean.
Let the cake cool in the pan on a wire rack for at least fifteen minutes.
Run a narrow knife along the edges of the cake pan and invert it onto a wire rack.
Move the cake to a serving plate.
Combine the melted butter with the remaining two tablespoons of cider reduction, then sprinkle with cinnamon sugar.
let the cake cool completely before slicing and serving.
Notes
* alternate option for spices: 3/4 tsp nutmeg, 3/4 tsp ginger, 1/8 tsp allspice
Nutrition Information:
Yield:
12
Serving Size:
1
Amount Per Serving:
Calories:

495
Total Fat:

20g
Saturated Fat:

12g
Trans Fat:

1g
Unsaturated Fat:

7g
Cholesterol:

96mg
Sodium:

415mg
Carbohydrates:

76g
Fiber:

3g
Sugar:

47g
Protein:

5g
Apple cider bundt cake is buttery and moist with just the right amount of spice. I modified the spices from the original recipe because I did not have allspice, and I don't love ginger. I used a teaspoon of cinnamon and a teaspoon of apple pie spice, and we all thought it was perfect. I'll put both quantities in the recipe for you. ❤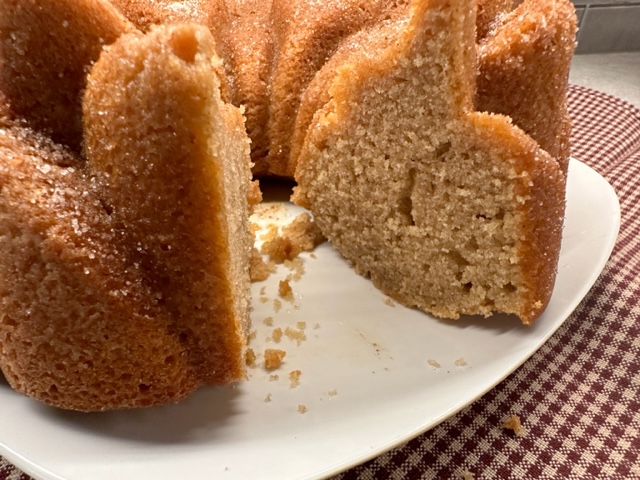 Apples are way down the list of my favorite fruits, but this apple cider bundt cake surprised and delighted me! Not only is it beautiful, but the taste and texture are outstanding! I sure hope you try it and love it and let me know if you decide instead to make it into muffins!
What are your favorite apple recipes? Here are a few of our most popular: Oatmeal Apple Crisp, Scandinavian Apple Cake, Air Fried Apple Rings, and Snickers Apple Salad.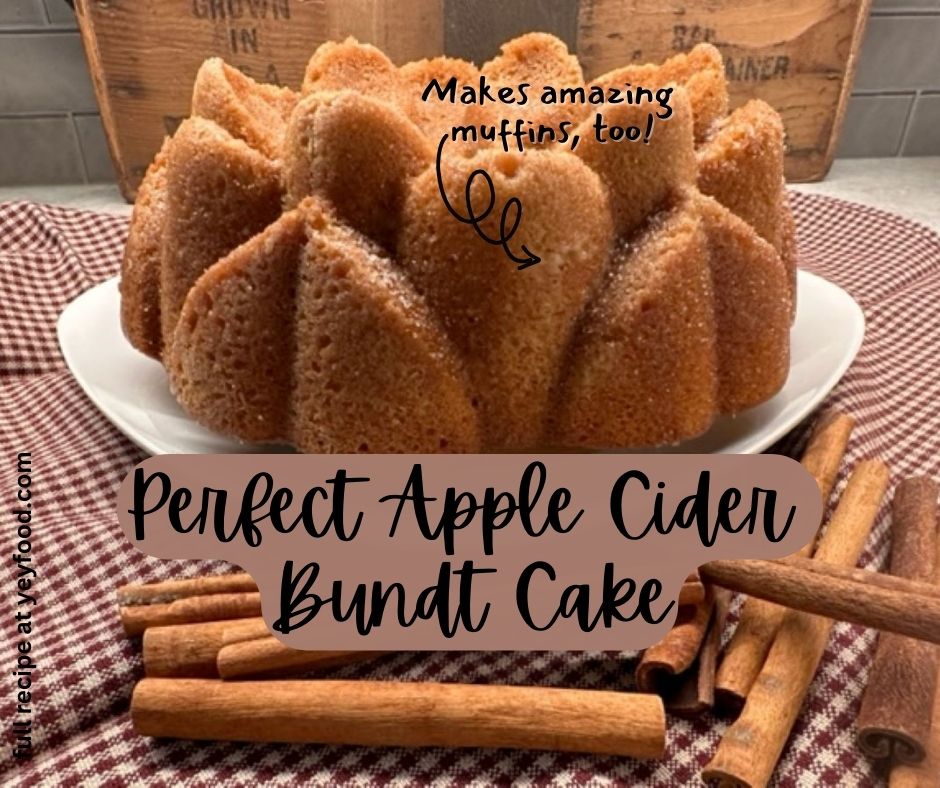 MORE TASTY RECIPES FROM US!!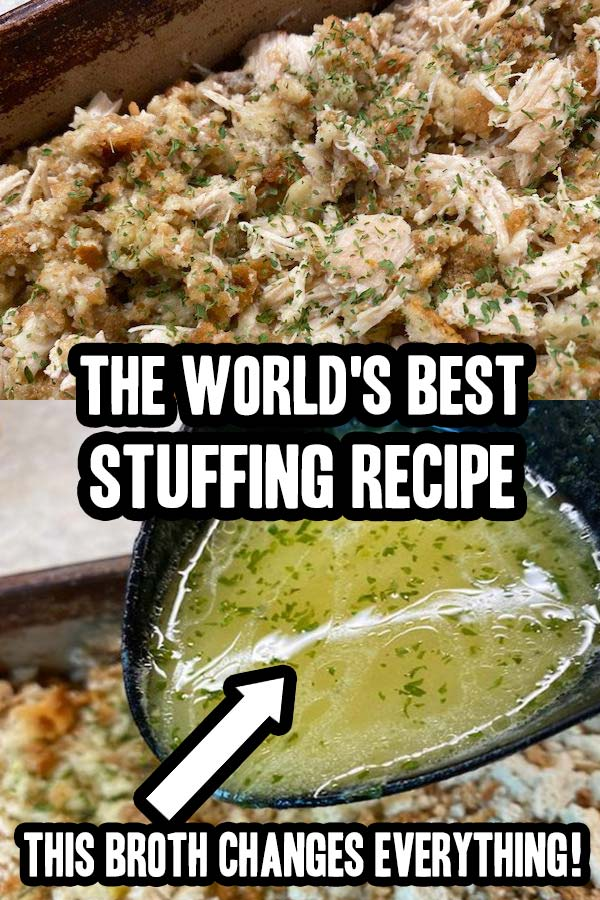 Easy 1 Pan Classic American Goulash
German Sauerkraut Casserole With Bacon And Brown Sugar
If you like these recipes, you are our people! You can check some related articles below or search via categories on the right. But be warned; you will be on here for hours. Enjoy!
So, please share this recipe on your social media accounts like Facebook, Instagram, Twitter, and Pinterest. We would be honored and ever so grateful; thank you!