Ready To Serve In Your Cast Iron Skillet In Under 1 Hour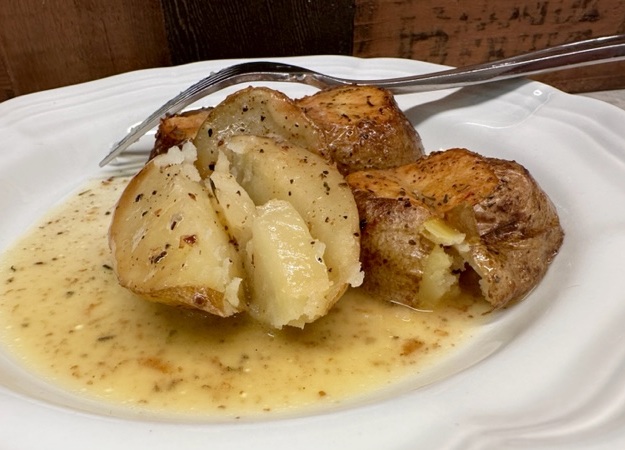 You can make these melt-in-your-mouth potatoes in less than an hour, and they will be a beautiful accompaniment to almost anything that's the center of the plate. Potatoes are the ultimate comfort food; there are endless ways to prepare them depending on your available time and what you will serve next to them.
After over 50 years of marriage to Papa, I thought I knew everything there was to know about potatoes. Russet potatoes are my favorite all-purpose potatoes and are ideal for this dish. This type of potato is sometimes called a "floury" potato. Still, "floury" is a relatively new potato terminology for me.
Floury potatoes are low in water content, and most of their sugar has been converted to starch by harvest time. This quality leads to a dry, fluffy texture that lends itself well to roasting and happily absorbs all the wonderful broth that makes these potatoes special.
It only takes a few ingredients to make these yummy spuds. I used Better Than Bouillon Roasted Chicken Base, and next time I might try them with Knorr Vegetable Soup Base or bouillon cubes. If you want to peel the Russet potatoes, go ahead, but we love the flavor of roasted potato skins, so I just scrubbed and dried them.
Cut each potato into chunks about one inch thick. You want the slices to be thick enough to make a meaty bite. Cut the potato as if it was a loaf of French bread across the length. Be sure the slices are uniform in thickness; that's an important step to make sure they cook evenly.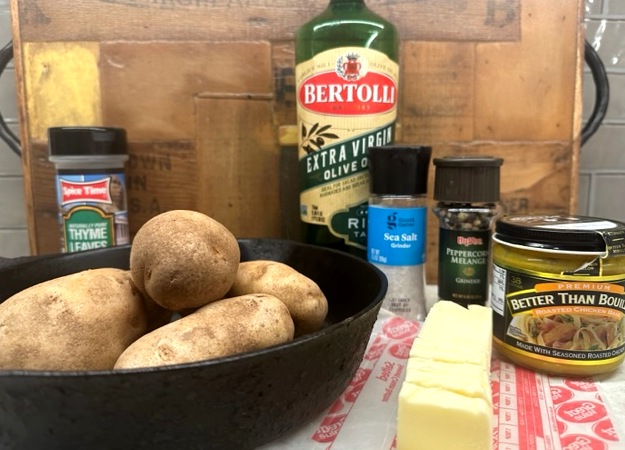 Here's How To Make Your Very Own Melt-In-Your-Mouth Potatoes
Melt half of the butter with the olive oil in a metal baking pan or a cast iron skillet, as I did here. You will roast these potatoes in a screaming hot 500-degree oven on a top shelf. This high heat could cause a glass pan to shatter.
All of my cast iron pieces are even older than me, and I fully expect my grandchildren to use and enjoy them when I'm gone. If you're lucky enough to inherit old pieces, cherish them! The quality of the older cast iron is amazing.
The Lodge brand is a good choice if you want to buy new cast iron. There's no better investment in cookware than a cast iron skillet. If you take proper care of it, the more you use it, the better it gets, and its versatility is nearly unmatched. And you'll be able to pass it down to your grandchildren! ❤
Put the potatoes into the pan in a single layer, cut side down. Cut the remaining butter into small pieces and distribute it over the top of the potatoes. Add salt and pepper to taste. Roast them on the top shelf of a 500-degree oven for about thirty minutes.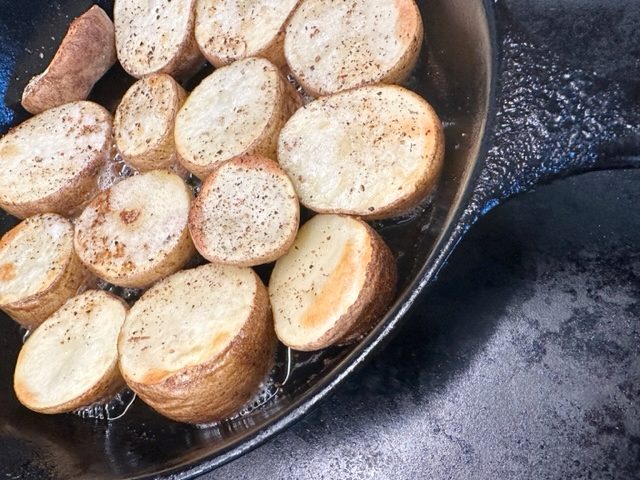 Remove the skillet from the oven and carefully turn the potatoes over, one at a time. Pour the broth over the potatoes and add the garlic. Place a little fresh thyme or rosemary on each chunk. I didn't have either herb in fresh form, so I used dried thyme leaves. Return the pan to the oven and roast for another fifteen minutes.
Yield: 4 servings
Melt-In-Your-Mouth Potatoes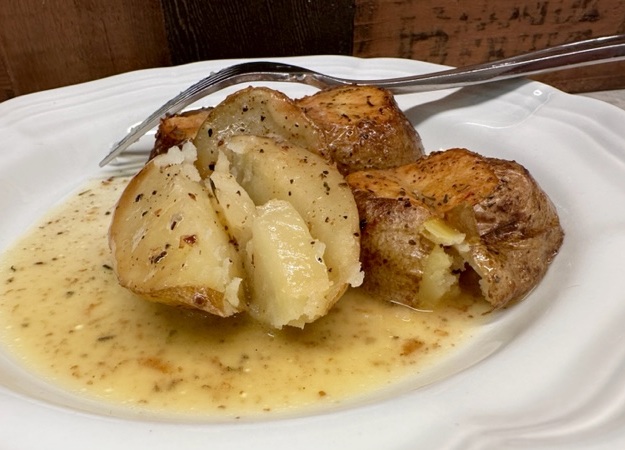 Here is a method for turning ordinary potatoes into an impressive and delicious accompaniment to anything center-of-the-plate, and it's easy enough to make at home on a weeknight!
Ingredients
4 average Russet potoes, peeled or scrubbed and dried
1/2 cup of butter, cut into pats
2 Tbsp olive oil
Kosher salt and fresh cracked pepper to taste
1 Tbsp Roasted Chicken BetterThan Bouillon or 2 tsp Knorr Vegetable Soup base
1 cup water
3-5 cloves of garlic, smashed, amount used is according to to taste
Instructions
Preheat oven to 500 degrees.
Cut potatoes across the length into round chunks one inch thick.
Melt half the butter with the olive oil in a METAL baking pan or cast-iron skillet.
Place potatoes into the pan in a single layer, cut side down.
Season with salt and pepper to taste.
Roast on a top rack for about 30 minutes.
Combine bouillon or soup base with water and set aside.
Carefully remove the pan from the oven and turn over each chunk of potato.
Carefully add the broth, and the garlic, and dot the remainder of the butter over the potatoes.
Return to the oven and roast for another fifteen minutes.
Spoon some of the sauce over the potatoes when you serve them.
The potatoes absorb most of the liquid, and the heat will reduce the broth to a more sauce-like consistency. When you serve the potatoes, be sure to spoon some of the yummy sauce over the melt-in-your-mouth potatoes.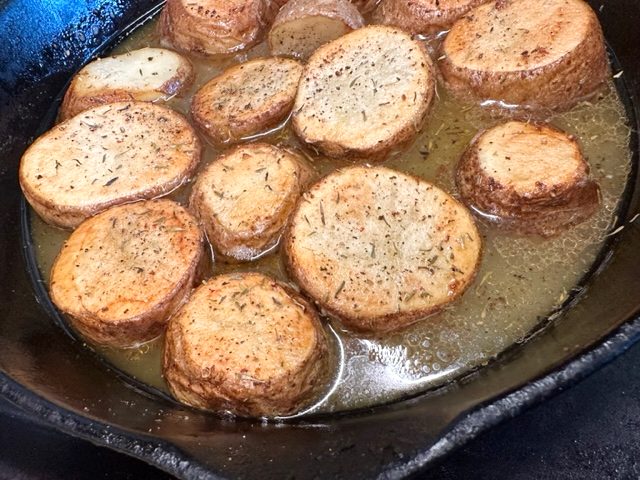 This potato dish is fancy enough for guests but simple enough to make on a weeknight. The aroma of these melt-in-your-mouth potatoes as they roast will fill the kitchen with the most delicious smell; your mouth will start to water before you even sit down at the table!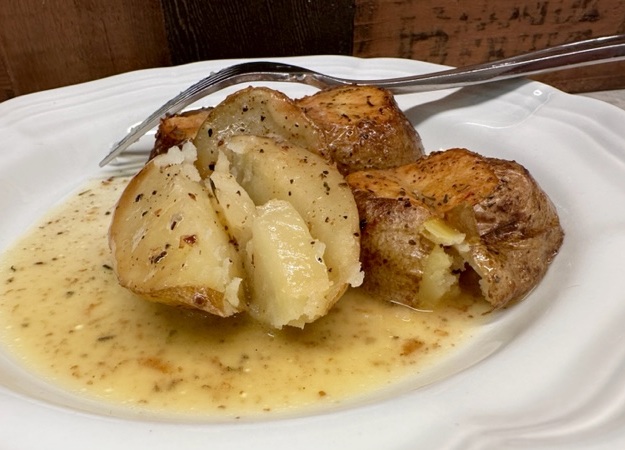 You Can Vary This Recipe To Complement Your Main Dish
Feel free to experiment with the variety of potatoes you use. For example, Yukon Gold potatoes are a hybrid of Russets and a South American yellow potato with a more waxy flesh. They would also be a good choice. If you want a more in-depth spud study beyond "Potatoes 101," here is a more definitive guide to potato varieties.
You can also use beef broth and add a little wine if you like when you make melt-in-your-mouth potatoes or a little lemon juice when you use chicken or vegetable stock. I'm a raving fan of Better Than Bouillon and Knorr products, but you can always use ready-made broth for this dish.
You can certainly play around with the herbs or spices you use. Curry? Chilli powder? Don't be afraid to try a new twist of your own!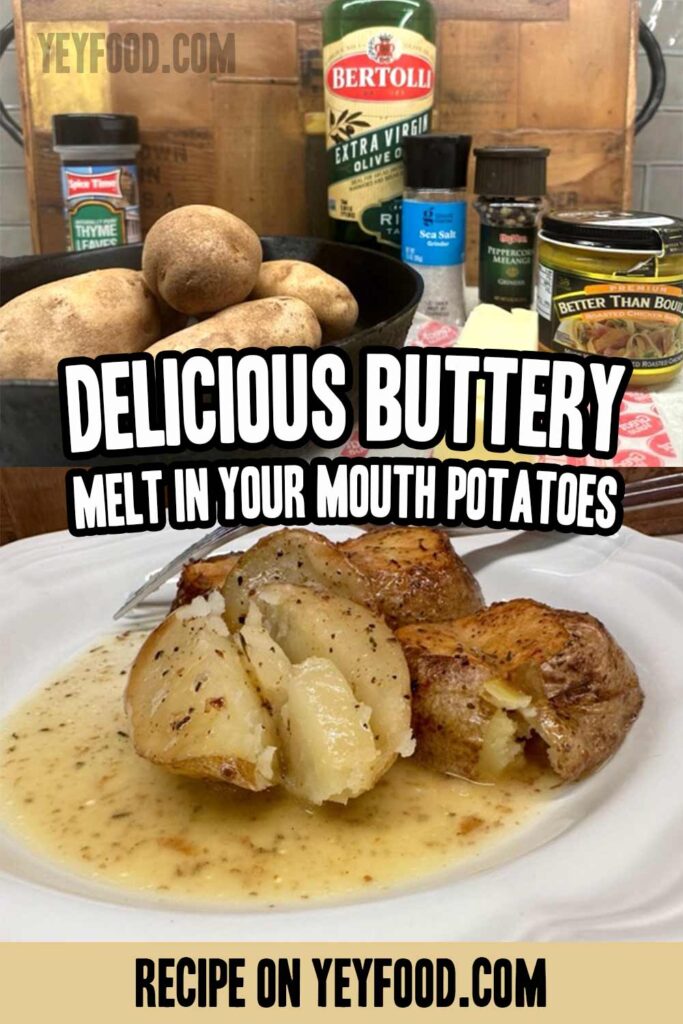 As you can tell, we love potatoes! Here are some of our most popular potato recipes! Colcannon, Hassleback Potatoes, Best Cheesy Potato Casserole, Easy Baked Potato Soup. What is your favorite way to eat potatoes?
MORE OF OUR QUICK AND EASY FAMILY-STYLE RECIPES: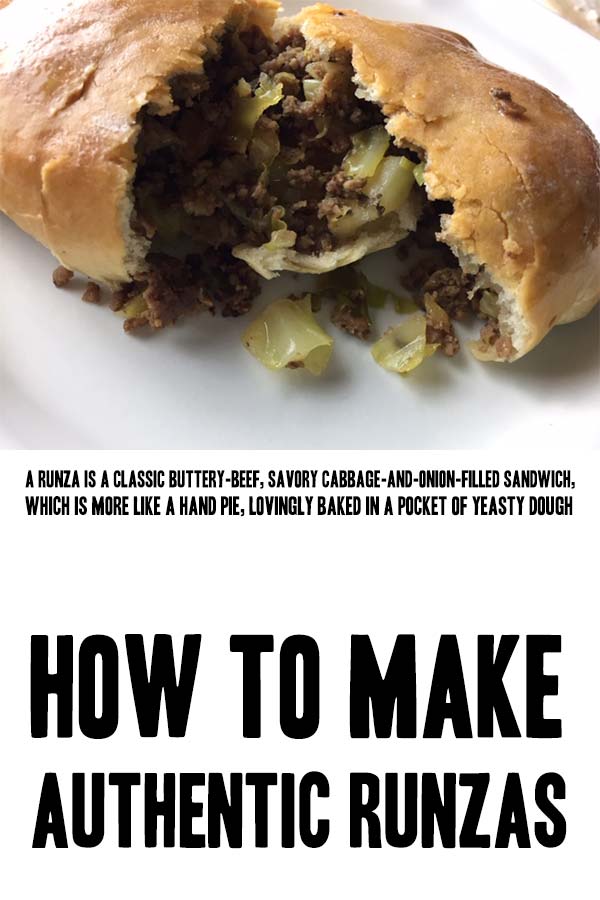 The Ultimate Bread and Butter Pickle Recipe
Oven-Baked Steak With Brown Gravy
If you like these recipes, you are our people! You can check some related articles below or search via categories on the right. But be warned; you will be on here for hours. Enjoy!