Best Cheesy Potato Casserole Recipe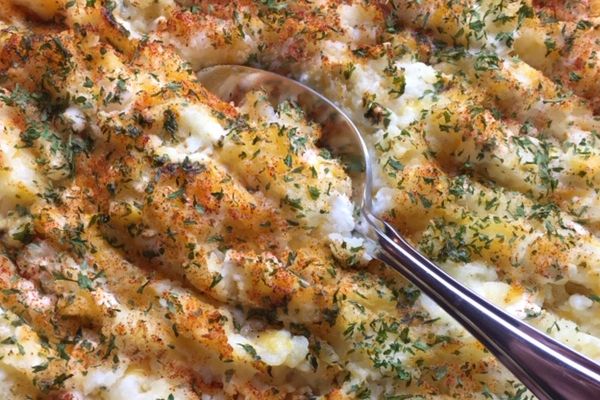 Here is a recipe for a beloved cheesy potato casserole like the one served in a famous old-school steakhouse in the heart of Nebraska beef country. Who could possibly do it better? Your family will love it.
Let's face it. We just love potatoes. In our family, it's a big-time favorite. We simply call them "Dreisbach's," after the steakhouse in Grand Island, Nebraska that made them famous. Dreisbach's Steak House now sells the foods that made them famous in their new line of sauces and salad dressings! The legend lives on! Look for them on Facebook.
There are many variations, all knock-offs of the original dish served at the swanky restaurant. Dreisbach's was iconic, called by some the best steakhouse in the world. In 1988 Pat Dowd was named restaurateur of the year in the Taste of Nebraska Awards. Their steaks were legendary, the potatoes divine!
Originally, old-school steakhouses were near meat-packing plants, and the clientele was mostly men. Over the years, they became popular places for families to gather and socialize. As more people could afford fine dining, steakhouses became "the place" to go out for dinner.
Here Is How To Make Your New Favorite Cheesy Potato Casserole
I like to use Russet potatoes in this recipe because they are "floury" potatoes. Floury potatoes are very good at soaking up flavors like sour cream and butter. Russets are the number one choice for baked potatoes.
Cook the potatoes "in the jacket," which means you don't peel them first. This cooking method optimizes the flavor of the potatoes. Let them cool until you can handle them.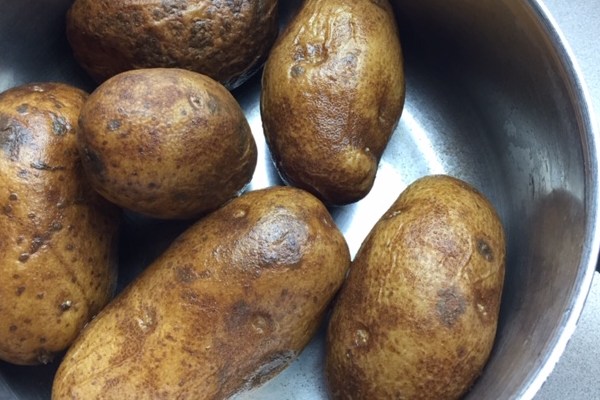 Next, peel and grate them into a greased baking dish. A 13″ by 9″ pan works perfectly for this recipe. You may wonder if you can use frozen hash browns, and yes, you can, but the freshly cooked potatoes you cook will taste better and cost less.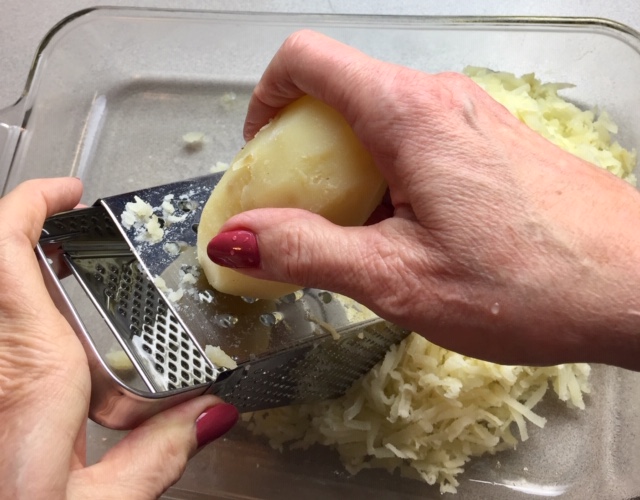 Now add all the other ingredients to the potatoes and stir it up. I always recommend that you grate cheese from a block of cheese instead of using bagged pre-shredded cheese. Bagged cheese shreds have a coating that keeps the shreds from sticking to each other and keeps the cheese from melting smoothly.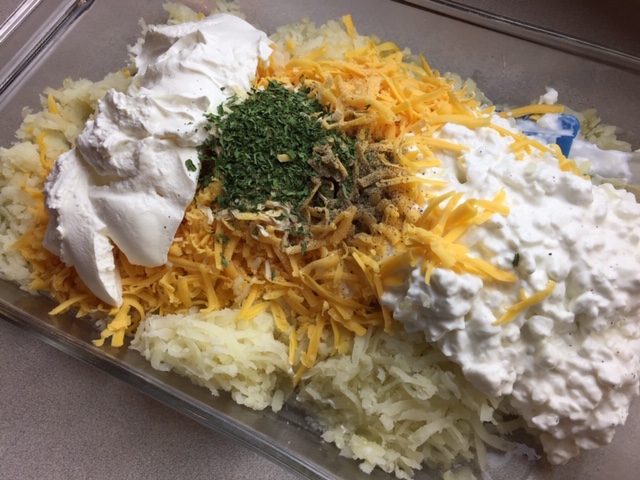 Stir It All Together And Top With Parsley And Paprika
You can stop and stick the casserole in the fridge and bake it in a day or two. It's a great do-ahead dish! Or, go ahead and bake it right this minute!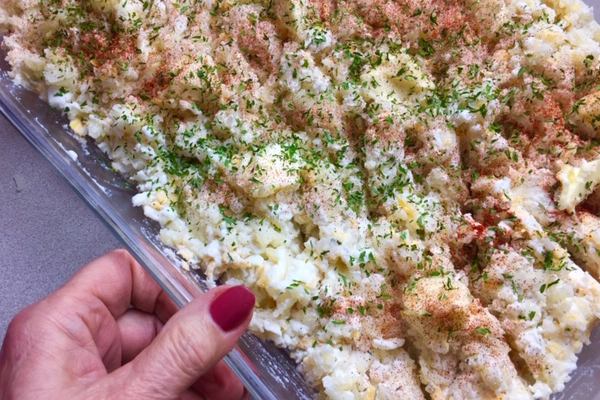 The tips of the grated potatoes will brown and get ever-so-slightly crispy. The inside of the cheesy potato casserole is full of creamy, cheesy goodness. Oh my gosh, this is making my mouth water! It's the perfect accompaniment to a steak, of course, but it's a fantastic side dish with any meat!
Even finicky cottage cheese haters love it! Heck, they won't even know cottage cheese is in it! I'll bet it becomes a family favorite at your house, too.
Yield: 12 servings
Best Cheesy Potato Casserole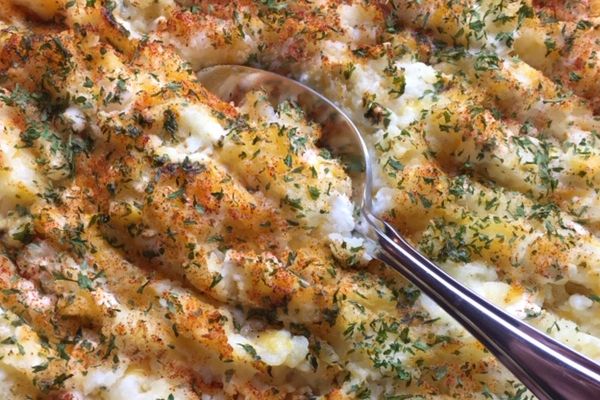 A cheesy potato casserole like the one served in a swanky old-school Nebraska steakhouse. Cottage cheese, sour cream, and cheese make this a delicious, creamy side dish for any meat. This recipe is the real McCoy! You want to hang on to this one! It's a hearty, super-tasty crowd pleaser!
Additional Time
30 minutes
Ingredients
Six medium Russet potatoes are cooked in the jacket, then cooled until they can be handled
1 1/2 cup small curd full-fat creamed cottage cheese
1 1/2 cup sour cream
1 cup shredded sharp cheddar cheese
2 Tbsp instant minced onion
1 tsp garlic powder or more to taste
1 Tbsp dried parsley
Salt to taste; use your favorite seasoned salt if you like. We love Lawry's seasoned salt
1 tsp pepper or seasoned pepper to taste. We love Lawry's seasoned pepper.
Instructions
Boil the potatoes in their skin until you can pierce them easily with the tip of a knife or a skewer.
Drain water and cool the potatoes until you can handle them.
Peel and grate the potatoes into a greased baking dish. A 13" by 9" size will work well.
Add other ingredients, and stir to combine.
If desired, sprinkle with additional parsley and paprika for color.
Bake 30-40 minutes at 350 degrees until lightly browned.
Notes
You CAN use 2 pounds of frozen hashbrowns for this casserole and bagged shredded cheese if you are short on time. It is much better with real Russet potatoes because they absorb all the flavors so beautifully. I always recommend grating cheese from a block instead of shredded cheese from a bag for the creamiest results.
This casserole can be made ahead and baked a day or two later. You will need to increase the baking time if you take it straight from the fridge.
Nutrition Information:
Yield:
12
Serving Size:
1
Amount Per Serving:
Calories:

244
Total Fat:

13g
Saturated Fat:

7g
Trans Fat:

0g
Unsaturated Fat:

4g
Cholesterol:

40mg
Sodium:

298mg
Carbohydrates:

22g
Fiber:

2g
Sugar:

3g
Protein:

9g
Potatoes are synonymous with comfort food, and here at yeyfood, we do love our potatoes! Here are some of our very favorite potato recipes. Colcannon, Hasselback Potatoes, Hot German Potato Salad, and for good measure, Here are a dozen ways to make potatoes all in one spot!
What is your very favorite way to make and eat potatoes, the beloved "spud?"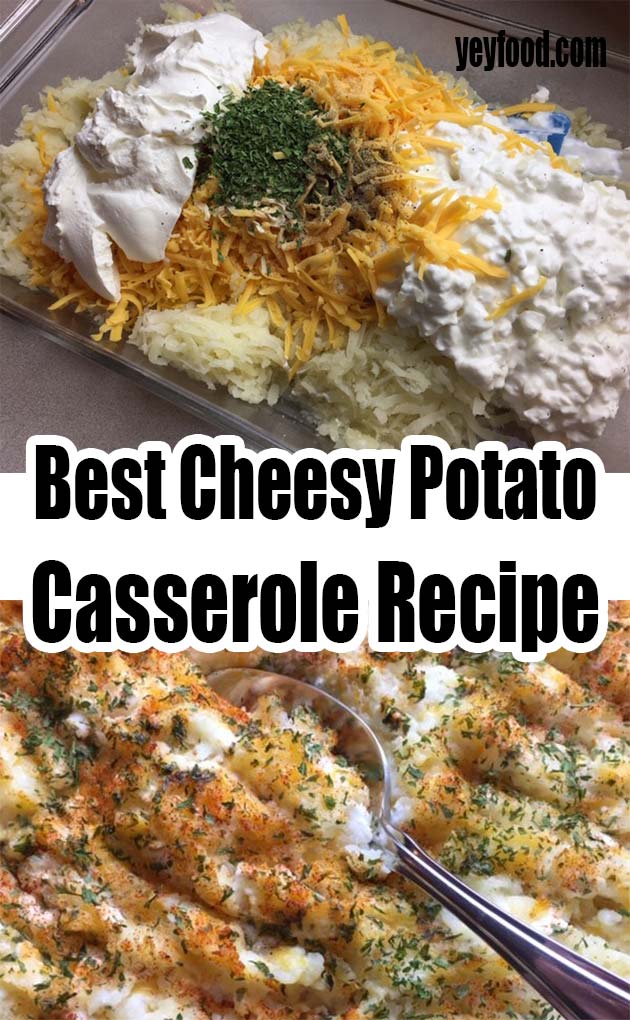 MORE OF OUR QUICK AND EASY FAMILY-STYLE RECIPES: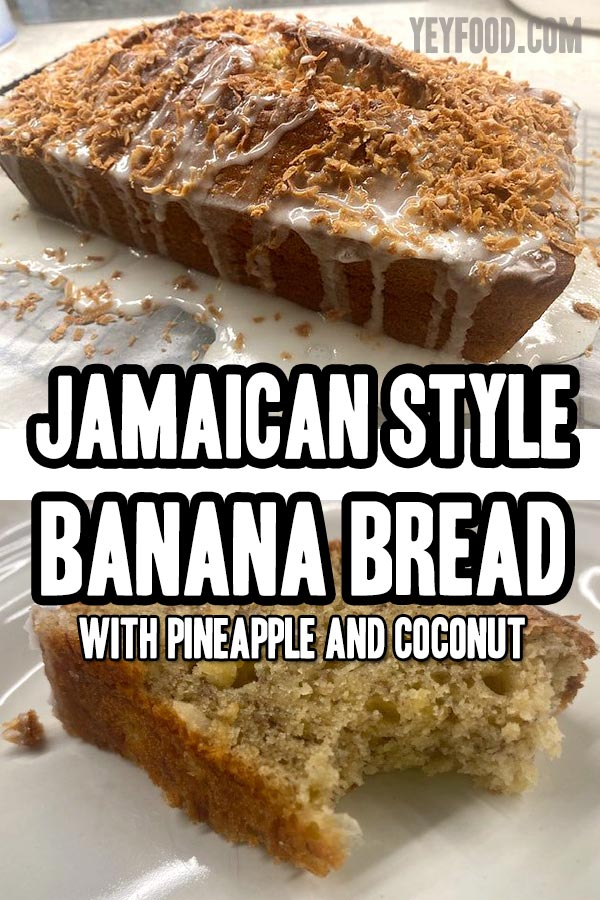 The Ultimate Bread and Butter Pickle Recipe
The Number 1 Practically Perfect Poppy Seed Bread
Oven-Baked Steak With Brown Gravy
Air-Fried Pickles With Bacon And Ranch
If you like these recipes, you are our people! You can check some related articles below or search via categories on the right. But, be warned; you will be on here for hours. Enjoy!