Speedy Fresh Mango Salsa With Cilantro Recipe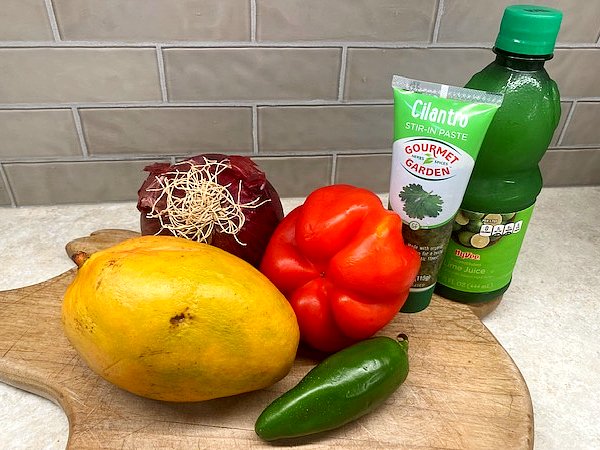 Mango salsa tastes fresh and amazing because every ingredient is just that! Diced mango, purple onion, red peppers, and finely chopped jalapeno make a gorgeous rainbow of colors, a feast for the eyes!
Lime juice and cilantro are what you need to complete this sensational salsa that's so good on chips it's almost addictive! Mango salsa also adds a burst of flavor to meat and fish. I served it with a roasted pork loin, and the two made beautiful music together.
For many years, I've been cooking for two, and it's almost impossible for me to keep fresh cilantro fresh. The big time saver for me in this recipe is Gourmet Garden cilantro paste in a tube. The paste is quick and convenient, tastes good, and keeps well in the refrigerator, even longer in the freezer. Many herbs are available in tubes from Gourmet Garden.
Gourmet Garden also sells cilantro and other herbs in a lightly dried form. I recommend their products, but they don't pay me to tell you! I have used their lightly dried basil with great success.
Three Ways To Tell If A Mango Is Ripe
There are several varieties of mangoes. Don't judge by the color! Red does not necessarily mean it is ripe.
You can tell if a mango is ripe by the way it feels. It will yield to your gentle squeeze like a ripe peach or pear.
Ripe mangos will usually have a fruity aroma at their stem ends.
If you want to hurry a mango along to become ripe, put it in a paper bag on the kitchen counter and check it daily. You can keep an uncut fresh mango in the refrigerator for four or five days when it is ripe. You can also freeze the mango cubes if you make smoothies or use them for cooking, but we always make mango salsa with fresh fruit.
The Easy Way To Cut A Mango
I love to eat mangoes, and I enjoy everything mango flavored. My granddaughter loves mangoes, and we use frozen ones in the smoothies I make for her, but I had never bought a fresh mango until I decided to make this salsa; however, this was my first experience with using a fresh mango in a recipe.
I had no idea what the inside of a mango looked like, so I sliced it in half, top to bottom, like an avocado. Bad move! I split the pit in half, and after that, it was a challenge. I have wised up now, thankfully.
To cut a mango easily and neatly, stand the fruit on a cutting board with the stem up. Use a sharp knife to cut straight down about a pinky-width away from the stem. Cut strips through the flesh but not through the peel, first across the width, then along the length. This process should bypass the pit and leave a bowl-shaped piece of mango.
Now all you need is a spoon to scoop out the diced mango. Repeat on the other sides of the mango and put the cubes into a bowl.
Combine All Four Fruit And Vegetables To Make The Salsa
Start by putting the diced mango, chopped purple onion, chopped red pepper, and finely diced jalapeno in a pretty bowl. What a beautiful, colorful palette!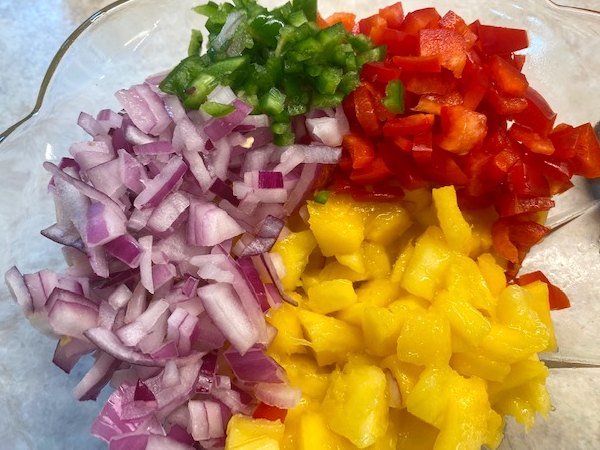 Stir in the lime juice and cilantro paste; boom, you have just made beautiful mango salsa! Of course, if you have fresh cilantro, please use it!
Sample your salsa and adjust it to taste. You can add more lime juice for a citrusy burst, more jalapenos for a kick, or salt for more depth of flavor. The flavors will continue to blend as the salsa chills in the refrigerator for about an hour before serving.
If you want to add ingredients, go for it! Corn, black beans, chopped cucumber, avocado, and garlic are great additions to this basic recipe! Devour it with chips or lavish it on pork, chicken, or fish for a tasty punch of flavor!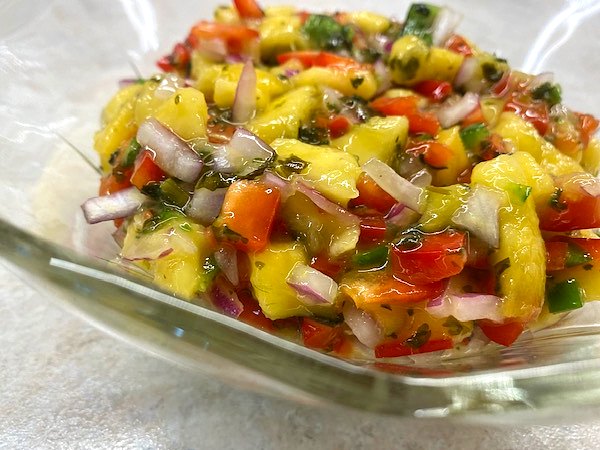 We love to embellish food with tasty sauces and toppings, do you? Here are a couple of our most popular recipes. White BBQ Sauce, Mississippi Comeback Sauce, Fresh Cranberry And Orange Sauce, Homemade Teriyaki Sauce. Do you have a favorite sauce?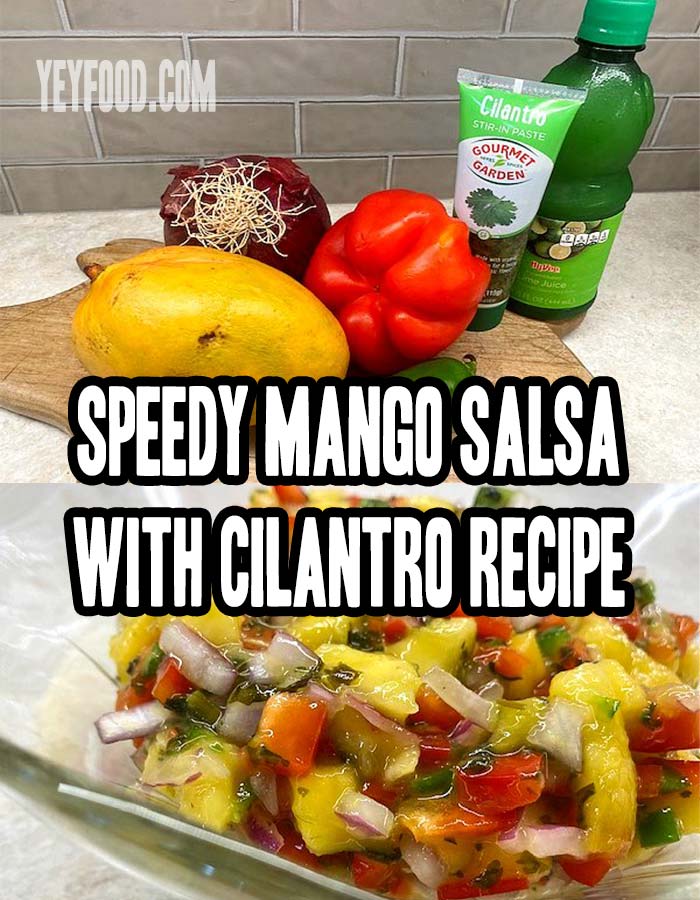 MORE OF OUR TASTY FAMILY-FRIENDLY RECIPES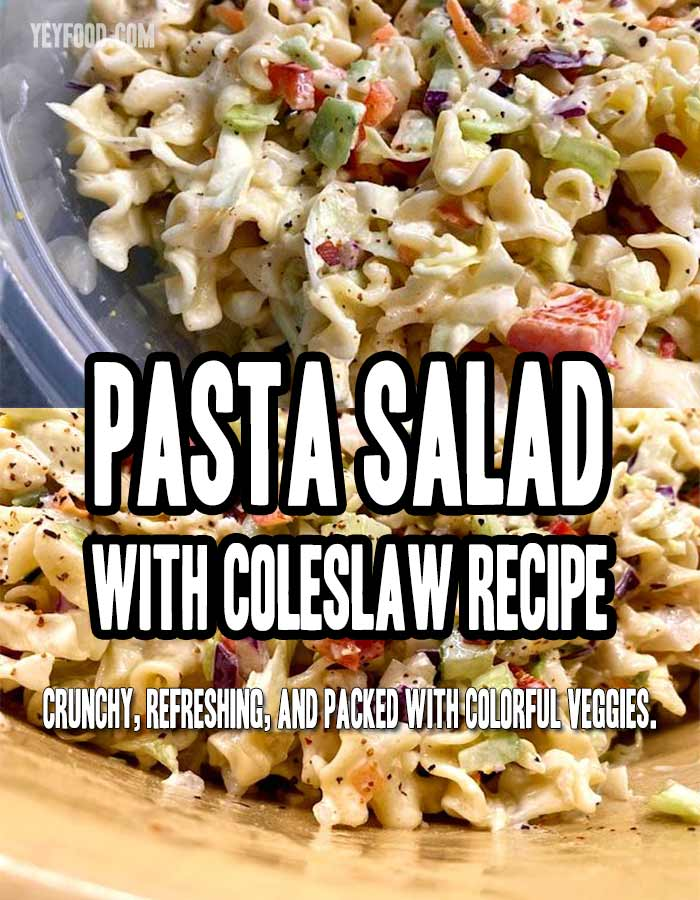 4 Reasons You Should Freeze Some Sweet Corn This Summer
How To Make The White BBQ Sauce That's Fascinated Us Since 1925
German Sauerkraut Casserole With Bacon And Brown Sugar
If you like these recipes, you are our people! You can check some related articles below or search via categories on the right. B t, be warned; you will be on here for hours. E joy!
So, please share this recipe on your social media accounts like Facebook, Instagram, Twitter, and Pinterest. We would be honored and ever so grateful; thank you!