Hot German Potato Salad Recipe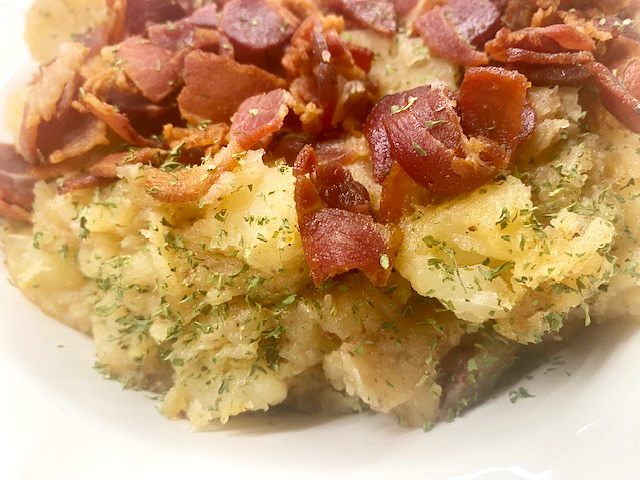 Hot German Potato Salad. It's so good! I really should make it more often. My German-to-the-core husband's motto is, "I've never met a potato I didn't like." And, this is one he really likes!
This unique dish is simply delicious, full of crispy bacon and sweet caramelized onion. It swims in a thick, tangy, sweet, and sour vinegar dressing. This dish goes great with any meat and makes a perfect side dish for anything you grill!
And now, you can make it quickly and easily in the Instant Pot without muss or fuss! I was a late adopter of Instant Pot cooking. I'm so glad to be on the bandwagon finally! Better late than never, right? It's a game-changer!
You Can Use Any Potato To Make This Yummy Dish
Papa is a potato man, and we've been married for fifty-two years. It would be interesting to know how many tons of potatoes I have peeled, boiled, mashed, fried, or baked in all that time. 😜 Over the years, I have become an expert on potato varieties' characteristics.
I have used golf ball size new red potatoes and left the skin on when I make this dish, and most recently, I used my Joe Average go-to spud, the Russet. They all make good hot German potato salad. Here it is with new skin-on red potatoes.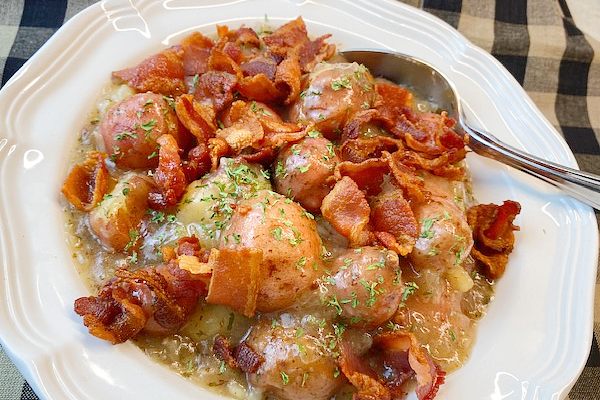 Russet potatoes are known as "floury" potatoes, and they will absorb more of the liquid, so you might need to add a little more vinegar. I hope you'll try it with other potatoes until you find your favorite.
Now that you can make it in an Instant Pot, it's quick and easy. You can do the whole thing in about a half-hour!
You Cannot Go Wrong When You Start With Bacon And Onion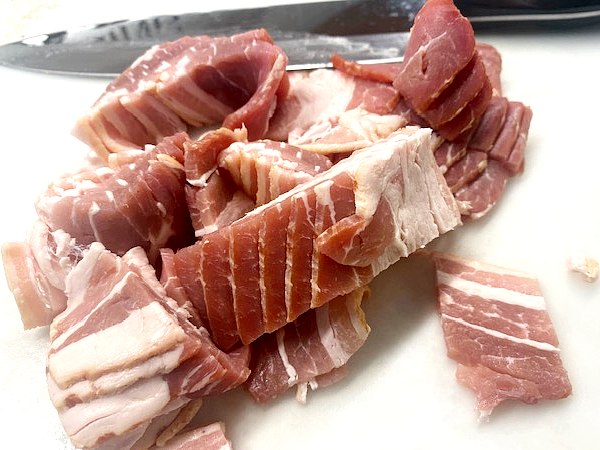 Right? Cut a half-pound of meaty beacon into approximately inch-long pieces. Turn the Instant Pot to the saute setting and cook the bacon until it is crispy and golden brown. Remove it with a slotted spoon onto paper towels to drain.
Remove the bacon with a slotted spoon and set it aside on paper towels to drain. Keep those fabulous bacon drippings for the next step.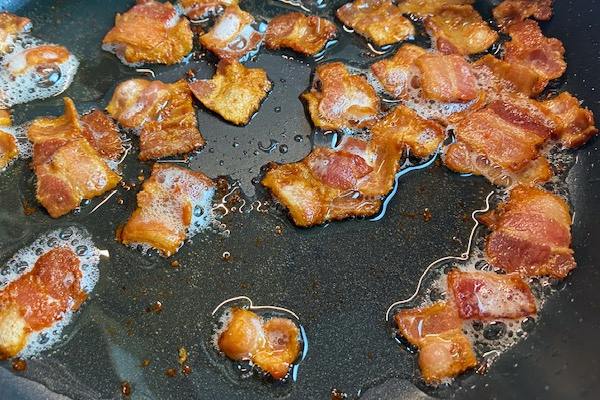 Now chop a medium-sized onion and saute it in the drippings until they are clear and begin to caramelize. The aroma when they are cooking is absolutely amazing!
You can use yellow onion, red onion, or sweet onion. Sometimes I use two kinds to clear out my crisper, and they all taste wonderful when cooked this way.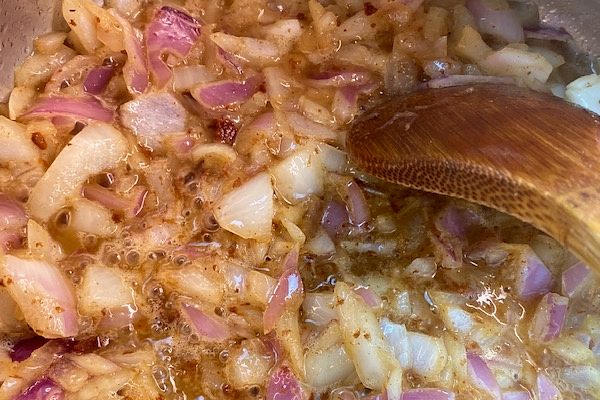 Use about three pounds of potatoes. I peeled and cut six average-size Russet baking potatoes into chunks this time. You can also use whole new potatoes. If the sizes vary, cut the bigger ones down, so the chunks are uniform in size.
Put the potatoes right into the Instant Pot with the onions and add vinegar, water, sugar, salt, and pepper. Add celery seed if you like. (I like it! And a little mustard, too!)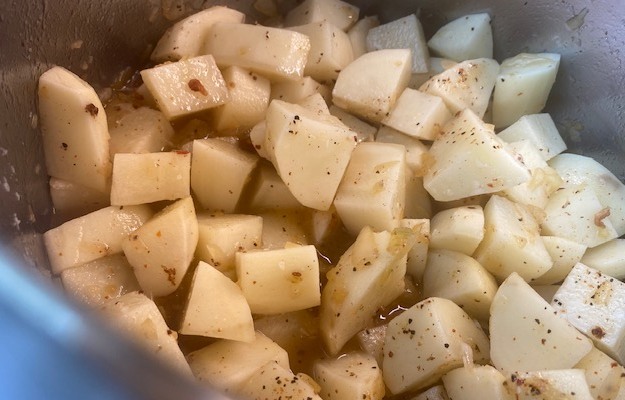 Set the Instant Pot to high pressure for six minutes. Allow the pressure to drop a little, then quick release. Reset the Instant Pot to saute. Mix cornstarch and water in a shaker, so there are no lumps, and pour the mixture into the Instant Pot to thicken the dressing of your delicious hot German potato salad!
Stir gently with a spatula or wooden spoon to ensure everything is well combined. Put your yummy potato salad in a serving dish and sprinkle with parsley and all those crispy good bacon bits! (I know, I snitched some, too!) Ach du Lieber das ist wunderbar!
Yield: 8 servings
Hot German Potato Salad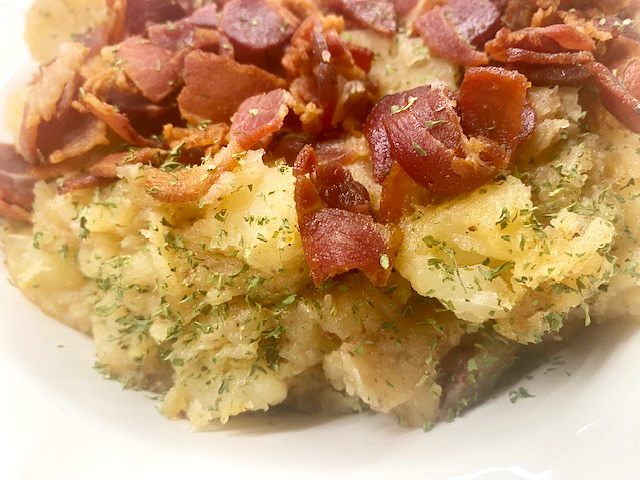 A classic German potato dish with bacon and caramelized onions in a sweet-tart vinegar dressing.
Ingredients
3 pounds of potatoes
1/2 pound bacon
1 medium onion
1/4 cup apple cider vinegar
1/2 cup water
2 tsp salt
3 Tbsp sugar
1 tsp coarse ground pepper
2 T corn starch dissolved in 1/2 cup cold water
1 Tbsp parsley for garnish (optional)
1/2 tsp celery seed (optional)
1 Tbsp mustard (optional)
Instructions
Set Instant Pot to saute.
Cut bacon into 1" pieces and brown in Instant Pot. Saute until crisp and lightly brown. Don't crowd.
Remove bacon with a slotted spoon, lay on a paper towel to drain, and set aside. Leave bacon drippings in the pot.
Chop onion and saute in drippings until fragrant and transparent.
Cancel saute setting.
Put potatoes in the pot with 1/4 cup vinegar, 1/2 cup water, salt, pepper, sugar, (and mustard and/or celery seed if desired.)
Lock cover on the pot and close steam vent.
Set Instant Pot to pressure cook on high pressure. Set timer for 6 minutes. Cook.
Quick-release pressure.
Switch Instant Pot to saute setting.
Combine corn starch and water in a shaker and ensure no lumps remain.
Add cornstarch and water mixture to the pot gradually and stir the potatoes and onions gently while it thickens the dressing.
Put potato salad in a serving bowl and top with crisp bacon pieces.
Add parsley if desired for garnish.
Serve warm.
Why Is German Food So Amazingly Delicious and Popular
German food tickles our tastebuds with multiple layers of flavor and ingredients. It is hearty, filling, and usually inexpensive to make. When we traveled to Philadelphia for business years ago, we never missed an opportunity to eat at Otto's Brau Haus for classic German cuisine and great beer!
Here are a few more of our most popular German dishes.
German Sauerkraut Casserole
,
German-style Fried Apples
, and
German Desserts
.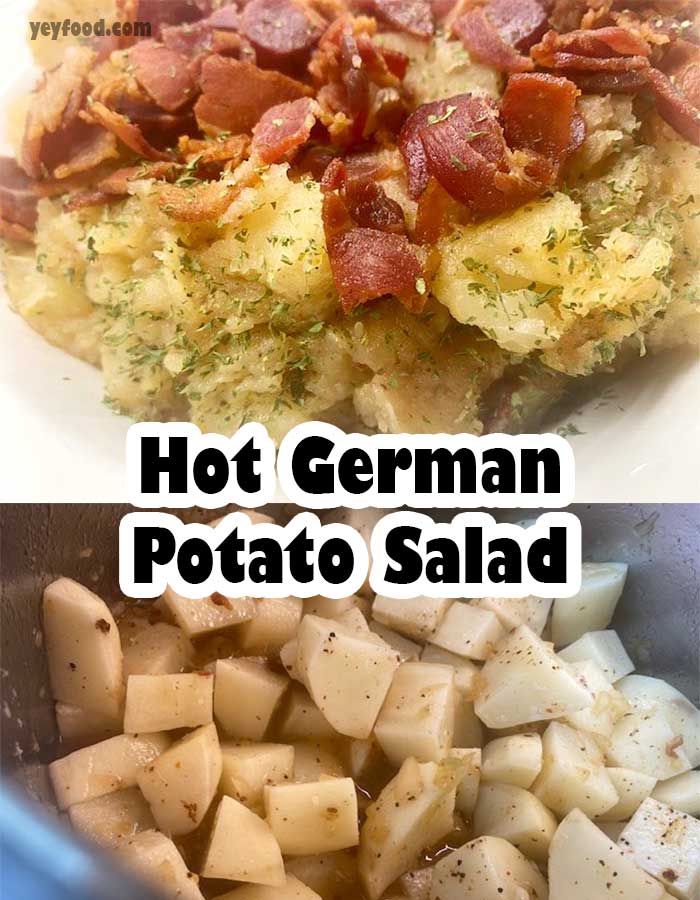 MORE OF OUR QUICK AND TASTY FAMILY-FRIENDLY RECIPES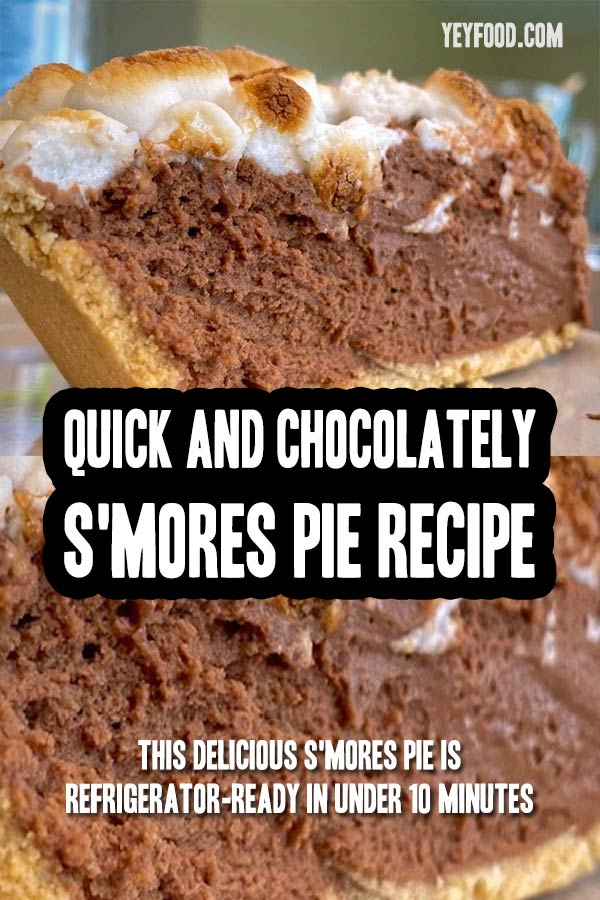 S'mores Bars How To Make Them Super Fast and Super Good
How To Make The White BBQ Sauce That's Fascinated Us Since 1925
So, please share this recipe on your social media accounts like Facebook, Instagram, Twitter, and Pinterest. We would be honored and ever so grateful; thank you!