Rhubarb Pretzel Dessert Recipe
Rhubarb Pretzel Dessert is a seasonal spin on the wildly popular Strawberry Pretzel Salad. Here, fresh spring rhubarb teams up with raspberries for a tangy, not-too-sweet, and salty delight. This version adds another delightful layer of flavor, a slight bit of incredible puckery tartness.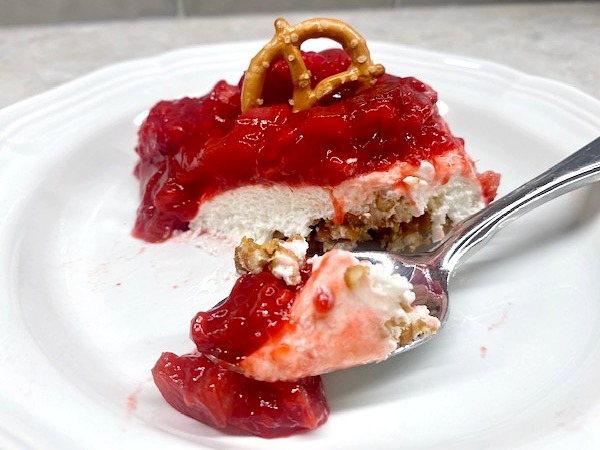 Do You Ever Wonder Why Sweet and Salty Taste So Amazing Together
Have you ever thought about the magic marriage of sweet and salty? Have you ever wondered why certain things taste so good together? For example, why does a little salt make caramel taste so incredible? Why is bacon so delicious with maple syrup-drenched pancakes? Why is kettle corn so addictive?
I never stopped to think why I love dipping crisp salty french fries into my chocolate shake, but there it is again, that heavenly duo of salty and sweet!
Culinary experts know how critical it is to strike the perfect balance between sweet and tart or sweet and salty. In the world of chef speak, it's called flavor layering.
If you love all things food, like me, you might be a gastronome, and you might enjoy reading this article that explores the science behind why we love certain combinations in more detail.
If you are one of the 27 people on the planet who hasn't tasted strawberry pretzel salad, here's what it looks like. Today's recipe starts here but spins off with rhubarb and raspberries instead of strawberries, giving it a whole new vibe.
Start With Three Ingredients For A Sweet Salty Crunchy Crust
Crushed pretzels team up with butter and brown sugar to make the perfect sweet/salty crust. Pop it in the oven for a few minutes so the sugar and butter combine, and make the pretzels into a mixture that sticks together to form a great crunchy base. Allow the crust to cool before you add the cream cheese layer.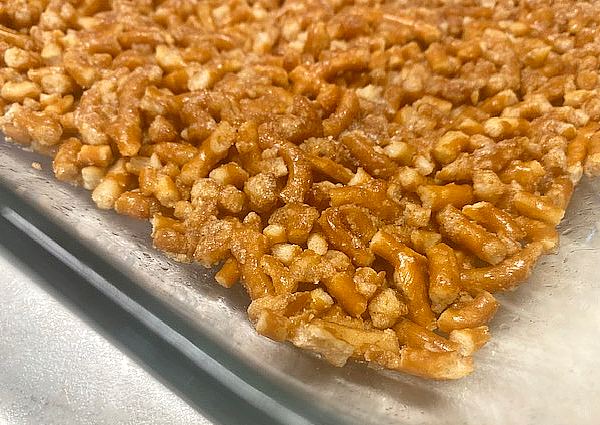 Three More Ingredients Make The Rich Creamy Middle Layer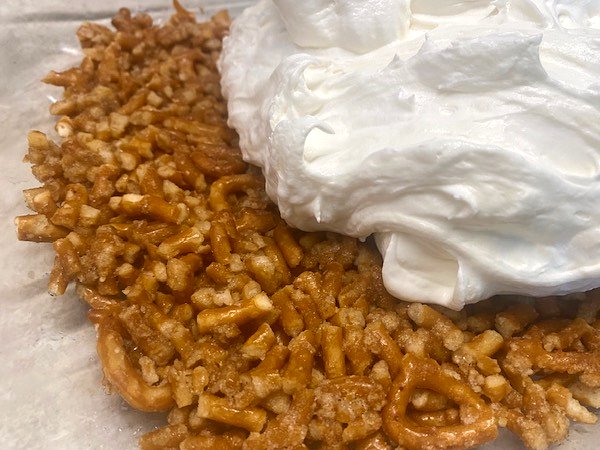 Beat softened cream cheese with sugar until light and fluffy, then gently fold in a carton of defrosted whipped topping. Carefully spread the filling over the cooled crust, clear to the edges of the pan.
Full filling coverage is critical to keep the fruit topping from seeping into the pretzel crust before it sets, making it a sad, soggy mess. Protect that crunch! Pop the pan in the fridge to chill and firm up while making the topping.
So far, this is how you make strawberry pretzel dessert, or what many people call strawberry pretzel salad. The next part is where it gets interesting!
Raspberries And Rhubarb Combine To Make A Bold New Flavor Combo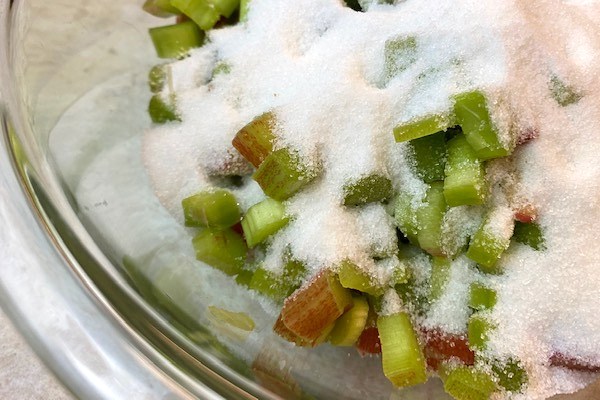 Pour one cup of sugar over two cups of finely diced rhubarb and set it aside for about thirty minutes. The sugar will draw out the juice from the rhubarb.
Put the rhubarb and sugar mixture into a saucepan with two cups of water and simmer until the rhubarb is tender. Then, increase the heat and bring the mixture to a boil. Remove the pan from the heat and add one six-ounce package or two three-ounce packages of raspberry jello. Stir until the gelatin dissolves completely.
It is important to chill this mixture in the refrigerator until it is syrupy. It should have about the consistency of raw egg white before you pour it over the cream cheese layer.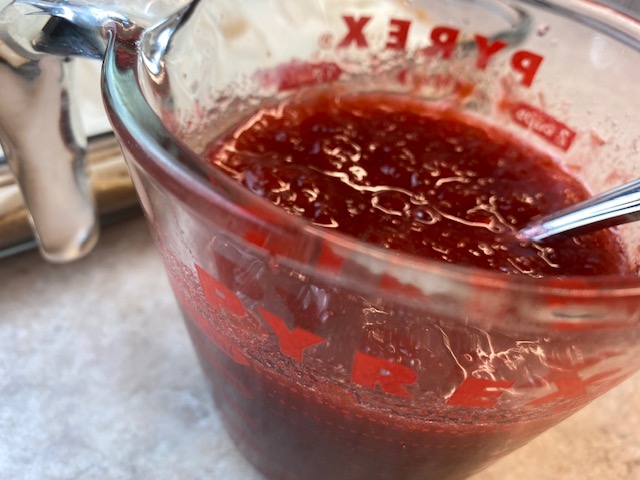 Arrange fresh raspberries over the cream cheese layer. I used a twelve-ounce clamshell of berries and carefully poured the cooled jello mixture over everything. Chill until the jello is set, and enjoy!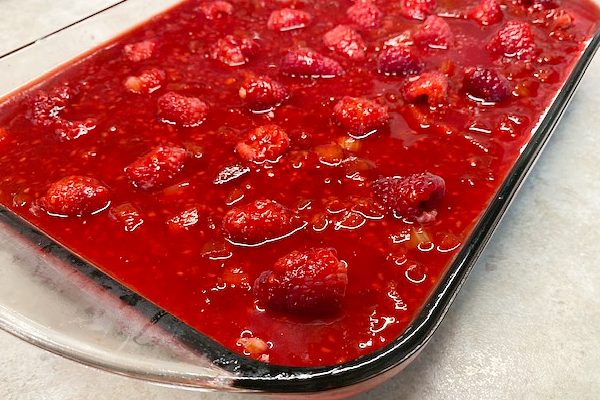 You can cut this dessert into sixteen generous servings. For fun, I garnished each piece with a mini pretzel twist!
It was just the two of us and no guests the week I made this, so the dessert lasted a while. I'm happy to report it was every bit as good on day seven as it was on day one! Even the crust stayed nice and crunchy to the very last bite!
This new twist on an old favorite, rhubarb pretzel dessert, will definitely be on the menu at our house! So delicious!
Yield: 16 servings
Rhubarb Pretzel Dessert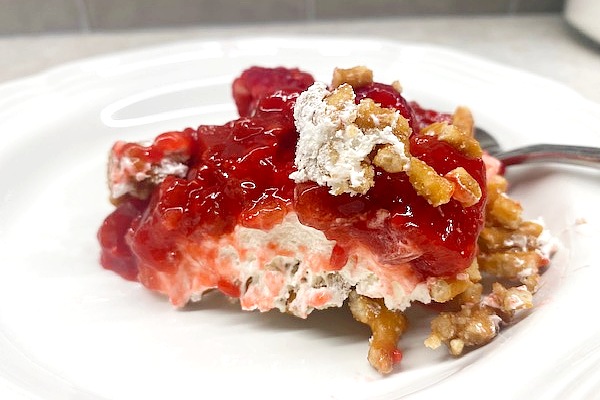 A seasonal twist on an old favorite, this dessert features a sweet-tart topping of rhubarb and raspberries.
Total Time
2 hours
40 minutes
Ingredients
3/4 cup butter, melted
3 Tbsp brown sugar
2 cups crushed pretzels
2 cups granulated sugar, divided
One 8-ounce block of cream cheese, softened to room temperature
One 8-ounce tub of whipped topping, defrosted
2 cups finely diced rhubarb
One 6-ounce or two 3-ounce packages of raspberry jello
2 cups water
One 12-ounce clamshell of fresh raspberries (or more!)
Instructions
FOR CRUST
Crush pretzels to make two cups. I found mini twist pretzels to be the easiest to use, and I did them in my food processor.
Add melted butter and brown sugar to crushed pretzels and stir well or mix in a food processor until combined.
Press crust mixture firmly into a 13" by 9" baking pan.
Bake at 350 degrees for ten minutes.
Cool completely before adding the filling.
FOR FILLING
Beat softened cream cheese with one cup of sugar until fluffy.
Carefully fold defrosted whipped topping into the cream cheese mixture.
Spread the cream cheese mixture carefully onto the cooled crust. Be sure to spread the filling completely to the edges of the pan to seal the crust and keep it crunchy when you pour the jello mixture on top.
Put the dessert in the refrigerator to cool and firm up.
FOR TOPPING
Pour one cup of sugar over the rhubarb and let it stand for 30 minutes to draw out the juice.
Put the rhubarb in a saucepan with 2 cups of water and simmer until the rhubarb is tender.
Increase heat and bring the sugar-rhubarb mixture to a boil.
Remove the pan from heat and stir in jello. Stir until the gelatin dissolves completely.
IMPORTANT Cool this mixture in the refrigerator until it is syrupy, about the consistency of raw egg white.
Arrange raspberries on the cream cheese layer and carefully pour the cooled jello mixture over the top.
Chill for two to three hours in the refrigerator until the jello sets.
Rhubarb is abundant right now! I need to pull rhubarb now before it gets away from me! I will probably freeze some rhubarb for later. Here's how. We love rhubarb, and here are some of our favorite recipes! Magic Rhubarb Pudding Cake, One Bowl Rustic Rhubarb Bread, Strawberry-Rhubarb Jam.
Hungry for more? Just type rhubarb in the search bar at the top of the page to find more awesome rhubarb recipes! What is your favorite way to eat rhubarb? Have any recipes you'd like to share? We'd be delighted to hear from you!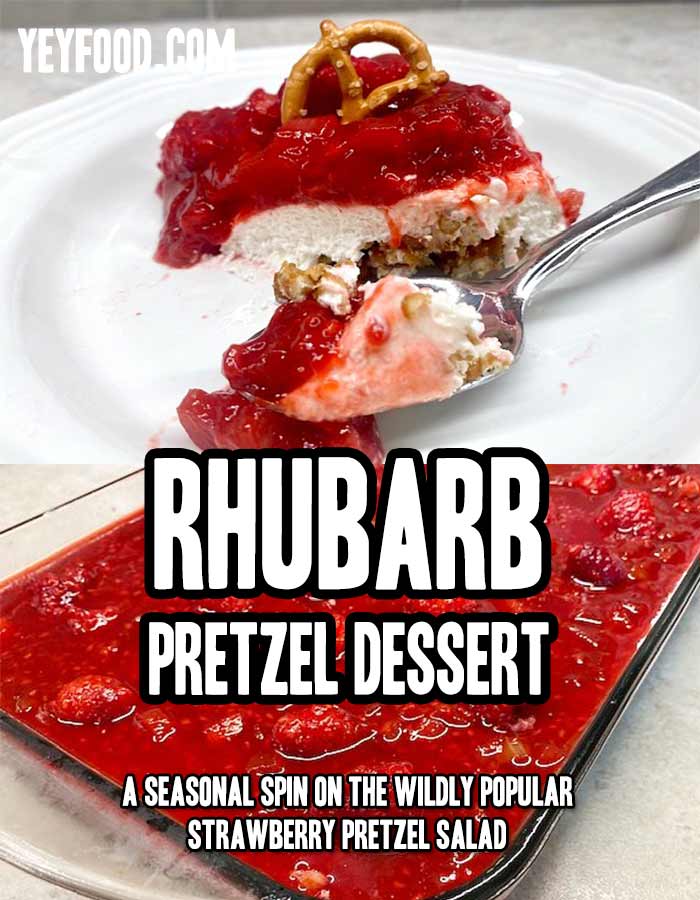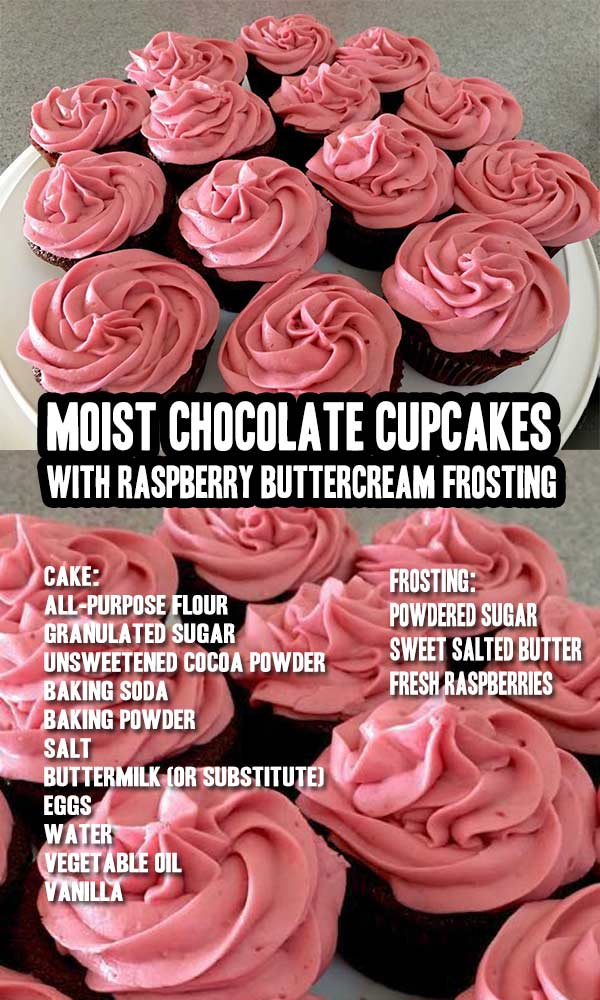 The Ultimate Bread and Butter Pickle Recipe
The Number 1 Practically Perfect Poppy Seed Bread
World's Best Stuffing No Turkey Required
If you like these recipes, you are our people! You can check some related articles below or search via categories on the right. But be warned; you will be on here for hours. Enjoy! 
So, please share this recipe on your social media accounts like Facebook, Instagram, Twitter, and Pinterest. We would be honored and ever so grateful; thank you!