Rhubarb Custard Pie Recipe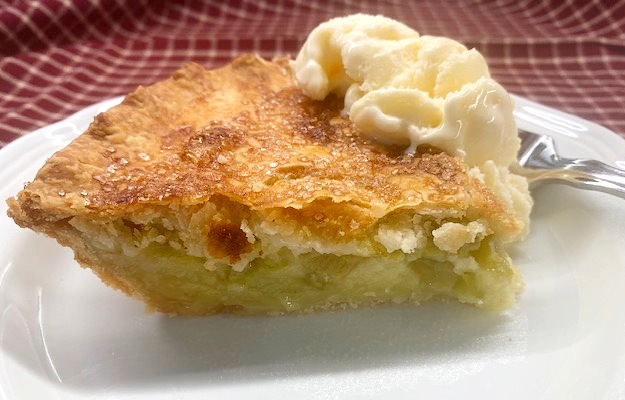 Here is a very old, very simple recipe for rhubarb custard pie. It is the kind of no-nonsense recipe that's stood the test of time, so you know it's a good one! There is nothing to interfere with the wonderful taste of rhubarb, and nothing more is needed. It's simply delicious all on its own.
Rhubarb can range in color from green to pink to red. The color is no indication of ripeness or sweetness like it is with other fruits. Our rhubarb is a green stem variety, not as red as others. It's every bit as tasty, though!
The stalks are the only edible part of the plant; in fact, the leaves are extremely poisonous due to high levels of oxalic acid. Never eat them.
I was super excited to try this pie because my rhubarb is flourishing, and we had old friends coming for a visit. They are the kind of people who genuinely appreciate homemade food! ❤ In this pie, rhubarb takes center stage, so I used refrigerated pie crusts because I was in a hurry. Pillsbury crusts are excellent, but I usually make my own.
Two Unusual Things Make This Rhubarb Custard Pie Unique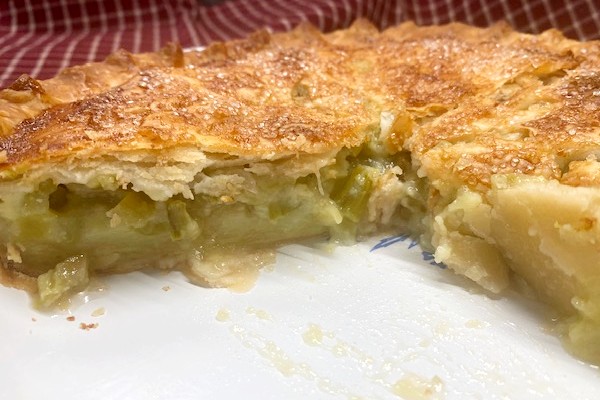 I was intrigued by the recipe from the moment I saw it. Fruit pies, for example, peach, apple, or cherry, often have a double crust. Like pumpkin or pecan pie, custard pies usually have a single crust. Here is a custard pie recipe with a double crust, and it's the first time I have ever seen it.
This rhubarb custard pie bakes at 400 degrees the whole time. The temperature produces a fully cooked custard that cuts neatly and a crisp top and bottom crust. Often, a custard pie bakes at a high temperature for a few minutes to crispen the crust; and then the oven is turned down to 350 degrees to finish baking the custard.
I was surprised there was no milk in the custard, only a small amount of water. The biggest surprise was how absolutely delicious it was. I have never had better rhubarb pie!
Pie Crust Rhubarb And Four More Ingredients Make A Memorable Pie
Begin by chopping rhubarb into small dice to measure two cups. Pour three tablespoons of very hot water over the rhubarb and let it sit for five minutes. Drain it but SAVE the water in a mixing bowl.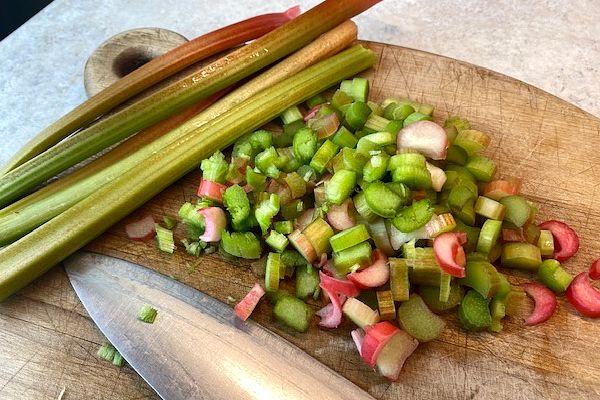 Add the sugar, eggs, and flour to the rhubarb water and whisk until there are no remaining lumps. Fold in the rhubarb and pour the mixture into the unbaked crust. DO NOT prick the lower crust.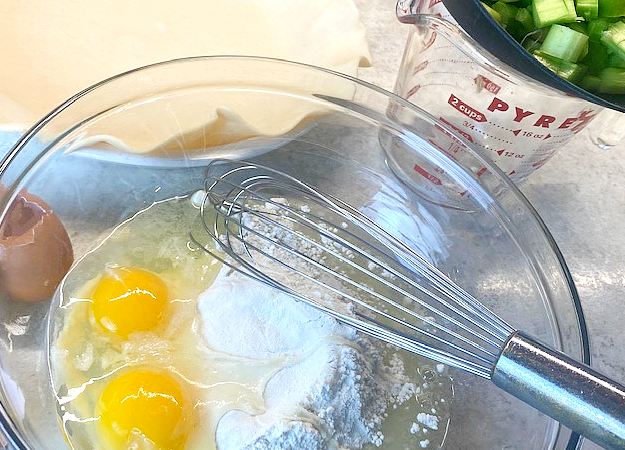 Place the second crust on top of the fruit. Trim and flute the edges of the crust. Dip your finger in water and run it along the edges of the bottom crust before putting the top crust in place. When you do this, it helps the two crusts stick together when you flute them.
Oops, I forgot that step this time. Do what I say, not what I do. 😉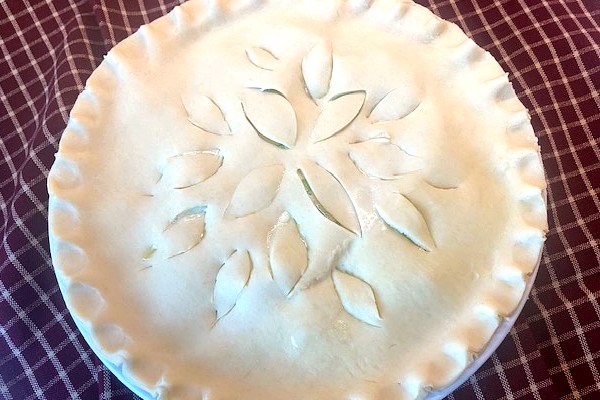 Use a small sharp knife to cut slits or a design in the crust. It allows the steam from inside the pie to escape when you do. Brush the crust with a beaten egg white with about a teaspoon of water added. This step is what gives the top crust the lovely golden brown, shiny appearance.
Sprinkle with sugar. I used coarse sanding sugar to give it extra sparkle and crunch. Bake for forty minutes at 400 degrees and allow the pie to cool completely before serving. The pie should be kept refrigerated.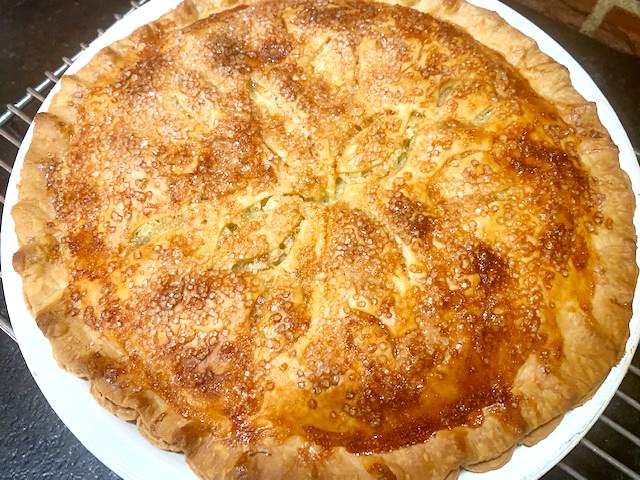 When we enjoyed some pie with our visiting friends, I warmed each piece of our rhubarb custard pie in the microwave for about 30 seconds, then added a scoop of vanilla ice cream to each plate. Absolutely yummy!
Yield: 8 servings
Rhubarb Custard Pie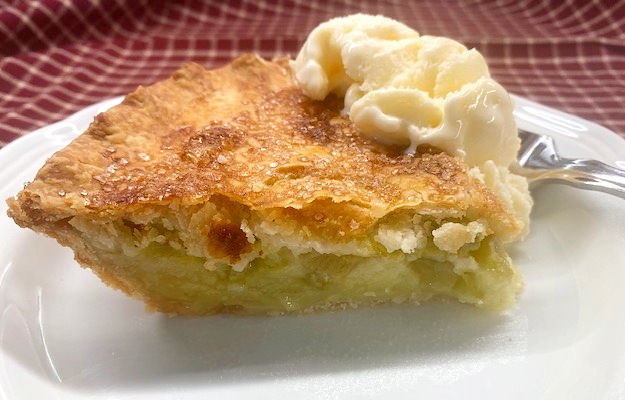 This is a recipe for a lovely old-fashioned double-crust rhubarb custard pie.
Ingredients
2 pie crusts for a nine-inch pie
2 cups of diced rhubarb
3 Tbsp hot water
1 1/2 cups granulated sugar
3 Tbsp all-purpose flour
2 eggs
1 egg white beaten with 1 tsp water
2 Tbsp sugar for sprinkling on the crust
Instructions
Purchase or make two pie crusts to fit a 9" pie.
Pour hot water over the rhubarb and let it stand for five minutes.
Drain rhubarb water into a mixing bowl.
Add eggs, sugar, and flour to the rhubarb water and whisk until all lumps are gone.
Fold rhubarb into the egg and sugar mixture.
Press one pie crust into the bottom of a nine-inch pie pan. Dip fingers in water and moisten the edges of the crust.
Pour rhubarb mixture into the bottom crust.
Place the second crust on top of the pie.
Trim crust to fit, press the edges of the crust together, and flute.
Use a small sharp knife to cut slits or a design in the top crust to allow the steam to escape.
Brush the top crust with beaten egg white and sprinkle with sugar.
Bake for 40 minutes at 400 degrees.
Cool pie completely before serving.

Do you love rhubarb? We do! Here are some of our most popular rhubarb recipes. Rhubarb muffins with streusel topping, rhubarb pretzel dessert, cool creamy rhubarb swirl. Hungry for more rhubarb recipes? Just type rhubarb in the search bar! Too much rhubarb? Here's how to freeze it quickly and easily.
Do you have any special rhubarb recipes you would share with us? Pretty please with ice cream on top?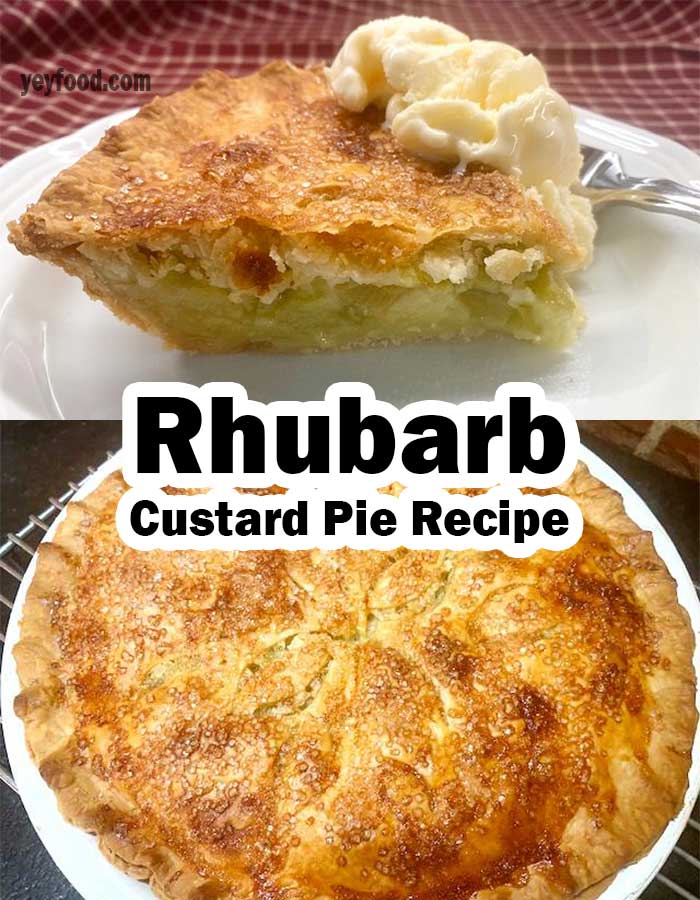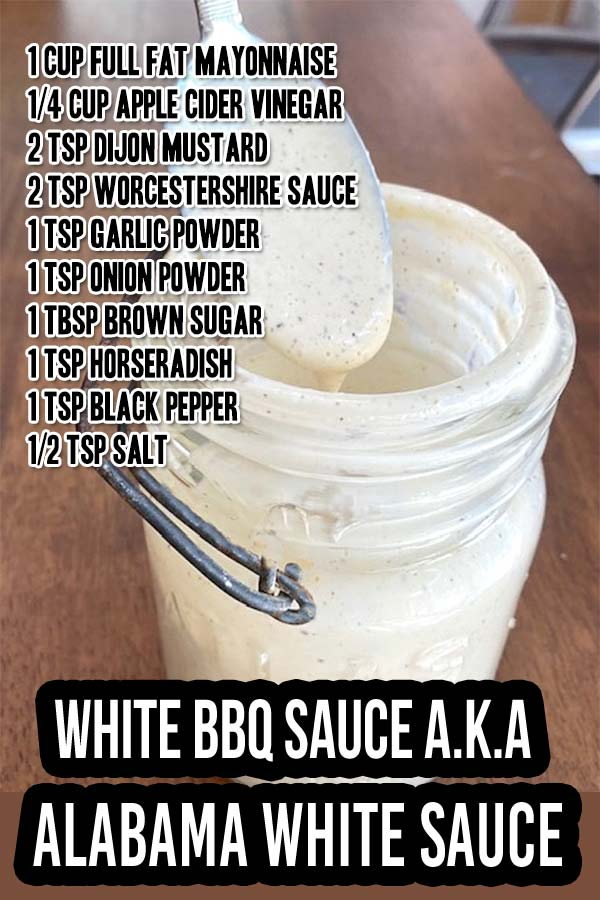 S'mores Bars How To Make Them Super Fast and Super Good
Easy 1 Pan Classic American Goulash
German Sauerkraut Casserole With Bacon And Brown Sugar
If you like these recipes, you are our people! You can check some related articles below or search via categories on the right. But, be warned; you will be on here for hours. Enjoy!
So, please share this recipe on your social media accounts like Facebook, Instagram, Twitter, and Pinterest. We would be honored and ever so grateful; thank you!