Cool Creamy Rhubarb Swirl Dessert Recipe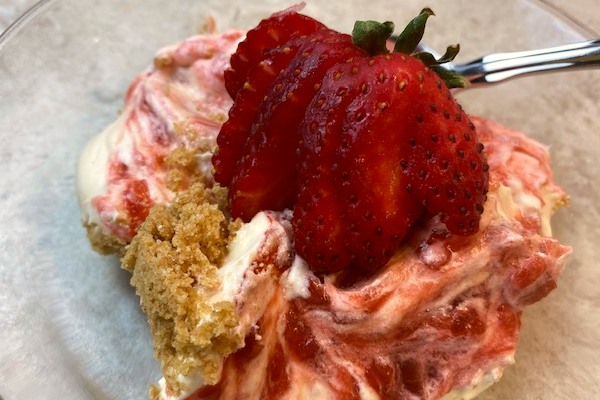 For years, the recipe for this amazing rhubarb swirl dessert disappeared into a basket filled with recipes I had intended to try. What a sad mistake!
Way back in 2011, my classmate and friend Denise gave me this recipe. At the top of her typewritten recipe, she wrote, "real gooooood!" I couldn't wait to tell her that she was right! After one taste, I mourned the years I lost without having it!! Each bite is a little gift from heaven.
Rhubarb will soon be producing wildly, and rhubarb aficionados have hungrily awaited the season. When spring finally delivers a fresh crop, we can't get enough! And when a new recipe comes along, we all do a little happy dance.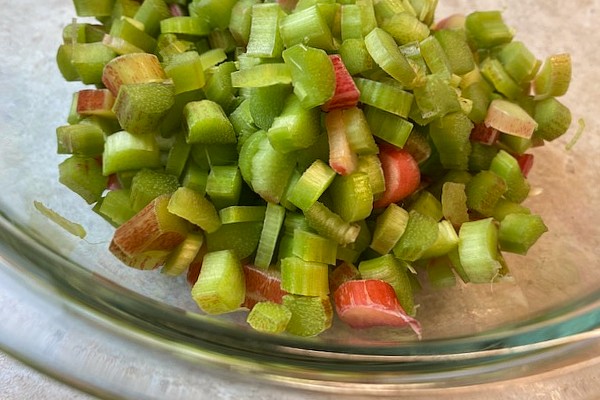 Begin with three cups of finely diced rhubarb. Pour a cup of sugar over it, stir it up, and let it sit for an hour or so. The sugar will draw out some of the natural juice. Next, simmer it gently until the rhubarb is soft and tender, about 10 minutes.
Now that I've made it once, I would tell you to let it sit in the saucepan you will use to cook it.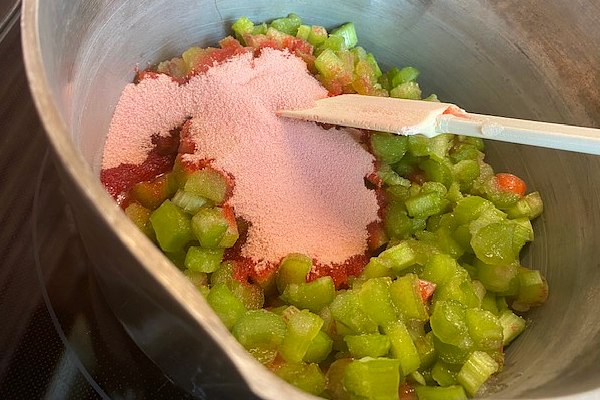 Once the rhubarb is tender, add a small box of strawberry or raspberry jello and stir it well while still warm. Then, put the mixture in the refrigerator to cool. (Lick the pan- I did!)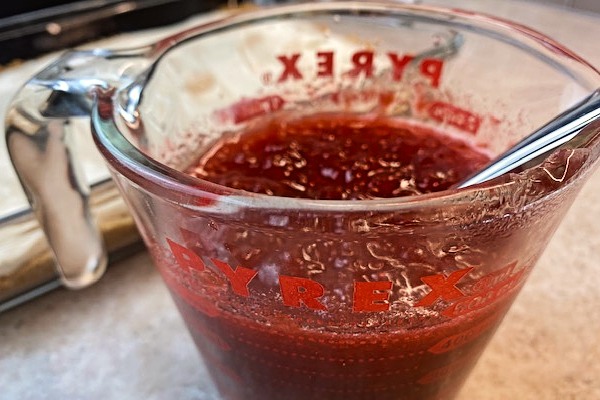 If you put the mixture into a glass measuring cup with a pouring spout, will be a handy way to drizzle the jello mixture quickly over the pudding mixture. The spoon contracts cold and speeds up the cooling process. I stirred it a few times until it was chilled and syrupy.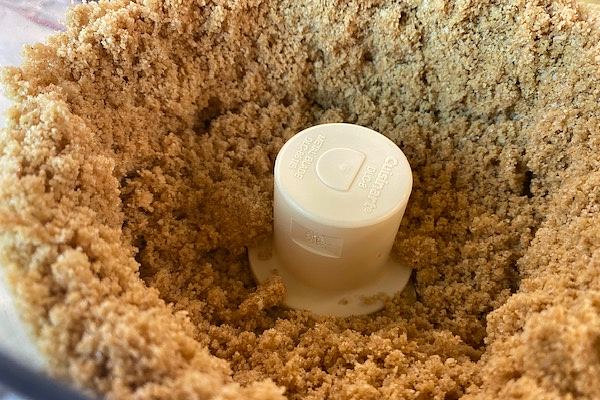 While that cools, make the crust. It works great to do it all in your food processor! Break up the crackers a bit, then pulse until they become crumbs. Add the sugar and the butter and pulse again, scraping down the sides a couple of times until everything looks like coarse brown sugar.
Of course, if you don't have a food processor, you can put the crumbs in a zip lock bag and crush them with a rolling pin the way we did forever!
Next, pat the crumb mixture into a 13 x 9 pan. I used a glass pan to show off the layers! Bring up the sides a bit and bake it at 375 degrees for about 6-8 minutes. Set it aside to cool while you make the pudding.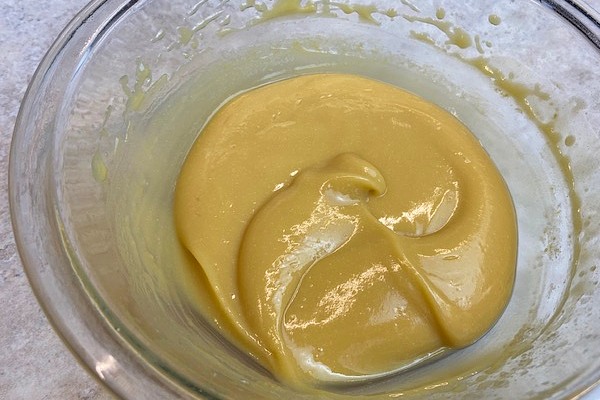 The instant pudding is made almost like the package directions, except use only 1 1/2 cups of milk. I had French vanilla pudding in the cupboard, so that's what I used in case you wondered about the color. 😊
Now, fold your defrosted Cool Whip into the pudding until it's all nicely blended. Isn't it pretty?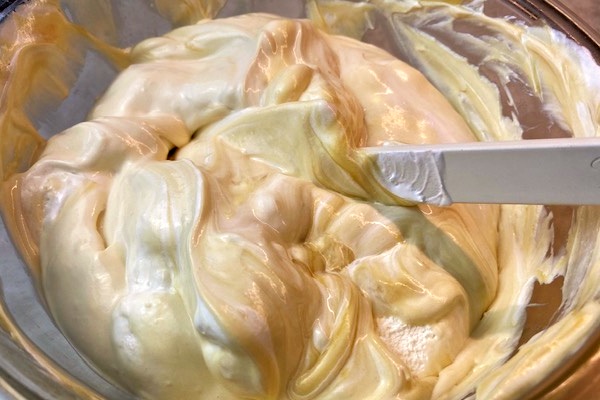 Assemble The Beautiful Rhubarb Swirl Dessert
Put that beautiful pudding mixture on top of the crunchy crust and smooth it around evenly. (Once again, feel free to lick the bowl and the spatula, I did!) Then, dribble the rhubarb mixture over the pudding layer.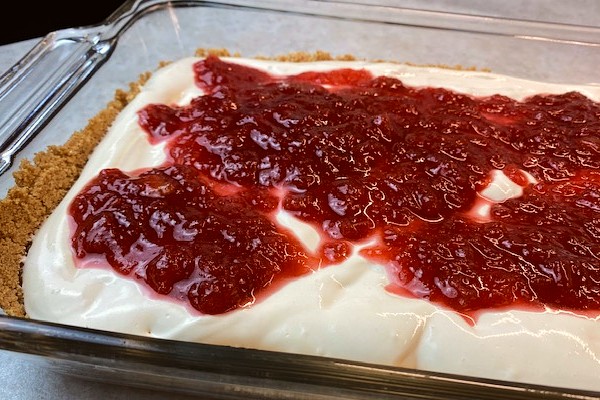 Next, use a table knife or skinny straight spatula to swirl the rhubarb gently into the pudding. Don't disturb the crust when you're doing this! Swirl just enough to see both the creamy pudding and the bright red rhubarb mixture! It's a marbled work of art!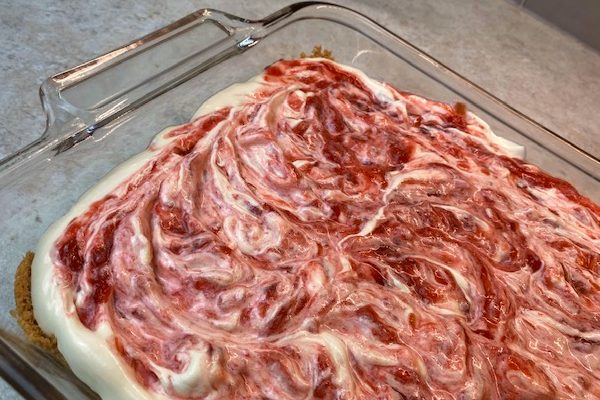 The hardest part is letting it sit in the refrigerator for at least an hour before serving it! After an hour or so in the fridge, you can spoon it into dessert cups. But if you can stand to leave it for a few hours or overnight, it will cut neatly into squares.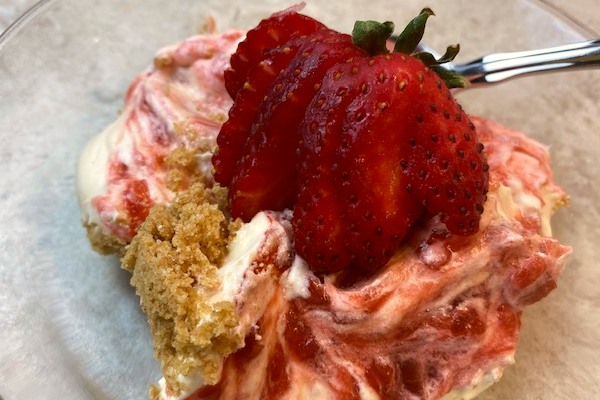 As you can see, I couldn't wait!! But the next day, it had firmed up and cut into lovely square servings that I plated.
Yield: 15 servings
Rhubarb Swirl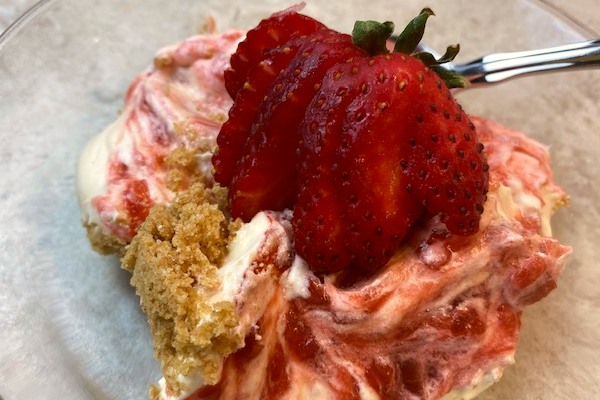 Fluffy vanilla pudding swirled with strawberry-rhubarb sits beautifully on a crisp graham cracker crust.
Total Time
2 hours
25 minutes
Ingredients
CRUST
Two inner packs of graham crackers
1/2 cup sugar
1/2 cup softened butter
FILLING
1 small box instant vanilla pudding
1 1/2 cups milk
1/2 t vanilla (optional but yummy)
One 8-ounce tub of whipped topping, defrosted.
RHUBARB SWIRL
3 cups raw rhubarb diced fine
1 cup sugar
1 small box strawberry jello (or raspberry jello)
Instructions
Crush graham crackers in a food processor.
Next, add sugar and butter.
Pulse until everything is combined.
Press mixture into 9" x 13" pan, and bring sides up slightly.
Bake at 375 degrees for 6-8 minutes. Cool.
Put rhubarb in a saucepan. Pour sugar over rhubarb and stir well. Let it sit for an hour. Rhubarb will release some of its juice.
Add strawberry Jello and simmer until rhubarb is tender. Cool in the refrigerator until syrupy.
Prepare a box of vanilla pudding according to package directions but only use 1 1/2 cups of milk and add 1/2 tsp vanilla.
Fold in whipped topping and let sit for 5 minutes to thicken.
Put the pudding/whipped topping mixture on top of the cooled crust.
Spoon or dribble the rhubarb mixture over the filling. Use a table knife to swirl the rhubarb mixture through the pudding. Be careful not to go too deep. You do not want to disturb the crust.
Refrigerate for at least an hour before serving. It cuts neatly into squares if you keep it in the fridge overnight.

Notes
Light and not too sweet. Cut in squares or spoon into a serving dish. Garnish with strawberries if you like.
Here Are A Few Tips On Rhubarb
If you're lucky enough to have a rhubarb bed, the best time to harvest is from spring to early summer, usually from April through June.
If your plants are four or more years old, you can pull stalks into early fall. Just make sure you stop harvesting well before frost to ensure the plant survives through the winter. You should only harvest stalks from younger plants for about three weeks. Do not harvest any rhubarb in its first year.
If you notice tall cauliflower-looking seed pods shooting up, remove them as soon as you see them because they will reduce the yield. When rhubarb "bolts" this way, it puts a lot of energy into producing the flower and seed. A well-tended rhubarb bed can keep growing for over 100 years! One of my plants is from stock that old!
Too much rhubarb? I'll bet you have friends that would love some, but it's easy as pie (I couldn't resist!) to freeze rhubarb. Just wash, trim, and dice it. Then, lay the pieces on parchment or foil-lined cookie sheets and freeze uncovered until it is firm.
Folks in the food business call this process IQF "individually quick frozen." Then, scoop the rhubarb into freezer bags and use it to make cobblers, pies, jam, bread, or this yummy dessert!!
Defrost frozen rhubarb and drain off any excess liquid before using it in baked goods. It will keep for a year in your freezer until you have another crop! Frozen rhubarb and even canned rhubarb are becoming more available in grocery stores which lets us make rhubarb desserts any time we want!
Rhubarb Swirl Dessert! It's a beautiful, easy, and perfect dessert for the season! Make some tomorrow! Here are some of our favorite rhubarb recipes! Strawberry Rhubarb Jam, Rustic Rhubarb Bread, Magic Rhubarb Pudding Cake.
How do you like YOUR rhubarb?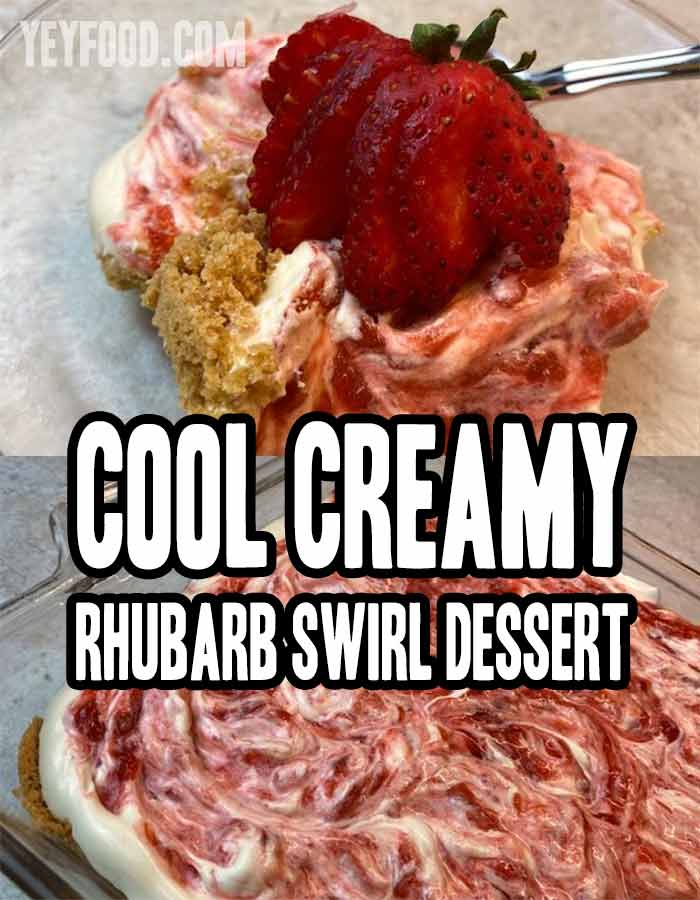 HERE ARE SOME MORE OF OF YUMMY RECIPES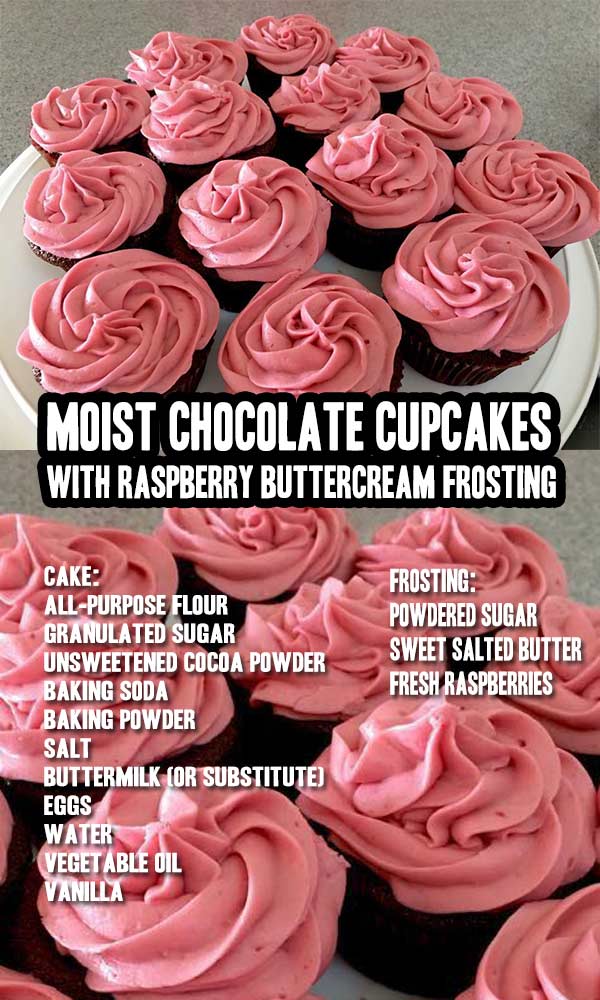 The Number 1 Practically Perfect Poppy Seed Bread
World's Best Stuffing No Turkey Required
If you like these recipes, you are our people! You can check some related articles below or search via categories on the right. But be warned; you will be on here for hours. Enjoy!
So, please share this recipe on your social media accounts like Facebook, Instagram, Twitter, and Pinterest. We would be honored and ever so grateful; thank you!