Instant Pot Recipe For Amazing Country Style Pork Ribs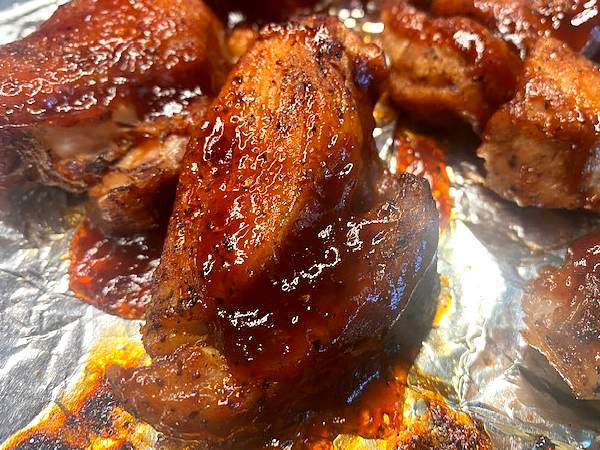 Try these Instant Pot country style pork ribs! Country style pork "ribs" aren't ribs, but I forgive whoever coined the name because they are awesome. Meat for these "ribs" is from pork shoulder, the cut you use to make pulled pork or carnitas. The flavor is amazing, and they are fall-apart tender when you cook them this way.
You are definitely in for a treat if you've never tried them! They are very budget-friendly (read: cheap) and much meatier than spare ribs or beef ribs. There is almost no waste, so you get a lot of value for your hard-earned dollars when you choose them.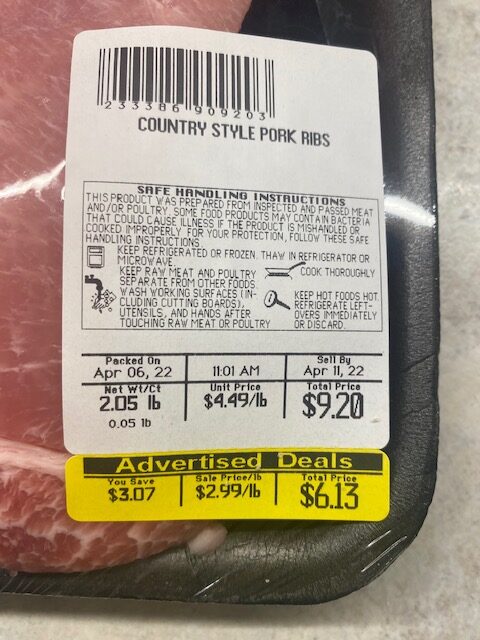 Country style pork ribs have a wonderful marbling of fat that keeps them moist and tender, and they may become your favorite way to eat pork! These "ribs" are often cooked low and slow in the oven, but I found a way to get them on the table in about an hour with my Instant Pot.
There is no sacrifice of flavor here, but you sure save a lot of time.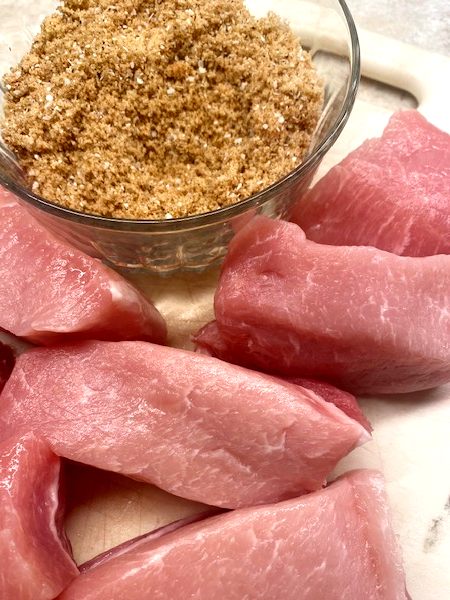 A Good Dry Rub Is The Secret To Succulent Country Style Pork Ribs
The first step is to mix up a dry rub. I worked in food service at a university years ago. I watched the chefs mix up dry rubs in a very slapdash manner, tasting as they went along. Using a dry rub brings out the most amazing flavor in pork, regardless of how you cook them. This step gives pork the beautiful crust and great flavor we crave.
Honestly, anything goes in a dry rub, but it should contain sugar, salt, and spices. A good rub should include some of each element.
I usually use one cup of dark brown sugar, one-half cup of kosher salt, or smoked salt (or a combination of the two), and from there, it's one-half cup of a blend of spices I have on hand. I have even used small amounts of cinnamon and instant coffee in my rubs.
Here are some ideas for spices to use and an article with a few ideas to get you started. Here is another dry rub recipe for inspiration.
smoked paprika (also called Spanish paprika)
garlic powder
white or black pepper
chili powder
onion powder
chipotle chili pepper
cayenne pepper
cumin
thyme
oregano
dry mustard
Yield: 2 cups
All-Purpose Pork Rub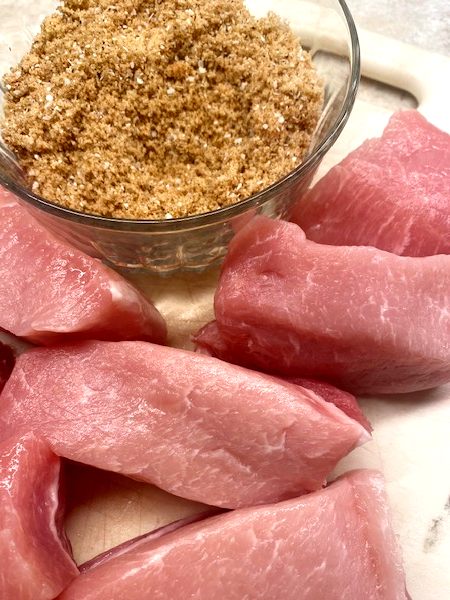 This is a recipe for an all-purpose rub for any cut of pork.
Ingredients
1 cup dark brown sugar
1/2 cup smoked sea salt or kosher salt
Two tablespoons smoked paprika
Two tablespoons of coarse black pepper
1 1/2 tsp cumin
1 1/2 tsp onion powder
1 1/2 tsp garlic powder
1 tsp cayenne pepper
Instructions
Combine all ingredients well and store in a tightly covered container.
Sprinkle the rub generously over all surfaces of the ribs, pressing it in as you go. Sometimes I put the rub on a plate and press the meat into the rub. It will probably take about one-half cup of rub.
Put the leftover rub in a tightly sealed container like a mason jar, and save it for the next time! It keeps a long time on the shelf. You could also use a nifty rub shaker! If you have one, you could store and dispense the rub easily!
Arrange the meat along the edges of the Instant Pot. Pour a can of cola or Dr. Pepper or root beer and some liquid smoke in the center. It doesn't take much liquid smoke, only about one-half teaspoon, but it adds a lot of yummy flavor.
Pressure cook on high for 35 minutes, then let the pressure drop for 10 or 15 minutes. Release any remaining pressure.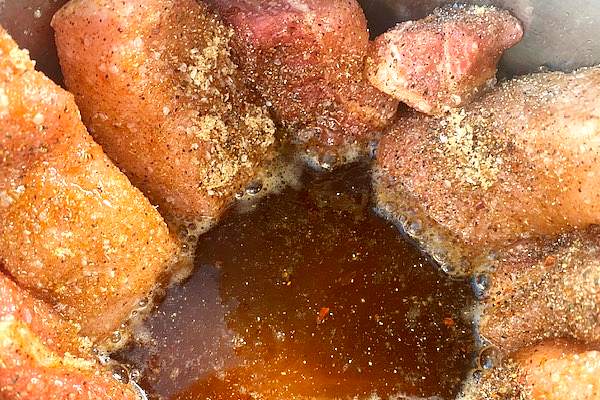 Use tongs to transfer the meat to a rimmed baking pan you have covered with foil. Drizzle your favorite barbecue sauce over the ribs and brush it in to distribute it evenly. Flip and repeat.
Pop the pan under the broiler and watch carefully while the beautiful crisp brown crust forms on your tender, succulent ribs. These are delightful served with macaroni and cheese and baked beans! Serve extra sauce on the side if you like.
Yield: 4servings
Instant Pot Country-Style Pork Ribs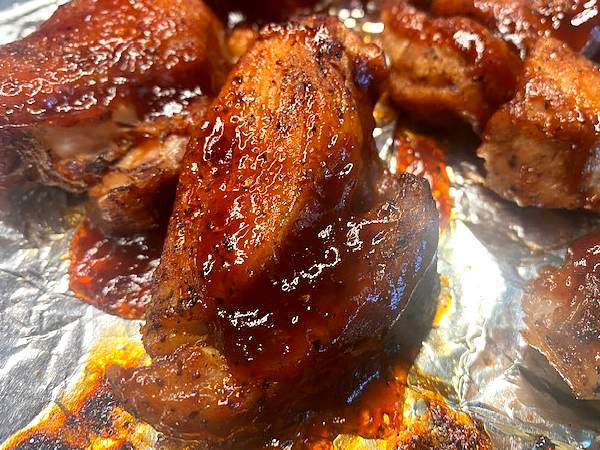 This recipe makes delicious, tender country-style pork ribs quickly in your Instant Pot, then finished under your broiler.
Additional Time
25 minutes
Total Time
1 hour
10 minutes
Ingredients
Two punds of boneless country style pork ribs
About 1/2 cup of pork rub. (see the recipe in this post)
1 12-ounce can of a cola beverage or Dr. Pepper, or rootbeer.
1/2tsp -1 tsp liquid smoke, to taste
About 1 cup of your favorite barbecue sauce.
Instructions
Generously coat ribs with pork rub, pressing into the meat.
Arrange ribs around the perimeter of the Instant Pot.
Pour soda and liquid smoke in the center.
Cook on high pressure for 35 minutes.
Allow pressure to drop naturally for 10 to 15 minutes.
Release remaining pressure.
Use tongs to remove ribs from the Instant Pot and place them on a foil-covered rimmed baking sheet.
Drizzle with your favorite barbecue sauce and brush to distibute.
Flip and repeat on the other side.
Broil, watching carefully, for about 5 minutes, ort until ribs get browned and glazed.
Serve with additional sauce if desired.

Notes
I heartily recommend Sweet Baby Rays barbecue sauce.
The package of country style pork ribs I picked up weighed just over two pounds. When cooked, the meat will shrink by about 25%. The cooked weight would end up at 24 ounces. While the FDA suggested a four-ounce serving of pork, I made it into four servings, not six.
If our teenage grandsons were joining us for dinner, they would probably eat 12 ounces of pork each, but this gives you a guideline. The leftover "ribs" tasted great, pulled, and served on buns the next day!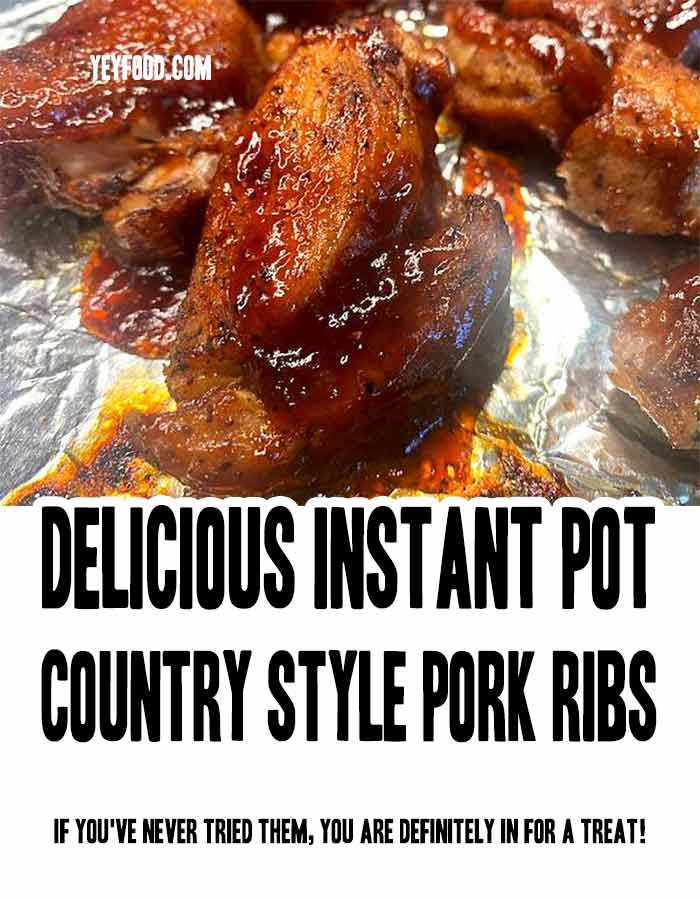 Do you love your Instant Pot? We sure do! It makes the meat so tender and good in a fraction of its time to cook it "low and slow." So if you're always in a hurry, like we are, here are a few more of our favorite Instant Pot recipes! Lip Smacking Spare Ribs, Beef Noodle Soup, Corned Beef And Cabbage.
MORE OF OUR QUICK AND EASY FAMILY-STYLE RECIPES: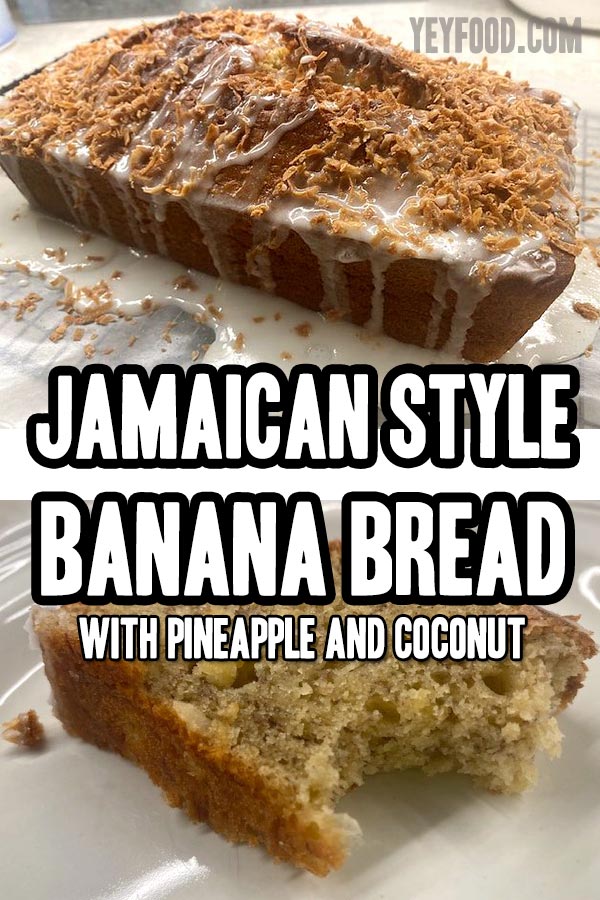 The Ultimate Bread and Butter Pickle Recipe
The Number 1 Practically Perfect Poppy Seed Bread
Oven-Baked Steak With Brown Gravy
If you like these recipes, you are our people! You can check some related articles below or search via categories on the right. But, be warned; you will be on here for hours. Enjoy!