One-Hour Instant Pot Spare Ribs Recipe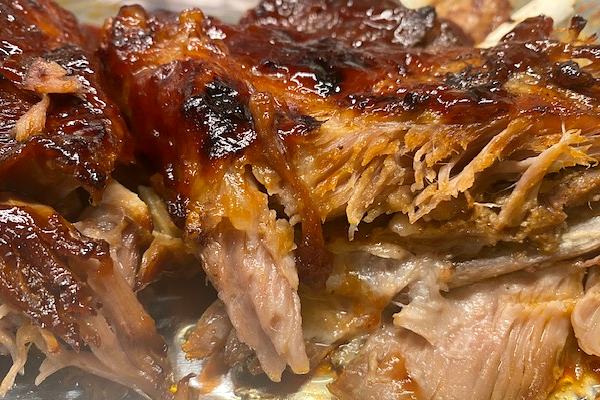 You can make juicy, tender, lip-smacking spare ribs in about an hour in your Instant Pot and finish them under the broiler for the look and flavor of ribs cooked all day long. It's almost magic.
"Spare ribs" is a broad, generic term for pork ribs. However, there are three cuts of pork ribs. To some extent, you can use the various cuts of ribs interchangeably, but here is a guide for you.
A "rack" is a unit of measure for ribs. A rack of pork ribs usually has from ten to thirteen rib bones.
Baby back ribs are curvier and shorter than spare ribs. That's why they're called baby back ribs; they do NOT come from baby pigs! They have lots of lean, tender meat, both between and on top of the bones.
They take less time to cook, but they are the most expensive cut of ribs. Two pounds of baby back ribs will feed three to four people because there is not a lot of waste. An average rack of baby back ribs weighs 1.5 to two pounds.
Spare ribs are a large cut of ribs that includes part of the belly. They have a lot of fat which also gives them a lot of terrific flavor, but you must cook them "slow and low" to bring out that flavor and make them tender.
Compared to baby backs, spare ribs have more meat between the bones and less meat on top. The bones are straighter, longer, and flatter than baby back ribs. A rack of spare ribs from 2.5 to 3.5 pounds will be enough for two to three people.
St. Louis Style Ribs are spare ribs trimmed to a more uniform rectangular shape that's easier to handle and has less waste. An average rack of St. Louis-style ribs weighs 2.5 to three pounds.
You will need to allow three-fourths of a pound to one pound of uncooked weight when serving St. Louis Style ribs. I used St. Louis-style ribs in this recipe.
Here is a helpful guide with even more specific information about serving ribs and how many ribs to cook per person. Everyone loves ribs, so I always prepare plenty and hope for leftovers!
Your Instant Pot Makes Delicious Weeknight Ribs A Possibility
When you don't have time to cook ribs "low and slow," pressure cooking them in your Instant Pot tremendously speeds up the cooking process. You can achieve slow-cooked, deliciously smoky barbecue flavor without leaving the kitchen.
Here's what you need to do.
First, remove the white membrane from the underside of the ribs. This membrane will stay tough after cooking if you don't remove it. Turn the ribs curved side up and slip a knife tip under one short edge of the membrane. Pry it up so you can get hold of it.
It's slippery, so use a paper towel to get a good grip and pull it off. It may not come off in one piece, but remove and discard it. The ribs should look like this now.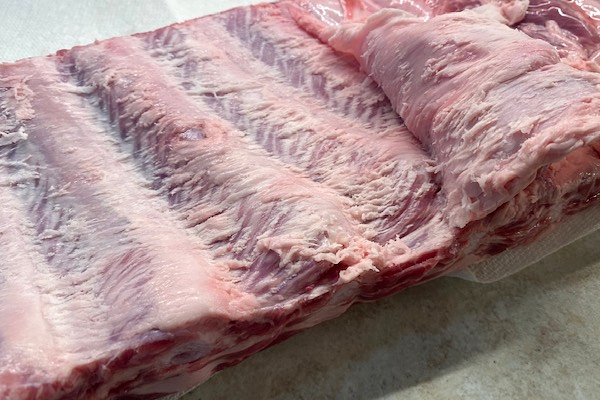 A Good Dry Rub Is The Secret To Succulent Tasty Ribs
The next step is to stir up a dry rub. Anything goes in a dry rub but should contain sugar, salt, and spices. A good rub should be one part of each element. Using a dry rub brings out the most amazing flavor in ribs, regardless of how you cook them.
I usually use dark brown sugar, kosher salt, or smoked salt (or a combination of the two), and from there, it's what I have on hand. Here are some ideas for spices and an article with a few ideas to get you started.
smoked paprika (also called Spanish paprika)
garlic powder
white or black pepper
chili powder
onion powder
chipotle chili pepper
cayenne pepper
cumin
thyme
oregano
dry mustard
What you use all depends on what your family likes. It doesn't matter how many spices you use if you keep the proportions fairly even. We were "born to be mild," so we don't use fiery spices, but if you like it hot, go for it! I have even used freeze-dried coffee granules or cinnamon in my dry rub.
A dry rub is good on any cut of pork or chicken as long as it's cooked low and slow. Put any leftover rub in a jar and store it in a cool, dry place for another meal.
Generously coat the ribs on both sides with the rub and press it into the meat. You do not need to cake it on.
Now Let's Get Cooking And Make Tender Juicy Ribs In The Instant Pot
Now put the ribs in the Instant Pot, arranging the rack of ribs to fit along the edges of the inner pot. Pour the can of Coke and the liquid smoke into the center and lock the lid in place. You could also use root beer or Dr. Pepper. Soda pop, especially cola beverages, adds flavor and helps to tenderize any meat.
Set the Instant Pot to pressure cook on high for 35 minutes. You will not use the "keep warm" setting. Let the pressure drop naturally on its own when the timer sounds. While the ribs are cooking, cover a rimmed cookie sheet with foil. You can also use the broiler pan if your oven comes with one. Preheat the oven to 400 degrees.
When the ribs come out of the Instant Pot, they will be cooked and tender but not pretty. Use tongs to transfer the ribs to the foil-covered cookie sheet. Next, generously drizzle your favorite barbecue sauce on the ribs and brush it over the whole surface of the ribs evenly.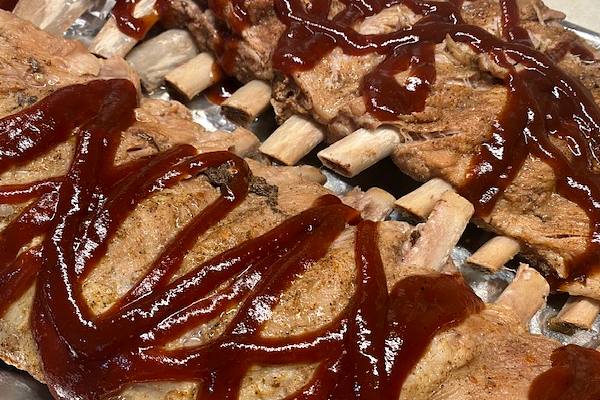 Bake 10-15 minutes watching to ensure ribs don't burn. Turn the ribs over and repeat on the other side. You can broil the ribs, too, but either way, keep a close watch on them so they don't get too brown. The ribs are cooked; these steps finish them to tasty, shiny, crispy perfection.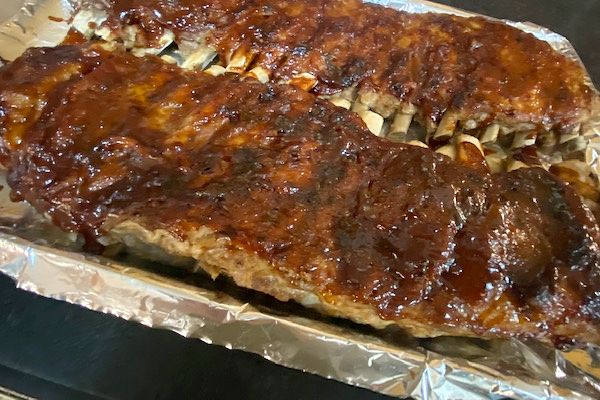 Yield: 3 to 4 servings
Instant Pot Spare Ribs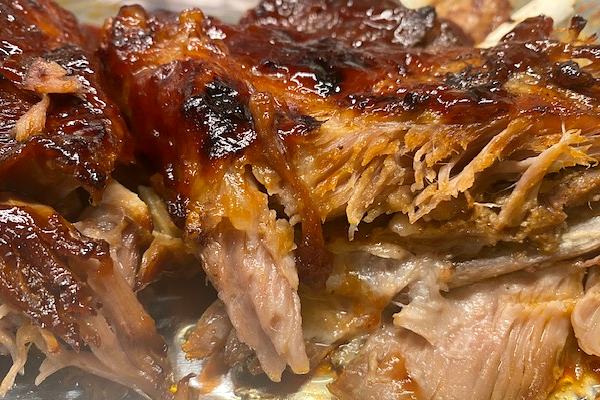 Tender, juicy, succulent spare ribs you can make in about one hour using your Instant Pot and finishing in your oven.
Additional Time
20 minutes
Total Time
1 hour
5 minutes
Ingredients
One rack of St. Louis style or baby back pork ribs.
One 12-ounce can of a cola beverage or root beer
1/4 tsp liquid smoke, or up to 1/2 tsp to taste
1/3 to 1/2 cup of dry rub, or enough to evenly cover both sides of the rack
Your favorite barbecue sauce
Instructions
Make a dry rub using sugar, salt, and spices of your choice.
Remove the membrane from the underside of the ribs. Loosen one end with the tip of a knife and pull off the membrane using a paper towel to get a good grip.
Rub dry rub evenly on both sides of the ribs.
Put the rack of ribs in the Instant Pot, curving it to fit along the edge of the inner pot.
Pour soda pop and liquid smoke in the center of the pot.
Put the lid on the Instant Pot and pressure cook on high for 35 minutes, then allow the pressure to drop naturally.
Cover a rimmed baking sheet with foil or use a broiler pan—Preheat oven to 400 degrees.
Transfer ribs to the baking sheet with tongs and generously drizzle with your favorite barbecue sauce and brush it evenly over the surface of the ribs.
Bake for 10 or 15 minutes, watching carefully, so the ribs do not get too brown.
Turn ribs over and repeat on the other side.
Nutrition Information:
Yield:
3
Serving Size:
1
Amount Per Serving:
Calories:

164
Total Fat:

4g
Saturated Fat:

1g
Trans Fat:

0g
Unsaturated Fat:

2g
Cholesterol:

12mg
Sodium:

148mg
Carbohydrates:

30g
Fiber:

0g
Sugar:

29g
Protein:

3g
Spare ribs can be made in so many ways. Slow-baked in the oven, slowly roasted in a smoker, grilled, or cooked on a stovetop. An Instant Pot gives you a fast and easy way to make them in any weather. Please let us know if you try making ribs this way, and we'd be over the moon if you'd send us a picture!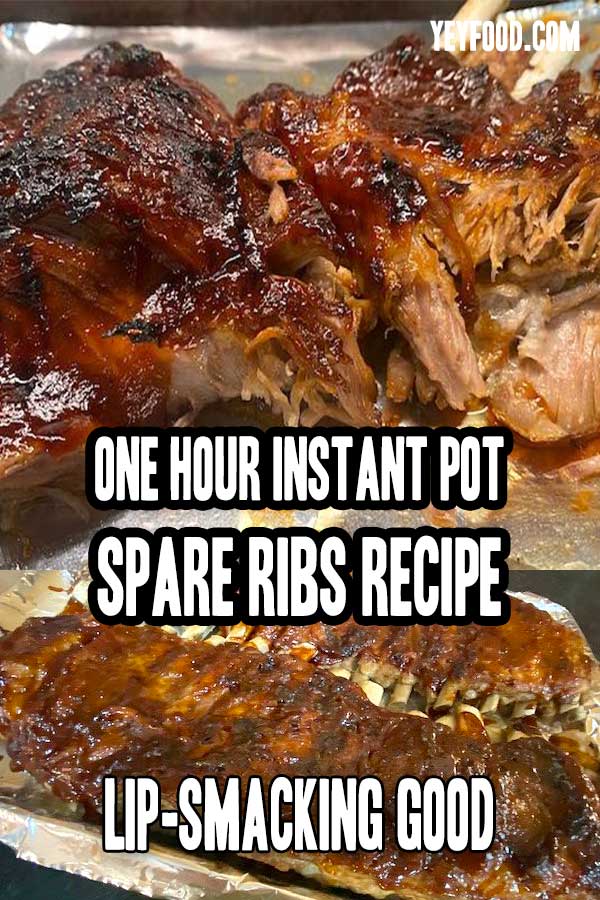 I was late to the party when it came time to purchase an Instant Pot. My sister gave me one, or I might never have tried it! Now I use it three or more times a week. It is especially great for tougher cuts of meat. Here are some of our favorite recipes: Beef Short Ribs, Beef Noodle Soup, Corned Beef And Cabbage, and Country-Style Pork Ribs.
MORE OF OUR QUICK AND EASY FAMILY-STYLE RECIPES: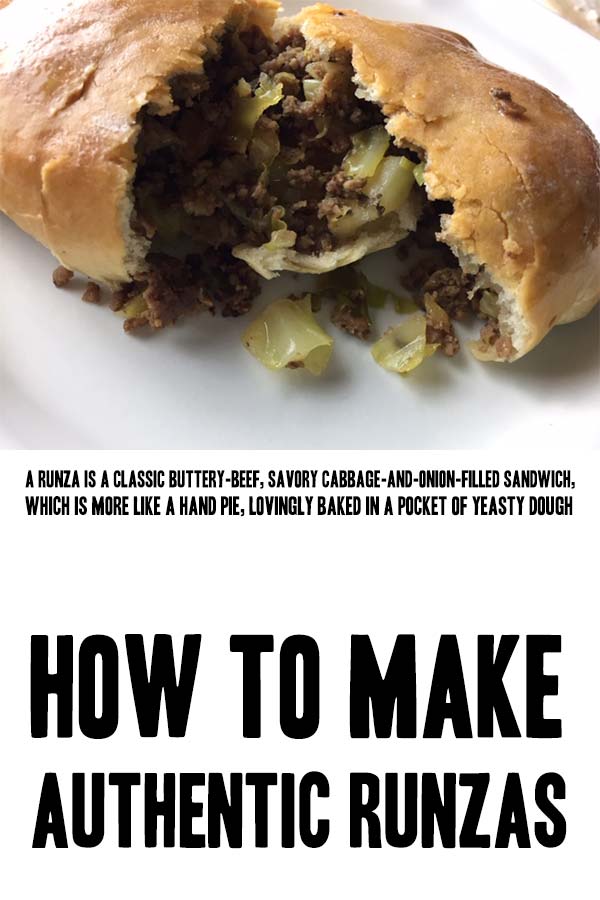 The Ultimate Bread and Butter Pickle Recipe
The Number 1 Practically Perfect Poppy Seed Bread
How To Make Authentic Runzas Right In Your Very Own Kitchen
If you like these recipes, you are our people! You can check some related articles below or search via categories on the right. But be warned; you will be on here for hours. Enjoy!