Homemade Icelandic Kleinur Recipe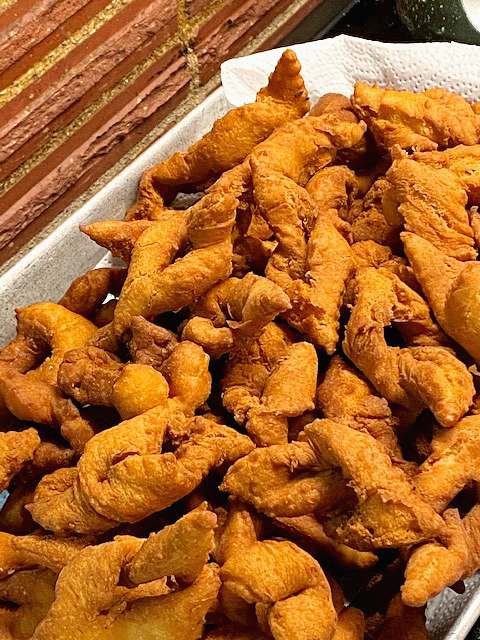 Kleinur is the Icelandic name for traditional sweet fried bread. You can find them in every Scandinavian country, but each country has a unique name for this popular treat.
There is something extra special about the Icelandic version of these "twisted doughnuts." They have the most wonderful aroma when they are frying. The secret is cardamom, and sometimes, a little bit of nutmeg in the kleinur's dough.
In some Scandinavian countries, kleinur are a holiday treat, but in Iceland, they are a staple. They are great with coffee, and you cannot go anywhere in Iceland, day or night, where there is no coffee. Coffee is ever-present. Where there is coffee, there are kleinur. Icelanders eat them by the ton.
They are sold all year round in every Icelandic supermarket and bakery, often packaged in plastic bags. However, homemade ones, especially while still warm, are undeniably the best!
How To Make Iceland's Famous "Twisted Donuts"
Except that kleinur really aren't at all like donuts. They are not very sweet at all and they are more bready than wimpy American donuts. In Iceland, they are seldom, if ever, glazed, frosted, or embellished. They are usually spiced with cardamom, a spice that is beloved all over Scandinavia. Occasionally, some nutmeg shows up in a recipe, but in classic Icelandic kleinur, it's cardamom.
The dough is simple and straightforward. I usually make it up and refrigerate it until the next day when I plan to fry them, but it's not really necessary. Roll out the dough on a well-floured surface. The thickness is up to you but we usually roll ours out to a little less than 1/4 inch thick, similar to sugar cookies.
I grew up making kleinur, so somewhere along the way, I got a pastry wheel, and that's what I use to cut my kleinur. Mine is old and a bit wobbly but you can get a shiny new one for around $10, and use it to make all kinds of beautiful pastries for the rest of your life! To be honest, I've never used a knife to cut them, but I think it would work fine as long as you flour the surface.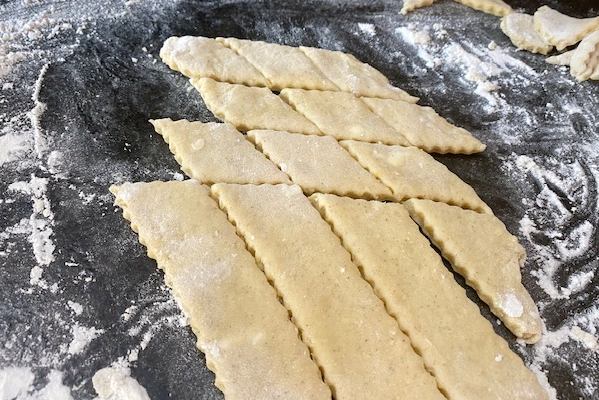 Cut the dough into strips about 1 1/2 inches wide. (I just use my two fingers as a guide.) Then, make second diagonal cuts and create diamond-shaped pieces.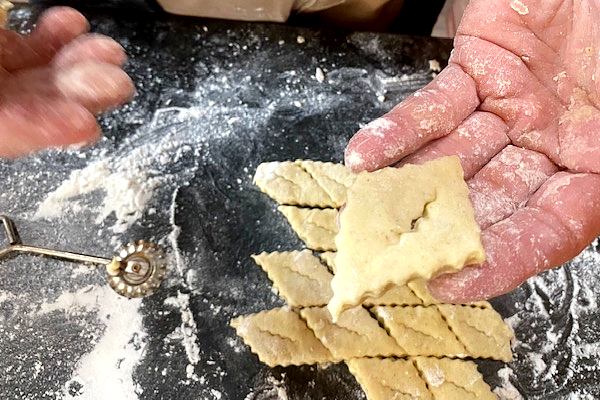 Next, cut a slit in the center of each piece of dough and pull one end through the slit to form a classic kleinur-shaped knot. You are ready to fry! You can gather up and reroll any dough scraps to make more kleinur.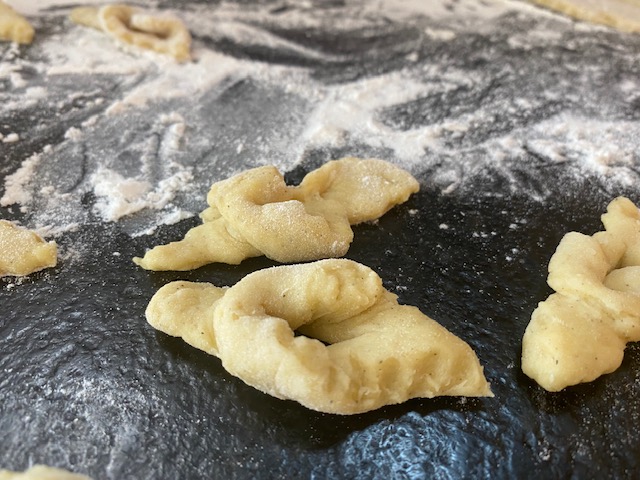 Icelanders have been making and eating kleinur for centuries. They were originally fried in sheep tallow, similar to lard, in heavy iron kettles over a fire. Every family had a kettle like this and many were heavily crusted on the outside with years of residue from hot grease.
Choose a neutral cooking oil like sunflower or canola oil. I like to use a thermostatically controlled non-stick cooker/fryer. The gadget actually comes in pretty handy because you can also use it to boil pasta or potatoes when you need an extra burner. We tried air frying some last fall with disappointing results. Just giving you a heads-up!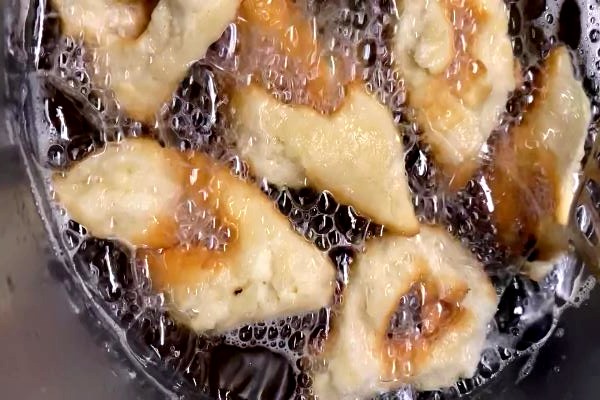 Heat the oil to about 375 degrees. Carefully drop kleinur in the hot oil a few at a time. Don't crowd them. They take very little time to cook. When they pop to the surface and the bottom side is browned, you can flip them over easily by pressing a spoon on one edge. Brown the other side, then remove them from the oil with a slotted spoon and place them on paper towels to drain.
If you like, dust them with powdered sugar or cinnamon sugar as soon as you pull them from the fryer. I like mine plain, and I eat them with reckless abandon when we make them because they are not too sweet. Our 94-year-old mom is a native of Iceland and she could eat her weight in them if we let her!
Yield: about 6 dozen
Icelandic Kleinur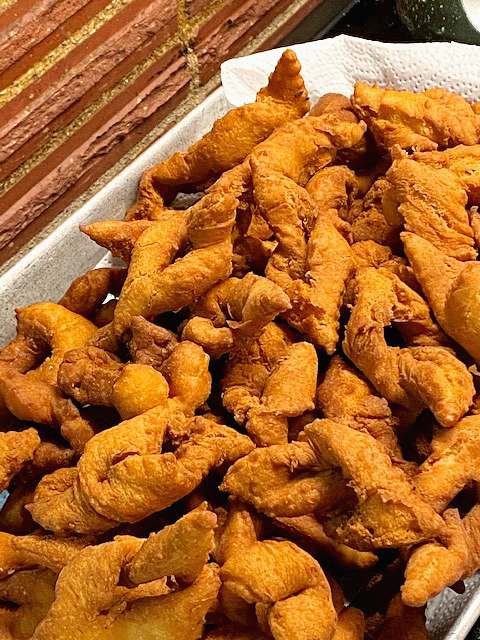 Traditional Icelandic "twisted donut" that is spiced with cardamom and deep-fried.
Ingredients
4 cups all-purpose flour
4 tsp baking powder
1 tsp salt
1 tsp crushed or ground cardamom
1/3 cup shortening
3/4 cup granulated sugar
2 eggs
1 cup milk
4 to 6 cups vegetable oil for frying
Powdered sugar or cinnamom sugar for dusting, optional.
Instructions
Cream butter and sugar until fluffy.
Add eggs, salt, and cardamom and continue to beat.
Add flour alternately with milk, and mix until a soft dough is formed.
Gather dough into 2 or 3 balls of dough.
Place dough on a well-floured surface and roll out with floured rolling pin to approximately 1/4 " thickness.
Cut dough into strips about 1 1/2" wide.
Make a second diagonal cut forming strips about 1 1/2 " wide to form a diamond shape.
Cut a slit in the center and pull one end through the slit to form a knot.
Heat oil to 375 degrees and fry a few at a time, flipping over when the kleinur rises to the top and the bottom side is brown.
Brown the other side. These cook quickly.
Remove from the oil with a slotted spoon and drain on paper towels.
If desired, dust with powdered sugar or cinnamon sugar while hot.
Store at room temperature in an air-tight container.

This is a kleina. That is the singular form of this famous twisted donut's name. That word is rarely seen because almost no one can stop at one. I dare you!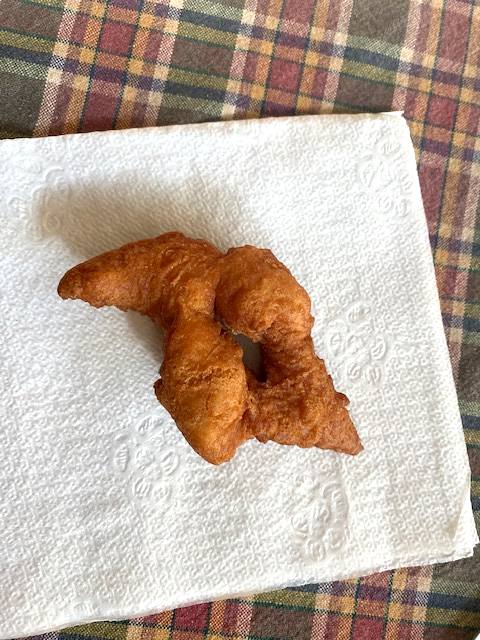 Have you ever heard of kleinur? Have you ever been to Iceland? If not, I encourage you to do both! It is a fascinating country that is both ancient and modern. The capital, Reykjavik, is naturally warmed by the gulf stream, so the average annual temperature is about 33 to 35 F in winter and about 54 F in the summer.
Even if you never visit Iceland, we hope you will try making a batch of kleinur and send us pictures when you do!!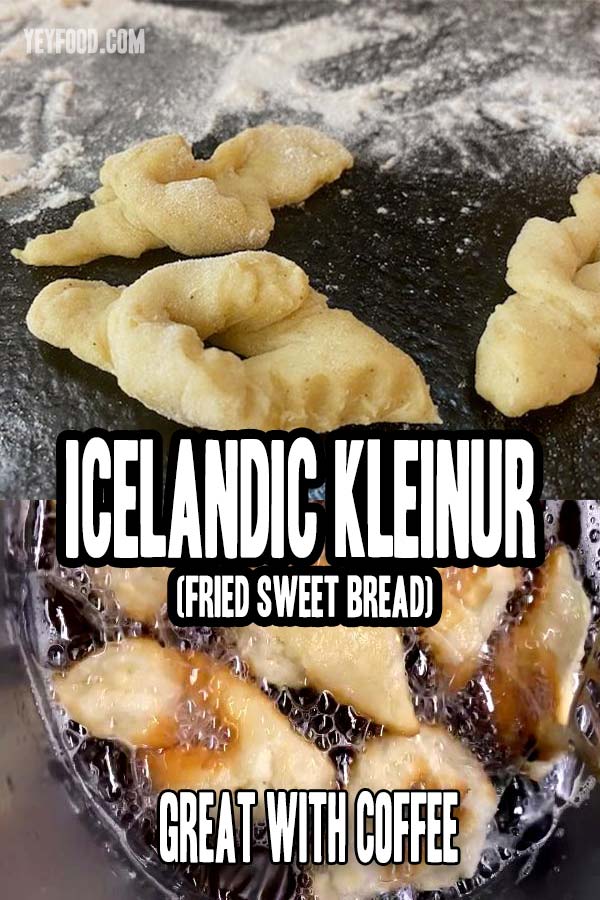 MORE OF OUR QUICK AND EASY FAMILY-STYLE RECIPES: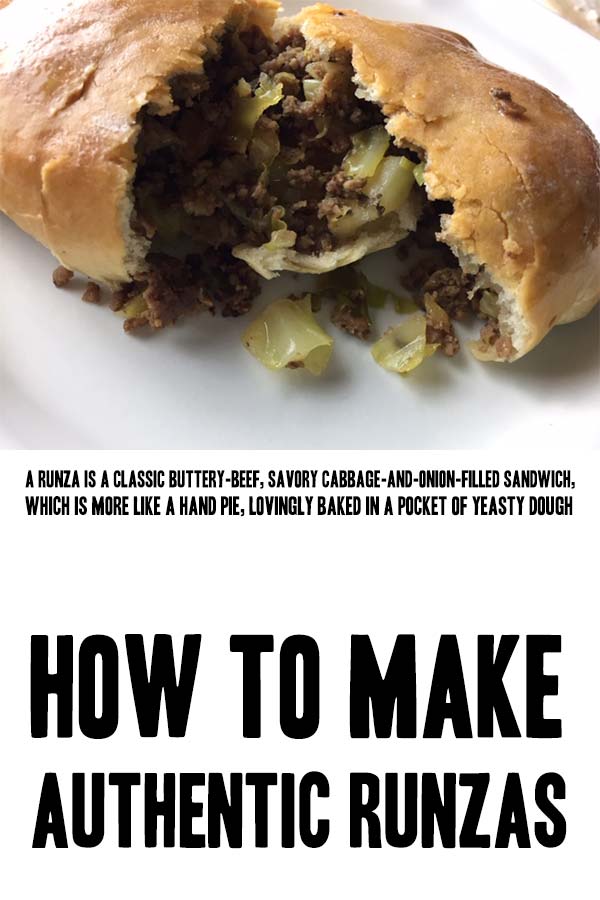 The Ultimate Bread and Butter Pickle Recipe
The Number 1 Practically Perfect Poppy Seed Bread
How To Make Authentic Runzas Right In Your Very Own Kitchen
If you like these recipes, you are our people! You can check some related articles below or search via categories on the right. But, be warned; you will be on here for hours. Enjoy!