Lemon Meringue Pie Recipe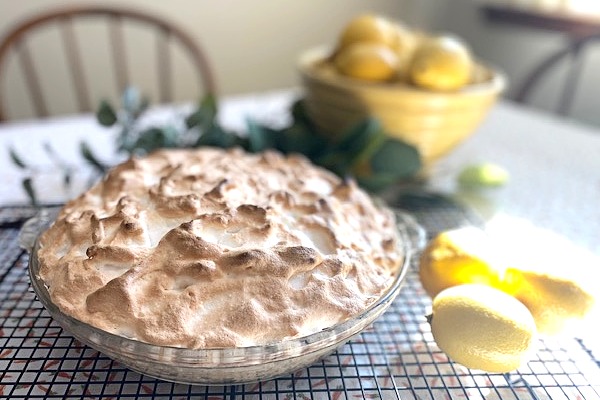 Lemon meringue pie is a big-time crowd-pleaser, no doubt about it. But, when you make a pie like this one, you should make it specifically for someone you love because this one requires a little more time and effort.
In this world, there are two kinds of people. There are chocolate lovers, and there are lemon lovers. A chocolate lover can easily get a fix at the check-out of any grocery store. It may not be Norman Love, but it can do in a pinch.
Lemon lovers have to go a little further to quell their desire. Their lust for lemon is legit. And, that itch is harder to scratch. Lemon meringue pie is the holy grail of a lemon lover's quest for culinary contentment.
Only Bake A Lemon Meringue Pie For Someone You Truly Love
You probably have everything on hand that you need to bake one today. The rewards you receive for such a labor of love are enormous, but you will earn them. Not a single step is difficult, but there are three steps. And there will be dirty dishes. Lots of dirty dishes.
If you've been reading my posts for a while, you know I'm all about making great food. However, I'm also big on getting in and out of the kitchen fast.
There are exceptions, though. Like when you really, really love someone, and maybe Valentine's day is coming. If you know they really, really love something, you will sacrifice and make it for them with love.
I admit it's not on a par with what Jack did for Rose when he allowed her to stay afloat on that piece of wood as the Titanic sank. But there will be dishes to wash.
Separate Three Cold Eggs To Start The Magic Of Lemon Meringue Pie
Before you do anything else, separate three large or, even better, extra-large eggs right out of the refrigerator. It's easier to get a clean separation when an egg is very cold. Now, break up the egg yolks with a fork and beat them slightly.
I can't rave enough about the beauty of "farm eggs," eggs raised in a natural setting where the chickens can roam freely and eat greens. Look at the beautiful deep golden color of the yolks!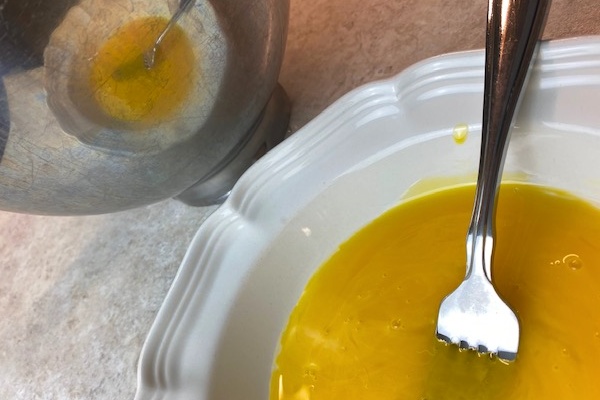 Let the whites sit in the bowl while making the crust and filling. They will whip up in greater volume at room temperature. This will make the meringue stand up taller and look more impressive.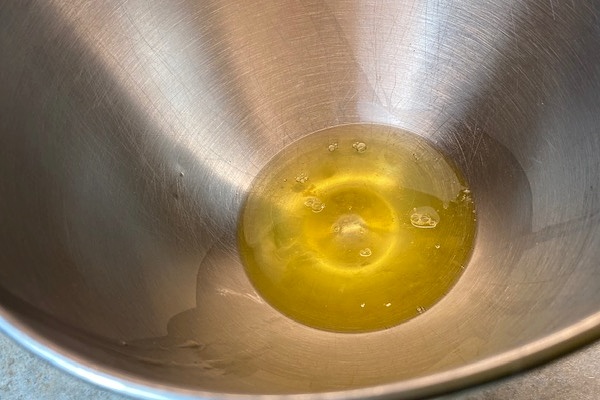 How Hard Do You Want To Work To Make The Piecrust
Let's start with pie crust. Lemon meringue pie is all about the sweet-tart, buttery filling. The magic begins when the meringue touches your tongue and melts in your mouth.
The crust plays only a supporting role. So, I'm telling you there is nothing wrong with a "store-bought" crust for this pie. Nothing. Or, if you have a foolproof recipe, and you love rolling out pie crust, by all means, go for it.
I took a moderate stance and used an oil-based pie crust recipe you pat directly into the pie plate with your hands. Simple, flaky, and very good. I call it Patty Cake Pie Crust. You may want to try this recipe!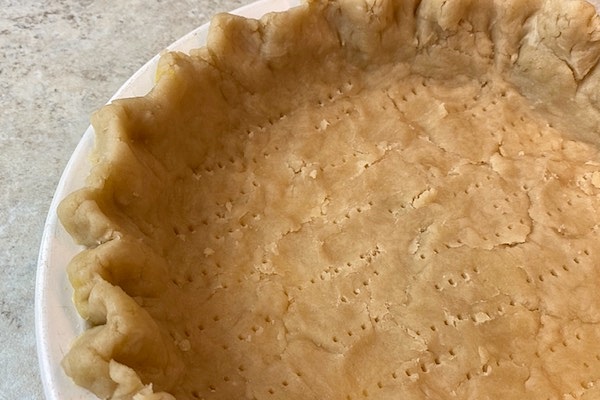 I took this picture the first time I made Pattycake Pie Crust. When I baked this lemon pie, I used a taller pie plate, so I could not flute the edges. Dumb. It was just as tasty, though.
Next Make The Luscious Lemony Filling For That Beautiful Pie Crust
Lemon meringue pie uses simple ingredients you probably have in your cupboard and refrigerator. I know you can rock this pie! Not one single step is difficult.
The pie filling begins with cornstarch and sugar. Whisk the two together in a heavy saucepan and then add water. Bring the mixture to a boil, stirring constantly. It will develop a thick, translucent sauce-like consistency.
Grab that bowl of slightly beaten egg yolks and bring it to the stove. Pour a small amount of the hot sugar mixture into the bowl of egg yolks.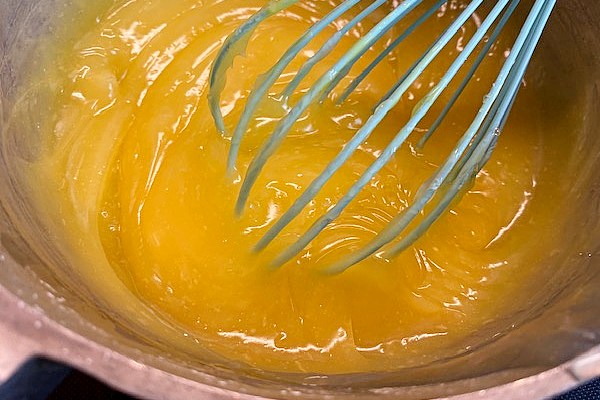 Immediately, stir it together vigorously with a whisk. This "tempers" the egg yolks and allows them to cook into the filling evenly. Now you can whisk all the egg yolks right into the filling. Cook it for about a minute, whisking constantly.
Remove the saucepan from the stove and set it on a heat-safe surface. Stir in the butter, lemon juice, lemon extract, and lemon peel. Pour it in, and smooth it out. The crust is ready to welcome the lemony mixture with open arms.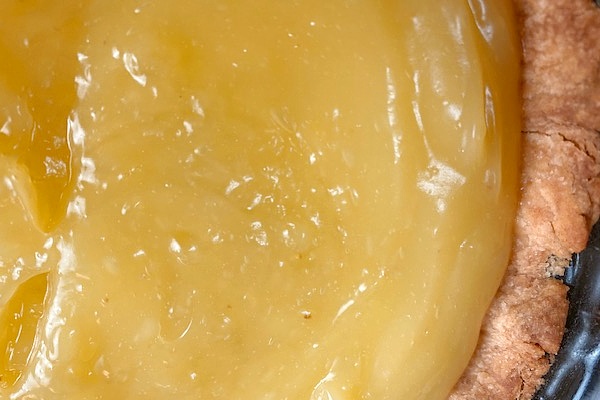 Make A Marvelous Mile High Meringue For Your Lemon Meringue Pie
Here are some tips that will ensure your meringue is taller and prettier.
Use large or extra-large eggs. More egg white, more volume.
Separate carefully. Any egg yolk left in the white will affect the height.
Egg whites at room temperature will allow more air to be incorporated.
Stabilize the egg whites with cream of tartar.
Use a scrupulously clean glass or metal bowl. Never use a plastic bowl.
Add the cream of tartar and the vanilla to the egg whites and start whipping. Add sugar a tablespoon at a time. Don't rush this. The sugar needs to dissolve completely. You will be rewarded.
Feel the meringue between your fingers or on your tongue as you go. The sugar should become nearly unnoticeable. It should feel smooth, not gritty.
Stop every couple of tablespoons and scrape down the sides of the bowl to make sure the sugar dissolved completely. I allowed about a minute for each tablespoon of sugar and used the time between spoonsful to tidy up the kitchen.
Look at that mountain of meringue! Use the back of a smallish spoon to carefully distribute the cloud of meringue gently across the surface of the filling. Leave the center of the pie taller. Leave lots of peaks to brown!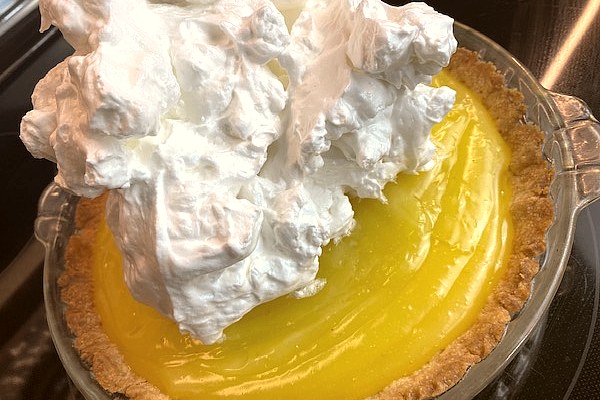 Pay careful attention to where the crust and meringue meet. Make sure the meringue touches and sticks to the edge of the crust. This step will prevent the meringue from shrinking away from the edges.
Your Marvelous Lemon Meringue Masterpiece Is Ready For Show Time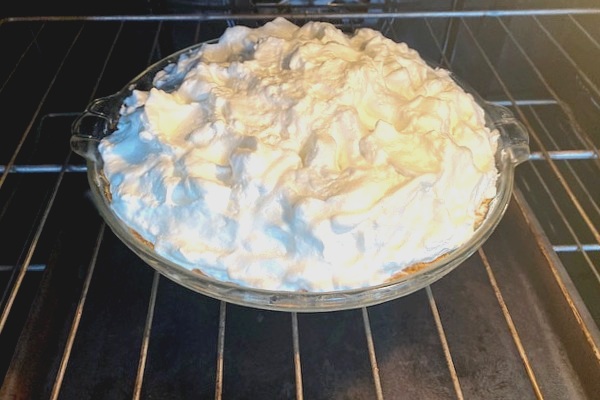 Put the meringue-covered pie in a hot 400-degree oven. I like the rack to be about one-third of the way from the top of the oven. Bake just until the meringue turns a delicate shade of brown with deeper brown peaks. The meringue will brown quickly; it only takes 8 to 12 minutes.
Take the pie out of the oven and set it in a spot without a draft. Let it cool there without moving it. When you do this, it will help to keep the meringue from "weeping." Don't rush this step.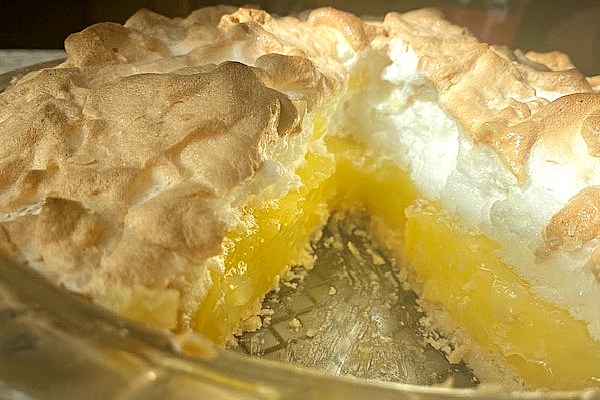 Let the pie cool completely before you cut it; as hard as it is be patient. For best results, dip the knife in hot water between each slice. Bravo! The reward will be pieces of pie that sit up tall and beautiful.
Yield: 8 servings
Lemon Meringue Pie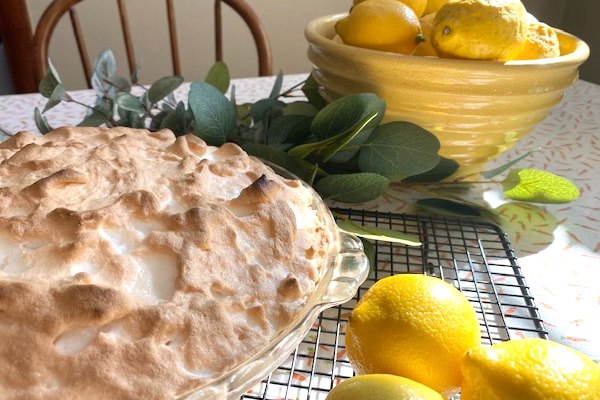 An old-fashioned, from-scratch lemon meringue pie is worth the effort! The sweet-tart buttery filling is topped with a cloud of meringue that melts in your mouth the minute it hits your tongue!
Total Time
3 hours
25 minutes
Ingredients
PATTYCAKE PIE CRUST
1 3/4 cup all-purpose flour
1/2 tsp salt
1/2 cup vegetable oil
1 Tbsp powdered sugar, aids in browning
2 drops yellow food coloring, optional
LEMON PIE FILLING
1 1/2 cups sugar
1/3 cup plus 1 Tbsp corn starch
1 1/2 cups cold water
Three egg yolks, slightly beaten
3 Tbsp butter
1/2 cup lemon juice, fresh or bottled
1 tsp lemon extract
1 or 2 tsp fresh lemon zest, or dried lemon peel from the spice aisle
MERINGUE
Three egg whites at room temperature
1/4 tsp cream of tartar
1/2 tsp vanilla
6 Tbsp sugar
Instructions
Make the crust.
Combine all the ingredients in a bowl and mix until everything is evenly moistened and just until all the flour is incorporated.
Roll the dough into a ball.
Place the dough ball in the center of a 9-inch pie plate.
Use your fingers to pat and push the crust into shape.
Flute the edges of the crust if desired.
Prick the crust all over with a fork to prevent shrinking.
Bake in a 375-degree oven for about 12 to 16 minutes, until the crust is golden brown.
Set the crust aside to cool.
Make the lemon filling.
Whisk together the sugar and the cornstarch in a heavy saucepan until well blended.
Whisk in the cold water.
Cook over medium heat until the mixture thickens and becomes translucent, whisking constantly. Cook for about 1 minute.
Remove the pan from the heat.
Spoon some of the hot sugar mixture into the beaten egg yolks. Immediately stir together vigorously with a fork until combined.
Slowly pour the egg yolks back into the sugar mixture. Return to the stove, cooking and constantly whisking for about one minute.
Remove the pan from the stove. Stir in butter, lemon extract, lemon juice, and lemon zest.
Pour the filling into the cooled crust and smooth the surface evenly with a spatula.
Make the meringue.
Begin beating the egg whites with a whip attachment, then add the cream of tartar and the vanilla.
Continue beating until soft peaks begin to form.
Add the sugar one tablespoon at a time, beating about a minute with each spoonful.
Stop and scrape down the sides of the bowl a few times to make sure there is no sugar clinging to the sides of the bowl.
Taste the meringue or rub it between your fingers. Do not under beat. It should feel smooth, not gritty.
Put meringue on top of the filling and smooth it evenly over the surface using the back of a spoon.
Leave the meringue in the center of the pie taller and leave many peaks.
Make sure the meringue touches and sticks to the edges of the crust, so it does not shrink.
Bake 8-12 minutes in a 400-degree oven until the meringue is a delicate brown and the peaks are slightly darker.
Remove the pie from the oven and set it in a draft-free spot to cool.
Let the pie cool completely before cutting. This could take up to 2 hours.
Cover and refrigerate leftover pie.
Nutrition Information:
Yield:
8
Serving Size:
1
Amount Per Serving:
Calories:

595
Total Fat:

26g
Saturated Fat:

6g
Trans Fat:

1g
Unsaturated Fat:

18g
Cholesterol:

82mg
Sodium:

307mg
Carbohydrates:

86g
Fiber:

2g
Sugar:

52g
Protein:

7g
Do you love meringue pie? Do you have a favorite? Chocolate? Coconut? Peanut Butter? Sour Cream Raisin? Would you like us to show you how to make your favorite? Let us know! And if you make this pie, please show us a photo of it with you and the one you love!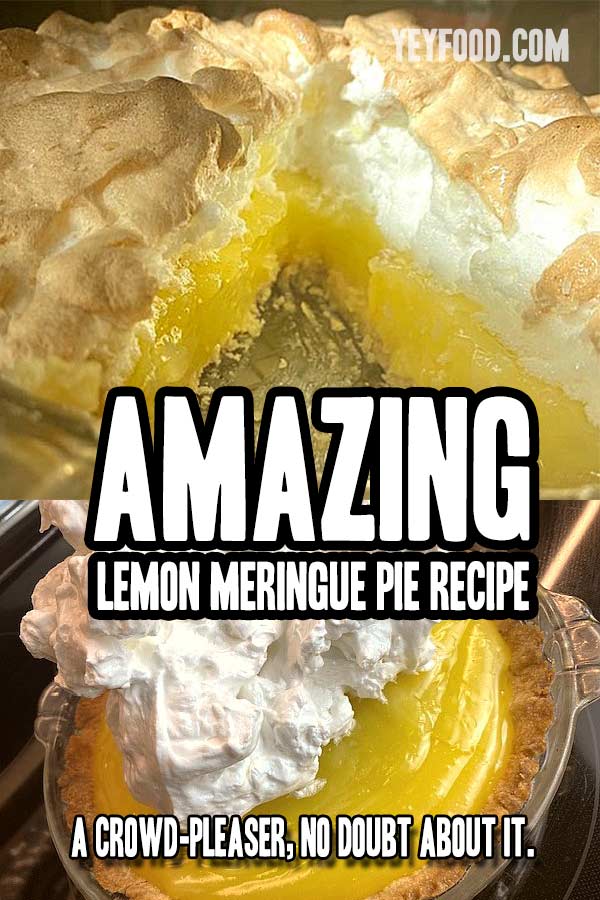 More tasty recipes from us:
Easy 1 Pan Classic American Goulash
German Sauerkraut Casserole With Bacon And Brown Sugar
If you like these recipes, you are our people! You can check some related articles below or search via categories on the right. But, be warned; you will be on here for hours. Enjoy!
So, please share this recipe on your social media accounts like Facebook, Instagram, Twitter, and Pinterest. We would be honored and ever so grateful; thank you!