Low Carb Keto Cranberry Chocolate Chip Cookies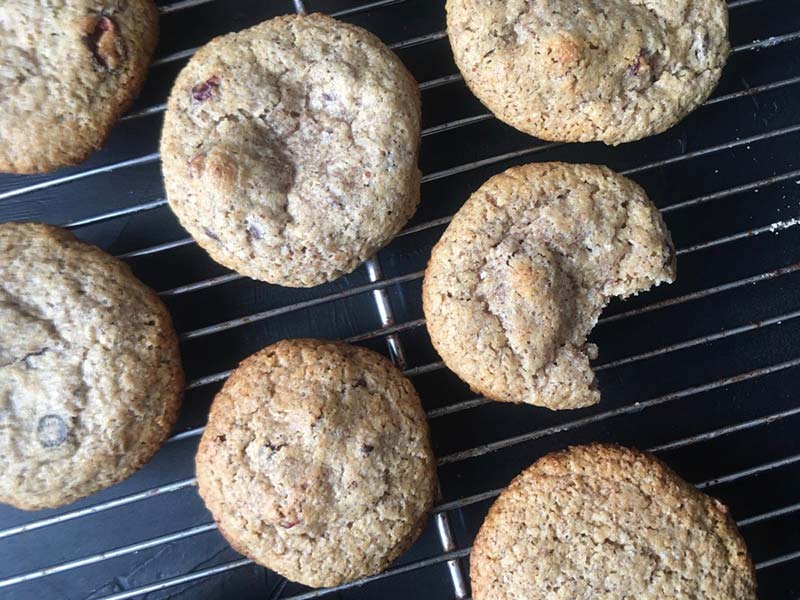 You are going to fall in love with these low carb keto cranberry chocolate chip cookies! What a great treat to make for your Valentine! No one will ever guess these delectable treats are low carb!
Cranberries and chocolate chips are a classic flavor combination of sweet and tart. Bake the two into a buttery cookie and you have an unbeatable pairing. Almond butter provides the base for these tasty keto-friendly cookies and the small amount of flour is coconut flour.
So What's So Great About Almond Butter
Some studies have found that eating almond butter could help lower "bad" LDL cholesterol, the kind of cholesterol that increases your risk of developing heart disease.
Eating almond butter can help you lose harmful belly fat. Almond butter is low in carbohydrates and high in protein and fiber. Both of these things help you feel full longer so you snack less and consume fewer calories. More good news: if you consume about three ounces of almonds a day, it can substantially improve your weight loss goals as part of a healthy diet.
Here Are The Remarkable Benefits Of A Keto Diet
We've written about this before, but a ketogenic diet is very low-carb, and it's also high in "good" dietary fat. The diet also needs to include a moderate amount of high-quality protein from meat, fish, egg, tofu, or other meat substitutes to achieve positive results.
The reduction in carbohydrate intake puts your body into a metabolic state called ketosis. When this happens, your body becomes markedly more efficient at burning fat for energy. A ketogenic diet can also cause massive reductions in blood sugar, insulin levels and help with weight loss.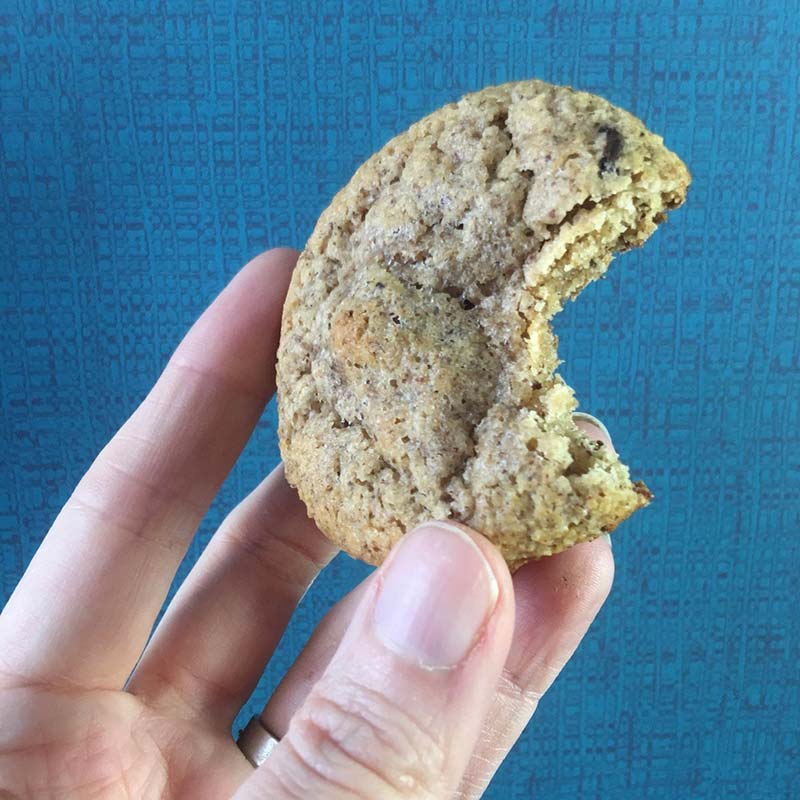 Do these cookies look delicious and indulgent? Yes! And that's because they are! Still, they are made with ingredients that are well-suited for a lower carbohydrate diet. What a wonderful and healthy treat! Love means never having to say, "Sorry, you can only have celery for dessert."
Here's What Reducing Simple Carbohydrates Can Do For Your Loved Ones
Cutting down on carbs automatically reduces your appetite and calorie intake.
Low-carb diets lead to quicker short-term weight loss than low-fat diets.
Belly fat loss is quicker on low-carb diets. Belly fat is especially harmful to health.
Low-carb diets are helpful in reducing triglycerides.
Low-carb diets lead to an increase in "good" HDL cholesterol.
A low-carb diet can significantly lower blood sugar and insulin and is extremely beneficial in treating type 2 diabetes.
Cutting carbs leads to a reduction in blood pressure.
Reducing carbohydrates may reduce the number of total LDL particles in your bloodstream.
Scientists have discovered people with type 2 diabetes can slim down and lower their blood sugar levels by following a keto diet. In one study, people with type 2 lost weight, needed less medication, and lowered their A1c when they followed the keto diet for a year.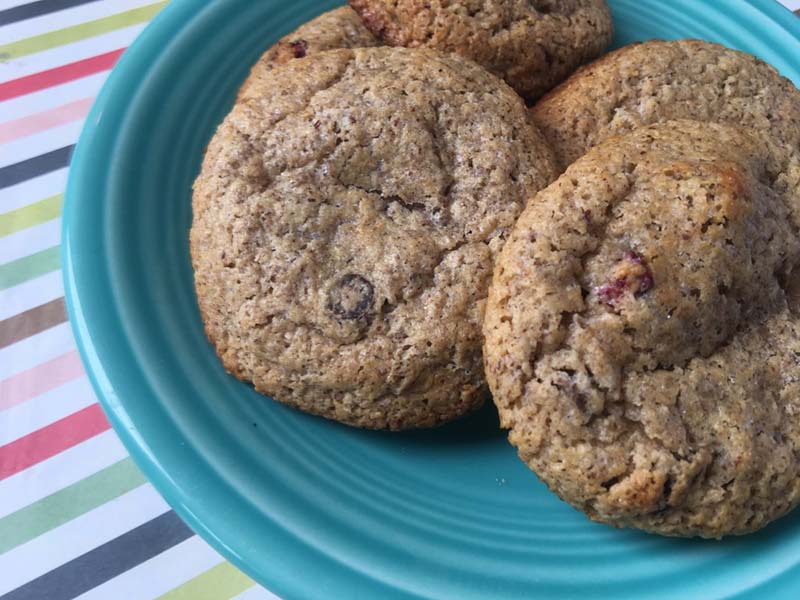 So this time, bake a batch of these amazing cookies and know in your heart you are giving a truly healthy treat to someone you love! They's be a perfect treat for Valentine's Day! ❤
Yield: 19 cookies
Low Carb Keto Cranberry Chocolate Chip Cookies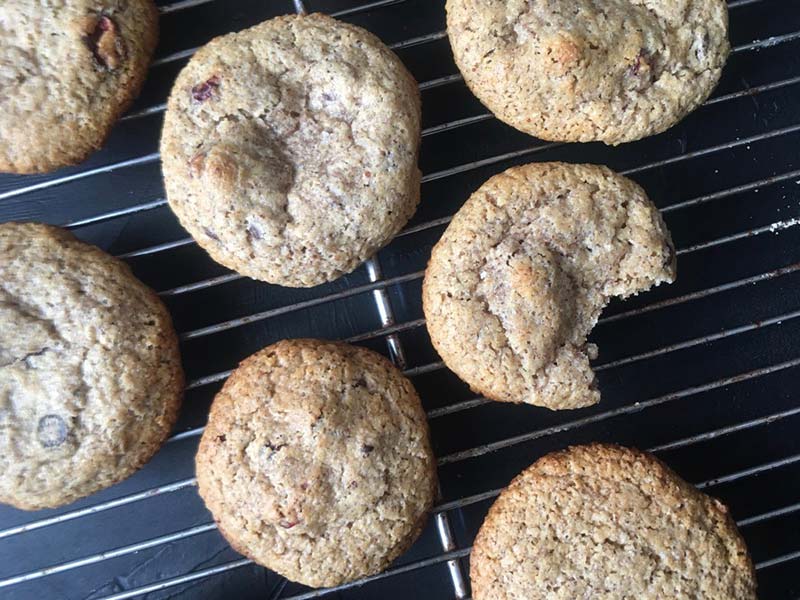 These low carb and keto cranberry chocolate chip cookies are tasty, easy to make, and have only 2g net carbs each.
Additional Time
10 minutes
Ingredients
1 cup almond butter
2 large eggs
3 tablespoons sugar-free pancake syrup
1/2 cup Swerve or equivalent granulated sweetener
1/4 cup coconut flour
1 teaspoon baking soda
1/2 teaspoon salt
5 tablespoons (2 oz) Lilly's Chocolate Chips or equivalent sugar-free chocolate chips
5 tablespoons (2 oz) unsweetened dried cranberries
Instructions
Preheat oven to 325 degrees and cover two large cookie sheets with parchment paper.
In a large bowl, mix together almond butter, egg, and syrup with an electric mixer until combined, 1 minute.
Mix the sweetener, coconut flour, baking soda, and salt in a small bowl.
Mix the dry ingredients into the wet with a wooden spoon.
Taste the dough for sweetness and add more sweetener if desired.
Fold in chocolate chips and dried cranberries.
Scoop out heaping tablespoons of dough and place them on the cookie sheets, 8 per sheet. Wet your hands and roll the scoops of dough into balls.
We recommend baking the cookie sheets one at a time so that you can watch each cookie sheet. Bake for 10-13 minutes until the cookies have puffed up and the edges have just begun to brown. Keep a close watch over the cookies in the last few minutes because it's easy to overcook them and make them too hard.
Allow the cookies to cool in the pan for 10 minutes, and then transfer the cookies on the parchment paper to a cooling rack—repeat instructions with the final cookie sheet.
The cookies will fall and crinkle as they cool. If you eat them after they have cooled, you can microwave them for 15 seconds to soften them up a little.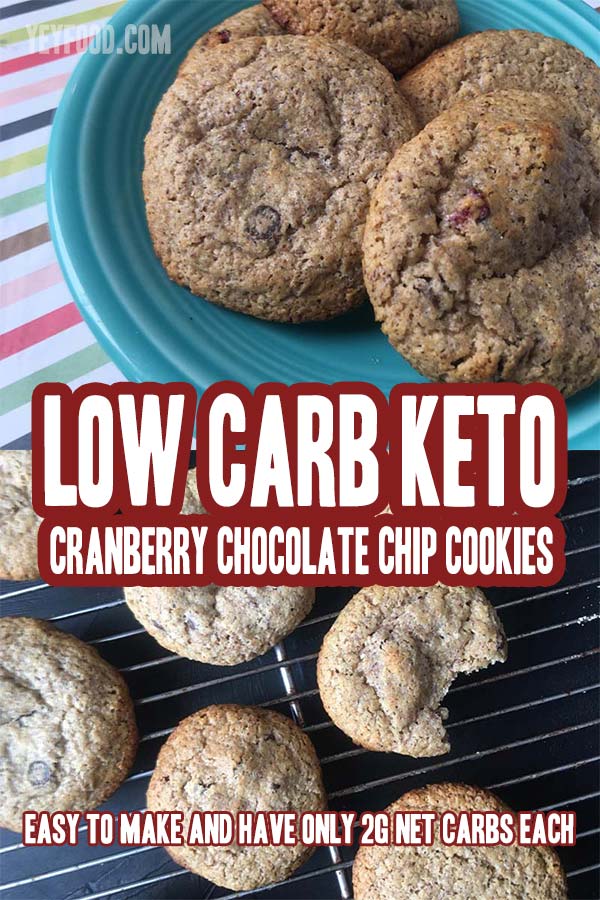 More tasty recipes from us:
Easy 1 Pan Classic American Goulash
German Sauerkraut Casserole With Bacon And Brown Sugar
If you like these recipes, you are our people! You can check some related articles below or search via categories on the right. But, be warned; you will be on here for hours. Enjoy!
So, please share this recipe on your social media accounts like Facebook, Instagram, Twitter, and Pinterest. We would be honored and ever so grateful; thank you!