Tasty Hamburger Vegetable Soup Recipe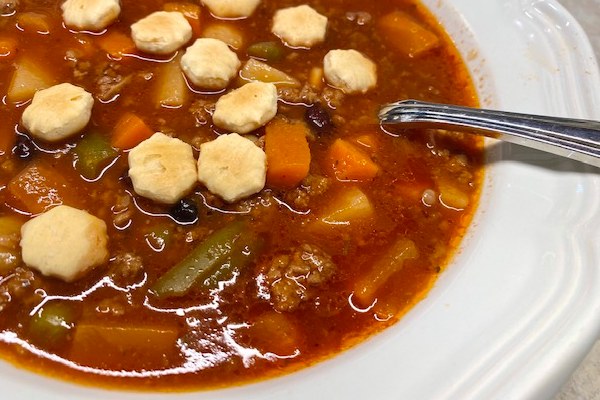 This hamburger vegetable soup recipe is a family favorite and has been for over 30 years. In my half-crazed-working-mom-of-teenagers-commuting-600-miles-a week-phase, I threw it together one night in desperation, and it has stayed on the playlist ever since.
It's another one of those semi-homemade numbers I concocted, inspired by Peg Bracken's I Hate To Cook Book. Bracken published her first edition in 1960, and it was a smash hit, selling over three million copies. You can still buy the old one like I have, copyrighted in 1988, on Amazon. This soup recipe is not in her book, but there are loads of good ones!
This Soup Is Super Tasty Super Quick And Super Good For You
But honestly, I don't hate to cook; I just had very little time to cook so I was always on the lookout for fast, good food. We raised our kids in a village of about 450 people, and there WAS no fast food. None. The little grocery store closed at 6:00, so I relied heavily on things I could have on hand, like frozen foods, canned vegetables, cream soups, and vegetable juice.
This soup recipe was in our Betty Jane's cookbook published in 1998 when we celebrated the tenth anniversary of our gift shop. Nearly twenty-five years later, it remains a quick go-to meal for many customers who bought a copy of the book. The soup is loaded with ground beef, vegetables, and beans, and it's ridiculously easy to throw together.
Brown and season two pounds of ground beef and break it into small crumbles. I usually use instant minced onion, garlic powder, seasoned salt, and pepper. Next, add three undrained cans (about 15 ounces each) of mixed vegetables (They don't pay me to say so, but I like Del Monte brand the best, they're the crispest.), a can of rinsed and drained small beans of your choice, and a 64-ounce container of V-8 or store-brand vegetable juice. Add about two tablespoons of brown sugar and simmer for about 1/2 hour or longer.
Like many soups, it's even better the next day!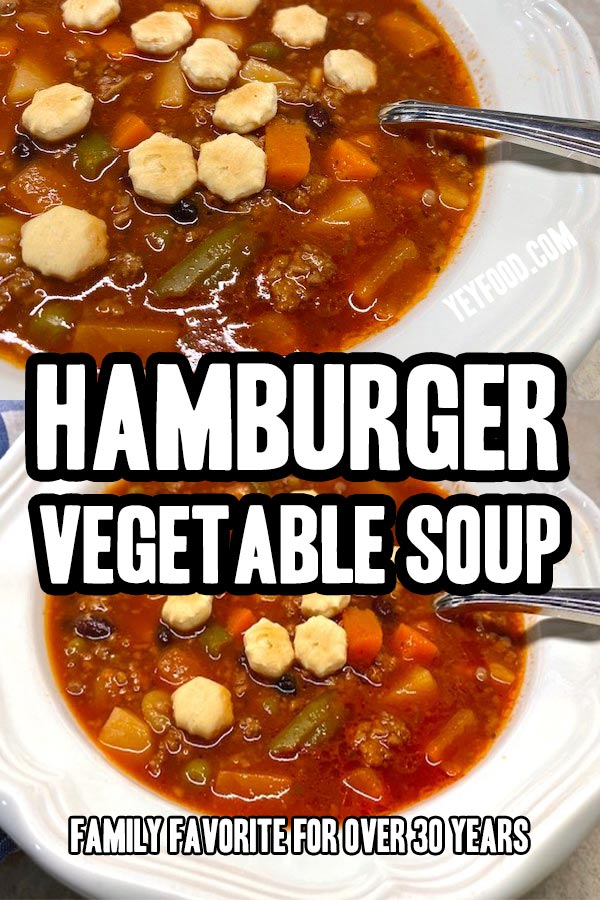 Soup Is A Great Way To Get The Daily Recommended Serving Of Veggies
Most adults should eat the equivalent of 2 1/2 cups of vegetables a day. Every vegetable counts, whether it's raw, cooked, fresh, frozen, or canned. Vegetable juice counts toward our daily vegetable intake, too. Just make sure it's 100 percent vegetable juice and low in sodium.
Canned vegetables are a convenient and economical way to boost vegetable intake as part of a healthy diet. Vegetables are canned within hours after picking and harvested at peak freshness, ensuring the best flavor and nutrient quality. Since you do not drain the vegetables in this recipe, you have the added benefit of utilizing the vitamins and minerals in the canning liquid!
Canned foods can be just as nutritious as fresh and frozen foods because canning preserves valuable nutrients. The content of minerals, fat-soluble vitamins, protein, fat, and carbohydrates change very little when vegetables are canned. They have a long shelf life, and unlike fresh vegetables, there is practically no waste.
Hamburger vegetable soup is brimming with tasty, nutritious veggies in 100% vegetable juice, so it's not only good, it's really good for you, too!
Yield: 10 generous servings
Hamburger Vegetable Soup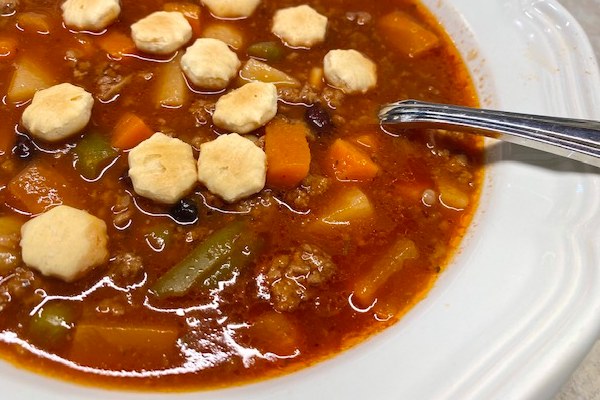 A tasty soup that goes together in a jiffy and is loaded with vegetables and ground beef in a tasty vegetable broth.
Ingredients
2 pounds lean ground beef, seasoned to taste with instant minced onion, garlic powder, seasoned salt and pepper, and browned into fine crumbles
3 undrained 14.5-ounce cans of mixed vegetables (I prefer Del Monte for the crispness)
One 14.5-ounce can of small beans like navy beans, great northern beans, black beans, or red beans, drained and rinsed
1 64-ounce container of mixed vegetable juice, I prefer V-8
2 Tbsp brown sugar
Instructions
Season and brown ground beef, add the rest of the ingredients, and simmer for 30 minutes or longer.
Notes
This is a tasty, kid-friendly soup recipe, just like it's written. Feel free to make this soup your own by adding additional spices you like; small pasta, fresh spinach, or a small amount of vegetable or beef bouillon (or both!) to add more depth of flavor.
Three Things That Go Great With Soup
Amp up the nutrition in a meal of soup by serving sliced apples, cubes of cheese, and whole wheat crackers. A glass of skim or low-fat milk is a great accompaniment, too. When you add these foods to the meal, you add more fiber, more crunch, and additional nutrition from dairy foods and fruit. What a delicious way to eat healthily!
Do you have a favorite soup that you can put together in a hurry? Here are a couple of my favorites; Instant Pot Butternut Squash Soup and Marvelous Meatless Minestrone. Stay tuned for more wonderful soup recipes! We love soup because it's a great way to cook once and eat twice (or more)!
MORE RECIPES FROM US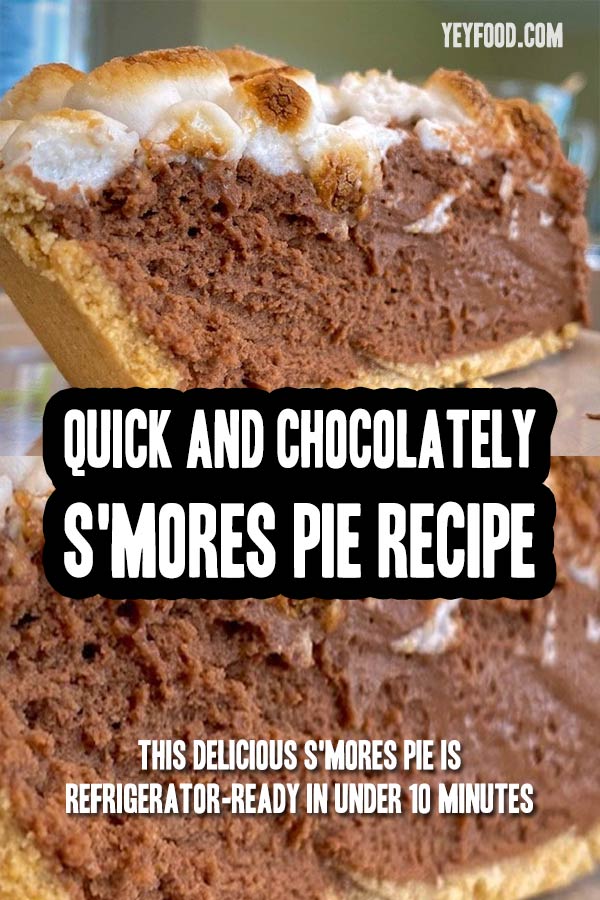 S'S'moresars How To Make Them Super Fast and Super Good
How To Make The White BBQ Sauce That's Fascinated Us Since 1925
German Sauerkraut Casserole With Bacon And Brown Sugar
If you like these recipes, you are our people! You can check some related articles below or search via categories on the right. But, be warned; you will be on here for hours. Enjoy!
So, please share this recipe on your social media accounts like Facebook, Instagram, Twitter, and Pinterest. We would be honored and ever so grateful; thank you!