Low Carb Keto Shrimp and Asparagus in Lemon Garlic Sauce Recipe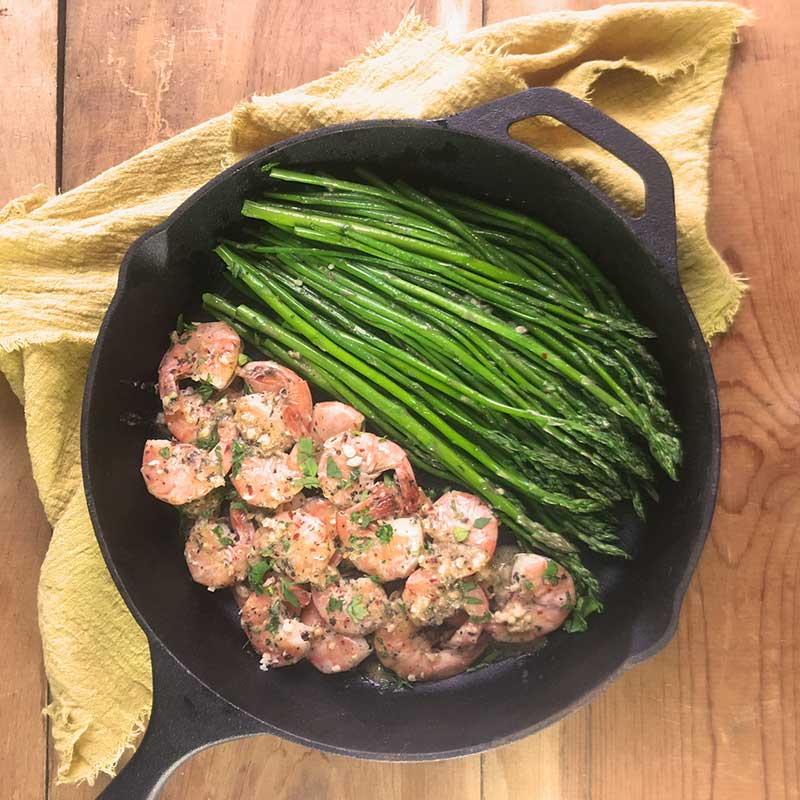 Here is an easy recipe for Low Carb Keto Shrimp and Asparagus in Lemon Garlic Sauce. It's a healthy recipe that comes together in one pan and has just 5g net carbs per serving.
Here Are The Remarkable Benefits Of A Keto Diet
A ketogenic diet is very low-carb, and it's also high in "good" dietary fat. The diet also needs to include a moderate amount of high-quality protein from meat, fish, egg, tofu, or other meat substitutes to achieve positive results.
The reduction in carbohydrate intake puts your body into a metabolic state called ketosis. When this happens, your body becomes markedly more efficient at burning fat for energy. A ketogenic diet can also cause massive reductions in blood sugar, insulin levels and help with weight loss.
People on keto diets also report these encouraging results.
Reduced blood pressure
Slowing of the aging process
Improved sleep and mood
Increased energy
A meal like this low carb keto shrimp and asparagus is a perfect choice because asparagus is a non-starchy vegetable, and shrimp provides a lot of protein even in small portion sizes.
This recipe goes together in no time flat, and it is so delicious and flavor-filled, you will not feel deprived! Here is a restaurant-worthy dish with a beautiful presentation!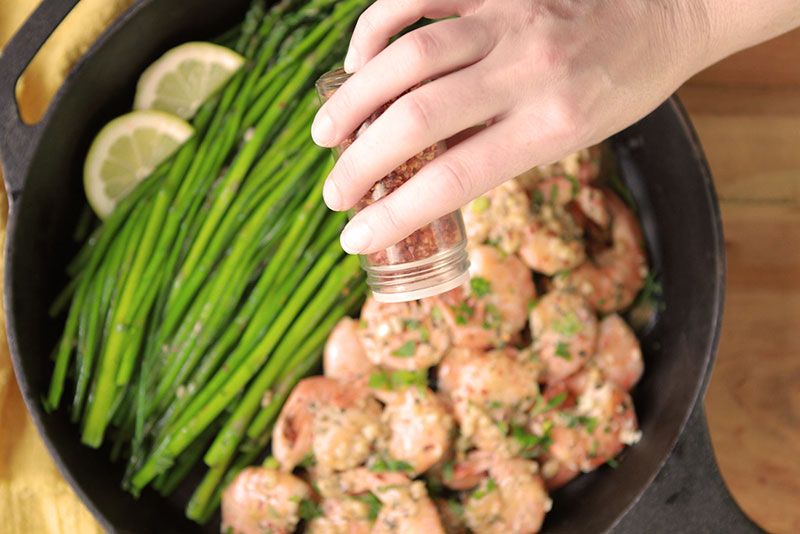 This recipe goes together so quickly it's perfect for the busiest weeknight! It gives a whole new meaning to "a flash in the pan!" Seriously, it's table-ready in under fifteen minutes, all done in one skillet, and looks beautiful enough to go right to the table for serving!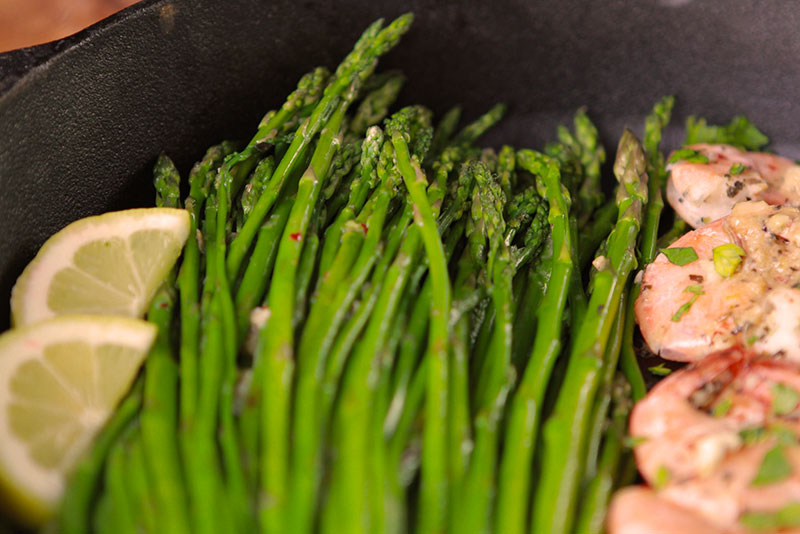 Here's all you do!
Saute asparagus in olive oil until it's crisp-tender, then set it aside. Melt butter in the same skillet, add the shrimp, cook it on one side, add the seasonings, flip the shrimp over, and cook the other side. Make the yummy lemon-butter-garlic sauce right in with the shrimp, then put the asparagus back in the pan to coat with sauce, and boom! Dinner is served!
You're eating great food that's healthy, too! Give yourself a round of applause!
Yield: 4 servings
Low Carb Keto Shrimp And Asparagus In Lemon Garlic Sauce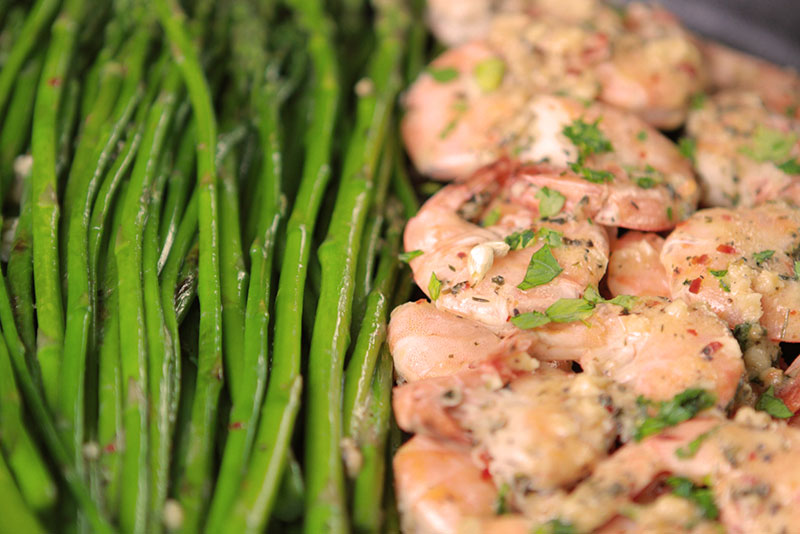 An easy recipe for Low Carb Keto Shrimp and Asparagus in Lemon Garlic Sauce that's healthy, and it comes together in one pan with just 5g net carbs per serving.
Ingredients
1 1/2 pound (1 bunch) asparagus, ends trimmed
1 tablespoon extra virgin olive oil
3 tablespoons unsalted butter
1 1/2 pound peeled and deveined shrimp with tails left on
salt and pepper
5 cloves garlic, minced
1 teaspoon Italian Seasoning
1/4 cup water
1 tablespoon Sriracha sauce (optional)
crushed red pepper flakes (optional)
1/2 lemon, juiced
2 tablespoons chopped parsley
Instructions
Heat olive oil in a large cast-iron skillet or large non-stick skillet over medium heat.
Cook asparagus until crisp-tender, 4-6 minutes. Remove from the pan and set aside.
Add butter to the skillet and cook until melted and bubbles have subsided. Add shrimp and cook on one side for 1 minute.
Sprinkle with salt and pepper.
Add garlic and Italian Seasoning to the pan and cook shrimp on the other side for 1 minute until pink and opaque.
Add water and Sriracha Sauce to the pan and reduce the sauce for 1 minute.
Push the shrimp to the side of the pan and add asparagus back to the pan. Turn to coat the asparagus in the sauce.
Stir in the lemon juice.
Reheat for 1-2 more minutes and then sprinkle chopped parsley on top and serve immediately.

A Low Carb Keto Diet Can Have Extremely Positive Effects On Your Overall Health
Your appetite will be greatly reduced so you automatically consume fewer calories.
Quick, short-term weight loss, you will see results almost immediately.
You will lose more harmful belly fat on a low carb diet than a low fat diet.
Low-carb diets can be helpful in reducing triglycerides.
Low-carb diets can increase your "good" HDL cholesterol.
Reducing carbohydrates may also reduce the number of total LDL your blood.
A low-carb diet is highly beneficial in treating type 2 diabetes.
Studies show people with type 2 diabetes can lower their blood sugar levels and lose weight by following a keto diet. In one year-long study, people with type 2 diabetes needed less medication and lowered their A1c when they followed the keto diet.
Do you have a goal to slim down quickly for a long-awaited winter getaway? Have you been thinking about trying a low carb keto diet for improved health? Be watching for more delicious keto-friendly recipes right here!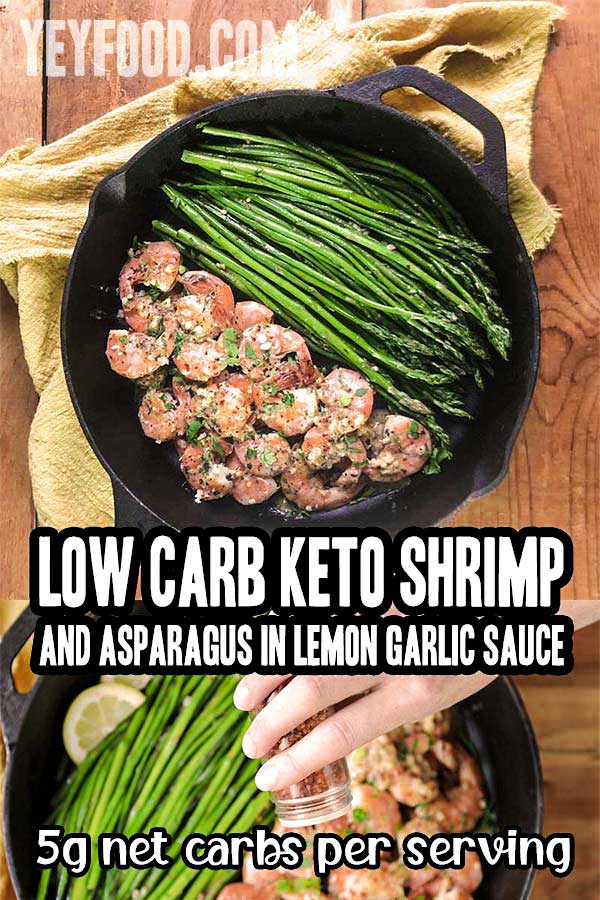 More recipes from us: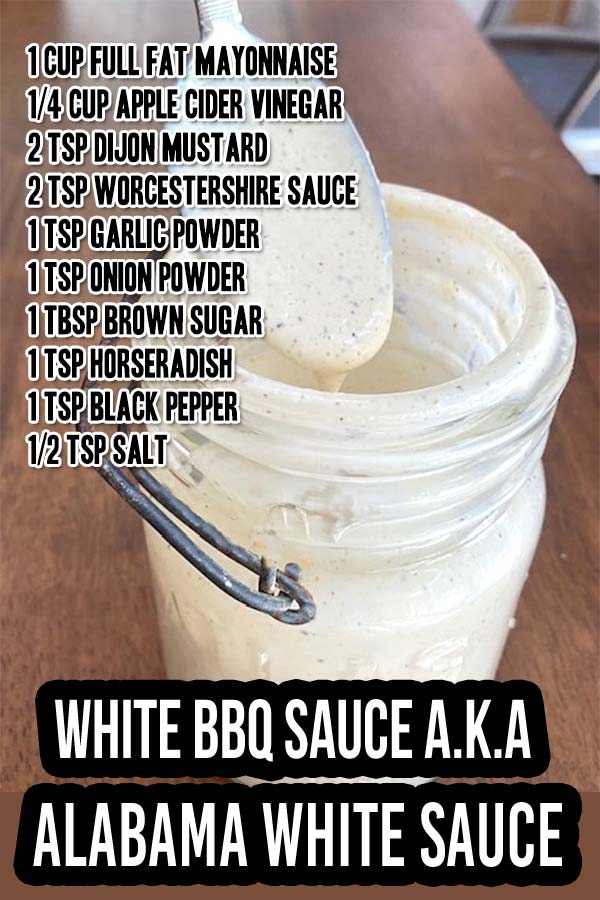 Easy 1 Pan Classic American Goulash
German Sauerkraut Casserole With Bacon And Brown Sugar
If you like these recipes, you are our people! You can check some related articles below or search via categories on the right. But, be warned; you will be on here for hours. Enjoy!
So, please share this recipe on your social media accounts like Facebook, Instagram, Twitter, and Pinterest. We would be honored and ever so grateful; thank you!