Half-Fast Ham And Bean Soup Recipe
I call this "half-fast" ham and bean soup semi-homemade. There's a bit of prep required, but it's minimal, especially when something tastes this amazing. It tastes as if it simmered all day slowly. The recipe uses canned beans. They are a huge time-saver with no sacrifice of flavor.
It's a great way to use up leftover holiday ham, and it's insanely good with my "crazy delicious cornbread" recipe that mixes and bakes in a cast-iron skillet.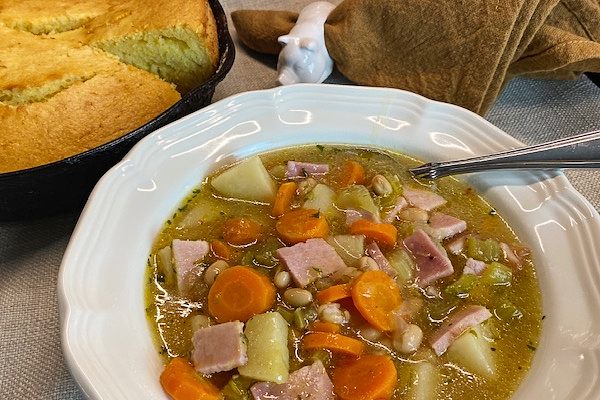 This is a perfect soup to make when you have some great leftover holiday ham. If you don't, I encourage you to choose a high-quality ham. I used part of a small pre-packaged Cure 81 cherrywood smoked ham. It is excellent.
Great Ham And Bean Soup Starts Like This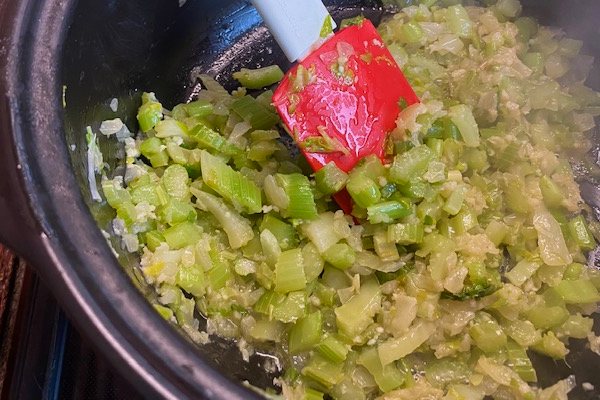 Almost any great soup you can name starts with a few simple vegetables sauteed in olive oil. This step is the foundation of a good base or broth.
Take your time. Use medium heat. You want the onion, garlic, and celery to soften and release their flavor without getting brown. Stir it all from time to time.
Eat More Beans A Delicious Nutritional Superstar
While we're waiting for everything to saute, let's talk about the lowly bean for a minute. Beans are unsung nutritional heroes.
Beans are a cheap but nutritionally loaded protein source. Beans provide protein that is less expensive and full of more nutrients than animal meat. Our bodies need a continual source of protein every day. The body uses protein to repair and build bones and cartilage, muscles, skin, and blood. Our entire body benefits from protein. In this recipe, 2 cups of ham, boosted by the beans, make 12 servings of protein-packed soup.
Beans have lots of fiber. Ideally, our daily diet should include 25-35 grams of fiber every day. Fiber helps with weight loss because it helps you feel full longer. Fiber helps you process and digest the food you eat more efficiently. It helps reduce cholesterol levels and improves blood pressure levels.
Beans help regulate blood sugar. Fiber improves blood sugar levels in people with diabetes. Also, beans have a low glycemic index rating, so they won't cause a spike in blood sugar. The high fiber content in beans slows down digestion, and the glucose is released more slowly into the bloodstream.
Chop Colorful Ham Carrots And Potatoes
While you're waiting, you can peel the other veggies. Slice the carrots, and cube the potatoes. I like to add even more celery, but that's up to you.
Once the celery, garlic, and onions are transparent, tender, and fragrant, everything else goes together quickly! Now add water, the soup base, bouillon paste, potatoes, carrots, and celery if you decide you want more, and sit back while it simmers.
I am a raving fan of Knorr products. Knorr has been in business making soup bases and seasonings since 1873 and bouillon cubes since 1912, so they know a thing or two about flavor. In my opinion, nothing compares to their vegetable bouillon or soup base.
Many things were hard to find during the pandemic, and I was heartbroken when I couldn't find vegetable bouillon cubes in stores. That's when I discovered the vegetable bouillon/soup base online in the restaurant-size tubs. A tub makes 11 gallons of broth! I am so devoted to the flavor; that's how I buy the product today. I use it in so many of my recipes. I see the cubes are available again, at least online. Happy news.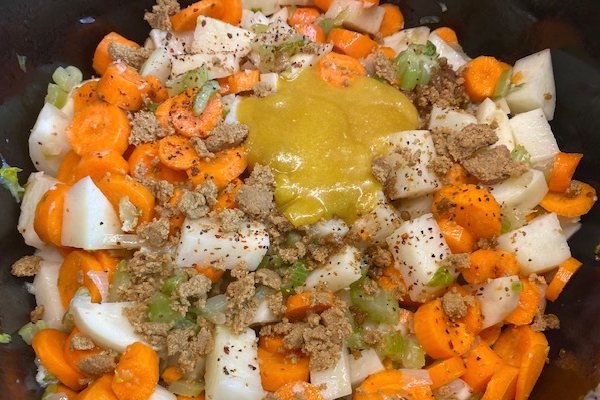 While that simmers, drain and rinse the beans. Chop the ham. Then, once the carrots and potatoes are tender, add the beans and the ham to the broth and continue simmering until everything is hot.
Add a shake of seasoned pepper or a good crack of fresh ground pepper if you like. Toss in some parsley for a beautiful, professional touch on your tasty ham and bean soup.
Yield: 12 servings
Half Fast Ham And Bean Soup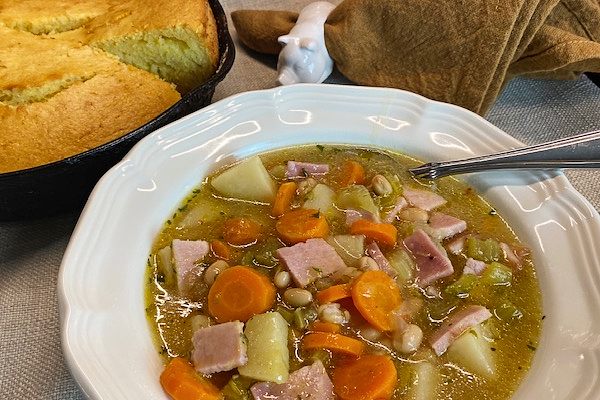 I call this delicious soup "semi-homemade." It goes together very quickly using canned navy beans or Great Northern beans and ham along with fresh vegetables in a hearty, savory broth. A great way to use leftover ham from the holidays!
Ingredients
3 T olive oil
2-3 cloves fresh garlic, pressed
1/2 medium onion, chopped
2 cups celery, sliced. Include the flavorful leaves.
2 quarts water
Four large cubes Knorr vegetable bouillon cubes or scant 1/4 cup Knorr vegetable base in restaurant pack
2 Tbsp paste type chicken base like Better Than Bouillon
2 or 3 medium potatoes, peeled and cubed
2 cups carrots, peeled and sliced
2 cups good quality ham, chopped
Seasoned pepper to taste we like Lawry's brand
1 Tbsp parsley
3 15.25-ounce cans of white beans, navy beans preferred, rinsed and drained
Instructions
Saute onion, celery, and garlic in olive oil until transparent and fragrant.
Add water, bouillon paste and bouillon cubes, potatoes, and carrots.
Simmer until the vegetables are tender.
Add drained beans, seasoned pepper, parsley, and chopped ham, heat through.
Awesome served with cornbread!
Cornbread pairs perfectly with ham and bean soup, which is a complete meal on its own. The slightly sweet bread crumbled into the somewhat salty soup is a marriage made in heaven!
The soup makes a big batch. It reheats beautifully, which means you've just scored a bonus night with very little time spent in the kitchen! And that's what I call a win/win!!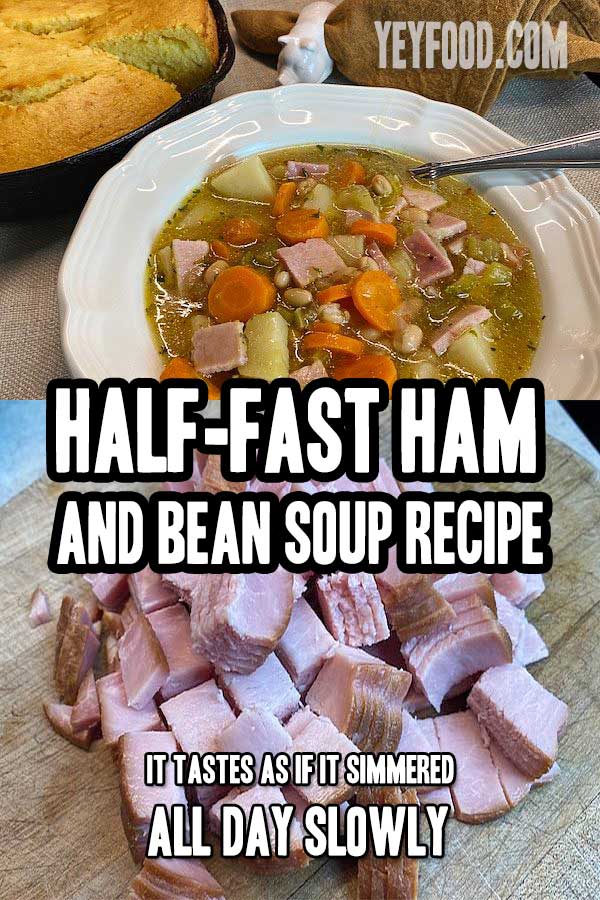 More recipes from us:
Easy 1 Pan Classic American Goulash
German Sauerkraut Casserole With Bacon And Brown Sugar
If you like these recipes, you are our people! You can check some related articles below or search via categories on the right. But be warned; you will be on here for hours. Enjoy! 
So, please share this recipe on your social media accounts like Facebook, Instagram, Twitter, and Pinterest. We would be honored and ever so grateful; thank you!