Iron Skillet Cornbread Recipe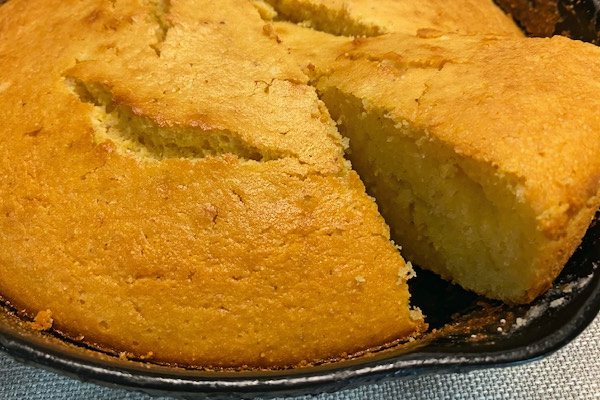 You can mix and bake this iron skillet cornbread right in the same pan! There's something deliciously homey and comforting about cornbread, and this is the best cornbread you'll ever eat! It's simple and humble, but it's the perfect partner to a bowl of soup on a cold night.
Traditionally, Northerners prefer sweeter cornbread, while a Southern cook would never add sugar to hers. In the Southwest, cornbread is often spiced up with lots of onion and peppers. It makes me want to try them all! Here's a fascinating article about regional cornbread varieties.
I was looking for a cornbread recipe to serve with my savory, rather salty ham and bean soup. This one has a little more sugar than most and butter. Lots of butter! So it had to be good. (And it did not disappoint!)
I chose this recipe since sweet and salty is a tried and true combination.
Cornbread is as American as baseball, hot dogs, and apple pie. But make no mistake about it, there are loads of opinions about which recipe is the clear winner. To my northern palette, this is the best cornbread I ever tasted!
Everything happens in a cast-iron skillet, for starters, and I love that! From mixing to baking to serving, it's all in done one pan! Yippie!
Here's How You Make Crazy Good Cornbread Step By Step
Melt a WHOLE STICK of butter over low heat in a cast-iron skillet, then stir in 2/3 cup of sugar. Remove the pan from heat. Next, whisk or beat two eggs in a separate bowl, and working quickly, stir the eggs into the butter/sugar mixture.
Mix buttermilk and1/2 teaspoon of baking soda in a separate bowl. That's all the leavening it takes for the whole tender, moist loaf! When they meet, it all gets excited and bubbly.
The secret to this type of leavening is combining an acidic ingredient, in this case, buttermilk, with an alkaline ingredient, baking soda. The resulting bubbles are the thing that makes the cornbread bread rise!
If you don't have buttermilk, you can substitute milk that you sour with lemon juice or vinegar. Put two tablespoons of either one in a one-cup measure and fill it with milk. Please note, milk that has gone sour in the refrigerator is spoiled, not soured. Don't use it.
Another possibility is using sour cream or plain Greek yogurt as a substitute for buttermilk. If you choose that option, thin it with milk until it's approximately the consistency of buttermilk. Try 1/3 cup milk and fill the measuring cup with yogurt or sour cream.
When you add the buttermilk and soda mixture to the sugar/butter/egg mixture in the skillet, it bubbles up! So cool! Stir this all together well.
Stir In The Cornmeal And Flour And Pop It In The Oven
All that's left to do is stir in the cornmeal, flour, and a wee bit of salt. Stir well. There should be almost no lumps.
If you bake it in the skillet, pop it in the oven at 375 degrees and bake it for about 40 minutes or until a toothpick stuck in the thickest part comes out clean. You can also use a greased 9-inch square pan.
Here's how your finished loaf will look! The top will be a light golden blonde color.
Cut in wedges and serve warm. Papa added butter and honey, but for me, it was perfect, just like the way it came out of the oven!
I crumbled cornbread into my bowl of ham and bean soup and savored every last drop! This morning, I had another wedge for breakfast! Yep, I am hooked! The best cornbread ever!
Yield: 9 servings
Iron Skillet Cornbread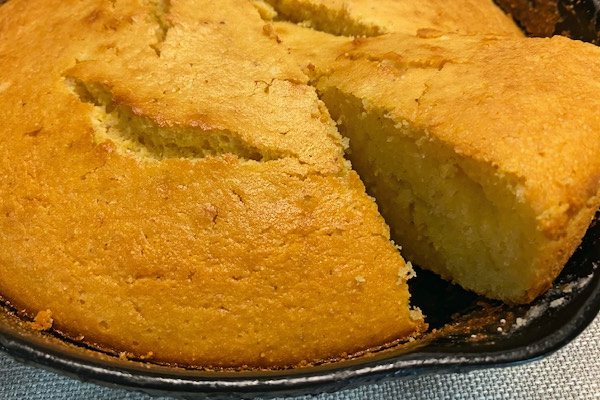 This delicious cornbread is moist, tender, and sweet. Bake it right in a 9" cast iron skillet or in a greased 9" square baking pan.
Ingredients
1/2 cup real butter (one stick)
2/3 cup sugar
2 eggs, lightly beaten
1/2 tsp baking soda
1 cup buttermilk
1 cup flour
1 cup cornmeal
1/2 tsp salt
Instructions
Preheat oven to 375 degrees.
Melt butter over low heat in a skillet.
Stir 2/3 cup of sugar into the butter, mix well.
Stir two lightly beaten eggs into the butter-sugar mixture and combine well.
Add buttermilk to butter-sugar-egg mixture and stir well.
Add cornmeal, flour, and salt to skillet and mix well until smooth. There should be very few lumps.
Bake right in the skillet or pour batter into a greased 9" square pan.
Bake at 375 degrees until a toothpick inserted in the center of the bread comes out clean. The top will be a light golden brown.
Do you put butter and honey on your cornbread? Have you ever crumbled it into your soup? Did you ever eat it like cereal for breakfast, broken in pieces with milk and sugar? Such happy childhood memories!
What's your cornbread story?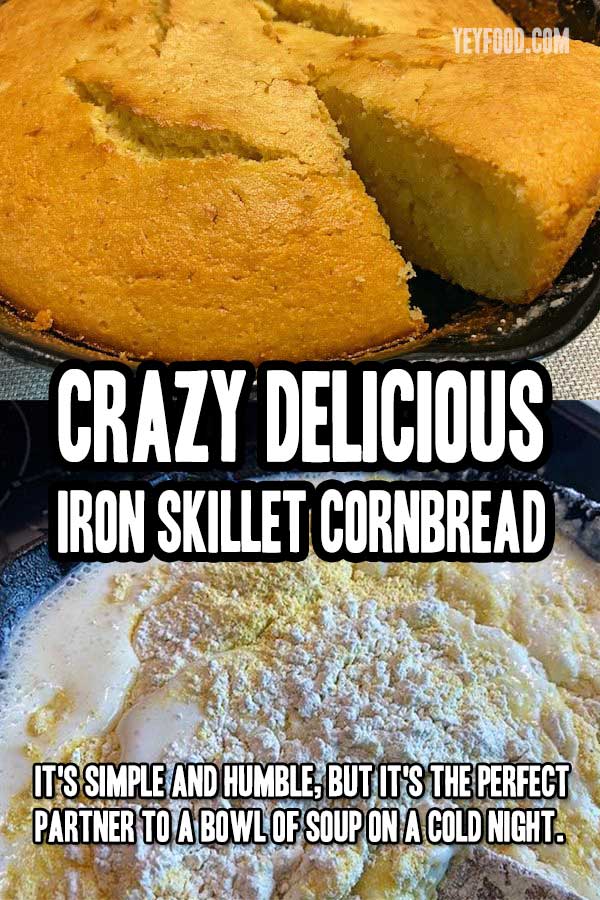 More tasty recipes from us:
Easy 1 Pan Classic American Goulash
German Sauerkraut Casserole With Bacon And Brown Sugar
If you like these recipes, you are our people! You can check some related articles below or search via categories on the right. But, be warned; you will be on here for hours. Enjoy!
So, please share this recipe on your social media accounts like Facebook, Instagram, Twitter, and Pinterest. We would be honored and ever so grateful; thank you!