Glazed Salmon 20-Minute Dinner Recipe
This glazed salmon tastes super good, and it's also a superfood. It's hard to find anything more delicious, healthier, or more nutritious than salmon! And it's quick enough to make it on even the busiest weeknight!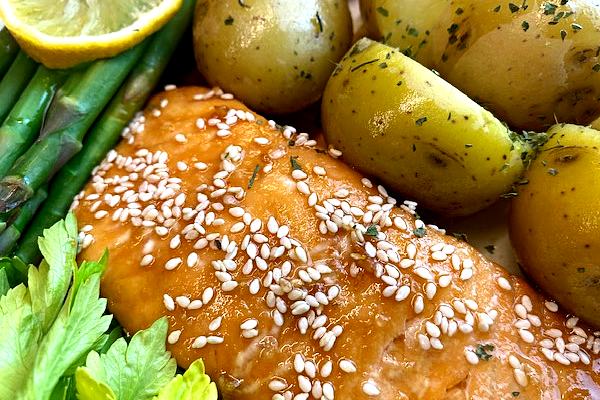 Salmon has zero carbs, plus it's a protein powerhouse! In fact, just 4 ounces provide almost 22 grams of protein. This tasty fish also contains a significant amount of omega-3 fatty acids! Omega-3s are highly beneficial for your heart, skin, and eyes!
A four-ounce filet is an average size portion. Surprisingly, that amount is a very satisfying amount for an adult. And it's low in calories, too. A four-ounce portion contains just 166 skinny calories.
Garlic Honey And Soy Sauce Are All You Need For A Glorious Glaze
Preheat the oven to 425 degrees. Let the salmon come to room temperature for about 10 or 15 minutes if you have time. It helps to make it bake more evenly.
A quick bake in a hot oven is the secret to moist, tender, flaky, and flavorful glazed salmon. Over-cooking salmon is a big culinary no-no.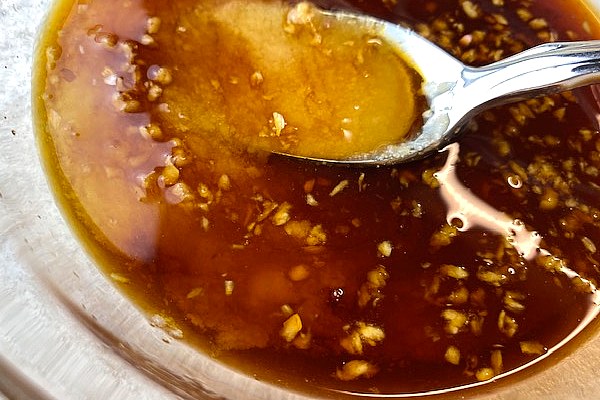 I bet you've got what you need in the pantry to make this glazed salmon tonight. Soy sauce, fresh garlic, and honey are all it takes to take salmon from average to amazing! This glaze is seriously speedy. It's ready in a jiffy. Just whisk it together in a dish, then brush it on and bake.
Who doesn't love anything garlicky, sweet, and salty? It's a winner every time.
You can bake this glazed salmon in a cast-iron skillet or a heat-proof glass baking dish. I've had great success with both. Lightly oil the pan or baking dish.
Pat the filets dry with a paper towel. It helps the glaze stick better. Now brush the glaze on lavishly and pop it in the hot oven.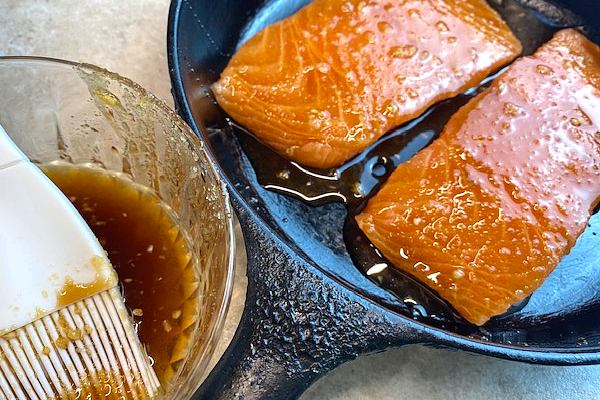 Salmon doesn't take long to cook. Not long at all! About 10 minutes into the bake time, brush on any glaze left in the dish or around the filets.
After 12 to 15 minutes, the fish will be ready to eat. Test for doneness by twisting a knife's tip into one of the white lines on the filet. It should flake easily and feel slightly firm to the touch.
If you have a cool instant-read thermometer, the fish is ready when it gets to 145 degrees. Once you get the hang of it, you won't need one! You'll be able to tell by the look and feel.
I sprinkled some sesame seed on at this point in the baking for some crunch, presentation, and flavor. Next time, I might try some sliced almonds. I love garnishes. My motto is if it looks good, it is good!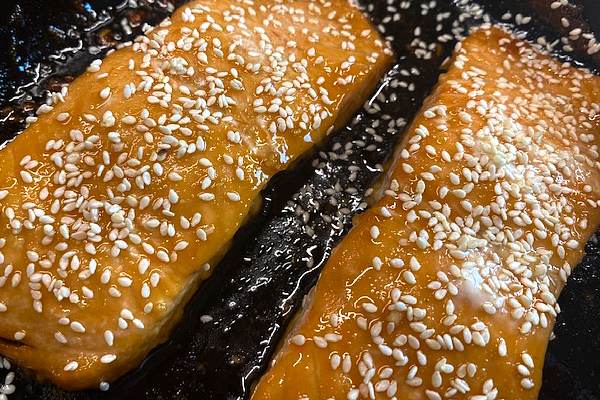 These Easy Sides Are Simply Splendid With Your Sensational Salmon
Believe it or not, you can have a complete dinner on the table in about 20 minutes with this menu/game plan. Here's my suggestion for a super successful, busy weeknight glazed salmon dinner.
First: When buying salmon filets at the store, pick up some baby-size potatoes (the gold ones are my pick) and fresh asparagus. If you don't have butter or sesame seeds, buy some. Grab a lemon, too.
Put some of the baby potatoes into a pot of salted water. Boil them while you make the salmon. They should be ready in about 20 minutes.
Preheat the oven to 425 degrees. Unwrap the salmon and let it sit for a few minutes.
Stir up the glaze. Oil the baking pan. Pat the salmon dry with a paper towel. Put the filets in whatever you are using to bake them in.
Brush the glaze on with gusto and put the fish in the oven.
Wash the asparagus spears and snap off the ends. Lay them in a shallow glass dish that can go in the microwave. Put a little bit of water in the bottom of the pan.
Slice the lemon thin, remove the seeds, and lay the slices on the asparagus. Cover with plastic film.
Cook asparagus in the microwave for about 3 minutes. Check to see if it is as crisp or tender as you like it. Cook another minute at a time until it's done to your liking.
Go back and brush a little more glaze on the salmon. Check for doneness. Sprinkle on some sesame seeds if you like.
Poke the potatoes with a knife tip or cake tester. When they are tender, take them off the burner.
Drain the potatoes and toss some butter in the pot to melt. Drizzle butter over the potatoes, and sprinkle on some parsley if you're feeling sassy.
Drain the asparagus. Put a slice of lemon on each serving if you like. Drizzle with olive oil or butter and salt lightly.
About now, everything should be ready to plate up.
Put salmon, potatoes, and asparagus on your plate. If there's any glaze left in the pan, drizzle it over the fish.
Boom! Twenty minutes later, you have proudly created a fancy-restaurant-worthy meal! Dinner is served!
Yield: 2 servings
Honey Soy Garlic Glazed Salmon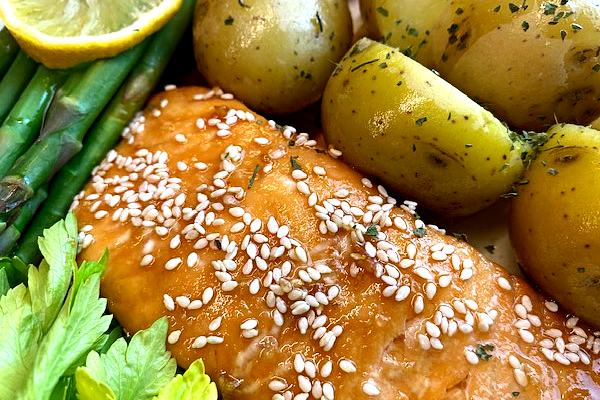 Perfectly moist and tender salmon filet in a sweet, salty, garlicky glaze. Oven-baked and ready in 20 minutes or less!
Ingredients
2 4-ounce salmon filets
2 Tbsp honey, raw honey is best
2 Tbsp soy sauce
2 small cloves of garlic, pressed
About 1 Tbsp sesame seed for garnish, optional
Instructions
Preheat the oven to 425 degrees.
Allow the salmon to come to room temperature. Pat the filets dry with paper towels.
Whisk together the honey, soy sauce, and garlic.
Lightly oil an oven-proof baking dish or cast-iron skillet and place salmon filets in it.
Brush the glaze liberally over filets and pop them in the oven.
At about 10 minutes, check for doneness. Brush the salmon with any glaze in the bottom of the pan.
Sprinkle sesame seeds over the filets if desired.
Fish is cooked when it reaches 145 degrees.
Test by inserting the tip of a knife into one of the white lines on the filet and twist. The fish should flake easily when it is done.
Do not overcook!
Here's Why You Should Always Make Plan-Overs Instead Of Leftovers
Here's one more easy-peasy idea for you. We had enjoyed this lick-smacking glazed salmon recipe twice. The third time I made it, I bought and cooked one extra filet to save for another meal. I call food from the day before "plan-overs" because I always try to plan for them.
A couple of days later, I cooked enough noodles for two servings. I drained them and set them aside. Then, I made another batch of the honey-soy-garlic glaze in the noodle-cooking pot, but I added a tablespoon of butter.
Finally, I returned the noodles to the pot with the glaze and flaked the leftover salmon filet into the mixture. So easy! It made a wonderful, economical little lunch for the two of us.
This recipe is a great idea to tuck away for a Meatless Monday or Lent!
How do you like your salmon? It's so good that we should think about eating salmon every week! Me? I could eat it every day! I know what clever cooks you are, busy bees! And how about sharing your "plan-over" ideas with me?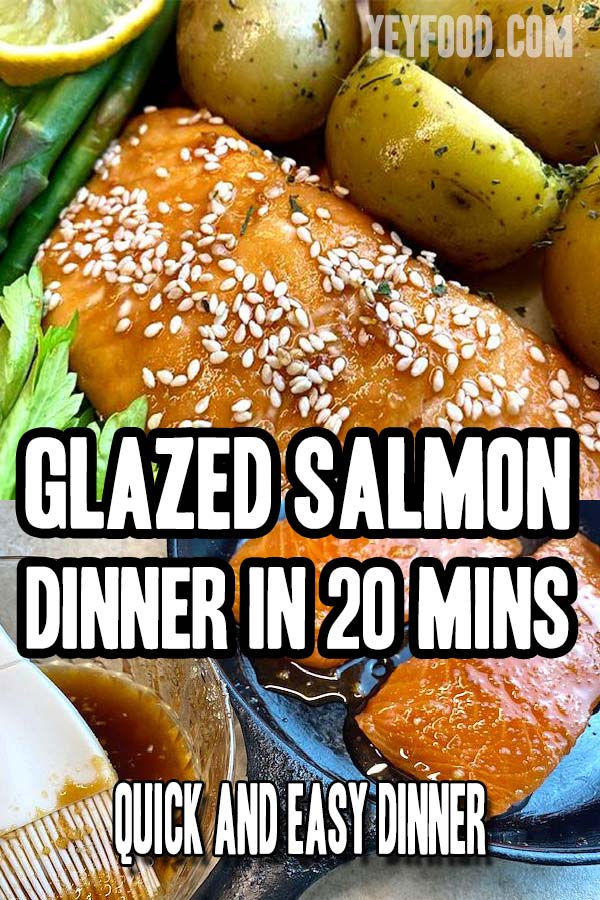 More recipes from us:
Easy 1 Pan Classic American Goulash
German Sauerkraut Casserole With Bacon And Brown Sugar
If you like these recipes, you are our people! You can check some related articles below or search via categories on the right. But, be warned; you will be on here for hours. Enjoy!
So, please share this recipe on your social media accounts like Facebook, Instagram, Twitter, and Pinterest. We would be honored and ever so grateful; thank you!