German-Style Fried Apples Like Aunt Dora Taught Me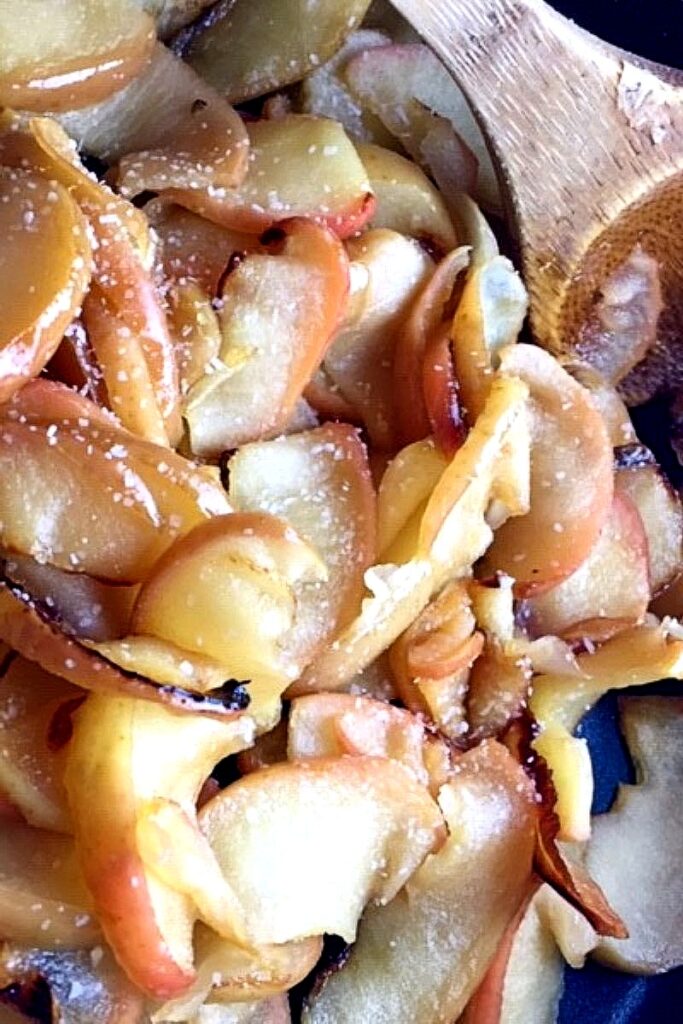 Today I want to tell you about fried apples, German-style, the way my husband's ancestors made them. Fried apples are one of the most popular items on Cracker Barrel's menu. I love that the same fried apples Dora taught me to make are also considered Southern comfort food.
When I was a mere sixteen, my husband took me home to meet the family in his hometown, a tiny farming community of less than 500 hearty souls. I met everyone on both sides of his family that day! My father-in-law was the youngest in a family of nine children. Three of his sisters, Dora, Christina, and Martha, never married, and they all grew up to be amazing cooks!
Dora was the oldest girl. The fact that she was firstborn made her the kitchen boss and the boss of pretty much everything else. Despite never having children of her own, she had more youngsters who loved her than anyone I have ever known. I'm certain Dora had a direct pipeline to God, and I adored her.
My father-in-law was the baby of the family, the youngest by several years, and those three older sisters all babied him their whole life. Aunt Dora could work, and boy, could she cook! They all could, and another day, I'll tell you about Chris and Martha's best recipes.
German Food Is Popular All Over The World
German food is beloved worldwide because it's hearty, flavorful, and usually cheap to make. It had to be to keep the tummies of nine children full!
My husband is 100% German, and he loves to eat! What a great arrangement because I love to cook! All his ancestors on both sides of the family immigrated from Germany and Luxembourg to Nebraska, and they were all hard-working, thrifty farmers.
Today, we enjoy many hearty German foods that my husband's grandparents, aunts, and uncles ate growing up. Fried apples are one of the many simple "farm foods" we enjoyed while our kids were still at home. Aunt Dora showed me how to make them, and I loved them at the first bite!
How To Make The Tastiest Fried Apples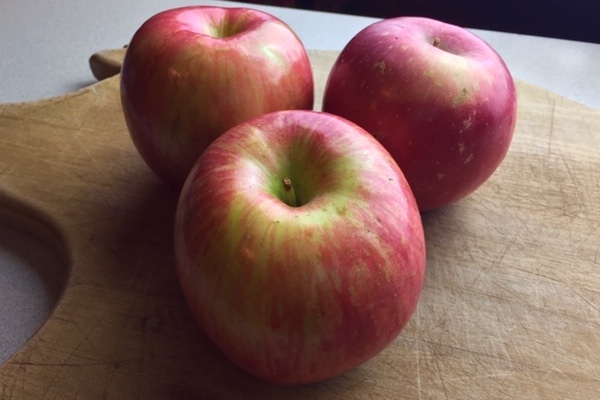 Start with nice firm apples. Use your favorite! These are Fujis, which we love, but Honeycrisp, Jonathan, Cosmic Crisp, or Braeburns make mighty good fried apples, too! Allow about one large apple per serving.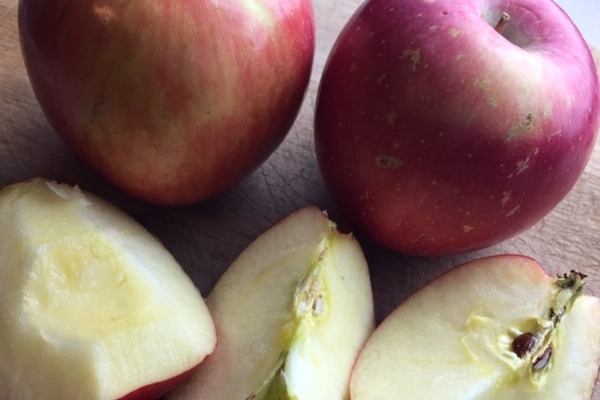 I like leaving the peel on for more color, nutrition, and fiber. Quarter the apples and remove the core.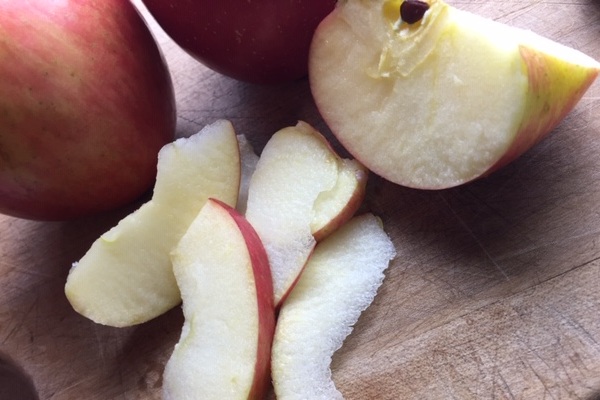 Slice the apples into thin half-moons.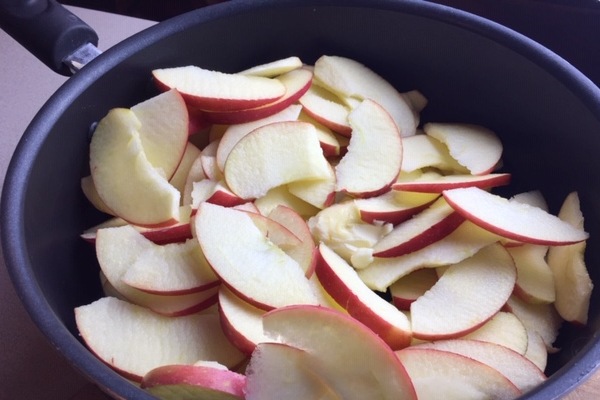 Put the apple slices into a non-stick skillet with a tight-fitting lid. Add about one tablespoon of real butter per apple. Cover and cook on medium heat until the liquid is released and the apples are tender.
Cook time will depend on the variety of apples, but somewhere around 15 minutes. Peek a time or two while they're cooking. If needed, add a tablespoon or two of water.
Now, remove the lid and sprinkle them with sugar. Use about a teaspoon of sugar per apple. Continue to cook them, occasionally stirring, until the apples begin to get a little brown and crispy along the edges. Some varieties are sweeter, so start with less sugar and adjust to taste.
There you have it, a panful of the tastiest German-style fried apples! Don't worry if they get a bit brown; that crispy burnt sugar edge is delicious! When they're brown to your liking, sprinkle ever so lightly with some coarse salt for the ultimate naturally sweet-salty side dish.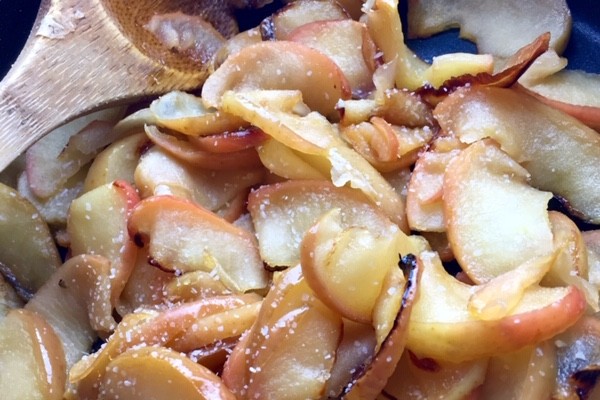 Apples Are Not Just For Pie
Fried apples are amazing with sausage, sauerkraut, and plain buttered potatoes. Also yummy with ham, pulled pork, pork chops, or oven-roasted chicken.
One reader commented he always fixes fried apples to serve alongside his kraut burgers. He said, "I have made fried apples like this for years. They are absolutely the best fall treat. I always fry apples when I make kraut burgers, and it has become part of my fall traditions. Fried apples and kraut burgers for supper bring smiles to your face and happiness to your stomach." Those were such fun words to hear!
I asked him, "What are kraut burgers?" It turns out he's talking about a runza; that's what we call them here in Nebraska! (He's from Colorado; they're called bierocks in Kansas!) So there's an idea for a wonderful German meal!
Sometimes, when I want my fried apples to be more savory, I add thinly sliced sweet onion, let the flavors mingle, and get to know each other while they fry.
Yet another way to serve fried apples is to skip the salt and use cinnamon sugar and a dash of nutmeg instead. You end up with a crustless apple pie that's great with cream or over ice cream! Yum!
Yield: 4 servings
German-Style Fried Apples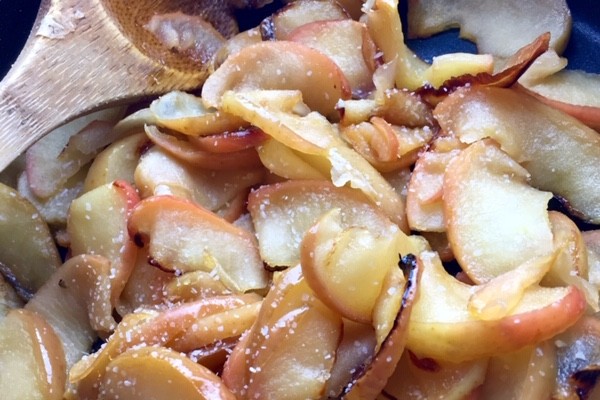 Sweet, buttery, and slightly salty fried apples are made in a skillet for a wonderful, versatile side dish
Ingredients
Four firm, crisp cooking apples like Cosmic Crisp, Braeburn, Honeycrisp, Jonathan, or Fuji. Don't peel them.
4 Tbsp real butter
About 4 tsp sugar, or to taste
About 1/2 tsp coarse salt, or to taste
Instructions
Quarter and core the apples, then slice into thin half-moons.
Put the apples into a non-stick skillet with a tight-fitting lid. Cover.
Add butter to the skillet, cover tightly, and cook over medium heat until the apples release their moisture and get tender. The cooking time will depend on the variety of apples, so check occasionally and add a small amount of water (I or 2 Tbsp) if needed.
Uncover, sprinkle on the sugar and continue to cook until the apples begin to brown slightly and have crisp edges.
Sprinkle with a small amount of coarse salt and serve. See narrative for serving suggestions.
Have you ever eaten fried apples? Do you have a favorite recipe passed down from your family? These fried apples are just one of many recipes we enjoy making!
Here are a few of our favorite hearty foods. Instant Pot Beef Short Ribs, Crispy Tuna Patties With Home Fries, Irish Colcannon. Tell us about yours and send us a picture! We'd love that so much!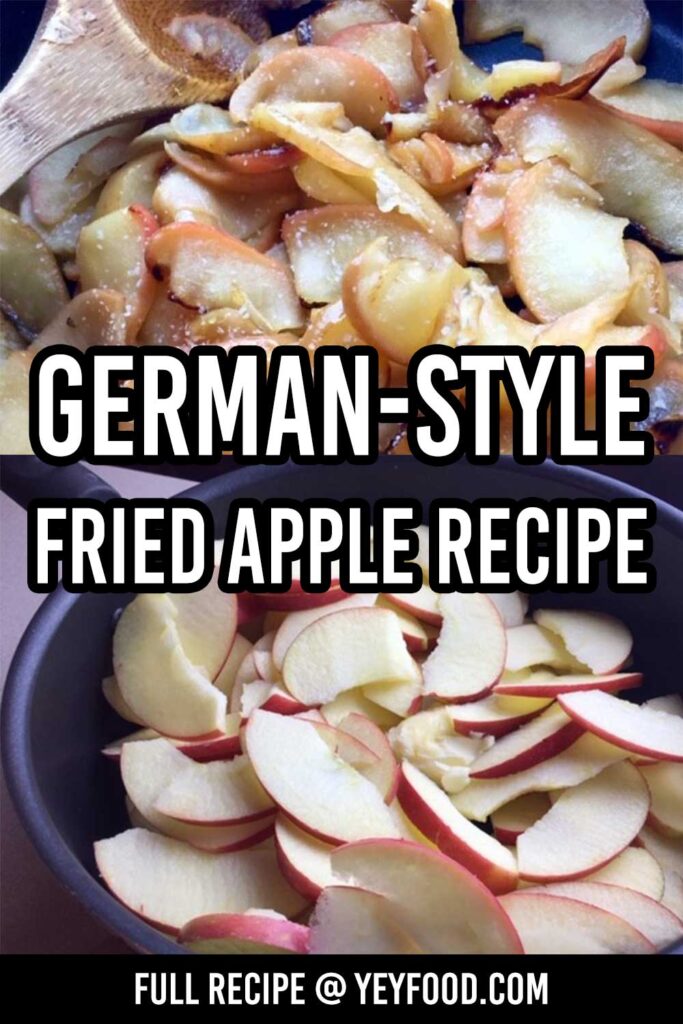 More Recipes From Us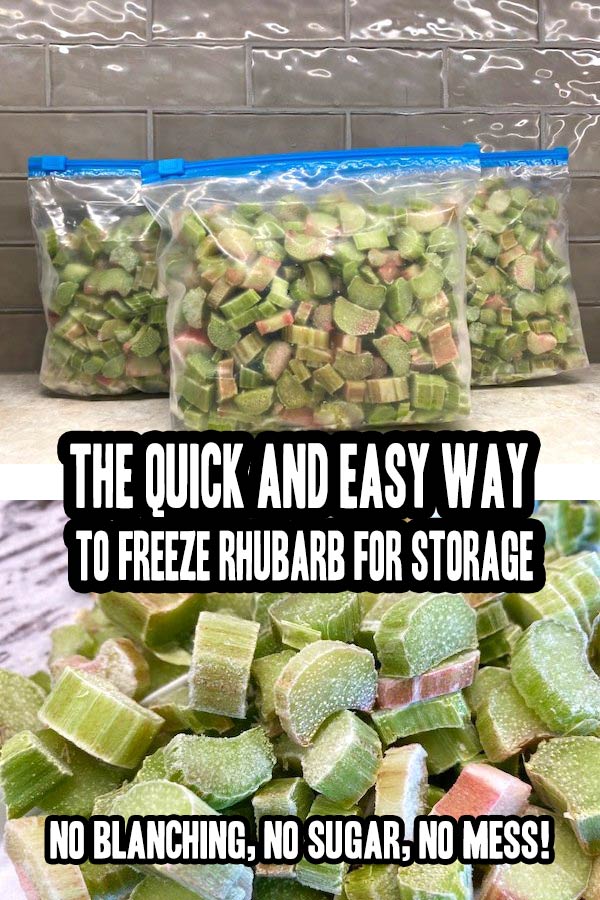 S'mores Bars How To Make Them Super Fast and Super Good
How To Make The White BBQ Sauce That's Fascinated Us Since 1925
German Sauerkraut Casserole With Bacon And Brown Sugar
If you like these recipes, you are our people! You can check some related articles below or search via categories on the right. But, be warned; you will be on here for hours. Enjoy!
So, please share this recipe on your social media accounts like Facebook, Instagram, Twitter, and Pinterest. We would be honored and ever so grateful; thank you!