One-Hour Instant Pot Beef Short Ribs Recipe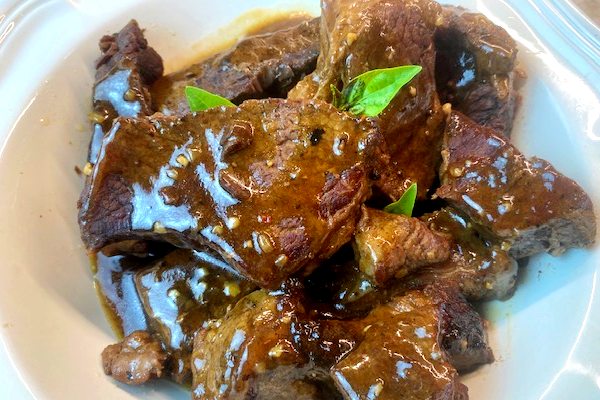 My brother, a retired airline captain, once remarked he was hungry for some beef short ribs. It was one of his favorite crew meals. I asked him to tell me more.
I had never made beef short ribs in my fifty years of cooking. In fact, I'd never even thought about beef short ribs. Not once. My loss. If you've never had beef short ribs before, you're missing out on one of life's great eating experiences.
They are even better than the most delicious pot roast you have ever had. Often, you cook beef ribs "low and slow" in the oven to make them tender. Now, you can use your Instant Pot, cut the wait, and don't heat the kitchen; the beef will still melt in your mouth.
When the ribs are done cooking, you'll have everything you need to make fabulous brown gravy, just waiting to kiss some mashed potatoes. Bonus: I've included a recipe for my favorite way to make mashed potatoes from scratch!
Everything You Need To Know Beef Short Ribs 101 A Very Short Course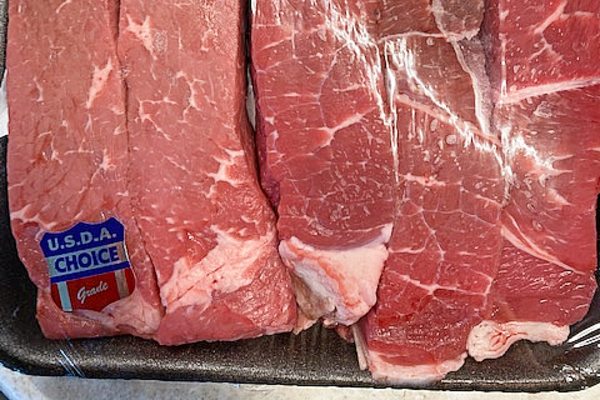 First of all, a little bit of information about beef short ribs. Short ribs are the beef equivalent of pork spareribs, but they're much meatier. The term "short ribs" comes from the fact this cut of beef contains only a portion of each long rib.
Butchers cut beef ribs from the same part of the beef as brisket and, like brisket, usually require long, slow cooking times to make a tender, tasty product.
You can buy them with the bone in, but I prefer the meatiness, convenience, and little waste when you buy boneless beef short ribs. For this recipe, I chose boneless beef ribs. Not every grocery store carries boneless beef ribs.
You may have to ask the meat department to order them for you. That's why it's always good to shop where you can talk to the people cutting the meat. I've been told Costco carries great boneless beef short ribs, but the closest one to me is two hours away!
The Quick And Easy Instant Pot Way To Make Tender Beef Short Ribs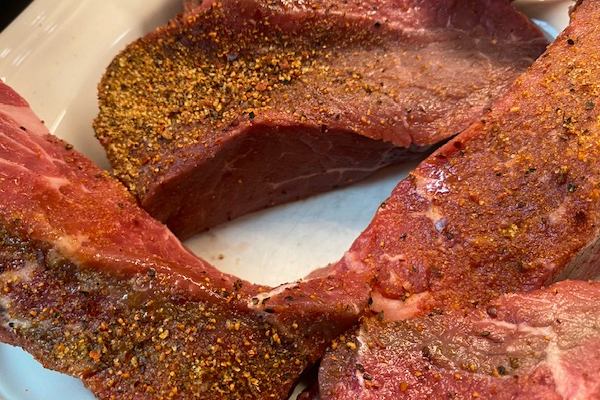 What's so magic about using an Instant Pot to make beef ribs is it really speeds up the cooking process! And, you can brown and cook them right in the same pot!
For this recipe, I bought boneless ribs. This package was about 2.5 pounds. There's not an ounce of waste in a cut like this which makes it a great value! I cut each piece in two, making chunks about 4″ long.
First, I poured some olive oil into the Instant Pot and set it to saute. I generously sprinkled the ribs with our favorite seasoned salt and pepper, pressing it into the meat, and put them a few at a time into the pot to brown.
It's important to brown a few pieces at a time and avoid crowding. You want a good sear and a brown crust on all sides of the meat. If you put too many in at once, they will steam, not brown. Be a little patient here. This is a hugely important step that really maximizes flavor! (Not to mention it makes gorgeous gravy!)
Once all the meat is browned, take it out and set it aside. Saute the garlic in the oil until it's fragrant. Then, add water, soy sauce, and beef bouillon paste to the pot. Stir and blend it into the liquid. I highly recommend Better Than Bouillon, but they don't pay me to tell you! Use a wooden paddle to coax every tasty browned bit off the bottom.
Put On The Pressure It's Time To Cook Those Ribs
Put the ribs back in the pot and set the Instant Pot to pressure cook on high for 40 minutes. While the ribs are cooking, you have plenty of time to make mashed potatoes or noodles to keep the ribs company.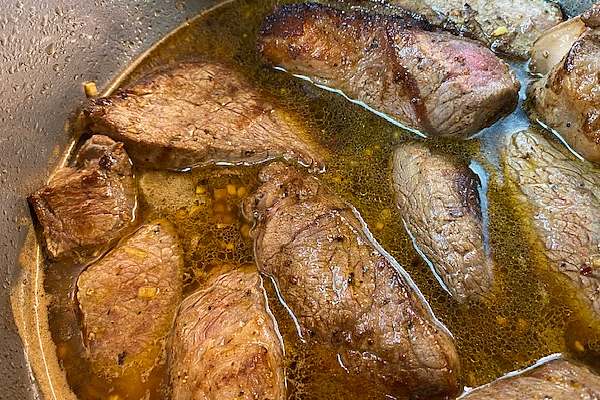 Here's how they look when they are done cooking and how you make the gravy. Remove the ribs and put them on a platter to keep warm.
Mix the cornstarch with cold water in a small jar and shake until there are no lumps. Set the Instant Pot back to saute and when it boils, gradually whisk the cornstarch mixture into the broth and cook until it's thickened.
You may not need all the cornstarch mixture to get the right consistency. You will not need any additional seasoning or any browning agent. And the gravy? The angels sing while you eat it! Total comfort food, I'm telling you! The gravy is unbelievable!
Yield: 4 servings
Best Garlic Mashed Potatoes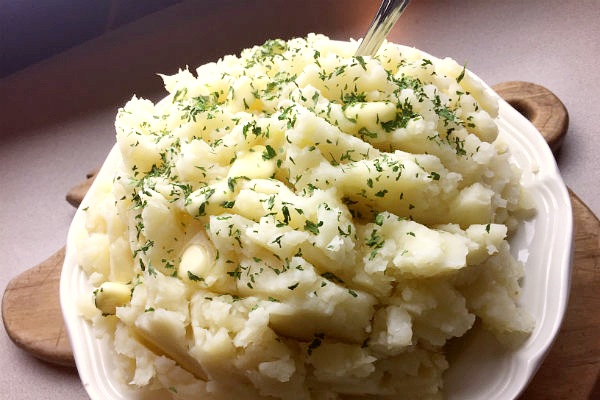 Here is my recipe for classic, country-style garlic mashed potatoes. These potatoes are not diet food.
Ingredients
2 pounds Russet or other floury potatoes, peeled and cut into evenly-sized pieces.
Water for cooking
1 tsp kosher salt or to taste.
1 tsp Better Than Bouillon roasted garlic base
1/4 cup or more of butter
1 cup milk, whole milk preferred.
1 tsp pepper or to taste.
Instructions
Peel and cut the potatoes into evenly sized chunks.
Place in a pot with a lid and add water to barely cover the potatoes. Add salt.
Cook over medium-high heat until you can easily pierce the potatoes with a knife.
Drain thoroughly; leave as little water as possible.
Add butter and garlic base, replace the lid and let the butter melt.
Roughly mash the potatoes, then gradually add the milk. You may not need all of it.
Continue to mash the potatoes but do not whip. A few little chunks prove they are homemade!❤
Season to taste with more salt and pepper if you like and by all means, dot with more butter if you want!

Nutrition Information:
Yield:
4
Serving Size:
1
Amount Per Serving:
Calories:

584
Total Fat:

49g
Saturated Fat:

31g
Trans Fat:

2g
Unsaturated Fat:

15g
Cholesterol:

133mg
Sodium:

868mg
Carbohydrates:

31g
Fiber:

3g
Sugar:

8g
Protein:

7g
I will make beef short ribs like this again and again. I love the recipe's simplicity as much as we love the final product.
Yield: 8 servings
Instant Pot Beef Short Ribs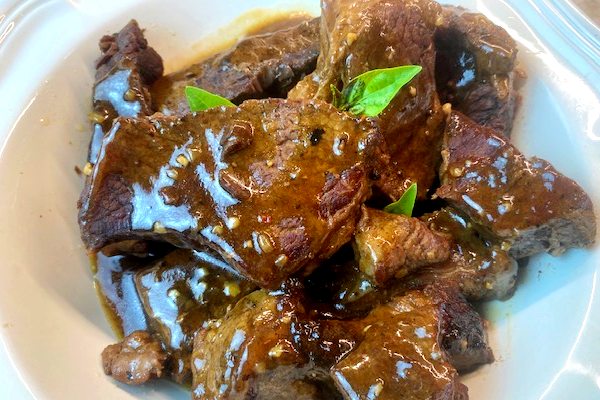 Tender, succulent boneless beef short ribs with brown gravy.
Additional Time
20 minutes
Total Time
1 hour
20 minutes
Ingredients
2.5 to 3 pounds of boneless beef short ribs
2 tsp seasoned salt (We like Lawry's)
1 tsp seasoned pepper (We like Lawry's)
2 Tbsp olive oil
1 Tbsp minced garlic or fresh garlic, to taste 
1 1/2 cups water
1 Tbsp paste type beef bouillon (We like Better Than Bouillon)
1 Tbsp soy sauce or to taste
GRAVY
2 Tbsp corn starch
1/2 cup cold water
Instructions
Set your Instant Pot to Saute.
Put the olive oil in the Instant Pot.
Cut rib into approximately 4" sections.
Salt and pepper meat pressing salt and pepper into the meat.
Brown the ribs a few at a time, until there's a nice brown sear on all sides of the meat. Do not crowd.
As the meat browns, remove it from the Instant Pot pot and set it aside. Leave the broth in the Instant Pot.
Add the garlic to the oil and saute until fragrant and slightly transparent.
Add water, soy sauce, and beef bouillon to the water in the Instant Pot and bring to a boil.
Use a wooden spoon or paddle to scrape all tasty brown bits from the pot and stir it into liquid.
Put the ribs back in the Instant Pot and put the lid on. Set the Instant Pot to high-pressure cook for 40 minutes.,
Allow natural release for 10 minutes, then quick release if any pressure remains.
Remove the ribs to a platter to keep warm.
To make gravy, put corn starch and cold water in a jar and shake well until there are no lumps.
Return Instant Pot to saute setting and bring the broth to a boil.
Whisk cornstarch mixture into broth gradually, constantly stirring until you achieve the desired consistency. You may not need it all. If gravy is too thick, thin it with water.
If it's not thick enough, let it boil to reduce the liquid, or make another batch of cornstarch and water, adding only a little at a time while whisking constantly.
Serve gravy with ribs over rice, noodles, or mashed potatoes as desired.
Reheat meat in gravy in the oven or on the stovetop on low heat. It can also reheat in the microwave. Refrigerate leftovers.

Nutrition Information:
Yield:
8
Serving Size:
1
Amount Per Serving:
Calories:

566
Total Fat:

42g
Saturated Fat:

18g
Trans Fat:

2g
Unsaturated Fat:

24g
Cholesterol:

171mg
Sodium:

835mg
Carbohydrates:

3g
Fiber:

0g
Sugar:

0g
Protein:

44g
If you don't want to serve them this way, they would shred beautifully and make great sandwiches or hash. Now that you know how quick and easy they are to make, I bet you'll come up with many ways to make this your own, and when you do, we want to hear about it!!
Here are two other ways to use boneless beef short ribs; both recipes are amazing! Beef And Noodles, and yummy Beef Noodle Soup.
Have you ever made beef short ribs? If you have, how do you make yours? Would you try this Instant Pot version? I would love to know what you think!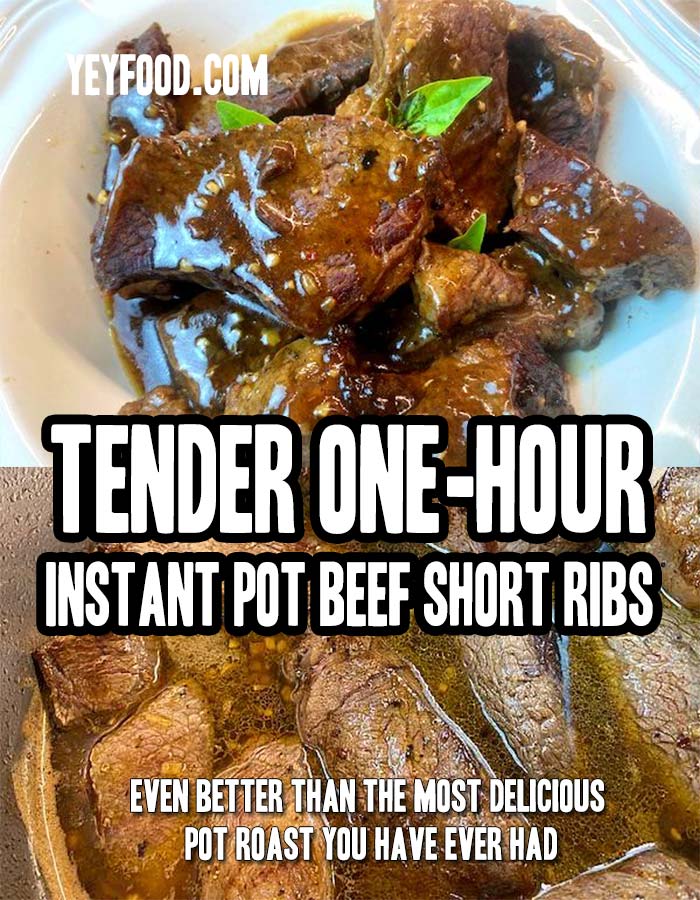 More tasty recipes from us: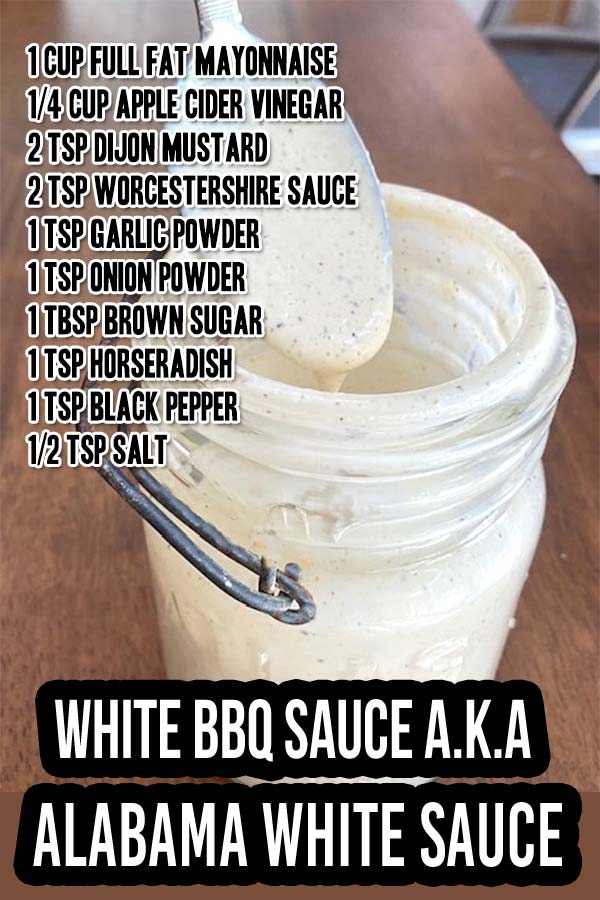 S'mores Bars How To Make Them Super Fast and Super Good
Easy 1 Pan Classic American Goulash
German Sauerkraut Casserole With Bacon And Brown Sugar
If you like these recipes, you are our people! You can check some related articles below or search via categories on the right. But, be warned; you will be on here for hours. Enjoy!
So, please share this recipe on your social media accounts like Facebook, Instagram, Twitter, and Pinterest. We would be honored and ever so grateful; thank you!