Create Mouthwatering Beef Stew Faster Than You Thought
Surprise! Beef stew is weeknight-fast when you use my old standby cut of beef, boneless short ribs. Your family will inhale it!
I like to serve the beef stew over mashed potatoes (or noodles, if I'm in a hurry) in a pasta bowl because the gravy is so delicious you don't want to miss a drop! A side of French-cut green beans adds color, fiber, and extra nutrition.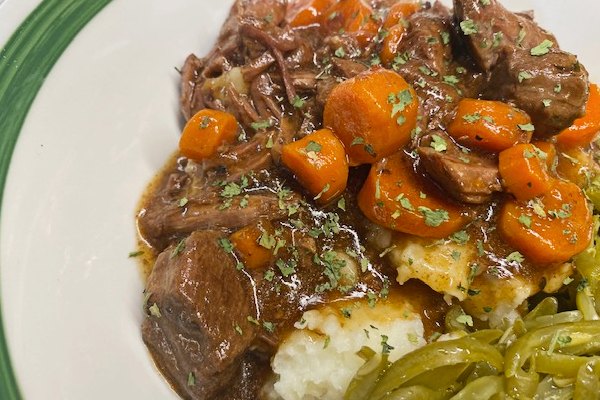 How To Make Amazing Beef Stew In About One Hour
I was late to the party, a slow adopter of Instant Pot cooking! What a way to make great food fast! An Instant Pot makes the meat so tender you'd think it cooked all day! That's why I'm super excited to share the benefits!
And I'm so glad my brother Stan told me about the wonders of boneless beef short ribs! Ask for them if you don't see them on display in the meat department! They are lean, there's very little waste, and they're usually fairly inexpensive to boot!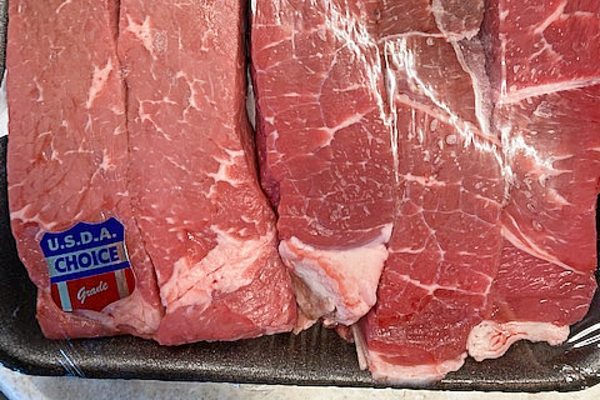 Here's what you do to make them into beef stew. Use a sharp knife to remove visible excess fat, but don't remove every bit! Cut the beef into approximately ice-cube size cubes.
Try to cut the beef into chunks that are close in size. That way, they'll brown and cook evenly. Hint: this is super easy to do if the meat is still slightly frozen!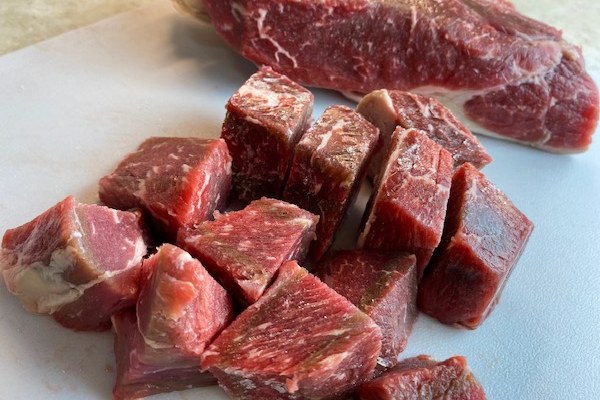 Set beef aside. Season it generously with salt and pepper, pressing it into the meat. I love Lawry's brand seasoned salt and pepper for this and everything else I cook!
The Secret To The Most Flavorful Beef Stew
Exceptional flavor happens right from the start. Chop a medium-sized onion and press a couple of garlic cloves. Sautee them on high in about three tablespoons of olive oil until they get transparent and fragrant.
Next, sear and brown the beef in the pot with the onions and garlic, a few cubes at a time. Here's the secret: Don't crowd them. A good brown sear on the beef cubes will produce the richest, most beautiful gravy! You may need to add a little more olive oil because the beef is quite lean.
If you can't find boneless beef ribs, beef stew meat will work well, too. You can also use a sharp knife to cube chuck or shoulder beef roast.
When all the beef is lovely and brown, remove it from the Instant Pot and set it aside. Pour three cups of water into the pot. Use a wooden spoon or scraper to loosen up every bit of browned goodness from the bottom of the pan and stir it into the broth.
Return the beef to the Instant Pot and add three heaping tablespoons of paste-type beef bouillon. I always use Better Than Bouillon Brand! They don't pay me to say so, but I am a raving fan of all their products!
Set the Instant Pot to high pressure, lock it, and cook for 35 minutes.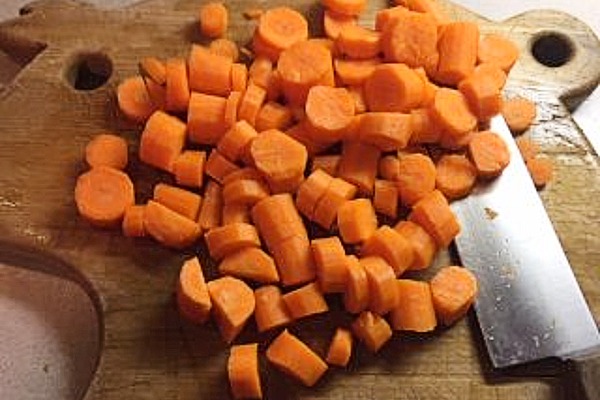 While that cooks, peel and slice about 2 cups of carrots and start a batch of mashed potatoes if you like. Quick-release the pressure when the timer goes off and add the sliced carrots to the pot. Close and seal the pot and cook for six to eight minutes. Quick-release the pressure again.
Here Are The Final Steps To Make It Into Perfect Beef Stew
Return the Instant Pot to the saute setting. Put 1/2 cup cold water into a glass jar or shaker and add three tablespoons of cornstarch. Shake well until there are no lumps.
When the stew starts bubbling, slowly add the cornstarch mixture while stirring the pot continuously. You may not need the whole amount to create the consistency you want. My advice is to add it gradually.
We always have this over plain mashed potatoes made from scratch at our house, but it's quite tasty when it's served on top of cooked noodles, too; if you prefer to put diced potatoes in with the carrots, that works, too!
Heat the green beans in the microwave and drain them, then drizzle on olive oil and a sprinkle of kosher salt. You won't believe how that simple step enhances the flavor!
I like to present this stew over mashed potatoes in a pasta bowl and add French-cut green beans for a good-looking plate. This way, we don't miss a drop of the amazing gravy!
Yield: 9 servings
Instant Pot Beef Stew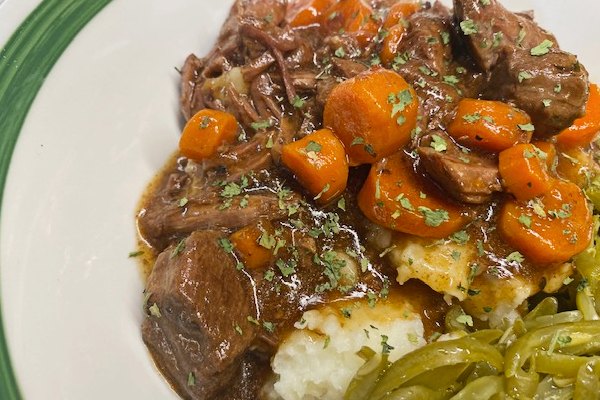 Tender lean beef and carrots in a rich brown gravy. Wonderful served over mashed potatoes or noodles.
Ingredients
Approximately 3 pounds boneless beef ribs with excess fat removed and cut into cubes
1/2 medium onion, peeled and chopped
2 cloves garlic, pressed
2-3 tsp seasoned pepper
1-2 tsp seasoned salt or to taste
3 Tbsp olive oil, more if needed
3 cups water
3 heaping Tbsp Better Than Bouillon paste, beef flavor
2 cups carrots, peeled and sliced
3 Tbsp corn starch blended into 1/2 cup cold water
Instructions
INSTRUCTIONS
Trim the excess fat from the boneless beef short ribs and cut the beef into ice-cube size pieces.
In Instant Pot, saute the onion and garlic in olive oil until fragrant and transparent.
Add beef cubes a few at a time. Sear and brown well.
Remove the beef from the Instant Pot and add water. Use a wooden spoon to scrape up all browned bits from the bottom of the pot.
Return the beef to the pot, add bouillon paste, and cook on high pressure for about 35 minutes. Allow the pressure to drop a bit, then quick-release.
Add sliced carrots and cook on high pressure for about 6 to 8 minutes.
Quick-release the pressure.
Combine cornstarch and water in a jar or shaker and shake well until no lumps remain.
Gradually add cornstarch mixture to bubbling stew, stirring constantly, until the desired consistency is reached
Serve over mashed potatoes or noodles with French-cut green beans if desired.
How do you like your beef stew? Have you ever tried boneless beef ribs? I had never even heard of them until my brother introduced me. Here are two more recipes using boneless beef ribs we think you'll enjoy. Tender Beef Short Ribs in Under An Hour and Instant Pot Beef Noodle Soup. We'd be delighted to hear from you if you try any of these recipes! If you send a picture of you and your stew, we'd be over the moon!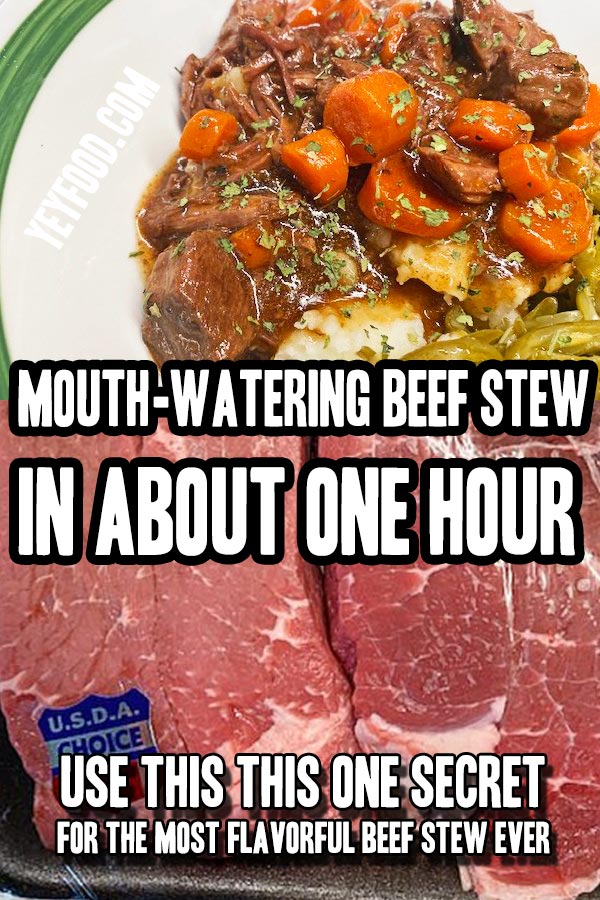 More tasty recipes from us: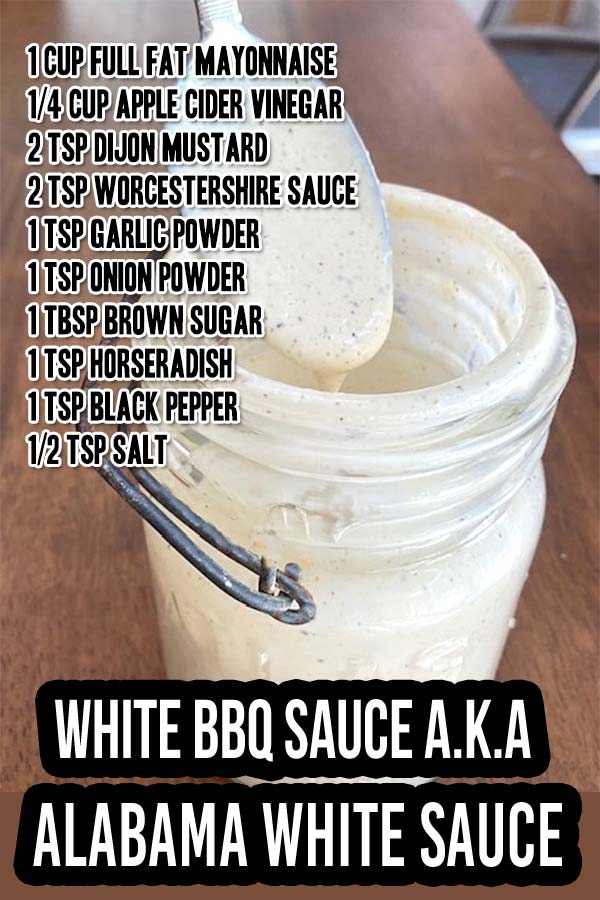 S'mores Bars How To Make Them Super Fast and Super Good
Easy 1 Pan Classic American Goulash
German Sauerkraut Casserole With Bacon And Brown Sugar
If you like these recipes, you are our people! You can check some related articles below or search via categories on the right. But, be warned; you will be on here for hours. Enjoy!
So, please share this recipe on your social media accounts like Facebook, Instagram, Twitter, and Pinterest. We would be honored and ever so grateful; thank you!