Fabulous Double Chocolate Banana Bread Recipe
There's banana bread, and everyone loves banana bread. But this recipe is for double chocolate banana bread; it's banana bread at a higher level. We'll show your two little touches that take this luscious loaf right over the top! Oh, how I wish there were a scratch and sniff button on this post!
First, you make this banana bread with brown butter. Brown butter is butter magic. Brown butter happens when you melt butter on the stovetop just to the point that the milk solids are toasted. This step makes the butter take on a light golden brown color and a nutty, sort of caramel flavor.
Second, we'll show you how to "bloom" cocoa powder to develop even more chocolatey-ness and intensify the flavor to new heights!
How To Make Butter Into Brown Butter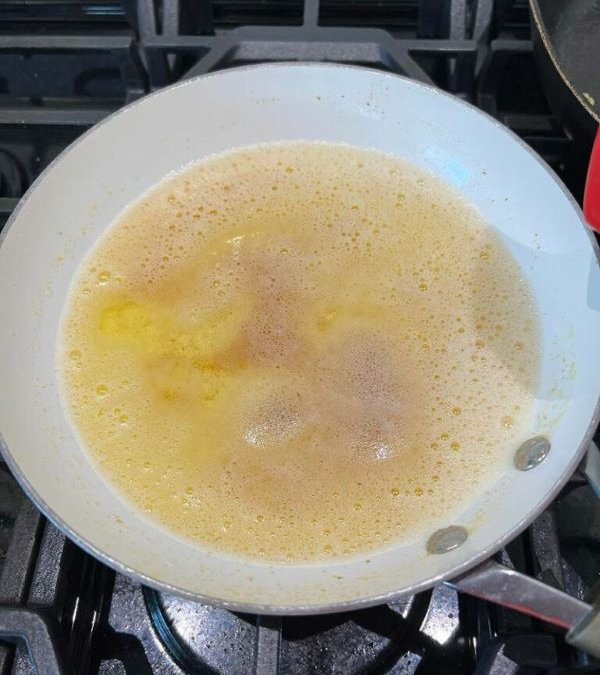 Heat a thick-bottomed skillet on medium heat. Add the butter and frequently whisk as the butter melts. If you cut it into pats, it will melt more evenly. A pan like this one with a light-colored interior is perfect because it's so easy to see the changes in the butter as you melt it.
Once melted, the butter will foam up a bit, then subside. Continue to cook the butter. Watch carefully as lightly browned specks begin forming at the pan's bottom. Smell the butter; it should have a nutty aroma and be light golden brown.
When the butter is light brown, remove the pan from the heat and pour the butter into a bowl to stop it from cooking further and perhaps burning. Watch carefully. It's easy to go from brown to burnt in a short time.
Once you have perfected this process, you will be addicted, and you'll want brown butter on and in everything you make! It makes everything you bake better!
This Banana Bread Is Perfect For Hardcore Chocolate Lovers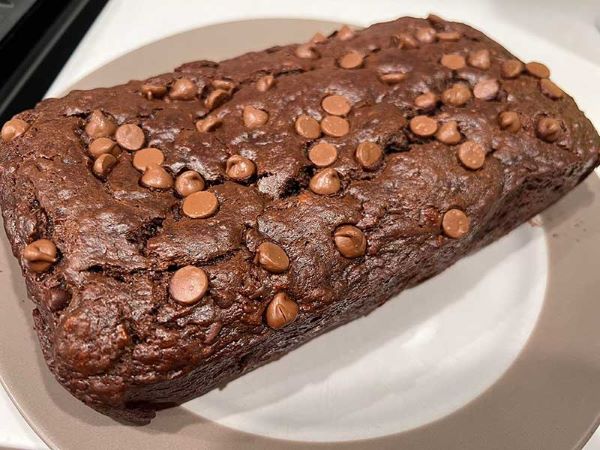 For these people, like my mom and my brother, the only thing better than chocolate is more chocolate. The batter is rich, deep, and chocolatey. And if that isn't enough, the double chocolate banana bread is studded with a generous amount of semi-sweet chocolate chips and topped with even more chocolate chips for an ultimate over-the-top explosion of their most beloved flavor.
What Does It Mean to Bloom Cocoa Powder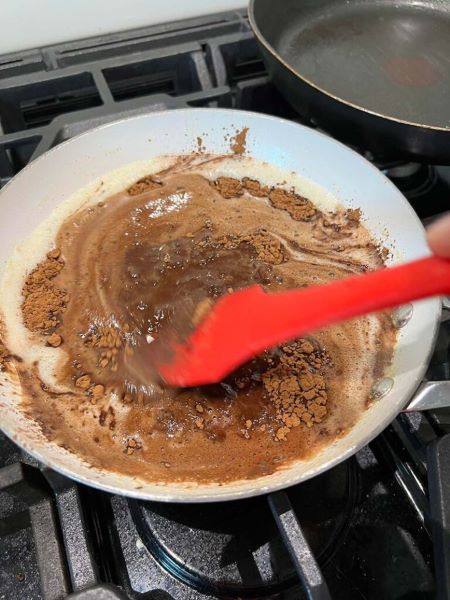 In this recipe, you will find a rare special step called "blooming" the cocoa. Cocoa powder is "bloomed" by mixing it with a hot liquid. Pour the cocoa into the melted butter, stir well to break up any lumps, then let it rest for a minute or two. In this case, the browned butter is the liquid used for cocoa powder blooming.
The cocoa powder dissolves and releases flavor particles. This process brings out the best in cocoa powder and unleashes its every bit of ultra-chocolatey potential.
Put It All Together And Make Awesome Double Chocolate Banana Bread
Mash the bananas and add the cocoa and butter mixture. Stir until well combined. Next, add the brown sugar, sour cream, egg, vanilla, salt, and baking soda to the bowl and whisk to combine.
Add the flour. Use a large spatula to fold the flour into the other ingredients just until no streaks of flour remain, and finally, gently fold in one cup of chocolate chips.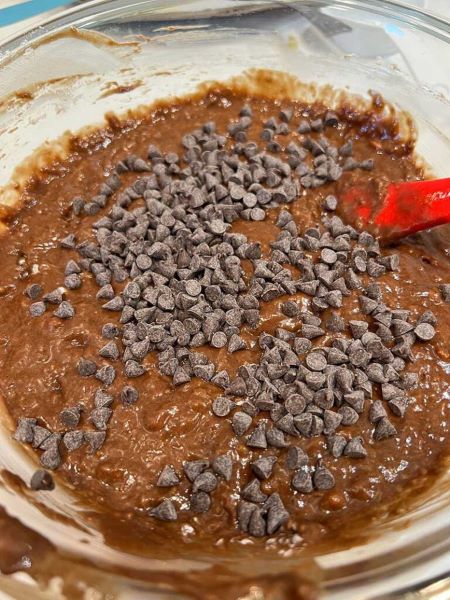 Pour the batter into a standard nine-inch by five-inch loaf pan you have prepared with a parchment paper sling. This step is important because, without the parchment paper, this bread is difficult to remove from the pan.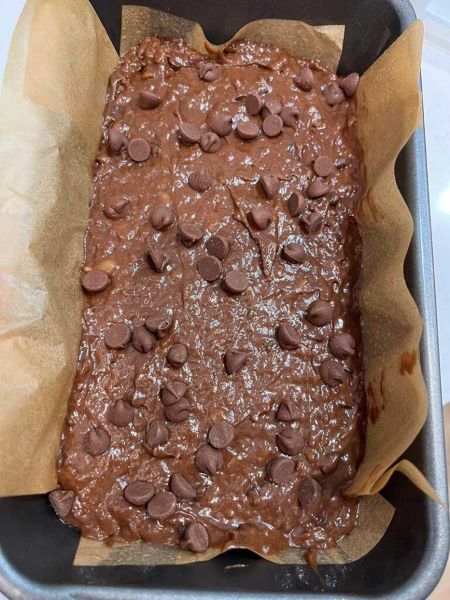 Finally, sprinkle another one-half cup of chocolate chips on top of the batter and bake the bread in a 350-degree oven for about sixty minutes.
Allow the loaf to cool for about fifteen minutes before you remove it from the pan. Let the double chocolate banana bread loaf cool completely before slicing it. I know, it's hard, isn't it?
Yield: 16 slices
Double Chocolate Banana Bread
Here's a fabulous recipe for the moistest, most delicious loaf of ultra-chocolatey banana bread you ever ate.
Cook Time
1 hour
30 minutes
Total Time
1 hour
45 minutes
Ingredients
8 tbsp unsalted butter (one stick)
1/2 cup natural cocoa powder
3 large very ripe bananas, about 1 cup mashed
3/4 cup packed light brown sugar
1/2 cup sour cream
1 large egg
1 tsp baking soda
1 tsp vanilla extract
1/2 tsp salt
1 cup all-purpose flour
1 1/2 cups (9 oz) semi-sweet chocolate chips, divided: 1 cup for the batter, 1/2 cup for the top
Instructions
Preheat the oven to 350F.
Grease or spray a 9x5 inch loaf pan
Make a parchment sling by cutting a piece of parchment paper to the length of the pan. Press it into the greased loaf pan, and allow the ends of the paper to hang over the sides of the pan. Grease or spray the parchment paper as well.
Melt the butter in a small saucepan over medium heat and cook it until it browns a little bit and brown flecks begin forming on the bottom of the pan.
Stir the cocoa powder into the brown butter to make a smooth paste. Let it stand for two or three minutes to allow the cocoa to "bloom."
Mash the bananas with a fork and stir in the butter/cocoa mixture until well combined.
Add the brown sugar, sour cream, egg, vanilla, salt, and baking soda to the bowl and whisk together thoroughly.
Add the flour to the bowl. Use a large silicone spatula to lightly fold over the batter until just combined. No streaks of flour should remain.
Fold one cup of chocolate chips gently into the batter and pour the batter into the prepared loaf pan.
Sprinkle the remaining 1/2 cup of chocolate chips over the surface of the bread.
Bake for about 60 minutes and let the loaf cool for fifteen minutes before removing it from the pan.
Cool completely before slicing.
Everyone loves banana bread, it seems. There are so many ways you can vary the flavor, and every one is a winner. Here are some of our most popular banana bread recipes: Jamaican-style banana bread, Strawberry banana bread, and banana bread with buttermilk and brown sugar.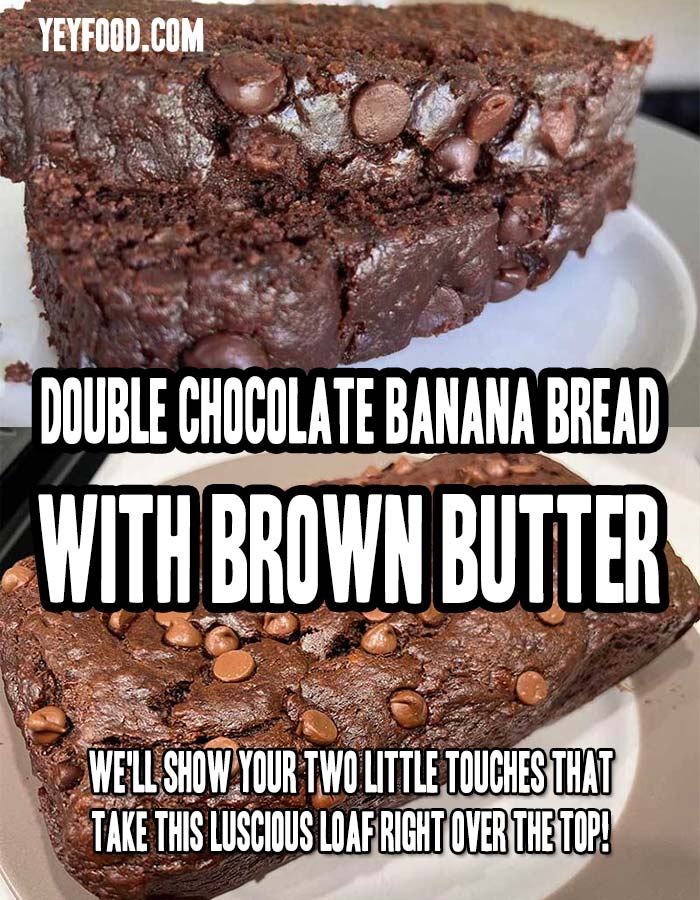 MORE YUMMY RECIPES FROM US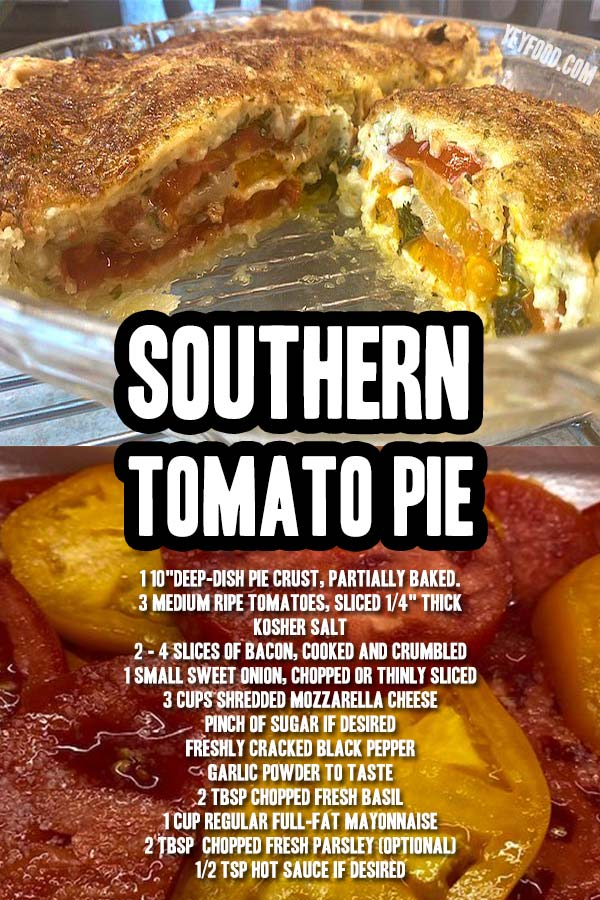 4 Reasons You Should Freeze Some Sweet Corn This Summer
How To Make The White BBQ Sauce That's Fascinated Us Since 1925
German Sauerkraut Casserole With Bacon And Brown Sugar
If you like these recipes, you are our people! You can check some related articles below or search via categories on the right. But, be warned; you will be on here for hours. Enjoy!
So, please share this recipe on your social media accounts like Facebook, Instagram, Twitter, and Pinterest. We would be honored and ever so grateful; thank you!