Delicious Strawberry Banana Bread Recipe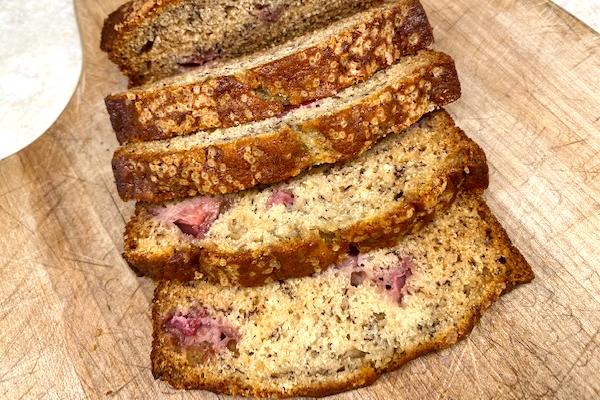 Strawberry banana bread is a perfect blend of two fruits that have always had the happiest marriage. It is a classic pairing of smooth, creamy bananas and colorful sweet-tart strawberries.
Combine the two in a simple batter, and magic happens. I doubled the recipe and made two loaves, one to eat and one to share. Everyone loved it, gobbled up this tender, moist bread, and wanted more! This recipe is so simple, but it's a "keeper."
A Simple Five-Minute Process That Keeps Strawberries Fresh Days Longer
Sometimes, I get carried away in the grocery store. Recently, I bought one of those giant two-pound clamshells of strawberries because they were so beautiful. I was expecting to share some with our grandkids but plans changed. Do we all know how that goes? Does that ever happen to you??
Papa isn't crazy about strawberries except when loaded up with sugar, and they are too expensive to waste, so I employed a trick I learned that keeps strawberries fresh for a week or more in the fridge. It's so easy!
Combine 3 cups of water with a cup or so of white vinegar in a large bowl. Swish them around and let them sit in it for about five minutes, drain them in a colander, rinse under cold running water, and drain away as much water as you can.
You'll be surprised at how much dirt and junk is in the bottom of the bowl, but best of all, the vinegar kills the pesky mold spores that love to grow on berries. This process works on all kinds of berries!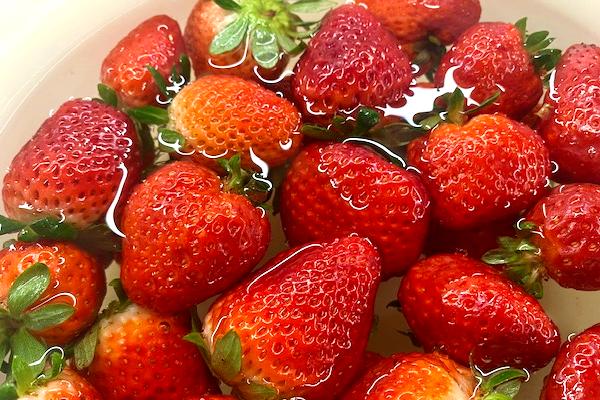 We have all been told NOT to wash berries until we use them, but strawberries and other berries can go bad quickly. This treatment is more of a therapeutic bath! Moisture is still the enemy, so here's what to do next.
Spread the strawberries on a towel or dish drainer mat and let them air dry completely. Turn them if needed; you want them DRY. Finally, please don't put the berries back in the original container. Line a resealable container with a thick layer of paper towels and put the berries in it without crowding. Leave the lid ajar a bit so no moisture can form.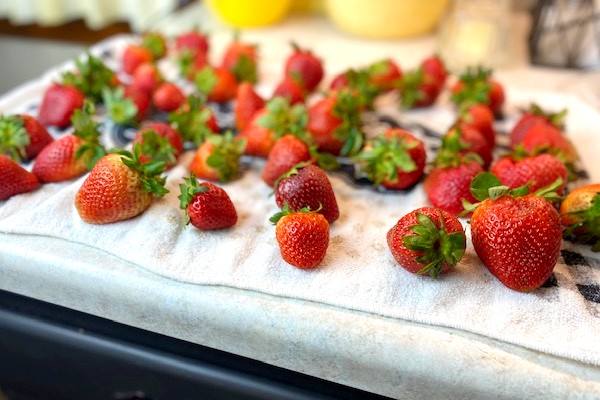 As it turns out, I discovered this strawberry banana bread recipe, so I used a lot of berries and ate the rest myself!
I Was Attracted To The Elegant Simplicity of This Basic Recipe
This banana bread recipe could not be more straightforward. Everything in it is a pantry staple, no yogurt, no sour cream, no spices. It is beautifully simple and simply beautiful.
Begin by creaming butter and sugar, add the bananas and the dry ingredients, and finally, fold in the strawberries you have tossed with flour before adding them. Tossing the berries with flour helps keep them suspended in the batter instead of sinking to the bottom.
My one little embellishment was a sprinkle of beautiful, sparkly coarse sugar for a crunchy, good-looking crust. 😊
Yield: 16
Strawberry Banana Bread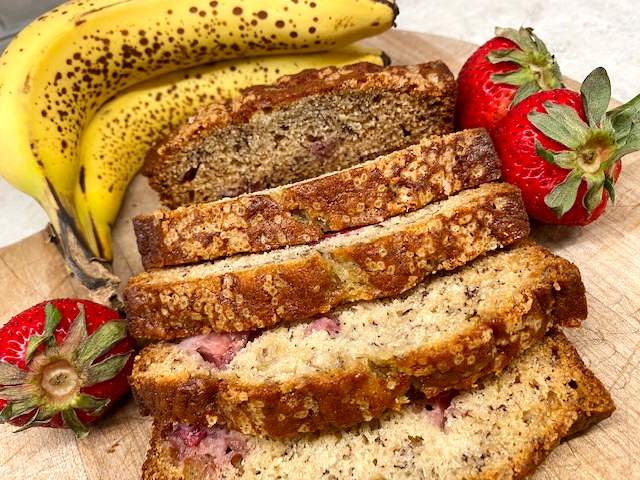 This yummy bread is a beautiful combination of smooth, creamy bananas and fresh, sweet-tart strawberries.
Ingredients
1/2 cup butter (1 stick), softened
1 cup granulated sugar
2 large eggs, beaten
3 ripe bananas, mashed
2 cups flour plus one Tbsp for tossing with the strawberries
1 tsp baking soda
1/2 teaspoon salt
1 1/2 cups fresh strawberries chopped & tossed in 1 Tablespoon of flour
Instructions
Cream butter and sugar together until light and fluffy.
Add the eggs to the sugar mixture and beat until combined. Break the bananas into small chunks and add them to the sugar-butter mixture. Beat until they are mashed and well combined with the sugar and flour.
Whisk the flour, baking soda, and salt together, then gradually add the dry ingredients to the banana mixture and mix until the flour is just incorporated. Don't over-mix!
Toss the strawberries with a tablespoon of flour, then gently fold them into the batter.
Pour batter into the prepared loaf pan and bake at 375 degrees for 15 minutes.
Reduce the heat to 350 degrees and bake for about 30 minutes until the edges are slightly brown. A toothpick or cake tester should come out clean when inserted in the center of the loaf.
If the tester has dough clinging to it and the top is getting too brown, lay a piece of foil over the top of the pan and continue baking until the tester comes out clean.
Let the bread cool completely before removing it from the loaf pan.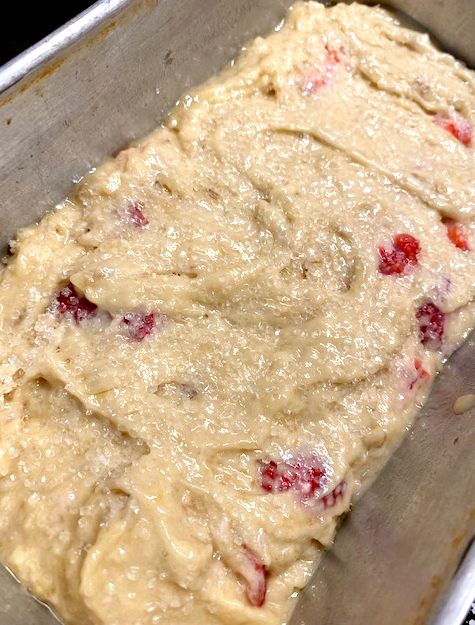 The recipe suggests a quick fifteen-minute bake in a hot oven to make the bread taller, then turn the oven down to 350 degrees to finish the baking.
Please make sure a toothpick or cake tester comes out clean when you poke it into the middle of the bread. If not, give it a few more minutes, and if the top is getting too brown, gently lay a sheet of aluminum foil on top of the loaf pan.
Place the loaf on a cooling rack and let the bread cool in the pan completely before taking it out. I sliced each loaf into sixteen delicious pieces.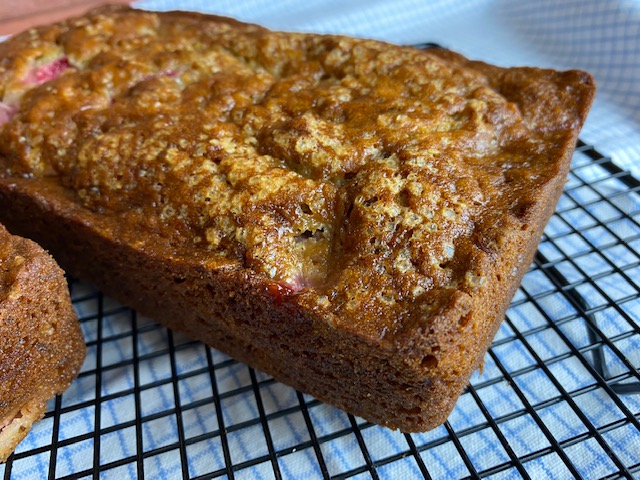 Does your family love banana bread? If they do, we think they will love this one. Here are two other good banana bread recipes to try, especially when you have speckled bananas to use! Jamaican Banana Bread, Chocolate Chip Banana Bread, Beckie's Blue Ribbon Banana Bread.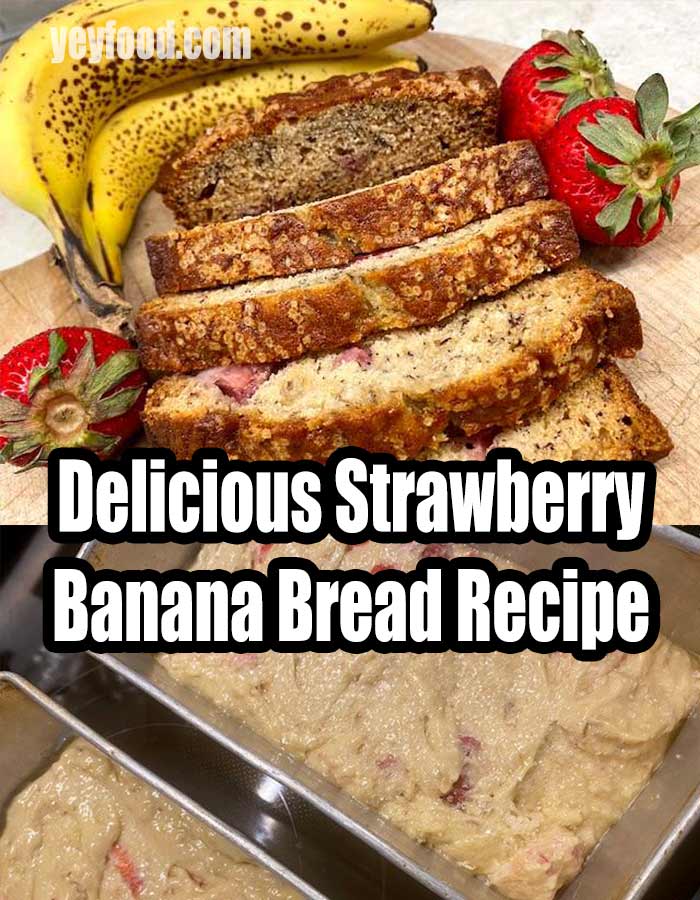 HERE ARE MORE DELICIOUS FAMILY-FRIENDLY RECIPES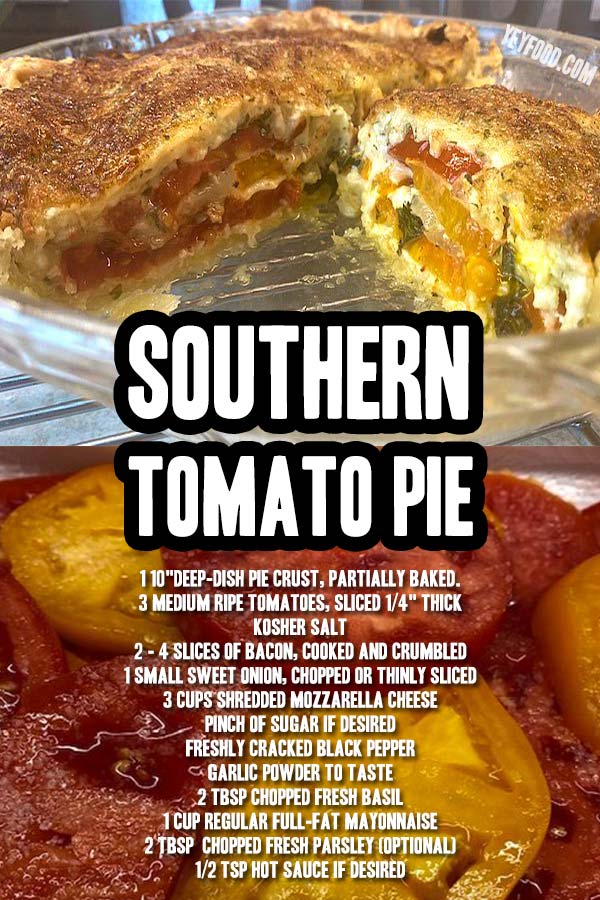 S'mores Bars How To Make Them Super Fast and Super Good
How To Make The White BBQ Sauce That's Fascinated Us Since 1925
German Sauerkraut Casserole With Bacon And Brown Sugar
If you like these recipes, you are our people! You can check some related articles below or search via categories on the right. But, be warned; you will be on here for hours. Enjoy!
So, please share this recipe on your social media accounts like Facebook, Instagram, Twitter, and Pinterest. We would be honored and ever so grateful; thank you!