Butternut Squash Pie Recipe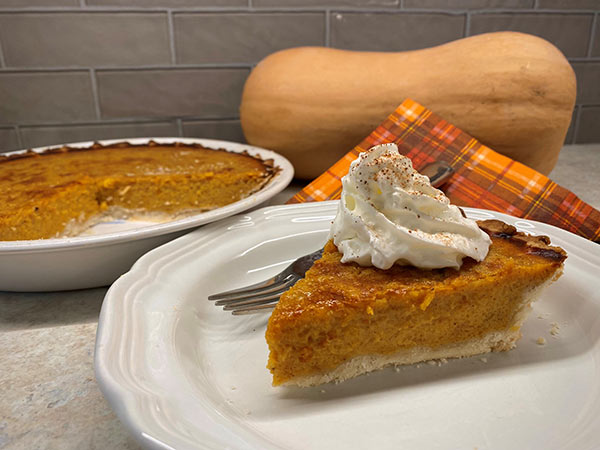 Move over, pumpkin. Butternut squash pie is the one getting the rave reviews! Brighter, sweeter, fresher, and made super creamy with sweetened condensed milk (did I mention the caramelly glaze that forms on top?), this is the pie everyone's talking about! This year, all eyes are on butternut squash as the hot new substitute for pumpkin!
And for a good reason! It tastes amazing! Even non-pumpkin-pie-eaters agree!
Butternut squash contains a bit more vitamin A and C than pumpkin and twice as much iron, and it's also a good source of magnesium, vitamin E, and potassium. Compared to pumpkin, it's somewhat higher in calories and complex carbs, but it contains more than twice the amount of dietary fiber.
About the carbs and calories? Take it easy; they're not your Average Joe carbs! Winter squash carbs have anti-inflammatory and antioxidant properties, as well as cholesterol and insulin-regulating properties. Are you convinced to try it? Let's bake!
A Patty Cake Pie Crust Is The Perfect Home For A Butternut Squash Pie
This recipe is the easiest pie crust you will ever make, and the recipe has been around for years. Once upon a time, it was called an oil-based crust. Now, it's more popularly called a no-roll piecrust because it's more descriptive and appealing, and you don't need cold butter, ice water, or a rolling pin! Hooray! You've got to love it!
The pie crust in the picture below was baked, but you will put the butternut squash filling mixture directly into the unbaked pie crust for this recipe.
If this seems like too much work for you, a refrigerated pie crust like Pillsbury will work in its place. The filling in this pie is the star of the show, along with copious amounts of whipped cream on top! It's Thanksgiving, after all!
Yield: 10 servings
Patty Cake Pie Crust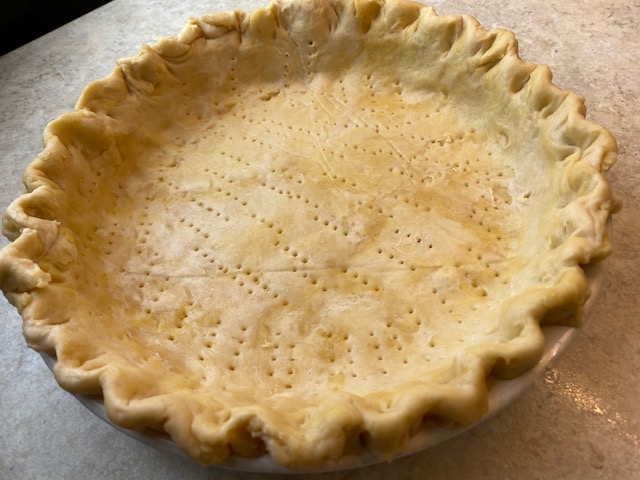 A quick and easy fool-proof pie crust recipe
Ingredients
1 3/4 cup all-purpose flour
1/2 tsp salt
1/2 cup vegetable oil
2 Tbsp water
1 Tbsp powdered sugar
2 drops yellow food coloring optional
Instructions
Combine all ingredients in a bowl and stir with a fork until all the flour is incorporated and the dough forms a ball.
Put the dough in the center of a 9" pie plate and using your hands, pat the dough gently into place.
You can flute the edges with your fingers.
If baking the crust without a filling, prick holes all over the bottom of the crust with a fork before baking.
Bake at 375 degrees until golden brown, about 12-15 minutes. Cool before filling.
Sweetened Condensed Milk Is The Secret To The Creamiest Pie On Earth
Most of us grew up with the pumpkin pie recipe that appeared on every can of Libby's brand pumpkin puree. That recipe was the gold standard of pumpkin pie, and all our mommas cranked them out at Thanksgiving. A while back, Libby's modified their old recipe for the first time in decades to include sweetened condensed milk.
There are mixed reviews on Libby's new recipe, but most people agree it's terrific! This recipe is a slightly rebellious version of the "new" pie recipe. We've left out the evaporated milk and the granulated sugar and added a bit of brown sugar to create a sensational, lightly caramelized coating on the top and a marvelously creamy center.
Yield: 8 servings
Butternut Squash Pie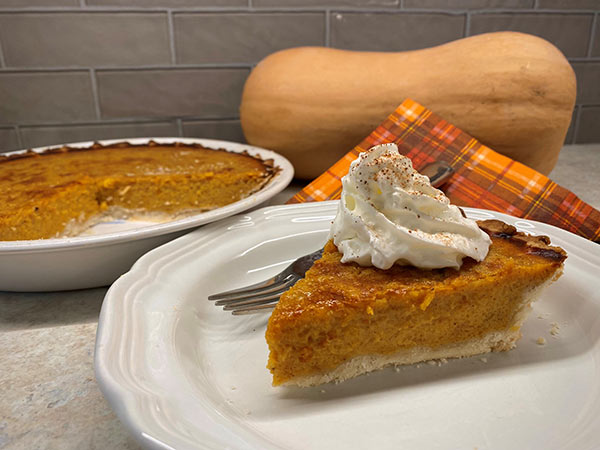 Better-than-pumpkin butternut squash pie has a creamy filling that's not overly sweet and forms a slightly carmelized layer on top.
Total Time
1 hour
10 minutes
Ingredients
One 9" unbaked pastry shell
2 cups pureed butternut squash
14 ounces sweetened condensed milk
2 large eggs
2 Tbsp brown sugar
1 teaspoon ground cinnamon
¼ teaspoon ground nutmeg
¼ teaspoon ground ginger
⅛ teaspoon ground cloves
½ teaspoon salt
Instructions
Preheat your oven to 425 degrees.
In a large bowl, whisk together the butternut squash puree, sweetened condensed milk, brown sugar, eggs, spices, and salt until smooth.
Pour filling into the pastry shell. If there is too much filling for the pie crust, bake the extra in a small greased casserole.
Bake on a middle shelf at 425 degrees for 15 minutes.
Turn the oven down to 350 degrees and continue to bake the pie for about 35 minutes longer, or until a knife inserted near the center of the pie comes out clean.
Allow the pie to cool completely before cutting.
Serve with plenty of whipped cream, a sprinkle of nutmeg is nice!
Cover and refrigerate leftover pie.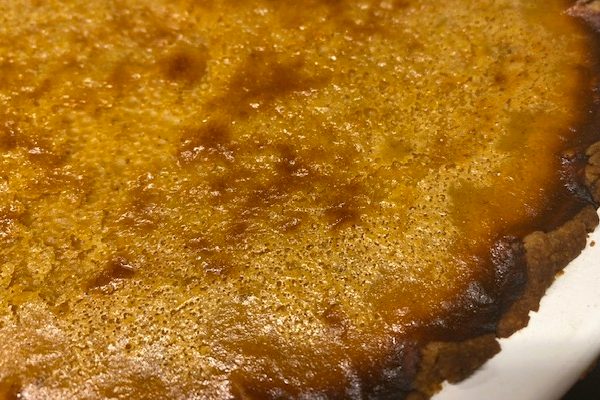 Butternut squash pie is easy to put together. When I made this one, I baked a fresh butternut squash until it was tender, then I scooped out the flesh with an ice cream scoop and pureed it. I ended up with more squash than I needed, so I used the extra to bake a cake!
You can also peel the squash, cut it into cubes like we do when cooking potatoes, then boil it until tender. After that, you will drain and mash the squash.
The Thoroughly Modern Millies out there have already discovered frozen butternut squash. It's peeled, cubed, and steamed, then quick-frozen and sealed in a bag, so it's a huge time-saver. You can use this in place of butternut squash you've labored over, but I haven't tried it myself.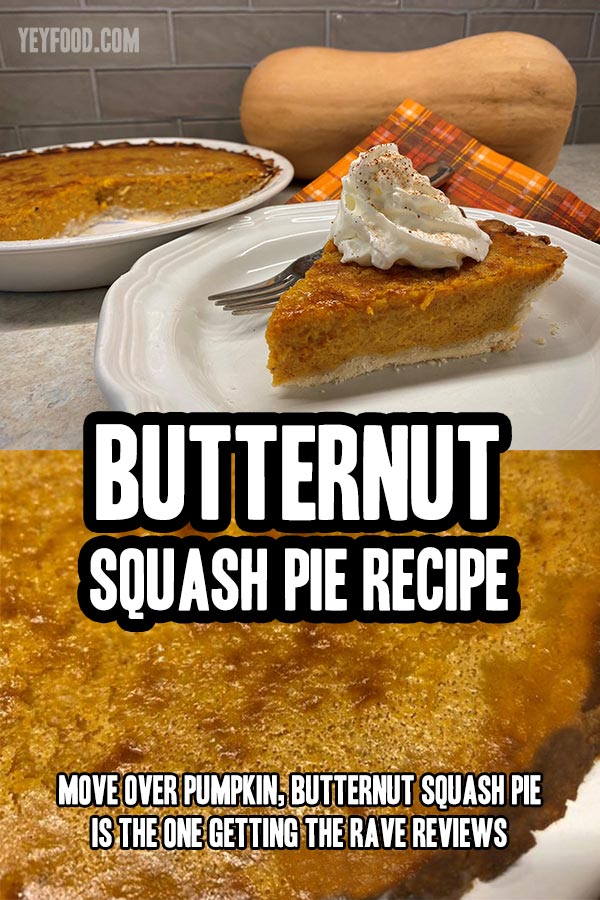 Have you discovered butternut squash for baking? I hope you have tried it and if you have a recipe using butternut squash to share, please, bring it on!
And while we're asking, do you have a favorite pie recipe? If you make this pie, how about taking a picture of you with your proud pie and sharing it with us? We would certainly be thankful, and after all, it is the season to give thanks!! We would be delighted to hear from you!
More recipes from us
S'mores Bars How To Make Them Super Fast and Super Good
Easy 1 Pan Classic American Goulash
German Sauerkraut Casserole With Bacon And Brown Sugar
If you like these recipes, you are our people! You can check some related articles below or search via categories on the right. But, be warned; you will be on here for hours. Enjoy!
So, please share this recipe on your social media accounts like Facebook, Instagram, Twitter, and Pinterest. We would be honored and ever so grateful; thank you!