Easy Butternut Squash Cake Recipe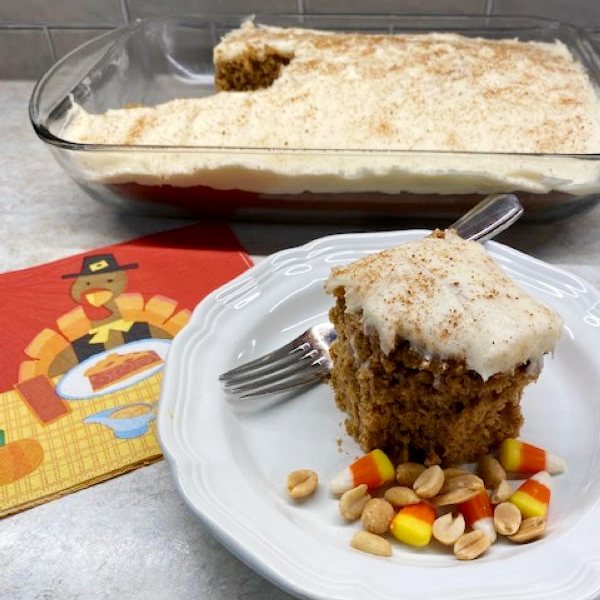 You should think about adding this butternut squash cake to your Thanksgiving dessert playlist! It's simply scrumptious, and everyone will "gobble it up," sorry, I can never resist a pun!
Butternut squash is this season's new pumpkin. Although the two are relatives in the Cucurbitaceae plant family, butternut squash certainly gives the old orange globes a run for the money!
Butternut Squash Tops Pumpkin For First Place In The Winter Squash Race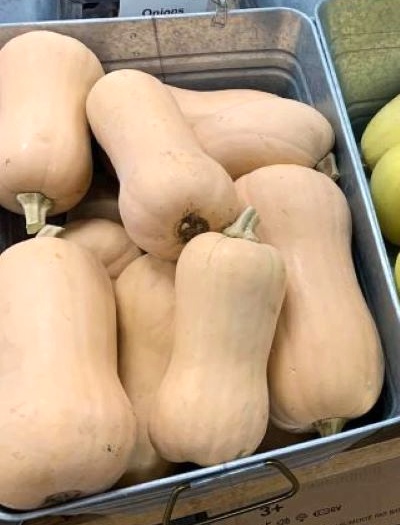 The beigy-looking exterior gives little clue to the dazzling contents of butternut squash! The old saying "you can't judge a book by its cover" certainly applies here. Look at the gorgeous heart that lurks beneath the unassuming but very tough skin.
One of the first things you notice is this squash's tidy efficiency in storing the seeds, all in the little round belly. It's quick and easy to scoop out the seeds, leaving you with loads of easily accessible meat!
Butternut squash contains a bit more vitamin A and C than pumpkin and twice as much iron, and it's also a good source of magnesium, vitamin E, and potassium. Compared to pumpkin, it's somewhat higher in calories and complex carbs, but it contains more than twice the amount of dietary fiber.
Most of the calories come from the carbs they contain, but they're not just any old carbs. Winter squash carbs have anti-inflammatory and antioxidant properties, as well as cholesterol and insulin-regulating properties.
It's all too-gourd-to-be-true, right?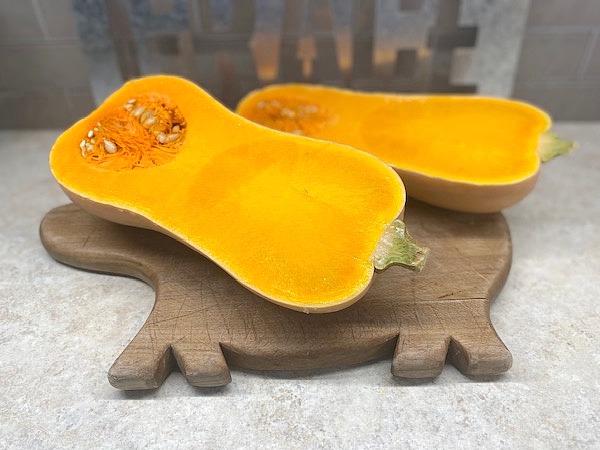 Here's How To Transform A Box Mix Into A Show-Stopping Cake
We've been watching The Great British Bake Off lately, now that our outdoor work has nearly ended. It is fascinating, very educational, and a hoot to watch. The Brits have a delightful way of expressing themselves, and we love it.
However, most of us do not have the discretionary hours to create the culinary masterpieces we see on the program. Give me something easy, fast, and delicious in our pedal-to-the-metal lives, and I come running every time. This recipe is one of those gold nuggets!
When you begin with a boxed cake mix, the object of the game is to add just enough time and a few extra ingredients to take it to a higher level of yumminess and visual appeal. Call it enhancing or "doctoring-up" the cake mix. You end up with a moister, larger cake with a decidedly more homemade taste.
Here we begin with a spice cake mix and add in milk, oil, squash puree, an extra egg, and a little more sugar and spices. The larger volume of cake explains the need for additional spices, and the outcome is amazing!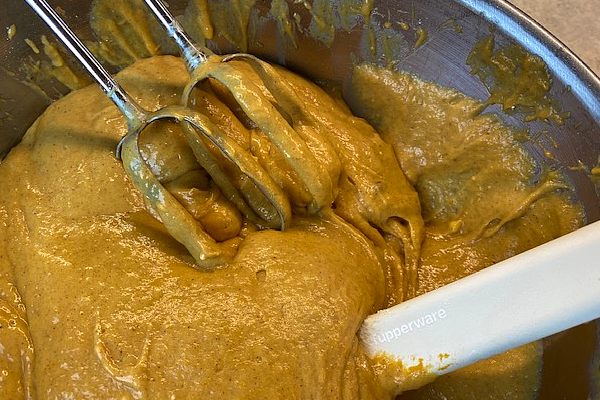 When you bake it in a time-saving 9″ x 13″ pan and top it with a thick layer of cream cheese frosting, it will yield sixteen servings of a moist and delicious rich cake. Then you'll have plenty of time left over to catch up on other fun stuff you'd rather be doing than slaving in the kitchen!
Yield: 16 servings
Butternut Squash Cake With Cream Cheese Frosting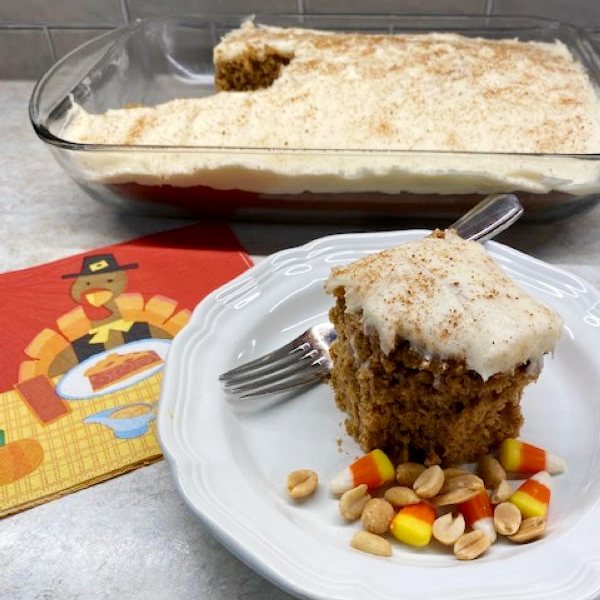 A quick and easy recipe that begins with a boxed spice cake mix and adds a few ingredients to create a moist and delicious fall dessert!
Additional Time
20 minutes
Total Time
1 hour
6 minutes
Ingredients
CAKE
1 boxed spice cake mix, about 15.25 ounces
3 large eggs
1 cup flour
1 cup milk
1/2 cup oil
1 cup butternut squash puree
1/2 cup sugar
1/4 tsp ground cloves
2 tsp cinnamon
1/2 tsp nutmeg
1/4 tsp ground ginger
1 recipe of cream cheese frosting (see separate recipe)
Instructions
Grease a 13" x 9" pan and set it aside
Preheat oven to 350 degrees
In a large mixing bowl, beat together the eggs, milk, butternut squash puree, and vegetable oil.
Add the flour, sugar, spices, cake mix, and sugar and beat at low speed until the ingredients are combined.
Bake at 350-degree for about 35 minutes or until the edges of the cake pull back slightly from the sides of the pan and a cake tester or toothpick comes out clean.
Allow the cake to cool completely before adding the cream cheese frosting.
Nutrition Information:
Yield:
16
Serving Size:
1
Amount Per Serving:
Calories:

194
Total Fat:

2g
Saturated Fat:

1g
Trans Fat:

0g
Unsaturated Fat:

1g
Cholesterol:

1mg
Sodium:

248mg
Carbohydrates:

42g
Fiber:

1g
Sugar:

22g
Protein:

3g
Cream cheese icing is a perfect topping for this cake because cream cheese has a bit of tang to it that plays well with the sweet cake. Cream cheese frosting also helps keep the cake moist for days. (If it would ever last that long!)
Add cinnamon or nutmeg (or both!) to the frosting if you want another layer of spice in the dessert. You can also add rum, bourbon, or Fireball for a fun twist, but you'll need to add more powdered sugar to get to a good spreading consistency.
Yield: enough for 24 cupcakes or a 13' x 9" cake
Cream Cheese Frosting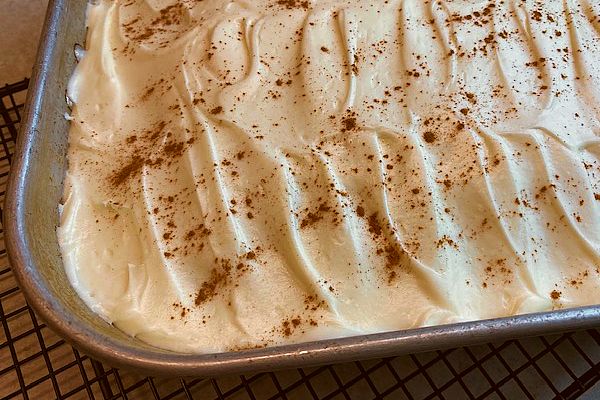 An easy cream cheese icing flavored with vanilla.
Ingredients
1 8-ounce block cream cheese, softened to room temperature
1 stick of butter (1/4 cup), softened to room temperature
1 tsp vanilla
3 to 4 cups of powdered sugar
Instructions
Beat butter and cream cheese together until light and fluffy; add vanilla and beat to combine.
Gradually add powdered sugar and beat until you achieve the desired spreading consistency. Various factors such as humidity, moisture, and fat content can vary the amount of powdered sugar you need.
Notes
Optional add-ins include cinnamon, nutmeg, ginger, or cloves in any combination you like. Use only about two teaspoons total. Start with less and add more until you have the level of flavor you want.
Add 1 to 2 tbsp of rum, bourbon, or Fireball to the frosting for a fun flavor element. You will need to add a little extra powdered sugar.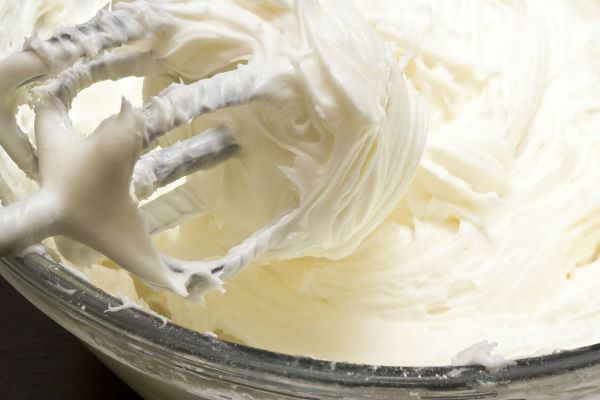 Here, I sprinkled some nutmeg on top for a simple but attractive garnish. Chopped salted peanuts might be a fun and crunchy topping too!!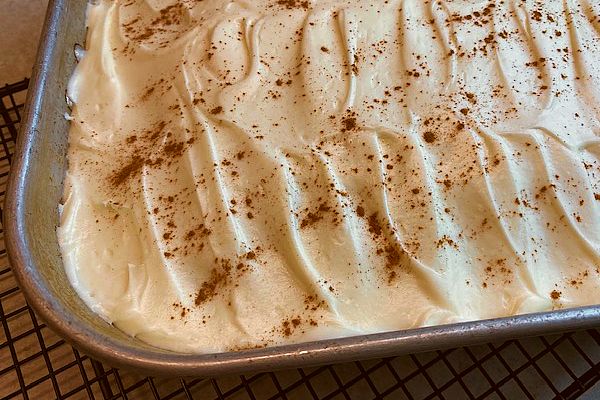 Have you discovered butternut squash for baking? I hope you have tried it and if you have a recipe using butternut squash to share, please, bring it on! And how about a way you use a cake mix to create a gorgeous dessert? We would be delighted to hear from you!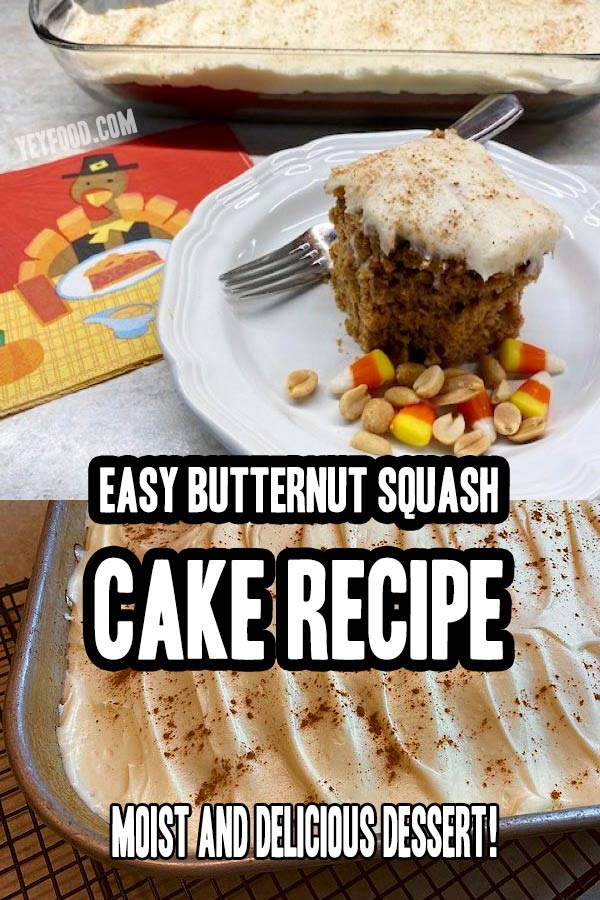 More recipes from us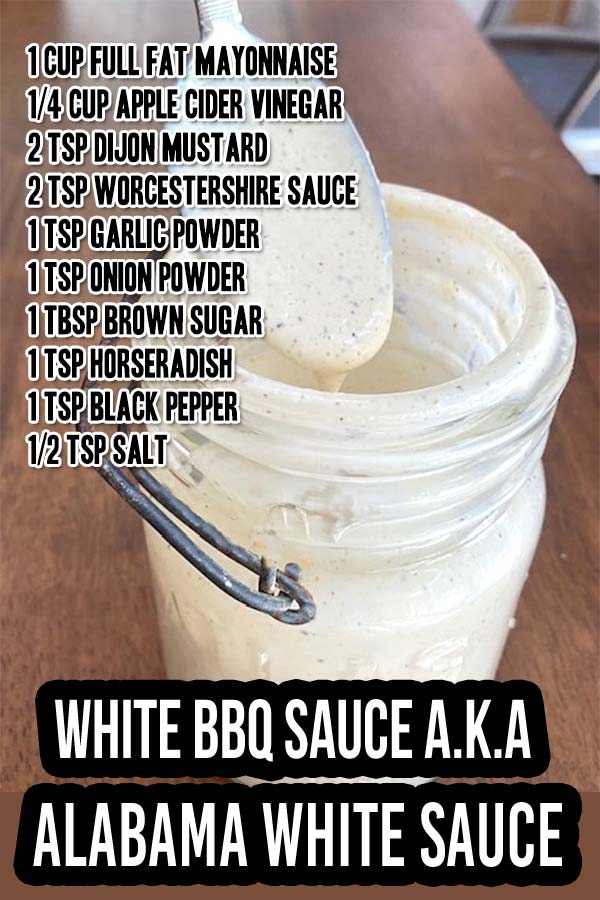 S'mores Bars How To Make Them Super Fast and Super Good
Easy 1 Pan Classic American Goulash
German Sauerkraut Casserole With Bacon And Brown Sugar
If you like these recipes, you are our people! You can check some related articles below or search via categories on the right. But, be warned; you will be on here for hours. Enjoy!
So, please share this recipe on your social media accounts like Facebook, Instagram, Twitter, and Pinterest. We would be honored and ever so grateful; thank you!