Cinnamon Streusel Cake With Chocolate Chips Recipe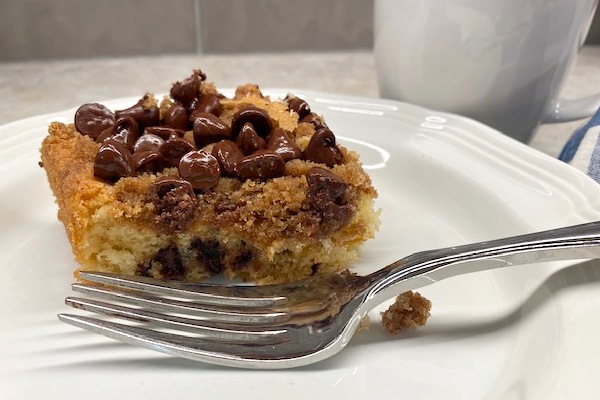 Our grandson's girlfriend suggested this cinnamon streusel cake when they visited this week. I love making a special meal for them when they are back in Nebraska, and I ask them to choose whatever they want me to serve! We don't see them as often as we'd like, so I want the meal to be memorable. ❤
Liz sent me a recipe, and it was one of those times I knew instantly from the description that this one was a winner! The cake is tender and moist because it has both sour cream AND buttermilk in the batter! Then, it's generously studded with chocolate chips and topped with a buttery cinnamon and brown sugar streusel.
Another lavish handful of MORE chocolate chips dots the top if that isn't enough yumminess in one pan. If this were basketball, it would be a three-pointer from half-court. In baseball, it would be a grand-slam home run. This amazing cinnamon streusel cake with chocolate chips ticks all the boxes.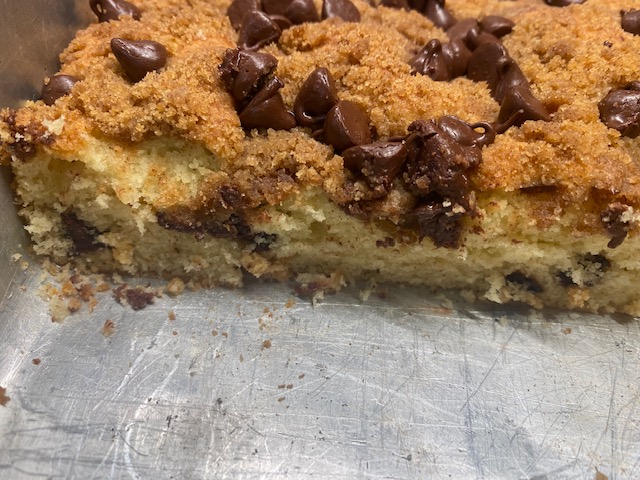 Does It Technically Matter If We Call It Cake Or Coffeecake
We eagerly ate this cinnamon streusel cake for dessert, warm and with vanilla ice cream. To us, it was cake. Really, really good cake.
A little research indicates this recipe would be classified as coffeecake because it has a streusel topping instead of frosting. That means it is faster to make because it comes out of the oven fork ready! What could possibly be wrong with that?
Cakes of this description are often called coffeecakes and served for breakfast or brunch, accompanied by coffee or another hot beverage such as tea or cocoa. In my opinion, I would happily eat it morning, noon, or night.
This is a dessert-worthy cake, especially with the generous topping of chocolate chips and a scoop of ice cream. I'll let you decide what to call it, but I confess I have eaten it for dessert, breakfast, and a snack. I think that makes it a cake for all seasons and certainly one that's appropriate for any time of day or night! Just gimme some cake!!
The Three Things That Make This Cake Batter So Amazing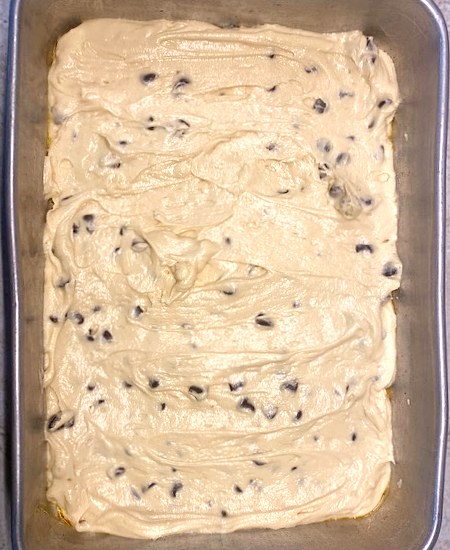 This from-scratch cinnamon streusel cake was bound for glory by whoever created it because it includes butter, sour cream, and buttermilk, all in the same fabulous cake batter. It's a trifecta of yumminess.
Nothing beats butter for adding rich flavor to a recipe, but the milk solids in butter evaporate during baking. A cake made with butter alone can dry out more quickly.
Sour cream adds fat and moisture without thinning the batter. Sour cream produces a cake with a very tender, very fine crumb and helps the cake stay moist longer.
Buttermilk adds a subtle tang to the flavor of baked goods. It contributes to the moistness and richness that makes tender cakes because its acidity tenderizes the gluten in the flour. Buttermilk aids in rising and gives baked goods a softer texture.
Then, stud that fantastic batter with a full cup of chocolate chips! Is there such a thing as a quadrifecta? If there is, this cake is it!
Put the batter into a greased thirteen by nine-inch pan and spread it evenly to the edges.
Top Your Creation With A Buttery Cinnamon Brown Sugar Streusel
Mix cold butter, brown sugar, and flour with a heaping spoonful of cinnamon, and use a pastry cutter or your clean fingers to combine it all until the mixture is all crumbly and looks like coarse sand. Sprinkle the streusel evenly over the cake batter.
And then, the pièce de résistance! Reach into that bag of chocolate chips. You should have about a cup left. Sprinkle every last one over the top of the streusel before you pop it into a 350-degree oven for about 35-40 minutes. Poke a toothpick or cake tester into the center of the cake. There should be no batter clinging to the tester.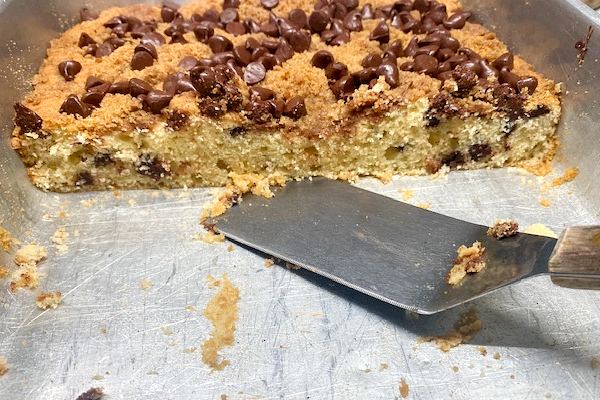 Yield: 16 servings
Cinnamon Streusel Cake With Chocolate Chips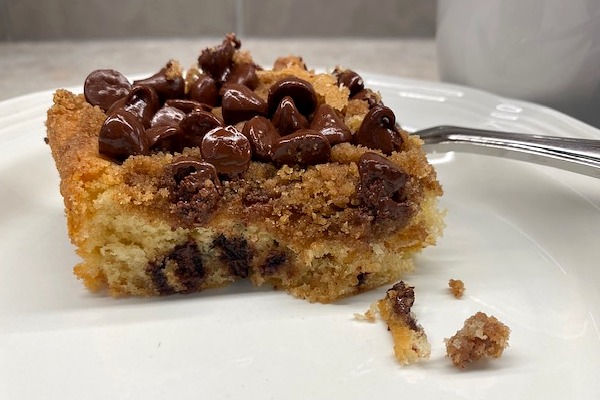 Here is a recipe for a tender, moist cake studded with chocolate chips and topped with a buttery cinnamon streusel topping and even more chocolate chips.
Ingredients
CAKE
2 cups flour
3/4 cup granulated sugar
1/3 cup brown sugar, packed
1 tsp salt
1/4 tsp baking soda
1 1/2 tsp baking powder
1/2 cup butter
2 large eggs
1/4 cup buttermilk
3/4 cup sour cream
1 tsp vanilla
1 cup semi sweet chocolate chips, don't skimp on quality!
TOPPING
4 Tbsp cold butter, cut into pats
1 1/2 tsp cinnamon
1/2 cup flour
2/3 cup brown sugar, packed
1 cup semi sweet chocolate chips (or what ever is left in the 12-ounce bag)
Instructions
CAKE
Preheat the oven to 350 degrees and grease a 13" x 9" baking pan.
Cream the butter and sugars.
Add the eggs, buttermilk, and sour cream and beat well until smooth and creamy.
Beat in the salt, baking soda, and baking powder and blend well.
Gradually beat in the flour until well mixed.
Fold in chocolate chips and smooth the batter evenly into the greased pan.
TOPPING
Use a pastry cutter or your clean fingers to combine the brown sugar, flour, cinnamon, and butter.
Mix until it is crumbly and it looks like coarse sand.
Sprinkle evenly over the cake batter.
Sprinkle chocolate chips evenly over the streusel.
Bake at 350 degrees for 35 to 40 minutes until a cake tester comes out clean.
Try to wait until it is cool to devour.

Do you love cake? We love cake! That makes us friends, right? Here are some of our very favorite cakes we think you will enjoy! Maybe you will find a new one here! Pig Pickin' Cake, Banana Cake With Burnt Sugar Frosting, Chocolate Cupcakes With Raspberry Buttercream. Want more? Just search Cakes!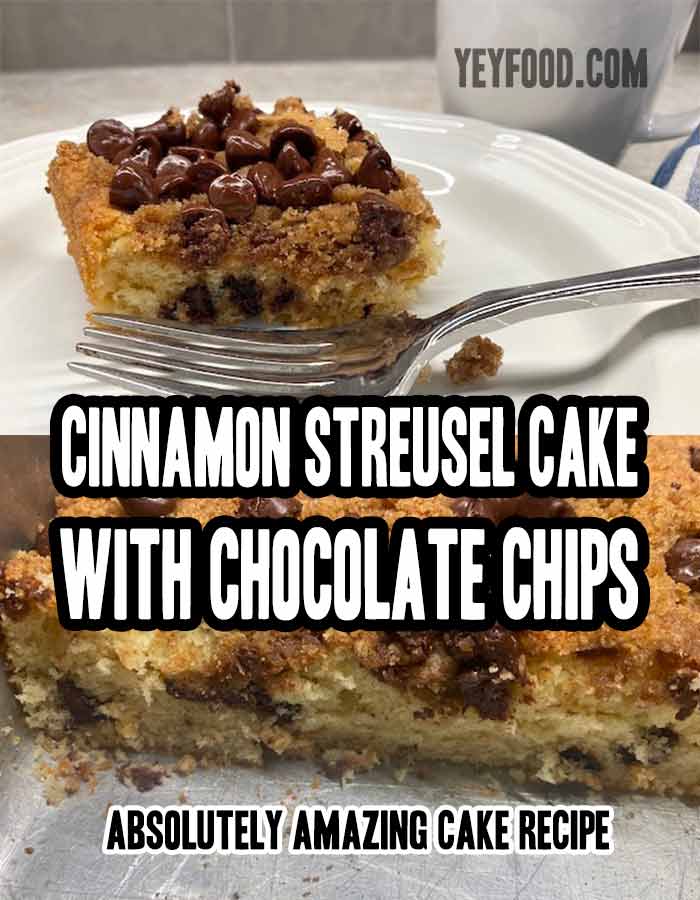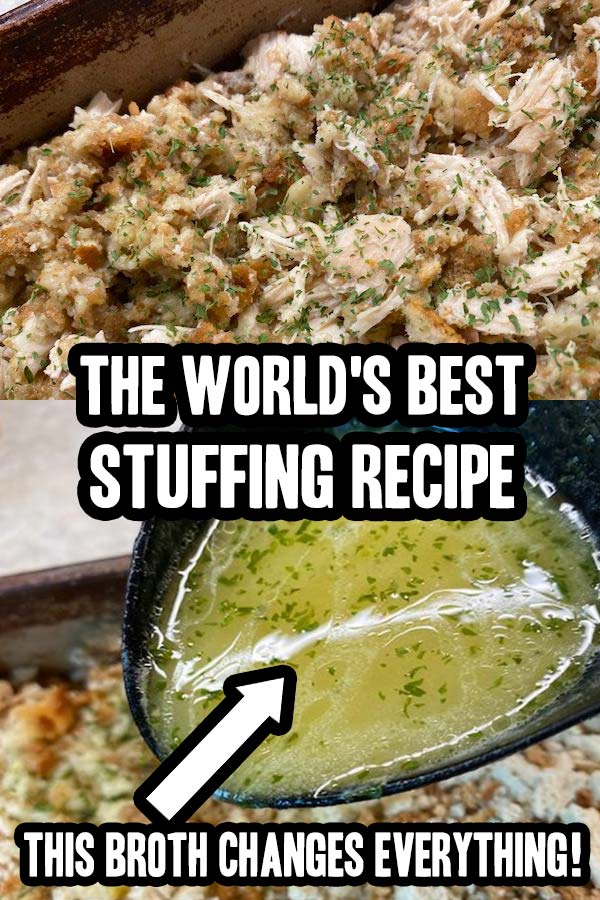 Easy 1 Pan Classic American Goulash
German Sauerkraut Casserole With Bacon And Brown Sugar
If you like these recipes, you are our people! You can check some related articles below or search via categories on the right. But, be warned; you will be on here for hours. Enjoy!
So, please share this recipe on your social media accounts like Facebook, Instagram, Twitter, and Pinterest. We would be honored and ever so grateful; thank you!