FAST Chicken Fajitas With Rice Recipe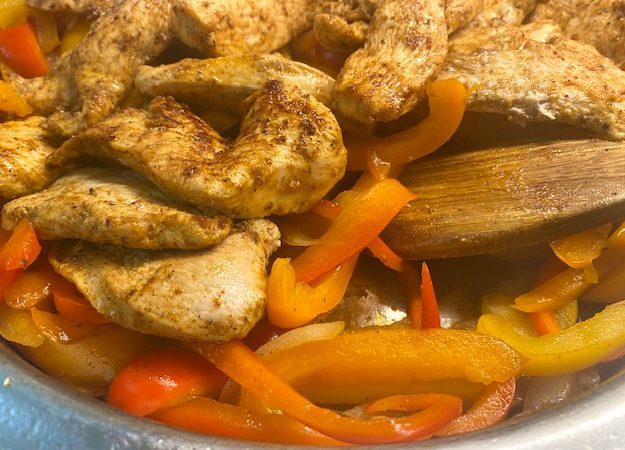 When a sizzling platter of chicken fajitas zips by your table in a Mexican restaurant, the tantalizing aroma makes you think, "Darn it, I should have ordered those!" Nothing gets your taste buds tingling like that smell!
You can knock out delicious chicken fajitas at home fast enough to make them on a weeknight! Whip up a ridiculously simple but amazing side of rice to go with them, and you may always want to make this meal at home!
Two of our grandkids came to supper recently because their parents were out of town. Granddaughter Breck requested fajitas because it was Cinco de Mayo. I had never made fajitas before, so I took it as a challenge!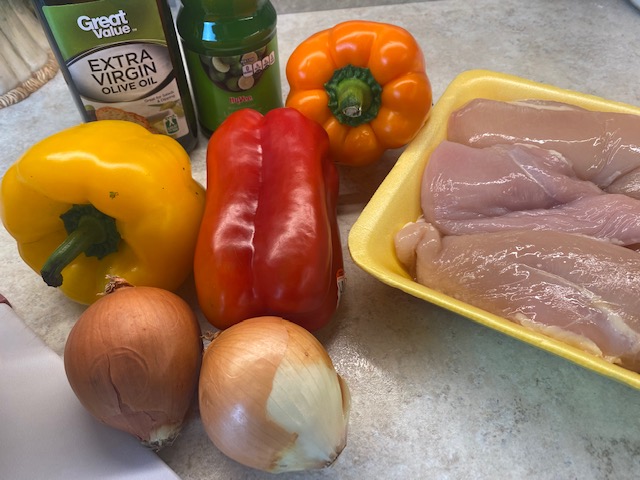 Begin with boneless, skinless chicken breast, onion, and peppers, any color you like. Slice the chicken into thin strips and toss it in a bowl with lime juice, olive oil, chili powder, smoked paprika, onion powder, black pepper, garlic powder, salt, and cumin. A quick bath in the olive oil and spice mixture, and the chicken is ready to sizzle in the skillet.
While the chicken soaks up all the goodies, slice peppers and onion into thin strips so they are ready to cook.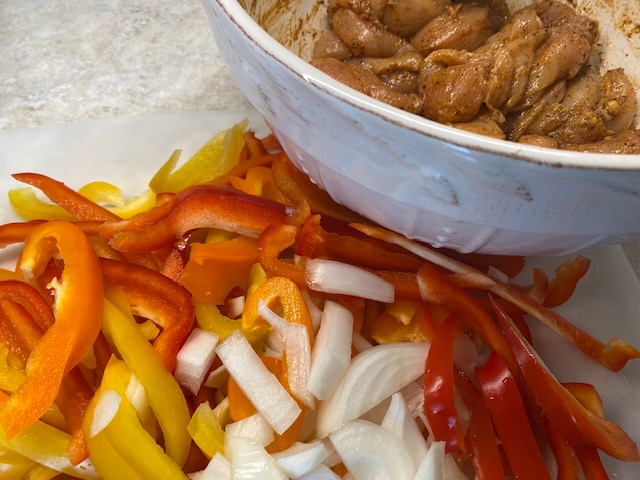 Start by browning half of the seasoned chicken in one tablespoon of olive oil in a skillet on medium-high heat. Don't crowd the chicken. I used my electric skillet because it's the biggest one I have.
Flip once, so both sides are cooked and browned. Remove from the skillet and set aside while you cook the other half. When the second half of the chicken is done, set it aside, too. This step should only take six or seven minutes.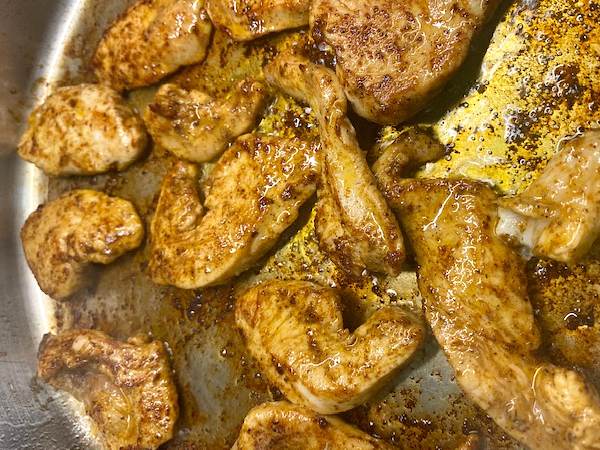 Now add another tablespoon of olive oil to the same skillet and cook the peppers and onion for two or three minutes, until they become tender and soft.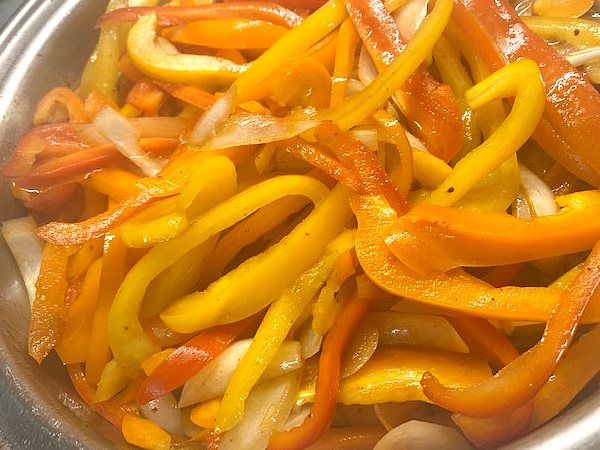 Finally, add the chicken to the skillet with the peppers and onion, drizzle with the remaining lime juice, and stir so they are evenly combined.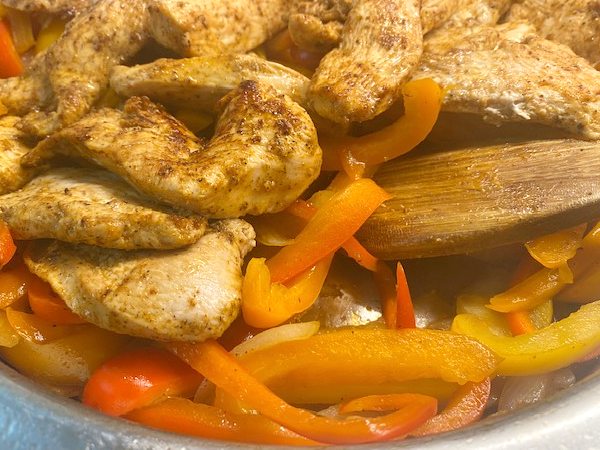 You can start the rice while the chicken is browning; it takes very little attention. Begin by putting the olive oil and spices in a heavy four-quart saucepan with a tight-fitting lid. Cook and stir them for about two or three minutes to let all the spices get better acquainted.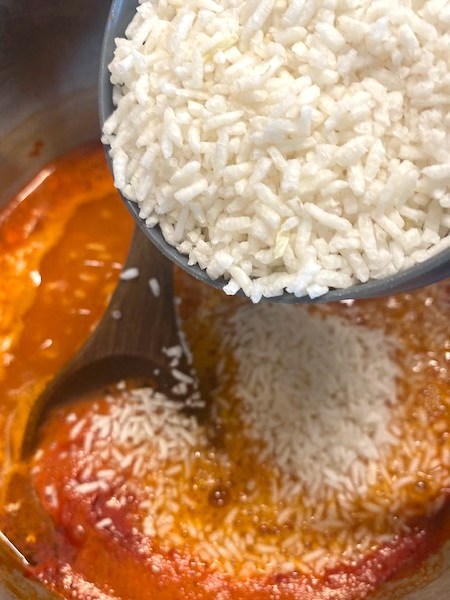 It's okay to adjust the spices to suit your tastebuds. If you're like me and think cilantro tastes like soap😜, you can leave it out completely! (My kids adore cilantro!) The heating and stirring process is important to great flavor!
Now add the water and tomato sauce to the saucepan and bring the mixture to a boil while stirring it a time or two. Once the water boils, dump in the uncooked rice, get it back to a boil, cover the pot tightly, and turn off the burner.
The tight-fitting lid is important so all the steam stays inside the pot, making the rice absorb the liquid and become soft and tender. The yummy rice will be ready to eat in about five minutes.
Yield: 4 servings
Easy Spanish Rice With Instant Rice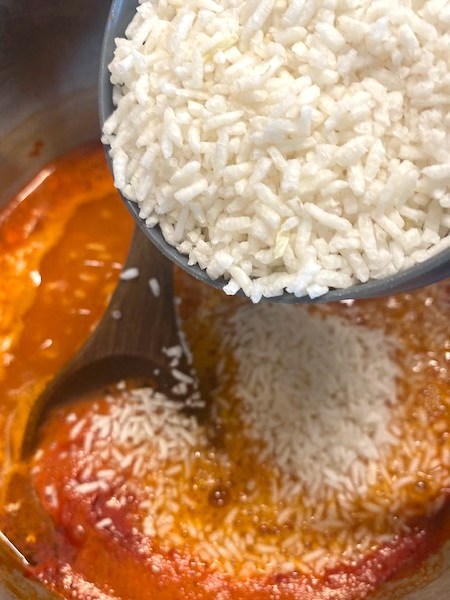 Nicley seasoned Spanish rice made with instant rice for a tasty and speedy side dish.
Ingredients
1 Tbsp olive oil
1 tsp garlic powder
1 tsp onion powder
1 tsp ground cumin
1 tsp salt
2 Tbsp fresh cilantro, finely chopped
1 cup tomato sauce
2 cups water
2 cups uncooked instant white rice
Instructions
Heat olive oil over medium heat in a large saucepan with a tight-fitting lid.
Add garlic powder, onion powder, cumin, salt, and cilantro. Cook over medium heat for one or two minutes, stirring occasionally.
Add tomato sauce and water. Increase heat to medium-high and bring to a boil.
Add uncooked rice and bring back to a boil.
Cover the pan tightly and turn off the burner.
Let rice sit covered for 5 minutes until all the liquid is absorbed.
Typically, we fold chicken fajitas into warm flour tortillas. We heated our tortillas in the microwave one or two at a time because there was a feeding frenzy among the grandkids (one extra grandson showed up for supper ❤!), and we didn't all sit down together! The hungry boys liked shredded cheddar cheese, sour cream, and salsa with their rice on the side.
Yield: 4 servings
Fast Chicken Fajitas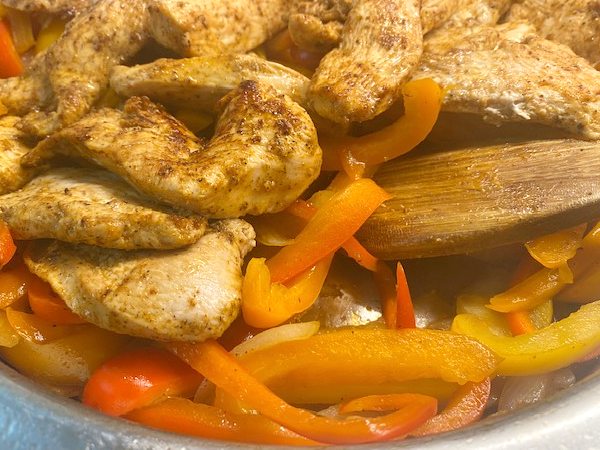 This recipe for delicious chicken fajitas is fast and easy enough to make on a weeknight.
Ingredients
3 large boneless, skinless chicken breasts, cut into finger-width strips
1 medium onion, slivered
3 bell peppers, any color, cut in narrow strips
3 Tbsp of olive oil
2 Tbsp lime juice or juice of one lime, divided
1 tsp chili powder
1/2 tsp smoked paprika
1/2 tsp garlic powder
1/2 tsp onion powder
1/2 tsp pepper
1/2 tsp cumin
1/2 tsp salt or to taste
Flour tortillas
Condiments that you like; salsa, shredded cheese, sour cream, chopped tomatoes, or shredded lettuce, optional.
Instructions
Put one tablespoon of the olive oil, one tablespoon of the lime juice, and the spices into a bowl and stir. Add the chicken and stir well.
Let the chicken sit while you slice the peppers and onions.
Put one tablespoon of the olive oil in a skillet and cook half the chicken for two or three minutes, flipping once, so both sides are nice and brown.
Set browned chicken aside and cook the second half the same way. Set it aside, too.
Add one tablespoon of olive oil to the same skillet and cook the peppers and onion for two or three minutes, until they are tender and fragrant.
Add cooked chicken to the pepper/onion mixture, drizzle with the remaining tablespoon of lime juice, and stir to combine.
Warm flour tortillas, and add the meat, veggies, and desired condiments inside. Fold up and enjoy!
Serve with Spanish rice for a delightful side dish.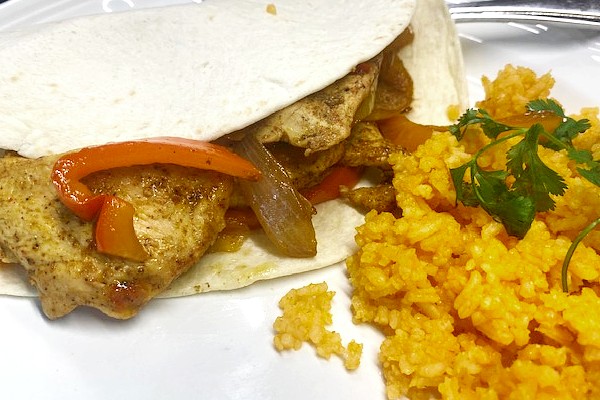 After your fabulous fajita feast, you may crave something sweet! Some of our favorite light desserts would be perfect with this menu; Pig Pickin' Cake, Cool Pistachio Dessert, and No-Bake Layered Lemon Dessert.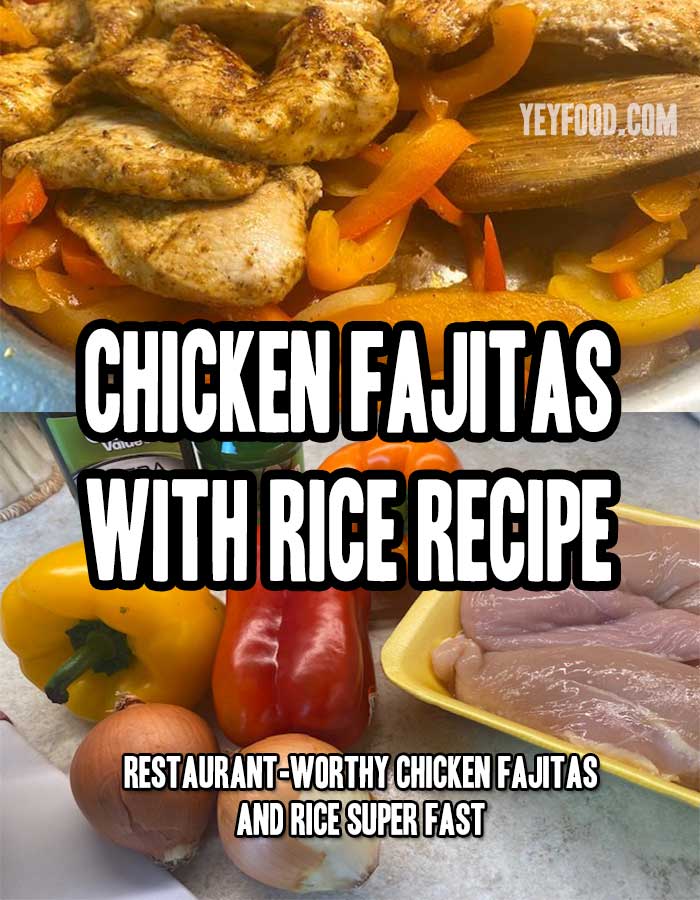 Do you make Mexican food at home? Do you have a Taco Tuesday at your house? What are some of your favorite dishes? We'd love to hear from you if you do, and pictures are always the biggest treat for us!😉
MORE RECIPES FROM US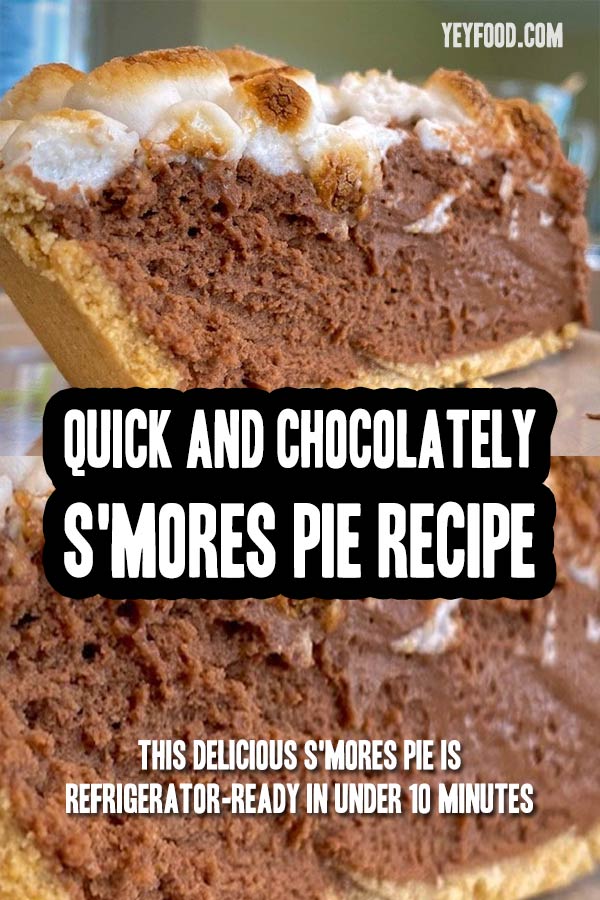 S'mores Bars How To Make Them Super Fast and Super Good
How To Make The White BBQ Sauce That's Fascinated Us Since 1925
German Sauerkraut Casserole With Bacon And Brown Sugar
So, please share this recipe on your social media accounts like Facebook, Instagram, Twitter, and Pinterest. We would be honored and ever so grateful; thank you!