Yummy Dr Pepper BBQ Sauce Recipe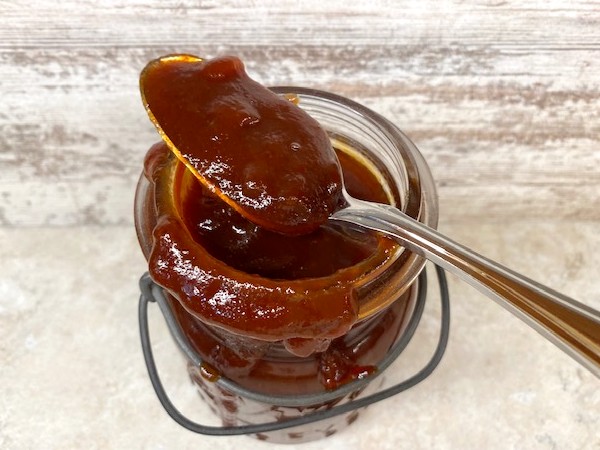 I'm not sure what made me decide to make Dr Pepper BBQ sauce, but I am so glad I did because it is absolutely amazing! It's thick, sweet, and sticky and will be perfect on chicken and ribs. This time, I'm putting little meatballs in it and serving them as an appetizer, but I can easily think of a dozen ways I will use it!
You see, I absolutely can't stand Dr Pepper. I gave up soda years ago, but I never could drink the stuff. Dr Pepper was invented in Waco, Texas, in the 1880s. It was created by pharmacist Charles Alderton and was first served around 1885. Dr Pepper was first nationally marketed in the United States in 1904. It's been around for over a hundred years.
Take a look at this easy recipe for Dr Pepper Pulled Pork. I was drawn to it by the intriguing 23 flavors and the fruitiness of the taste. I thought this intriguing flavor combo would lend itself well to barbecue.
There are legions of hardcore Dr Pepper fans. They often speculate that twenty-three flavors might be amaretto, almond, blackberry, black licorice, caramel, carrot, clove, cherry, cola, ginger, juniper, lemon, molasses, nutmeg, orange, prune, plum, pepper, root beer, rum, raspberry, tomato, and vanilla. No one will ever know for sure.
The other thing I really like about this sauce is that the rest of the ingredients are things I always have on hand, except for Dr Pepper! Finally, I am happy to have found a sauce our granddaughter can enjoy with no gluten, no dairy, and no soy! It's a triple win!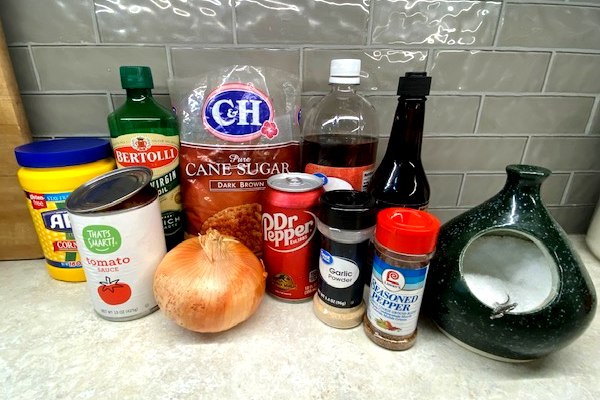 You can easily make this in a large, heavy pot like a Dutch oven on your stovetop. The relatively high sugar content suggests you must stir it often and watch toward the end of the cooking time so it doesn't burn.
It was ninety-eight degrees when I made this sauce, so I used my Instant Pot. I had never tried the slow cooking setting, and I thought it was a good time to try it! I set the Instant Pot to saute and sauteed the diced onions in the olive oil until they were lightly brown on the edges.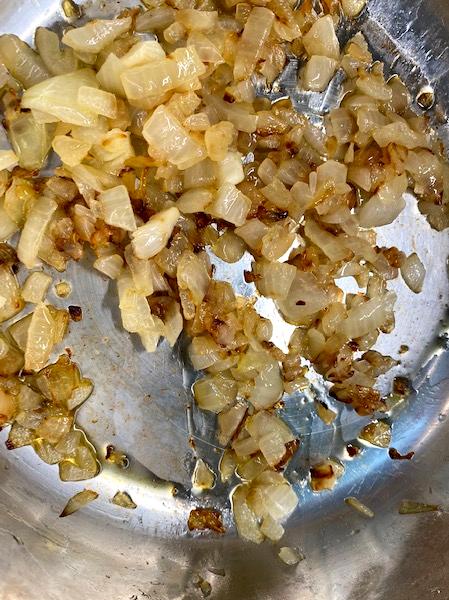 Next, I added the rest of the ingredients, changed the setting to slow cook, and returned to my computer. I would take a peek and give it a stir whenever I wandered through the kitchen, and after about three hours, it had cooked down to about two cups of sauce. Wow! This sauce was so easy, and the whole house smelled amazing!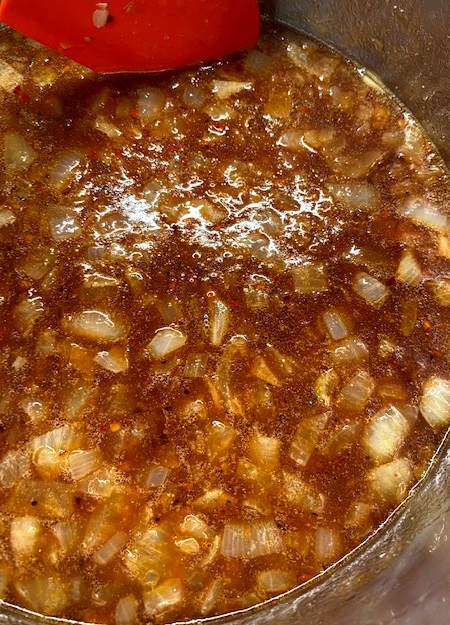 Finally, I switched the Instant Pot back to saute, and when the sauce began to bubble, I stirred the cornstarch into the cold water and dribbled it into the sauce as I stirred until it was the consistency I wanted. I did not need the whole amount.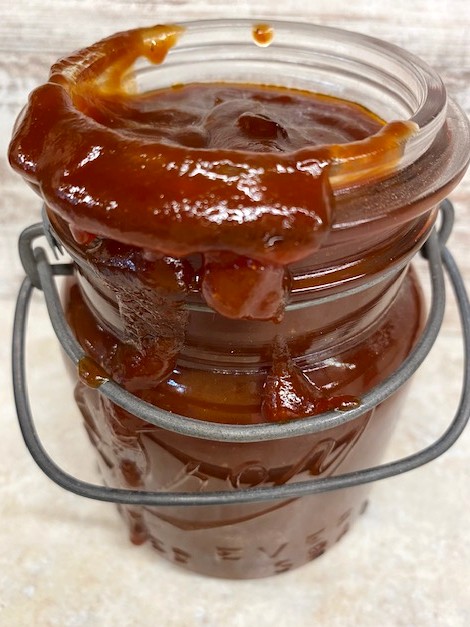 I poured the sauce into a cute old jar and stuck it in the fridge. We celebrated our daughter's birthday a few days later, and I poured the sauce over a bag of frozen meatballs in a little crock pot. It was such a tasty little appetizer on the huge charcuterie board we made for her special day!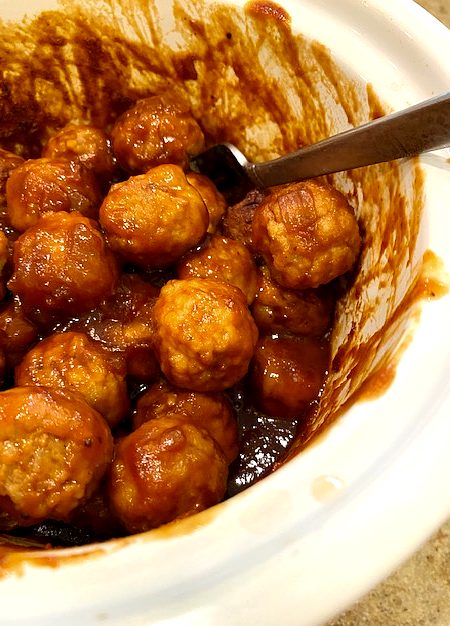 Here is a sauce I will make again and again because it is so good and so easy. Who wouldn't love a pint jar of Dr Pepper BBQ sauce for Christmas? It will be perfect on pulled pork sandwiches, ribs, brisket, or chicken!
Yield: 2 cups
Dr Pepper BBQ Sauce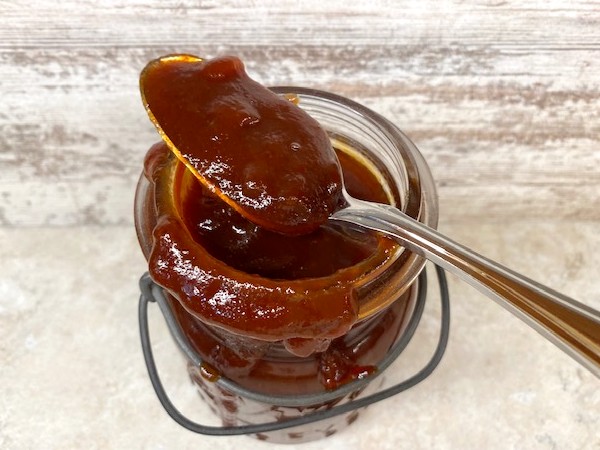 Dr Pepper BBQ is sweet, sticky, and thick. One can of soda plus pantry ingredients add up to a great sauce for pork or chicken. One recipe makes the perfect amount of sauce for a bag of frozen meatballs! It makes the yummiest appetizer!
Ingredients
1 Tbsp olive oil
One half of a sweet onion, diced
One 12-ounce can of regular Dr Pepper
One 15-ounce can of tomato sauce
3/4 cup dark brown sugar, packed
1/4 cup apple cider vinegar
2 Tbsp Worcestershire sauce
1 tsp kosher salt
1/2 tsp seasoned pepper like Lawry's
1 Tbsp corn starch
1/3 cup water
Instructions
Saute onion in olive oil until lightly browned.
Add all the rest of the ingredients and stir until well blended.
Cook over medium heat, occasionally stirring until sauce thickens.
Watch closely toward the end of the cooking time, so the sauce doesn't burn. The sugar content makes this a possibility.
Dissolve cornstarch in cold water and add as needed to the bubbling d=sauce until it reaches the consistency you want.
Notes
I used my Instant Pot for the whole process. I sauteed the onions on the saute setting and switched to the slow cooker setting. I let the sauce cook on low for about 3 hours; I stirred it from time to time and then used part of the cornstarch mixture to thicken it a little bit.
Sauces, especially homemade sauces, add so much flavor to all meats! Here are some of our most popular sauces. We hope you will try them all! Mississippi Comeback Sauce, White BBQ Sauce, Fresh Cranberry and Orange Sauce, Homemade Teriyaki Sauce, Homemade Tartar Sauce.
Do you have a favorite sauce you make? We'd be thrilled if you'd share it with us!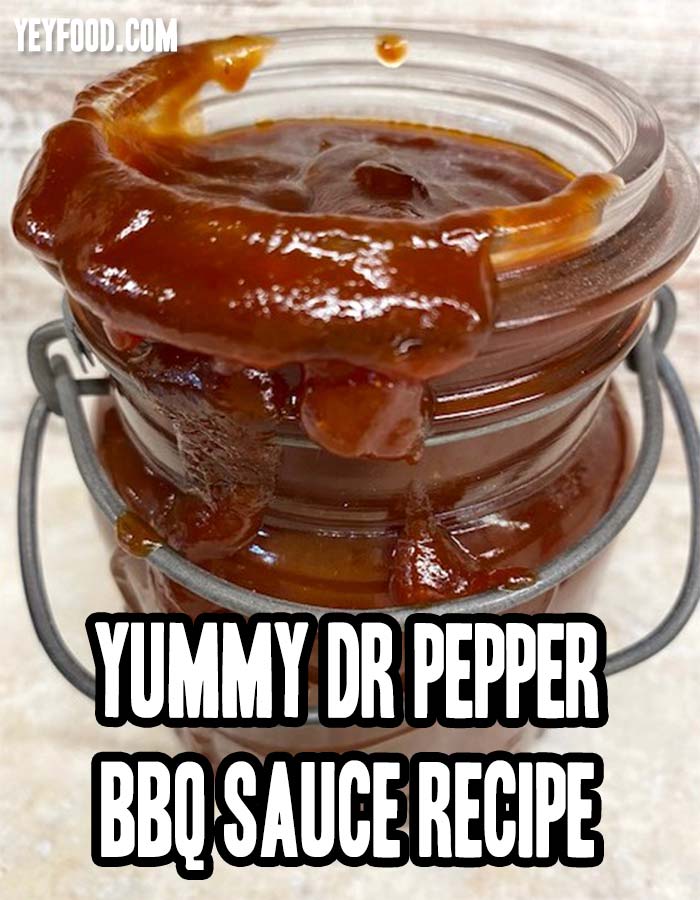 MORE RECIPES FROM US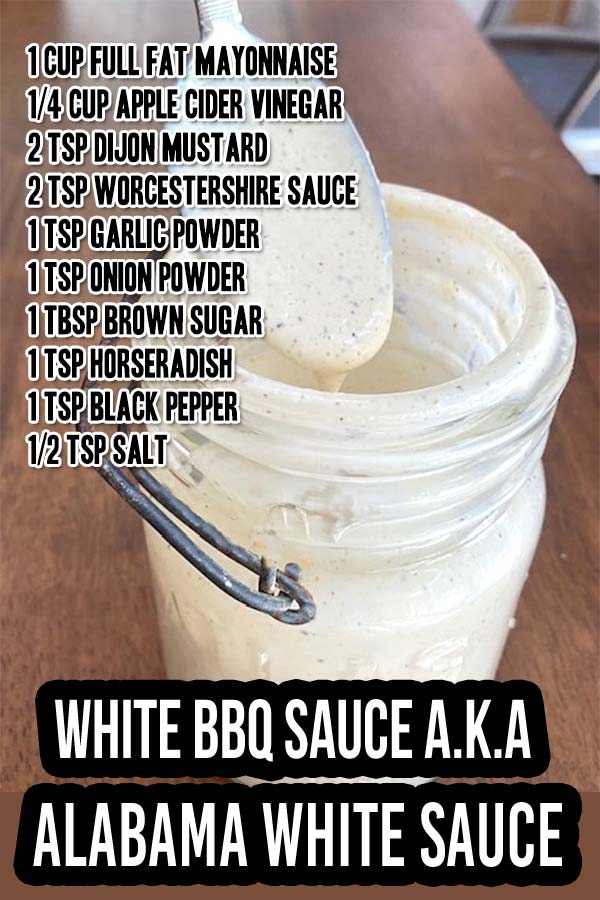 4 Reasons You Should Freeze Some Sweet Corn This Summer
Sloppy Joes Have Been Delighting Diners For Almost 100 Years
German Sauerkraut Casserole With Bacon And Brown Sugar
If you like these recipes, you are our people! You can check some related articles below or search via categories on the right. But, be warned; you will be on here for hours. Enjoy!
So, please share this recipe on your social media accounts like Facebook, Instagram, Twitter, and Pinterest. We would be honored and ever so grateful; thank you!