Fun Size Strawberry Pretzel Parfait Recipe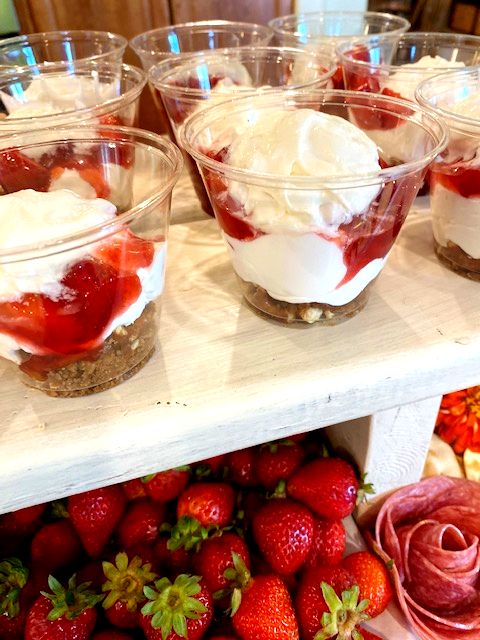 Whether you call it a dessert or a salad, strawberry pretzel salad/dessert is a huge crowd pleaser, a Midwestern classic. It ticks all the boxes; sweet, creamy, crunchy, and salty. But, It can be a little tricky to get the jello topping to set perfectly, anyone?
This individual-size grab-and-go version uses strawberry pie filling instead and loads of fresh strawberries, meaning there's no jello to mess with, and you don't wait for anything to set!
You can make one at a time, a dozen, or thirty like I did for a large charcuterie table earlier this week. I used SOLO brand nine-ounce clear flare cups because they are easy to fill and a good shape for reaching every last bite!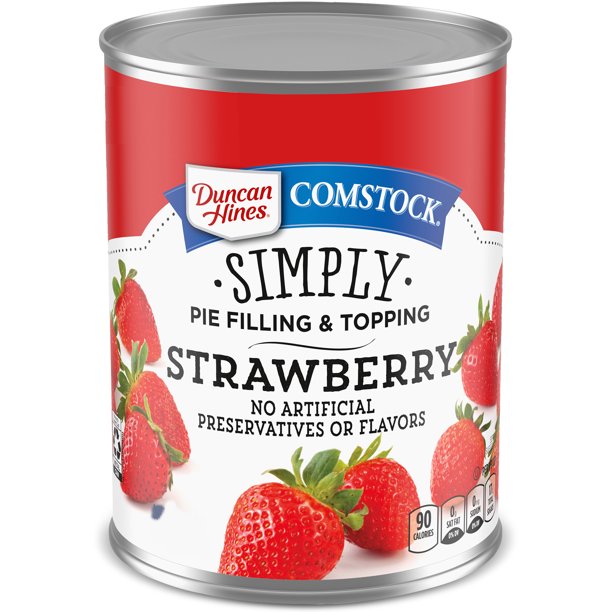 In our family, strawberry pretzel salad/dessert is a requirement whenever we all get together for a shared meal. Our daughter usually needs to make two full pans because all the kids devour it!
This easy, portable version will be a neat and tidy way to serve their beloved favorite. These individual parfaits have all the flavors and textures you love in the original without the hassle, and they are just so stinkin' cute!
Here's How To Make Easy Strawberry Pretzel Parfaits
The crust recipe is exactly the same as the original, with butter, brown sugar, and crushed mini pretzel twists. Begin by making this yummy, crunchy pretzel layer. Bake it on a sheet pan at 350 degrees for about fifteen minutes, occasionally giving it a stir. When it's nice and crisp after cooling, break it into pieces and set it aside.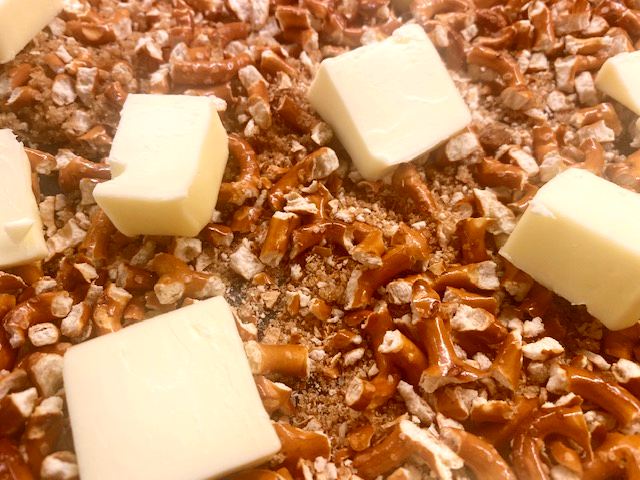 Next, wash, hull, and slice fresh strawberries and stir them into the canned pie filling. Put this mixture into the refrigerator while you make the creamy layer.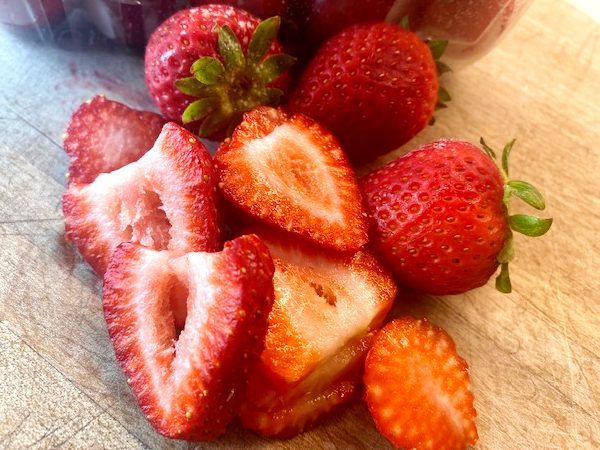 Beat softened cream cheese with sugar until light and fluffy, then gently fold in the defrosted whipped topping. Refrigerate this mixture until you are ready to assemble your parfaits.
I suggest you assemble the parfaits the day you will eat them. The whipped cream topping tends to wilt, and the pretzels aren't quite as crisp the next day, but they still taste great! It's so easy to make up more as needed.
You can make each part a day or two ahead until you are ready to assemble the parfaits.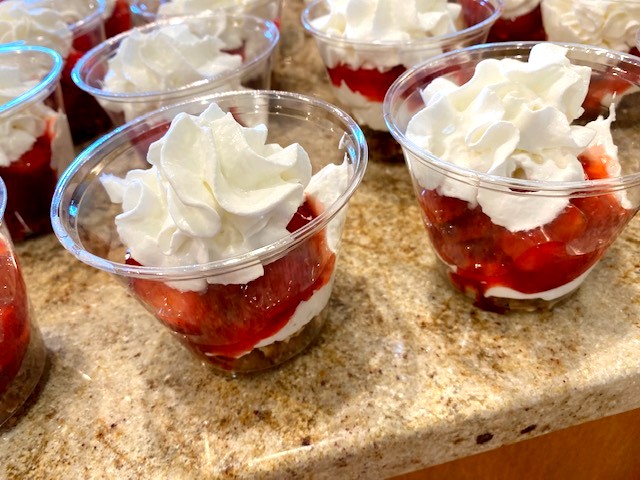 To assemble the parfaits, put about two heaping tablespoons of the pretzel mixture in the bottom of the cup. Spoon about one-third of a cup of the creamy filling on top of the pretzels. Now add about the same amount of the strawberry mixture to each cup.
Finally, give each parfait a curlicue of whipped cream topping. I used the aerosol kind of real whipped cream, but you can whip your own homemade whipped cream or use Cool Whip on top. Garnish with a mini pretzel or a whole berry if you feel fancy!
Yield: 30 individual cups
Fun Size Strawberry Pretzel Grab and Go Parfaits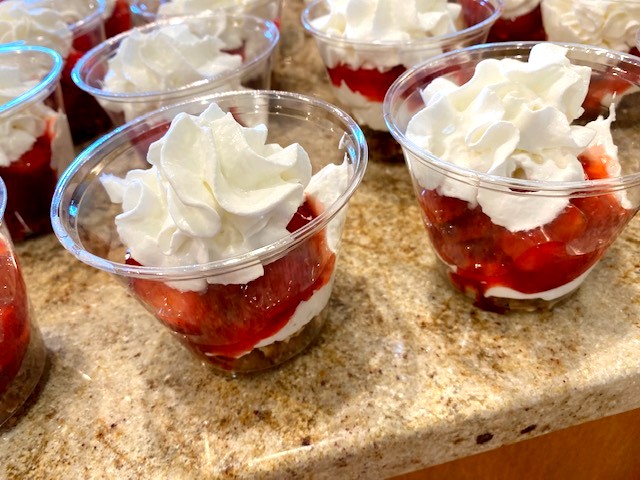 Make these easy grab-and-go strawberry pretzel parfaits with all the flavors you love in the classic strawberry pretzel salad/dessert. Crunchy, sweet, and salty pretzels topped with cream cheese fluff and sliced fresh strawberries in strawberry pie filling so there's no Jello to fuss with and no waiting for anything to set.
Ingredients
4 cups of crushed mini pretzel twists
1/2 cup brown sugar
1 1/2 cups butter, cut into pats
One 21 -ounce can of strawberry pie filling
Two pounds of fresh strawberries, hulled and sliced
One 8-ounce block of cream cheese, softened to room temperature
One cup granulated sugar
Two 8-ounce tubs of frozen whipped topping, defrosted
Whipped topping or whipped cream for garnish.
Instructions
Spread crushed pretzels on a rimmed baking pan and sprinkle with brown sugar.
Cut butter into pats and spread evenly on the pretzels.
Bake in a 350-degree oven for about 15 minutes, occasionally stirring to mix butter and sugar into the pretzels.
Cool pretzels completely and break apart if needed; set aside.
Beat the cream cheese and sugar until fluffy, then fold the whipped topping. Refrigerate while you prepare the strawberries.
Put the strawberry pie filling into a medium size mixing bowl and fold in the sliced strawberries.
Put about two tablespoons of pretzel mixture into the bottom of a 9-ounce clear plastic flare cup.
Add about 1/3 cup of cream cheese mixture on top of the pretzels.
Spoon about 1/3 cup of the strawberry mixture on top of the creamy layer.
Add a curlicue of whipped topping of your choice.
Garnish with a mini pretzel or a strawberry if desired.
Make the parfaits the day you serve them.
Nutrition Information:
Yield:
30
Serving Size:
1
Amount Per Serving:
Calories:

254
Total Fat:

18g
Saturated Fat:

12g
Trans Fat:

0g
Unsaturated Fat:

5g
Cholesterol:

35mg
Sodium:

204mg
Carbohydrates:

24g
Fiber:

1g
Sugar:

17g
Protein:

2g
Not a fan of strawberries? There are loads of options available for making fun-size grab-and-go parfaits using canned pie filling and fresh fruit. Think of the possibilities! Pie filling is available in peach, blueberry, cherry, and blackberry. Adding fresh fruit to any of them would taste great with the sweet and salty pretzels and the creamy middle layer!
Fruit desserts are summer classics. Here are some more of our favorite recipes. Iron Skillet Peach Crisp, Cherry Cream Cheese Danish, Strawberry Ice Box Cake, Rhubarb Pretzel Dessert. What fruit dessert is your favorite?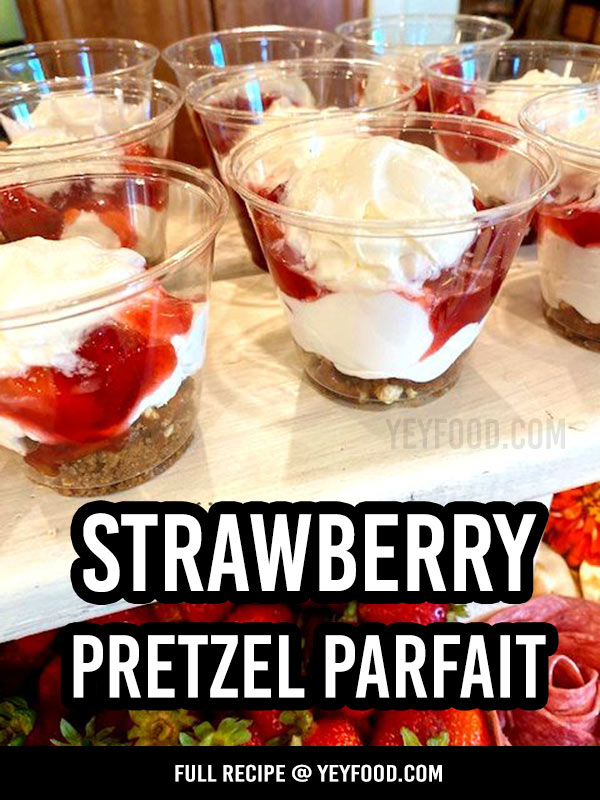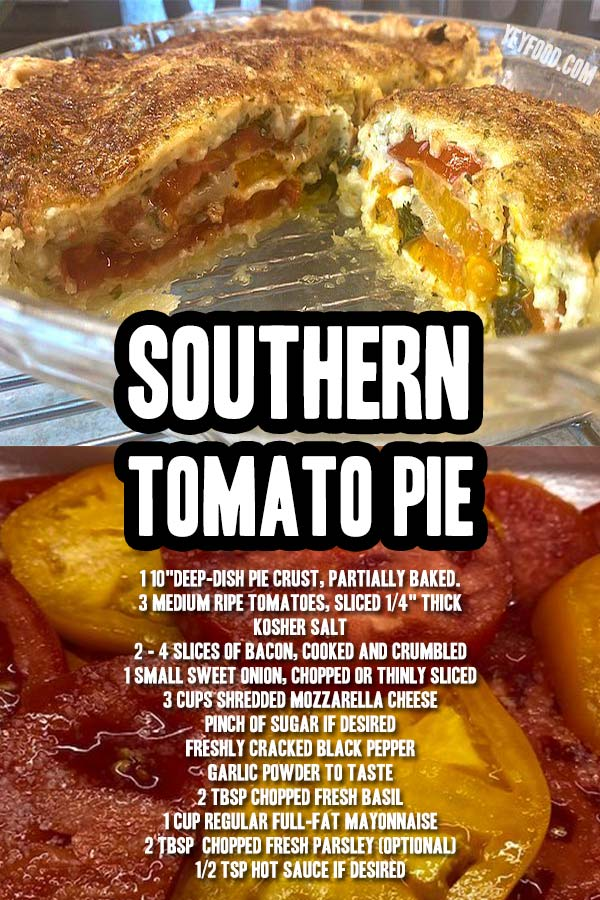 4 Reasons You Should Freeze Some Sweet Corn This Summer
How To Make The White BBQ Sauce That's Fascinated Us Since 1925
German Sauerkraut Casserole With Bacon And Brown Sugar
If you like these recipes, you are our people! You can check some related articles below or search via categories on the right. B t, be warned; you will be on here for hours. Enjoy!