Iron Skillet Peach Crisp Recipe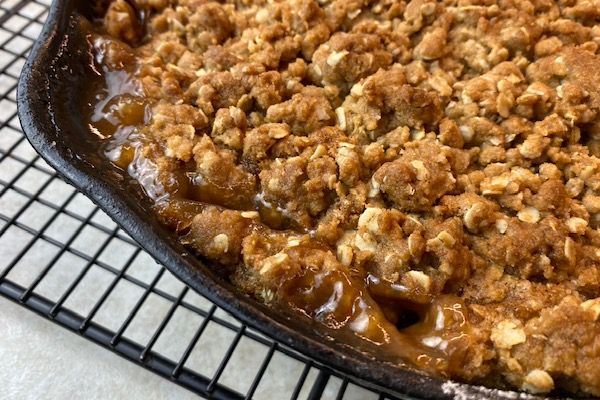 Peach lovers everywhere are anxiously awaiting the first ripe peaches and a pan of warm peach crisp with a scoop of vanilla ice cream. Peach crisp made from fresh, ripe peaches is pure summer bliss, and it's coming soon!
This old-fashioned peach crisp recipe is perfection. The topping is buttery and crunchy, has just the right amount of brown sugar, and has the texture of a fantastic oatmeal cookie. A nice bite, but not too hard.
Goldilocks would love this fruit crisp. She would say it's "just right." The peaches are spiced beautifully with cinnamon and just a touch of (but not too much) nutmeg. The fruit filling is incredibly juicy but thickened slightly.
You'll want to choose perfectly ripe peaches for this wonderful dessert. And please, do it soon because, like all good things, the season is short but sweet.
Five Tidbits Of Peach Trivia That Will Amaze Your Friends
OK, well, maybe your friends in the cooking club will enjoy these.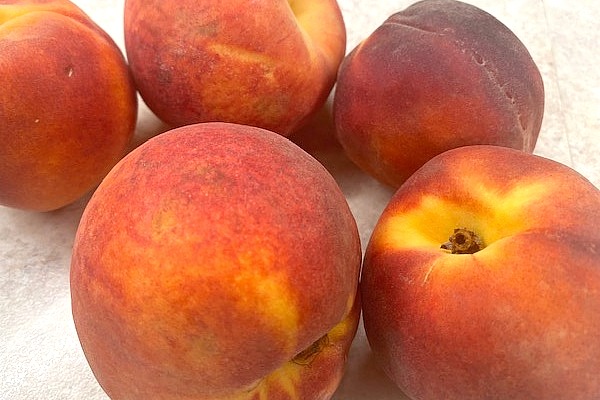 Peaches were first cultivated in China nearly 6000 years ago. Spanish explorers visited North America in the early 1500s and brought peaches to what is now Georgia, "The Peach State."
Peaches are a part of the rose family and are closely related to almonds.
Many famous artists, including Renoir, Monet, Rubens, and Van Gogh, painted still lifes that featured beautiful ripe peaches. Here are more artists' depictions of the blushing fruit for you to enjoy
"You're a real peach" originated from the tradition of giving a peach to a friend you liked. (Who would have guessed?)
Finally, peaches are often sold by the "lug," an agricultural unit of measure that weighs about 23 pounds.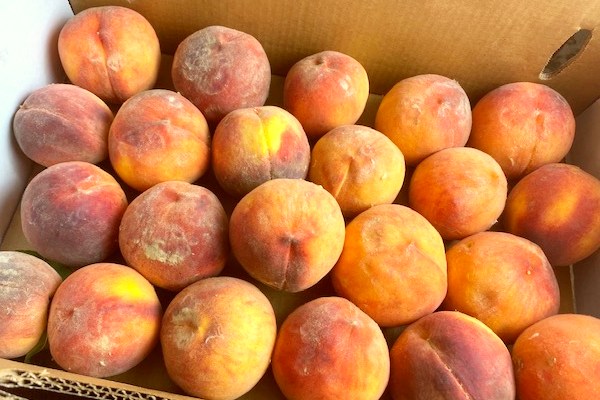 The One And Only Recipe You'll Ever Need For A Perfect Peach Crisp
Yield: 9 servings
Best Iron Skillet Peach Crisp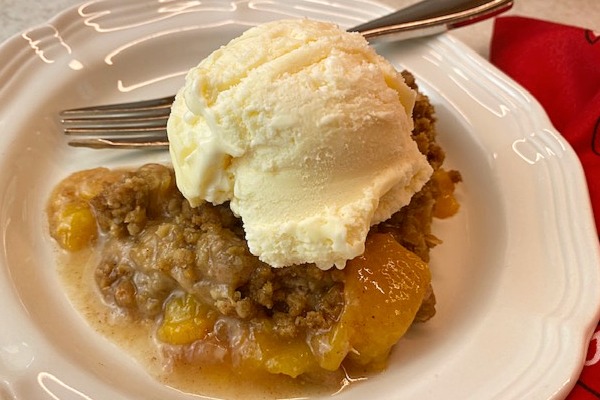 Fresh peaches perfectly spiced with cinnamon and nutmeg baked under a buttery, crisp topping of oatmeal, flour, and brown sugar.
Ingredients
TOPPING
3/4 cup flour
3/4 cup quick oatmeal
3/4 cup brown sugar, packed
1/2 tsp baking powder
1/2 tsp baking soda
1/2 tsp salt
1/2 cup butter, one stick
FRUIT FILLING
4 cups fresh peaches, peeled and cut up
1 cup sugar
3 Tbsp flour
1/2 tsp cinnamon
scant 1/2 tsp nutmeg
Instructions
Preheat the oven to 350 degrees.
Bring a small pan of water to a boil.
Spray a 10" skillet, a 9" square baking pan, or a deep-dish pie plate.
Drop each peach briefly in boiling water and remove with a fork or tong. Remove peel.
Cut each peach in half and remove the pit. Then cut the peach into wedges, and cut each wedge in half.
Arrange in baking dish.
Thoroughly combine sugar, flour, cinnamon, and nutmeg in a bowl.
Sprinkle this mixture over fruit and set aside.
Mix flour, oatmeal, brown sugar, and salt until well blended.
Melt butter and pour over flour mixture until all butter is absorbed. Continue stirring until the mixture forms large crumbs.
Distribute the topping evenly over the fruit and pat it gently in place.
Bake for about 40 minutes or until the topping is golden brown and the filling starts to ooze up around the edges of the pan.
Serve warm with vanilla ice cream.

Notes
Frozen peaches, picked at the peak of perfection, can be used in this recipe. It's ALMOST as good!
Peaches are probably the very best fruit there is for making a crisp. Peaches are a soft fruit. The contrast of a buttery crisp and crunchy crust really compliments their texture. Also, crisps are much faster, easier to make than a pie, and practically foolproof.
If you're a master at making a perfect pie crust, go for it, but why take the chance of trapping perfectly delicious peaches inside a sad, tough crust?
This recipe is similar to a very old recipe for apple crisp. It contains a whole stick of (real, please) butter and combines quick oats with flour and brown sugar for a perfect oatmeal cookie's wonderful nutty taste and texture.
The nooks and crannies in the topping are perfect spots for melty vanilla ice cream to disappear. Soft sweet peaches blended with just the right amounts of cinnamon and nutmeg are the ideal partner for the crispy top.
This time, I chose to make it in my very old cast iron skillet for a great presentation when I took it, still warm, to a family event. Grandson Nick wolfed down two huge servings! It disappeared so quickly I didn't even get to take a picture of a serving, so I had to bake another one. How sad, right?
Here's How To Become Famous For Your Peach Crisp
Spray a nine or ten-inch cast-iron skillet, a 9- inch square cake pan, or a deep-dish pie plate. Turn on the oven and set it at 350 degrees.
Put a pan of water on the stove to boil. Plop each peach in boiling water for about 30 seconds and remove it with a fork or tongs.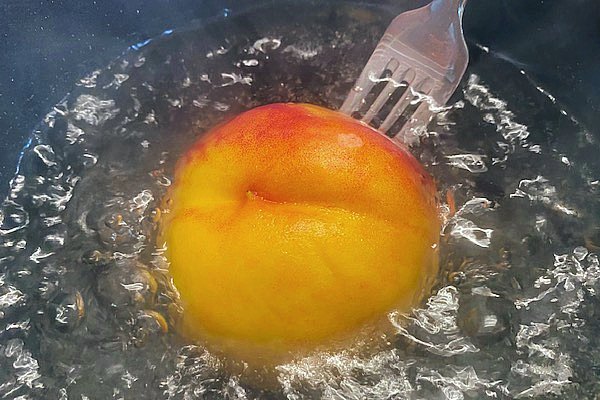 The skin will slip right off, and all the fruit will stay intact! It's almost magic!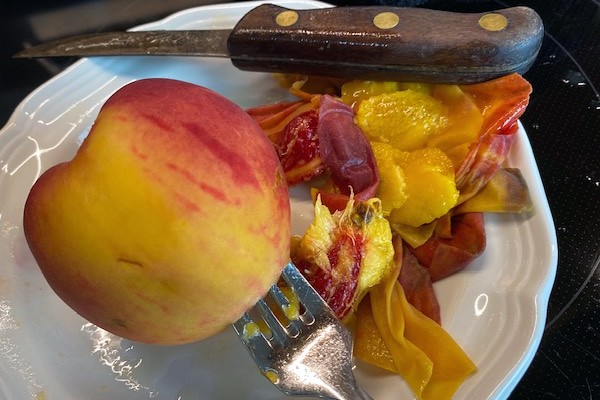 Now cut the peaches in half and remove the pits. Next, cut them into wedges, then in half, and arrange them evenly in your baking pan.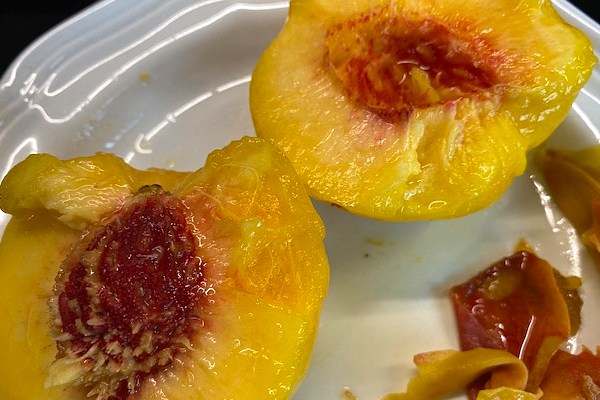 Once all the peaches are cut up, you're ready to add sugar, spices, and thickener to the fruit.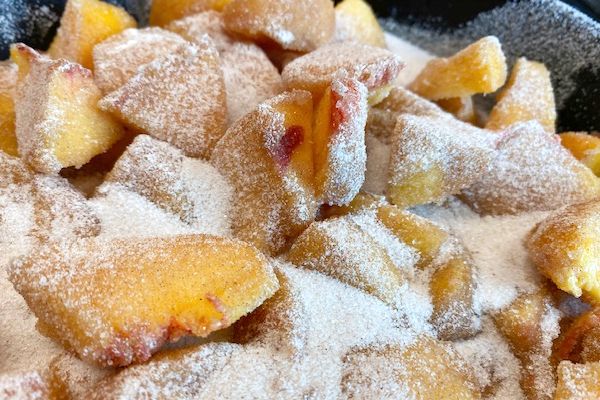 Sprinkle the dry ingredients over the peaches and set them aside while you make the topping.
How To Make The Crisp Buttery Topping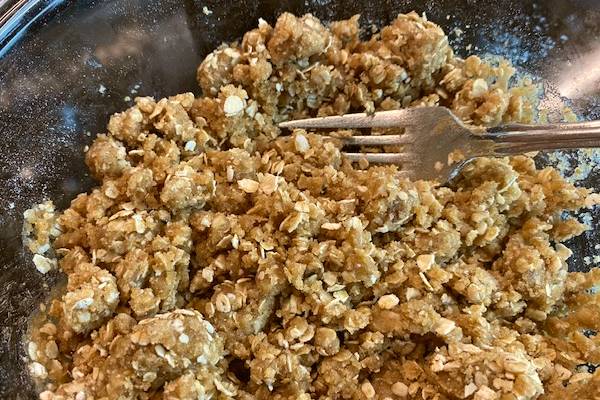 Combine flour, oatmeal, salt, brown sugar, baking powder, and baking soda in a bowl and mix it all together thoroughly. Then, melt a stick of butter and pour it into the flour mixture. Next, use a fork to stir everything until all the butter is absorbed. Keep stirring until everything is all nice and evenly crumbly.
Now lightly distribute the topping mixture evenly over the fruit. Do not leave anything uncovered, and then gently pat it in place. Don't pack it down.
It's Time To Pop Your Peach Crisp In The Oven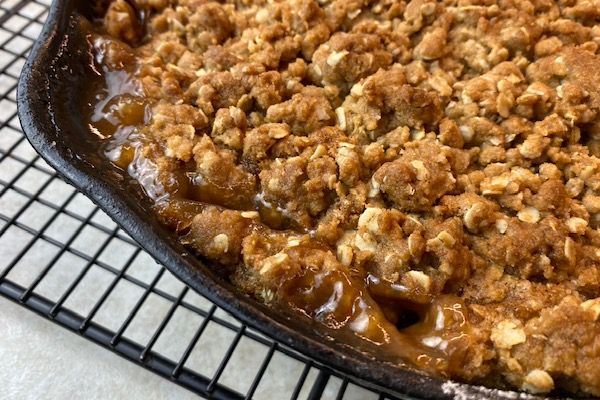 Slip that peach crisp in the oven and let it bake for about forty minutes while the aroma of cinnamon, butter, nutmeg, and peaches perfume your whole house! When the crust is golden brown and the yummy filling starts oozing up around the edges of the pan, it's time to take it out and let it cool.
If you can time it right, serve the crisp while it's still slightly warm from the oven. Top it with a generous scoop of the best vanilla ice cream you can find.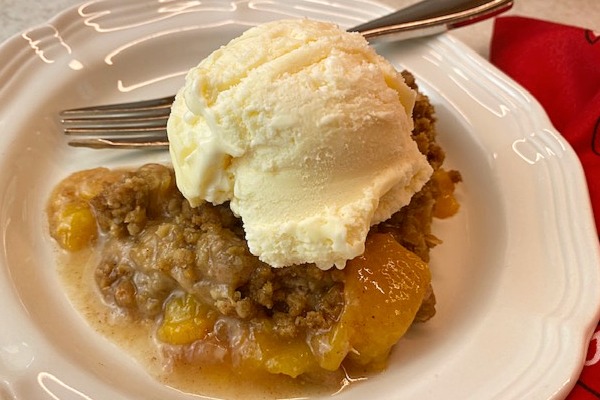 I'll say it again; there's simply no better dessert in the summer than a perfect peach crisp! Let that ice cream melt just a bit and drip down into the nooks and crannies of the buttery topping. Use a spoon and get every last drop!
What is your favorite fruit dessert? Do you have a cherry, apricot, or pear recipe you'd like to share with us? We're all ears, and if you send a picture of you with your dessert, we'd be over the moon! Here are a couple of other wonderful things to make with peaches! Four Ingredient Peach Cobbler, Peach Jam. The jam recipe uses frozen peaches, but fresh peaches make it even better!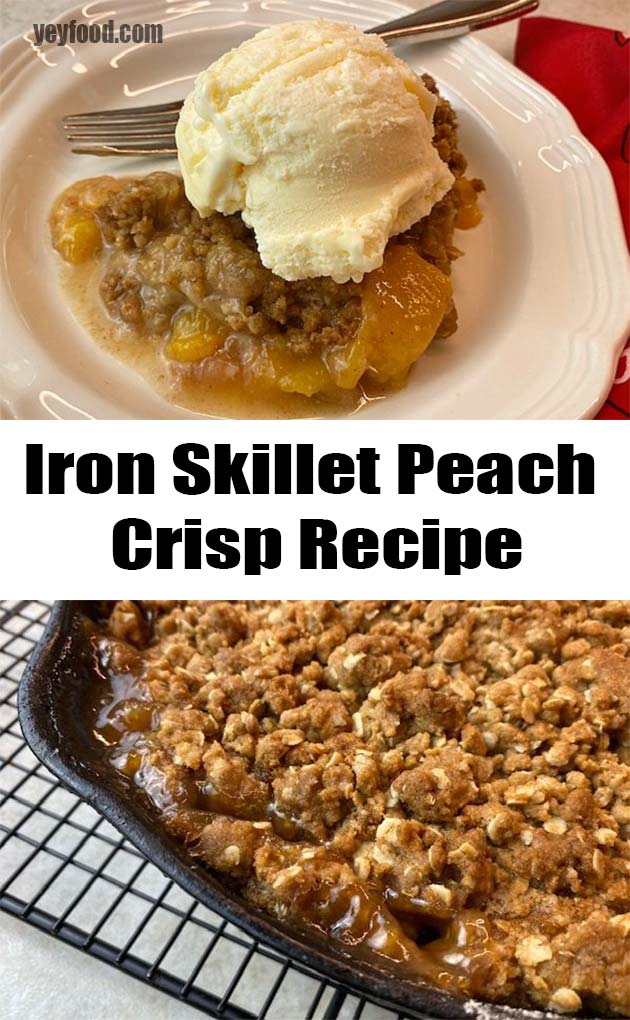 MORE OF OUR DELICIOUS FAMILY-FRIENDLY RECIPES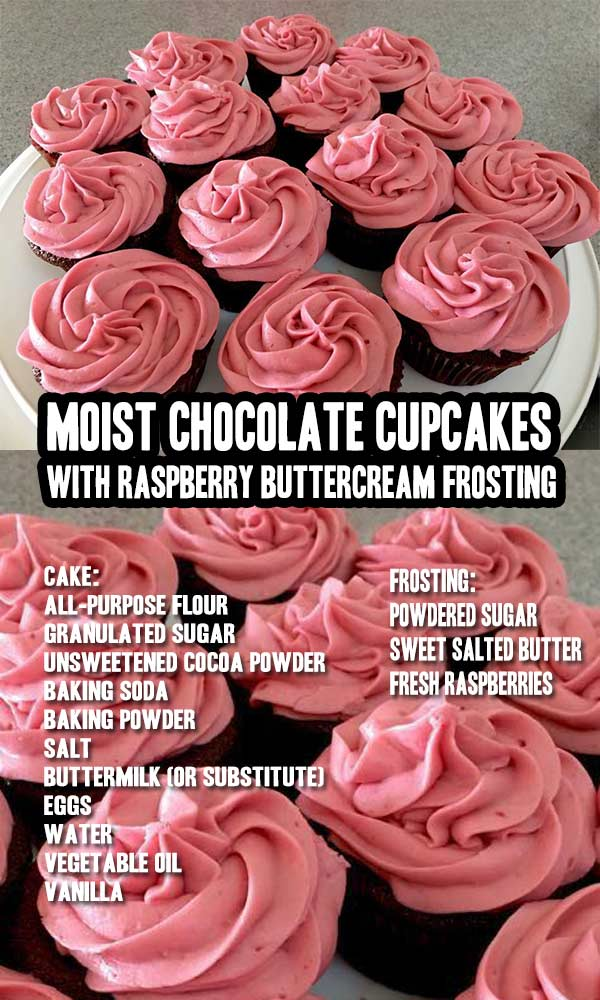 The Ultimate Bread and Butter Pickle Recipe
The Number 1 Practically Perfect Poppy Seed Bread
German Sauerkraut Casserole With Bacon And Brown Sugar
If you like these recipes, you are our people! You can check some related articles below or search via categories on the right. But, be warned; you will be on here for hours. Enjoy!
So, please share this recipe on your social media accounts like Facebook, Instagram, Twitter, and Pinterest. We would be honored and ever so grateful; thank you!