Hot Bacon And Swiss Dip Recipe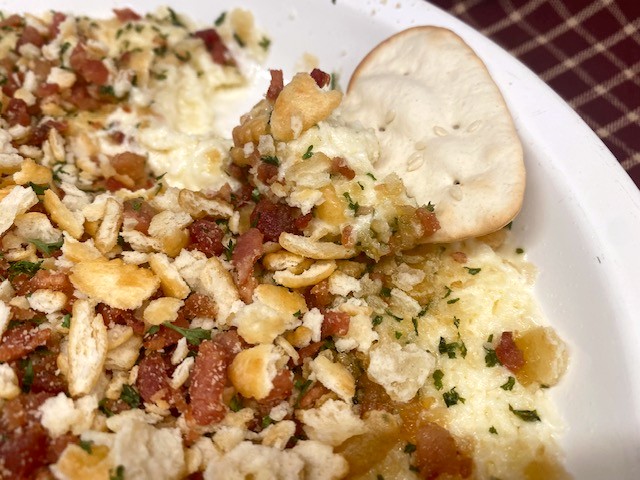 Someone named this hot bacon and swiss dip "To Die For Dip." Once I tried it, I had to agree, but that vague name gave no indication of what is in it or what makes it so good that it warrants the idiom.
According to Collins dictionary, the idiom "If you say that something is to die for, you mean that you want it or like it very much." Our daughter teaches writing to ten-year-olds and younger. Kids dig idioms, and you will dig this dip.
Let me tell you why you will love it. The smokiness of the bacon and the nuttiness of Swiss cheese is a perfectly divine marriage of flavor. If that's not enough, the two flavors dance through the heavenly combination of cream cheese and real mayonnaise sprinkled with buttery bits of Ritz crackers and tidbits of bacon.
Serve it hot and bubbly with crisp crackers or crostini, and you better believe it's worth every calorie!
This Hot Dip Is Easy To Make And Do Ahead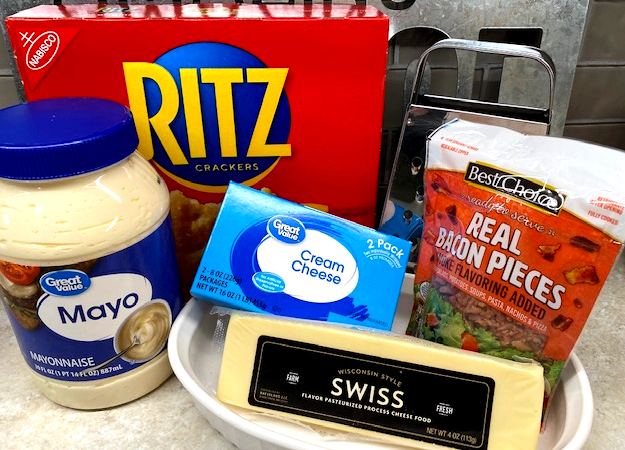 You can whip up this dip in five minutes flat IF you remember to set the cream cheese out to soften! Beat the cream cheese with mayonnaise until the mixture is light and creamy.
I suggest you grate the Swiss cheese from a block because it melts better. Fold the shredded swiss into the cheese mixture, then spread it in a baking dish or a nine-inch pie plate.
As you can see, this bacon and Swiss dip is absolutely begging for some color!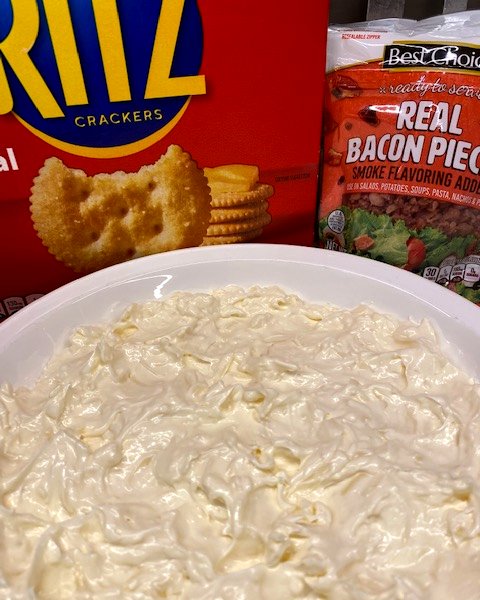 Crush twelve Ritz crackers with one-fourth cup of real bacon bits and a tablespoon of parsley for more color! I crushed the crackers in a plastic zipper bag, then added the parsley and bacon bits. It was pretty handy! You can certainly fry and crumble your own bacon if you would prefer!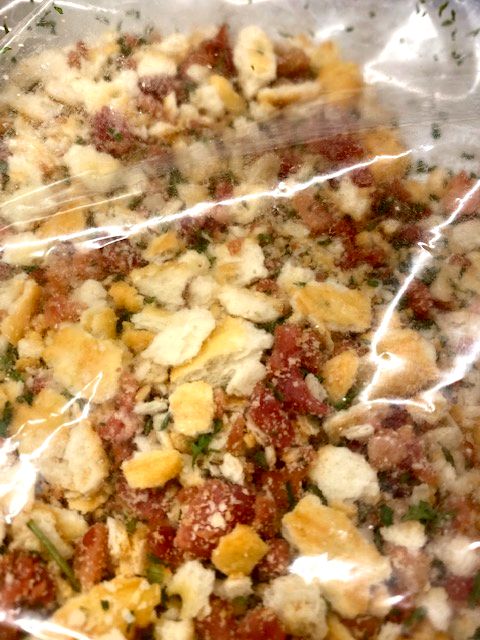 Now sprinkle that mixture evenly over the dip, and if you want to make it ahead, you can cover it tightly with plastic film and stow it in the fridge for two or three days. If you're going to serve it immediately, pop it in the microwave for four or five minutes until it's all nice and bubbly around the edges.
Yield: 12 servings
Hot Bacon And Swiss Dip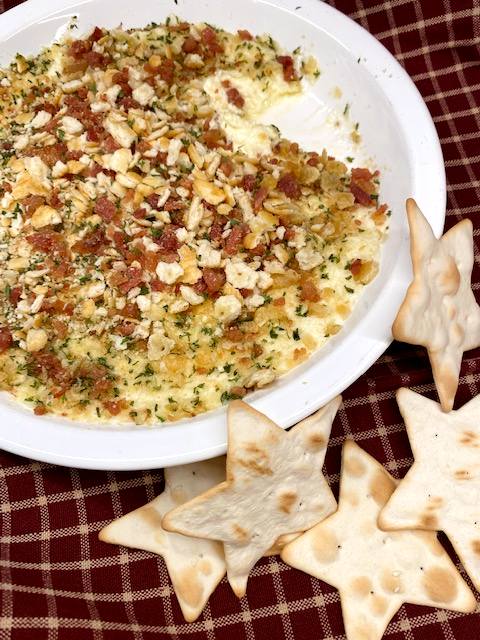 Hot and savory dip with a classic combination of swiss cheese and bacon. make it in minutes, easy to do ahead.
Ingredients
One 8-ounce block of cream cheese, softened to room temperature
1 cup full fat real mayonnaise
Four ounces grated Swiss cheese
Twelve Ritz Crackers
!/4 cup real bacon bits, either homemade or packaged.
One Tbsp dried parsley
Instructions
Beat together the cream cheese and mayonnaise until smooth and creamy.
Grate the Swiss cheese and fold it into the cream cheese mixture.
Put the mixture into a baking die or nine-inch pie plate.
Crush 12 Ritz crackers and combine with bacon bits and parsley.
Sprinkle cracker/bacon mixture over the dip.
Microwave the dip for about four to five minutes, or until hot and bubbly around the edges.
If you make it ahead, cover the dish snugly with plastic film and refrigerate for up to 3 days. Heat in the microwave until bubbly and hot, about eight minutes.
If you've made it ahead, it will take longer in the microwave. Try eight minutes and if you want it bubblier, add another minute or two!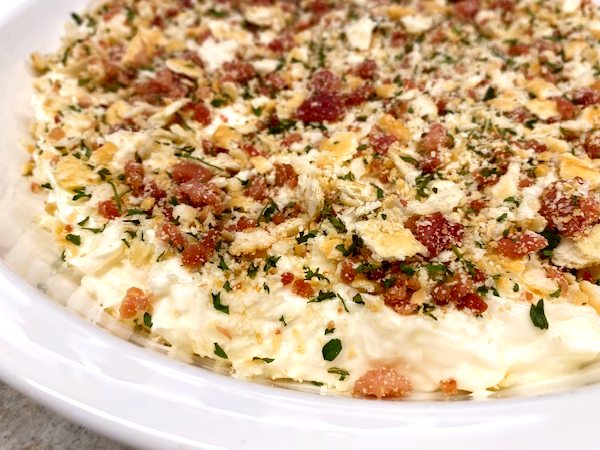 Nothing makes me happier than making food, feeding people, and writing about it. However, with just two of us at the dinner table every day, I give away a lot of food in exchange for feedback. I dropped off this warm bacon and Swiss dip along with a sleeve of crackers at our son-in-law's car dealership.
When I called to ask what they thought, one guy said it was hard to talk with full mouths, but they all loved it. This dip would be a welcome addition at a potluck, a game day gathering, or a "fifth quarter party" after a fall football game. Who doesn't love a hot cheesy dip and crackers?
It's hard to imagine right now, on a sweltering day in August, but all too soon, our schools will be back in session, and football, soccer, and volleyball games will fill our calendars. There will be post-game get-togethers and pre-game meals for the players to prepare. This dip is sure to be popular, and it's so easy to make.
Then, in another blink, the holiday season will swing into gear, and we'll all be looking for party food and appetizer ideas! We're always looking for feedback and taking your requests for what you want to see!
For now, here are some of our favorites. Air Fried Pickles With Bacon And Ranch, Watermelon Salsa, Oven Baked Buffalo Wings.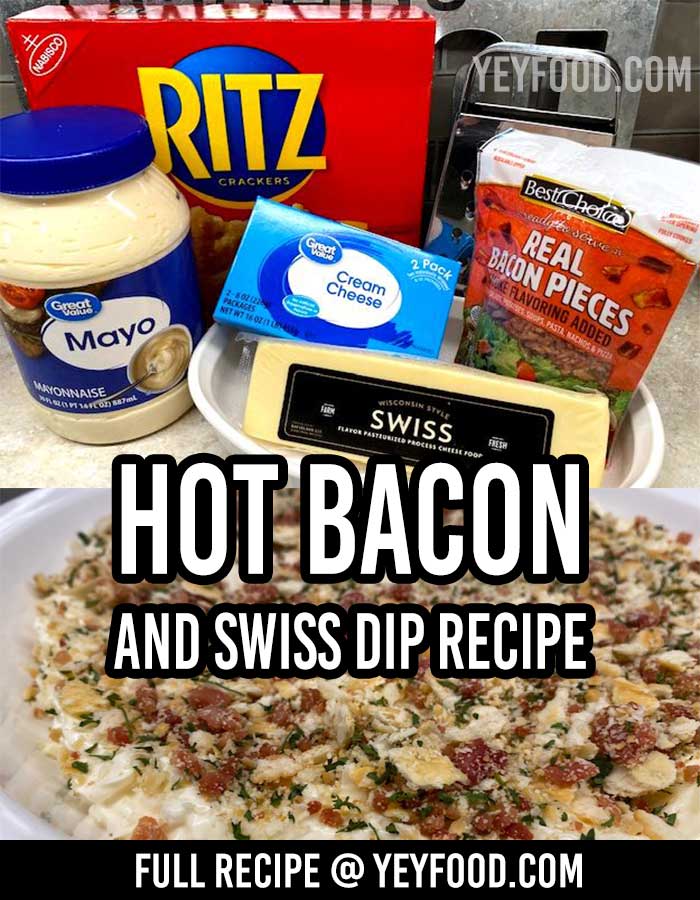 MORE RECIPES FROM US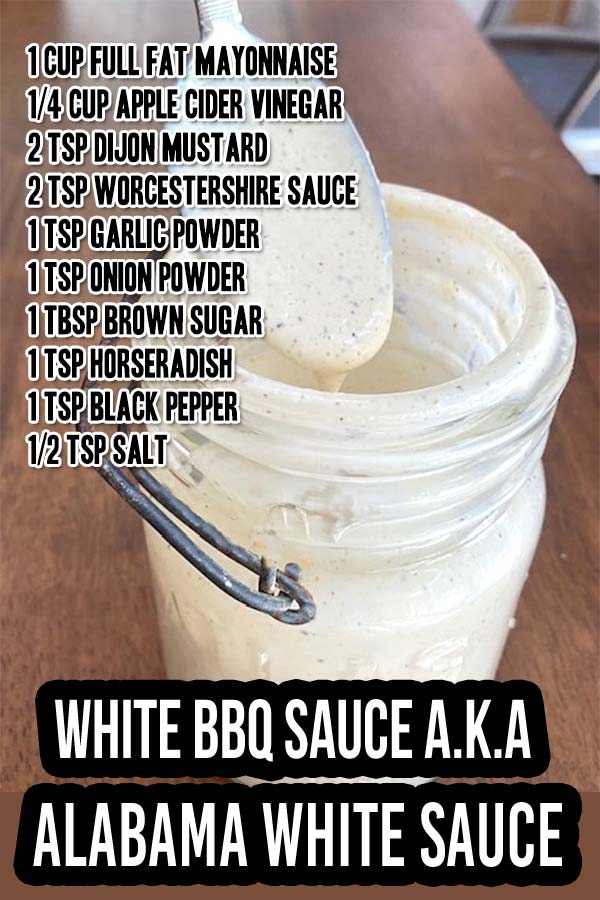 4 Reasons You Should Freeze Some Sweet Corn This Summer
Sloppy Joes Have Been Delighting Diners For Almost 100 Years
German Sauerkraut Casserole With Bacon And Brown Sugar
If you like these recipes, you are our people! You can check some related articles below or search via categories on the right. But, be warned; you will be on here for hours. Enjoy!
So, please share this recipe on your social media accounts like Facebook, Instagram, Twitter, and Pinterest. We would be honored and ever so grateful; thank you!