Air Fried Pickles With Bacon And Ranch Recipe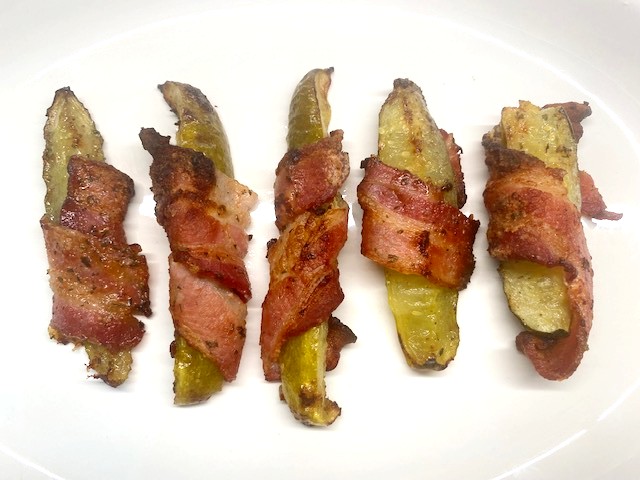 Air fried pickles with ranch seasoning and bacon have my grandkids obsessed. I knew Papa and I could not eat a whole batch, so I invited as many grandkids as possible to show up and help me when I made them! We had a lot of fun discussing how we could make them into smaller appetizers, but we decided they were delicious just the way they are.
Dill pickle spears seasoned with dry ranch dressing mix, wrapped in bacon, and air fried to a crispy brown! We didn't even let them cool before we dived in to try them! I sent a few of them home with our daughter, and she reported that her husband LOVED these air fried pickles! How can you go wrong with a triple crown treat like this one?
Air fried pickles will be a fun treat at the lake, where the whole day is devoted to snacking!
You Need 3 Ingredients To Make Air Fried Pickles With Bacon And Ranch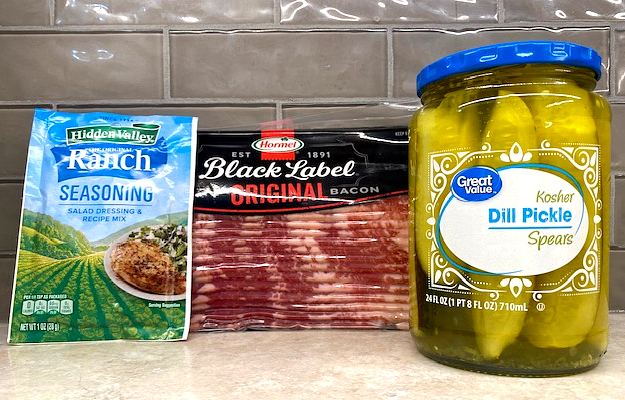 The great thing about this snack is you really don't need a recipe. You just open a jar of dill pickle spears, a packet of ranch dressing mix, and a package of bacon. The magic is in what each of those three simple ingredients brings to the party.
Dill Pickles: We used dill pickle spears. What's in a pickle? Dill pickles are made from cucumbers soaked in a simple brine made of equal parts of apple cider vinegar, salt, dill, and sometimes garlic. This process makes pickles stay fresh and crisp in a jar and taste so darn good!
Ranch Dressing: This is by far the most popular salad dressing in America, with a nearly cult-like following. What's in it? Buttermilk, dill, salt, pepper, garlic, onion, chives, and parsley.
Nebraska native Steve Henson, a plumber by trade, was from the tiny village of Thayer, Nebraska. About 1950, he was working construction in Anchorage, Alaska. He was a part-time cook for the crew and created the recipe for them while working there. Do you want to know more about how his place in California became Hidden Valley Ranch? Well, here you go.
Bacon: It's hard to find anyone who doesn't love bacon, and for many of us, it's a favorite food, but why? There is a lot of science as to why bacon tastes so good. The fat-to-meat ratio, the brine to cure it, and the smoking process all contribute to great-tasting bacon.
When bacon is fried, the Maillard Reaction occurs. It happens when the sugars and amino acids combine under high heat. It produces an explosion of flavor.
How To Make Air Fried Pickles With Just Three Ingredients
Pat the pickles dry with paper towels and remove most of the moisture. Sprinkle each pickle spear with a generous amount of dry ranch dressing mix.
Warp each pickle in a whole strip of bacon. I tried a half strip in this picture. Please don't do it. It takes the length of an entire strip of bacon to wrap the pickle up like a mummy. It cooks much better that way. The bacon stays in place much better, plus you'll have MORE BACON!
I did a second batch using one whole strip of bacon per pickle, and they looked much better and tasted even better with the more favorable bacon-to-pickle ratio! The only mistake I made on the second batch was letting everyone eat them before I got a picture!
Yield: 16 pickles
Air Fried Pickles With Bacon And Ranch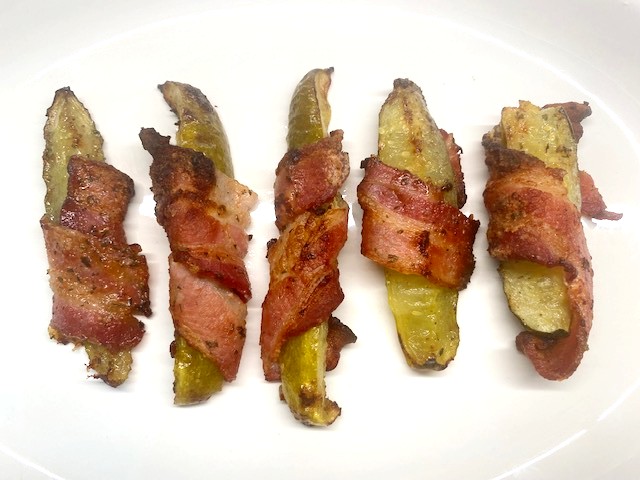 Here is a crisp, tasty appetizer or snack made from dill pickle spears, ranch dressing mix, and bacon cooked in an air fryer.
Ingredients
16 dill pickle spears, patted dry
16 strips of bacon
One packet of dry ranch dressing mix
Instructions
Pat pickles dry.
Sprinkle generously with dry ranch mix.
Wrap one whole piece of bacon around each dill pickle spear.
Air fry at 400 degrees for 20 minutes; turn as needed, so the bacon cooks evenly.
Notes
I used perforated parchment paper cut to fit on the air fryer rack to catch bacon drippings. I also wrapped the drip pan with foil for easy clean-up. My air fryer is fairly small, and I could only do five or six at a time, depending on the size of the pickles. I recommend that you don't crowd them so the bacon gets crisp, and you can turn them over more easily.
If you have an air fryer, you must try these tasty treats! Here are a few of our other favorite air fryer recipes. Air fryer donuts, Puff pastry desserts made with an air fryer. What are your favorite ways to use your air fryer?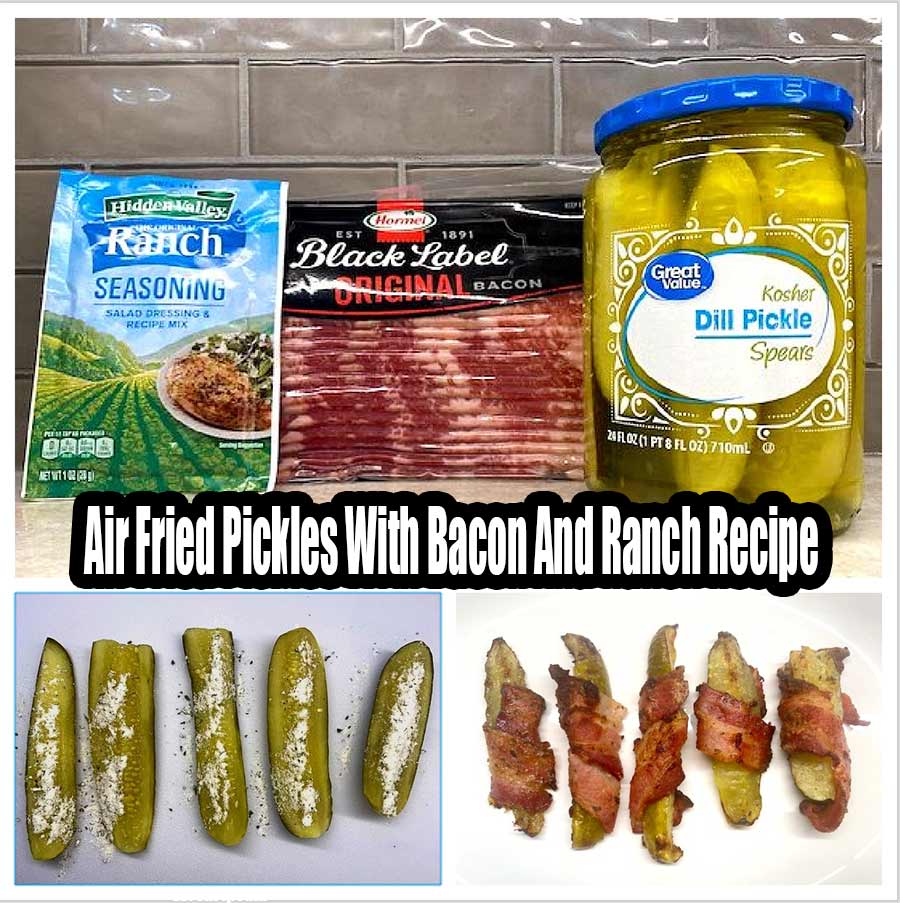 MORE OF OUR QUICK AND EASY FAMILY-STYLE RECIPES: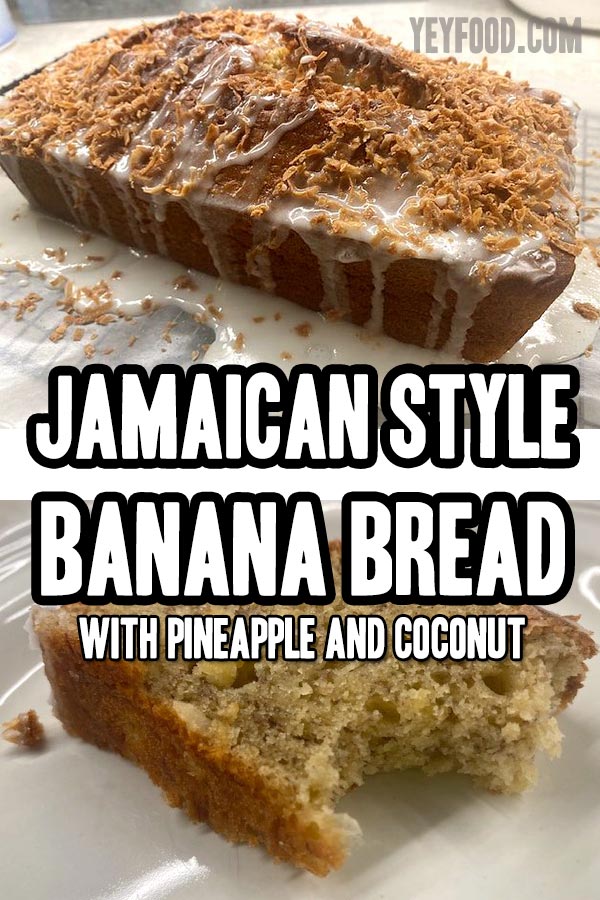 The Ultimate Bread and Butter Pickle Recipe
The Number 1 Practically Perfect Poppy Seed Bread
Oven-Baked Steak With Brown Gravy
If you like these recipes, you are our people! You can check some related articles below or search via categories on the right. But, be warned; you will be on here for hours. Enjoy!