Air Fryer Dessert Recipes With Ready Made Puff Pastry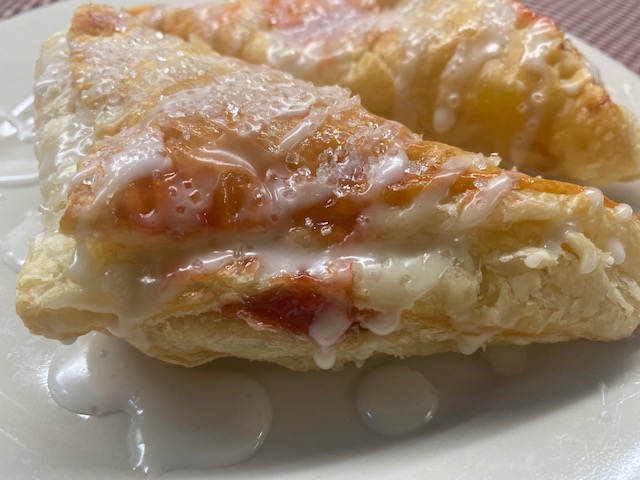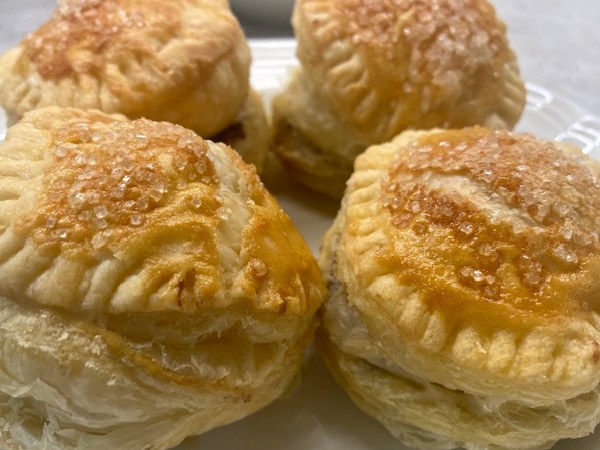 Here are two air fryer desserts that look like they came from a fancy patisserie! They both look like showstoppers, but here's the best part; you can whip them up almost effortlessly! Yes, you! This clever hack gives anyone a serious leg up in creating tasty and beautiful desserts!
We're discovering more and more ways that air fryers are a real workhorse, and these gorgeous air fryer dessert pastries demonstrate another clever use! I'm not kidding; ready-made frozen puff pastry makes real pastry magic possible for the most bakingly challenged among us! It makes you look extremely impressive in the kitchen!
Important Things To Know About Working With Ready Made Puff Pastry
You will find premade puff pastry in the freezer section, so the first step is to defrost the pastry sheets. If you try to use puff pastry before it's defrosted, it can crack when you unfold it. If that happens, let it defrost completely, then moisten the cracked area slightly with your finger dipped in water and gently push it back together.
The magic of puff pastry is called lamination, the process of layering fat between the layers of dough. That's what forms all the gorgeous flaky layers in puff pastry and why the dough needs to stay cold so the buttery layers don't melt. The best way to defrost the pastry is to let it sit in the refrigerator overnight, but you can defrost it a room temperature in about an hour.
It's also important to keep puff pastry cold while working with it and handle it gently for the best-baked results. Work one sheet at a time and keep the other sheet in the refrigerator until you're ready to use it. Here's why. When the pastry sits too long at room temperature, the butter layers melt and leave the dough sticky and uncooperative.
Puff pastry is delicate; you need to handle it gently and quickly. Do not overwork it; beautiful results will be the reward for your patience!
How To Make Four Adorable Air Fryer Desserts Nutella Puffellas
I pulled the name Nutella Puffellas out of thin air, but it sounds fun and yummy, and they are both. I used one sheet of puff pastry and a three-inch round cookie cutter to make eight circles. Press down and do not twist the cookie cutter. When you twist the pastry layers together, it is harder for them to separate and rise to their full glory.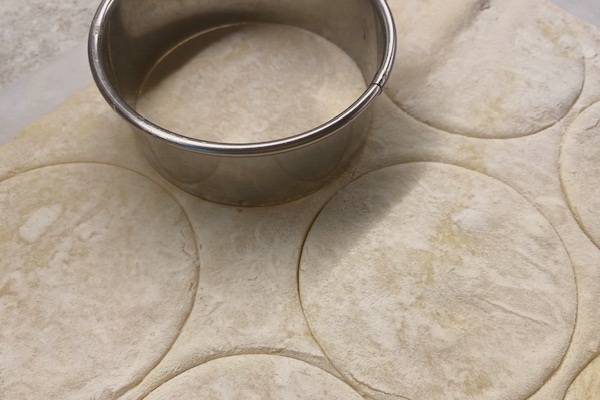 Put a tablespoon of Nutella on each circle and brush the edge of the pastry circle with egg wash.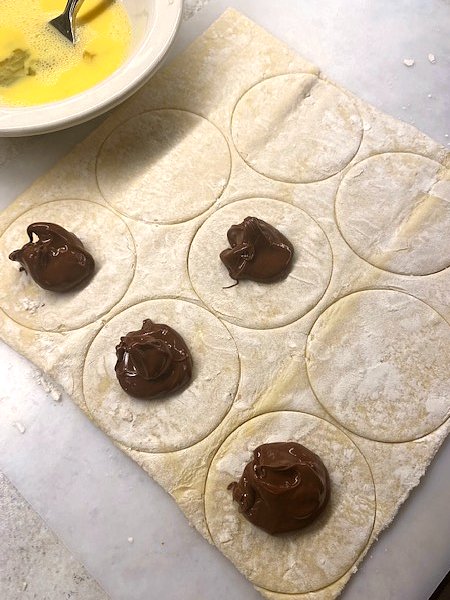 Gently peel away the dough scraps between the circles but don't discard them! They are tasty with just a simple egg wash and some coarse sugar, then air-fried! They are way too good to waste!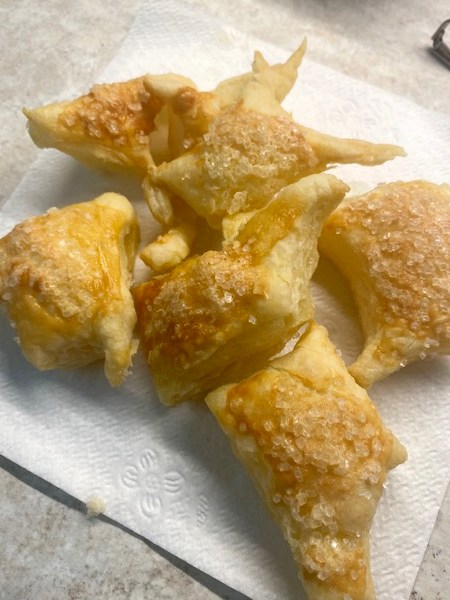 Place a circle of plain pastry on top of the one with Nutella and seal the edges using the tines of a fork. So cute! Don't they look like little suns? Give them a brush of egg wash.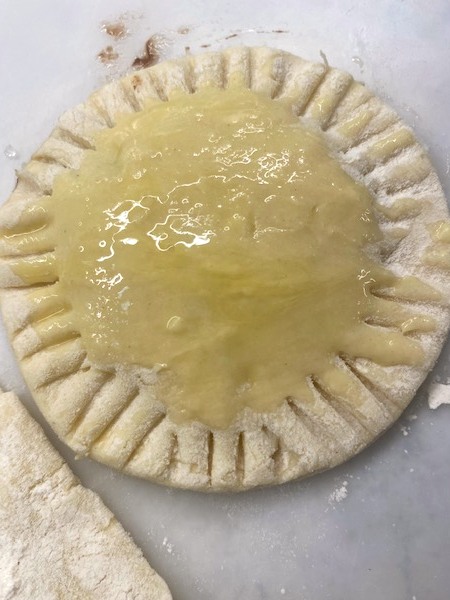 Next, sprinkle them with coarse sparkly sugar and pop them in the air fryer for about 15 minutes at 350 degrees until they are puffy and golden brown. I cut parchment paper to fit the basket and found that I did not need to turn the puffs; they came out beautifully baked.
Puff pastry needs a fairly high temperature for a quick bake that ensures the pastry will puff up tall when steam forms quickly between the layers. A word about air fryer temperature; my research discovered temperatures from 320 to 395 in air-fried puff pastry recipes. You might use the scraps to test your air fryer because, like ovens, they are all different.
I had great results at 350 degrees but watched them closely while learning how to use my air fryer for these fun air fryer desserts! Four puffs fit perfectly in my air fryer basket. What fun and unique air fryer desserts!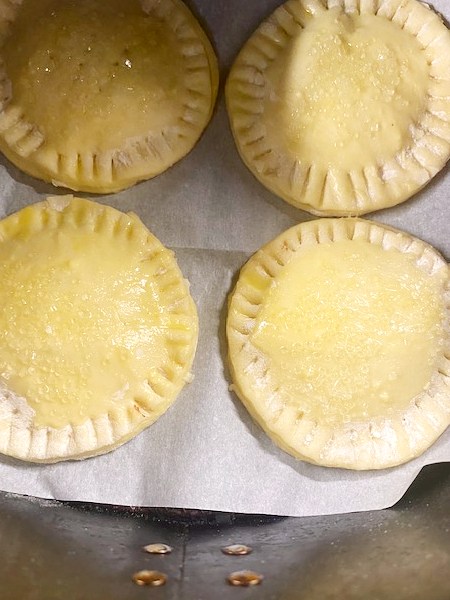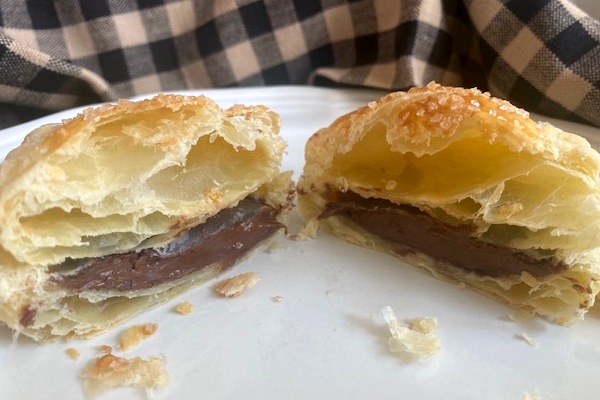 How To Turn One Puff Pastry Square Into Four Gorgeous Cherry Turnovers
Puff pastry "squares' aren't perfectly square, but you can cut the sheet in fourths and make four beautiful triangular air fryer desserts, cherry turnovers with no wasted dough! Use about two tablespoons of canned cherry pie filling on each square.
You will need to coax the pastry gently into shape. Use the egg wash around the edges of the square, then fold in half diagonally, forming a triangle. Then, use the tines of a fork to seal the two edges, as shown in the puffella picture. Give the turnover a brush of egg wash and for a very pretty effect, sprinkle the top with some coarse sparkly sugar.
It's ok if a little of the filling oozes out; it adds to the rustic charm of the finished turnover. 😉 I lined the basket with parchment paper cut to fit and baked two at a time in my air fryer. The pastries baked beautifully in about seventeen minutes at 350 degrees, but again, watch closely towards the end of the baking time because every air fryer is a little different.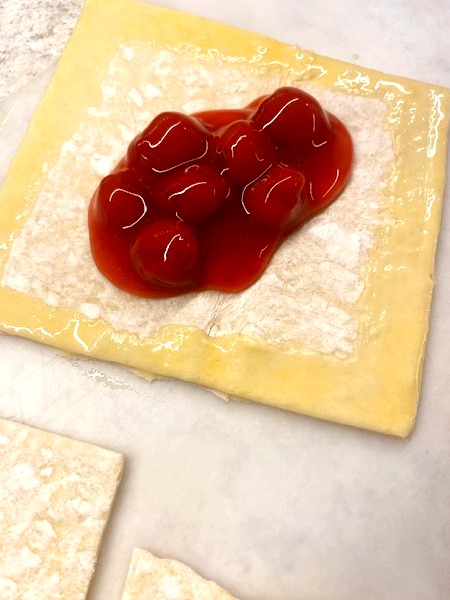 Once the turnovers were cool, I made a simple glaze of powdered sugar, a small amount of milk, and a few drops of almond extract. The special touches of coarse sugar and a simple drizzle take very little time and can elevate a simple make-at-home dessert to a fancy bakery look. I think it's fun and time well spent. ❤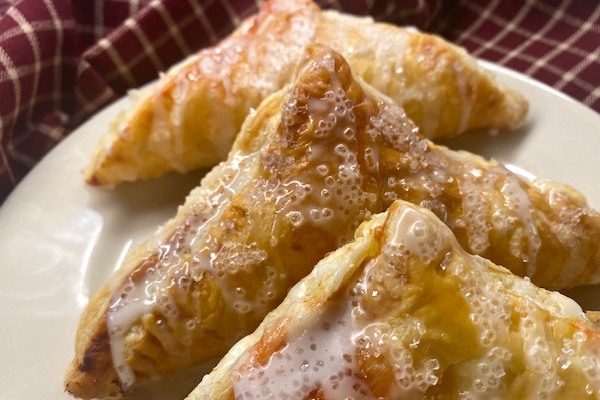 Here's how they look inside. Tender, flaky pastry with a crisp sugary top wraps sweet-tart cherry pie filling.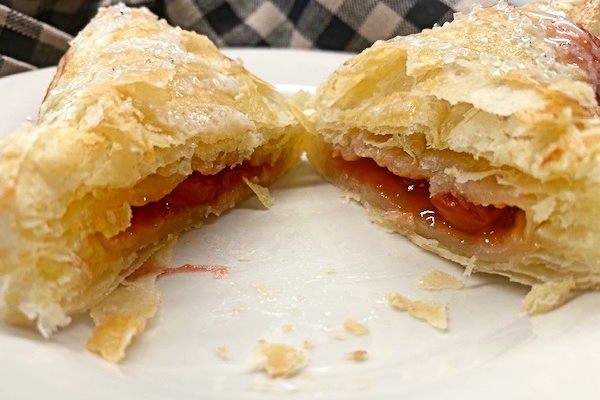 Yield: 8 desserts
Easy Air Fryer Desserts With Frozen Puff Pastry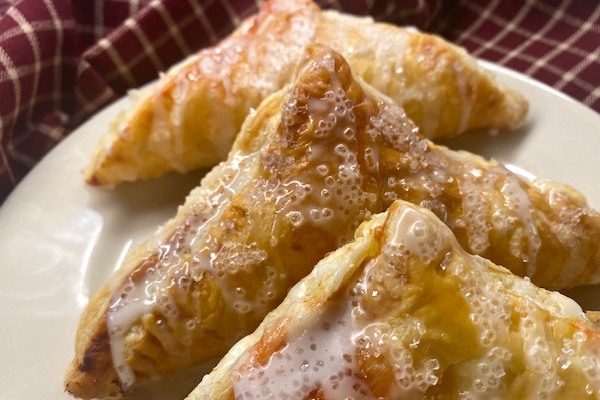 You can use ready-made frozen puff pastry and either Nutella or canned cherry pie filling to make showstopping desserts quickly and easily in your air fryer!
Ingredients
One package of frozen puff pastry containing two sheets of pastry
Cherry pie filling
Nutella
Coarse sanding sugar (optional but pretty)
Powderd sugar glaze (optional but pretty)
1 egg beaten with 2 teaspoons of water
Instructions
Allow pastry to defrost completely before unrolling.
Work one sheet at a time; keep the other sheet refrigerated.
For Nutella Puffs, use a 3-inch cookie cutter to make eight dough circles.
Put one tablespoon of Nutella on the center of four dough circles.
Brush egg wash along the edges of the circle.
Place a second circle on top of the Nutella-bearing circle and crimp the edges with a fork to seal the entire perimeter.
Brush top with egg wash and sprinkle with sugar if desired.
Cut parchment paper to fit inside air fryer basket.
Bake in an air fryer set to 350 degrees for about 15 minutes, until puffy and golden brown,
Save the scraps from between pastry circles! They make a tasty little bonus! Apply egg wash and coarse sugar and pop them in the air fryer until puffy and golden.
For cherry turnovers, cut pastry square in fourths.
Put about two tablespoons of cherry pie filling in the center of the square.
Apply egg wash along all four edges of the pastry square.
Carefully fold each pastry square in half diagonally and gently coax the edges together to form a triangle.
Crimp both cut edges together with the tines of a fork to seal.
Apply egg wash to the top surface. If desired, sprinkle with coarse sugar.
Bake in an air fryer set to 350 degrees for about 17 minutes or until puffy and golden brown.
Cool completely.
Mix 1/2 cup of powdered sugar with enough milk to form a drizzle if you want a glaze. Add a few drops of almond extract if you like. Drizzle over cooled turnovers.
Notes
You can use all the pastry to make eight turnovers or eight Nutella puffs. Experiment with other pie fillings!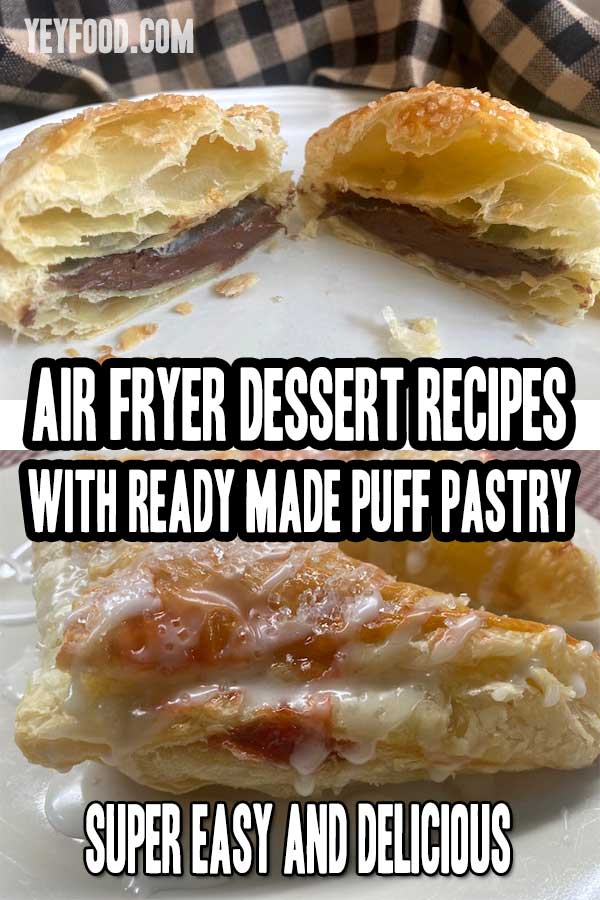 Do you have fun desserts you make in your air fryer? I never guessed how much I'd use an air fryer, but it's one of the most versatile small appliances ever made! I love mine! How do you use yours?
MORE OF OUR QUICK AND EASY FAMILY-STYLE RECIPES:
The Ultimate Bread and Butter Pickle Recipe
The Number 1 Practically Perfect Poppy Seed Bread
Oven-Baked Steak With Brown Gravy
If you like these recipes, you are our people! You can check some related articles below or search via categories on the right. But, be warned; you will be on here for hours. Enjoy!