No-Fail Puff Pastry Appetizer With Cheese And Garlic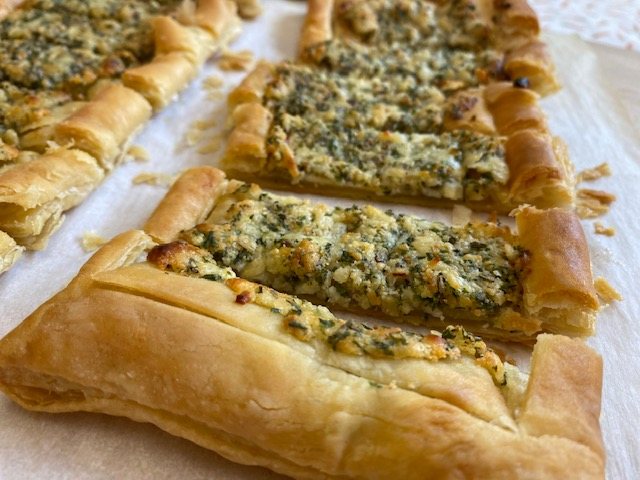 Have you had a tough week? Make this puff pastry appetizer and share it when you need compliments. It will make you look good. It is sexy, beautiful, delicious, and not at all hard to make.
Puff pastry is magic in a box. It is a miraculous ingredient. You will find it in the frozen food section of the grocery store, and prepare to be amazed when you open the package.
Unwrap and defrost a flat, thin piece of Pepperidge Farm Frozen Puff Pastry Dough. It is crisp and buttery and makes anything you put in it or on it taste amazing. When you bake it, it puffs up into a marvelous thing many times its original size, with hundreds of light, flaky, delicate layers of pastry.
Pepperidge Farm was absolutely made for delicious puff pastry appetizers!
Make This Yummy Appetizer In Three Easy Steps
Today, we'll use two kinds of cheese, garlic, and butter, to top it. It goes together quickly, and in less than a half-hour (IF you remembered to defrost the puff pastry!), you will have a feast for the eyes and your belly!
You need to be sure your puff pastry is defrosted. Cover a rimmed baking sheet with parchment paper. I am a big fan of Reynolds parchment paper products for all my baking and sheet pan dinners!
Remove one sheet of pastry from the package and cut it in half. Put the other half back into the refrigerator or freezer. Next, score through each dough rectangle about a half inch from all four sides, forming a border. Don't cut all the way through the dough.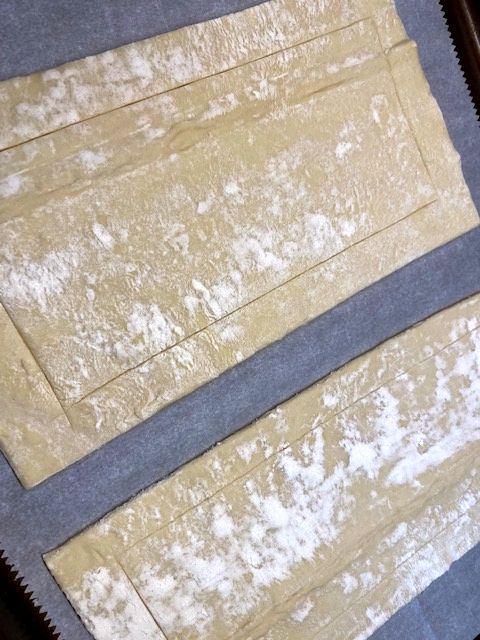 "Blind bake" the pastry without the topping for 10 minutes. Please don't skip this step. The pastry will begin to form a crust that will keep the butter and cheese from melting and making the bread soggy.
While they are baking, mix up the topping. Combine the soft butter, cheeses, garlic, salt, and pepper in a bowl, and you'll be ready for the last step! Oh, my, it smells like the streets of Italy in my kitchen!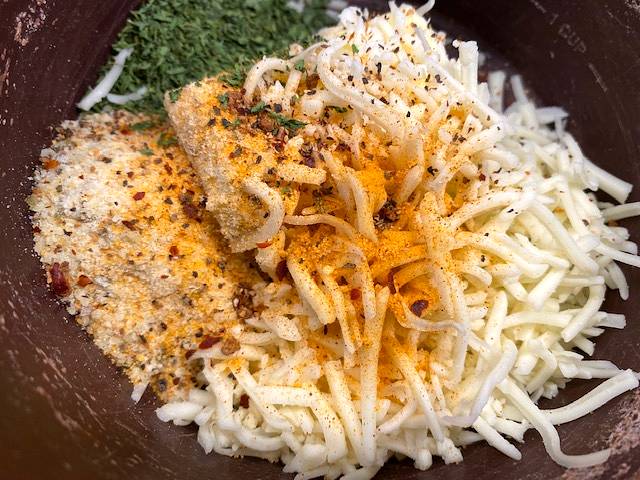 Take those beautiful pastry rectangles out of the oven and spread half the cheese mixture on each piece, staying with the lines! I found it worked well to use two knives to get even coverage. The mixture is pretty thick.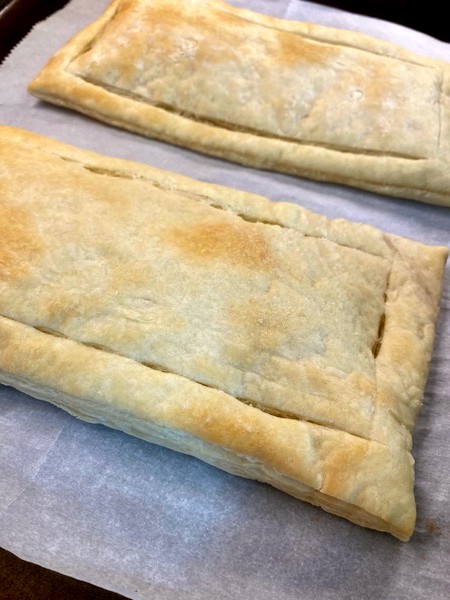 Now pop the cheese-covered pastries back in the oven for another ten minutes until everything is all golden brown, melty, and amazing. If you want the appetizer to have a little more color, pop it under a broiler BRIEFLY and watch it carefully, so the cheese doesn't burn!
Let the pastry cool for about five minutes, then cut each rectangle into six or seven thick slices. The crisp, flaky, buttery, cheesy, garlicky goodness made my mouth do a happy dance at the first bite!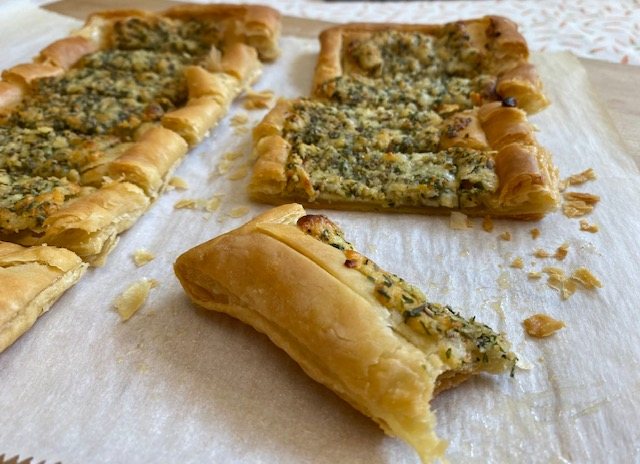 This appetizer tasted great at room temperature two hours later when I grabbed another piece. I wrapped the leftovers in foil, and we'll reheat the leftovers in the oven, uncovered, to have with our dinner.
Yield: 12 servings
Puff Pastry Appetizer With Cheese And Garlic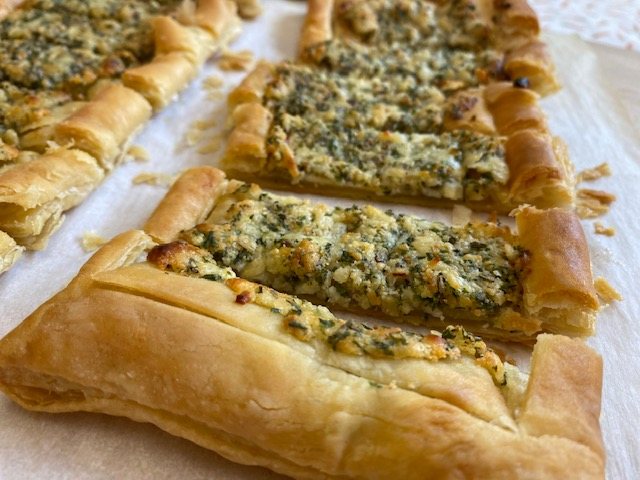 This is a recipe for a simple but beautiful appetizer on puff pastry, topped with a buttery mixture of cheeses and garlic.
Ingredients
One sheet of frozen puff pastry, defrosted
2 cloves of garlic, pressed or thoroughly mashed
1 Tbsp dried parsley
Seasoned salt and seasoned pepper to taste, I alway use Lawry's brand
1/4 cup very soft REAL butter
1/2 cup shredded mozzarella cheese
1/4 cup grated Parmesan cheese, I used the kind in the shaker cannister
Instructions
Thaw one sheet of puff pastry according to the directions on the box.
Preheat the oven to 400 degrees.
Line a rimmed baking sheet with parchment paper.
Cut the sheet of pastry in half and score each rectangle part way through the pastry 1/2 inch in from the sides to form a frame.
Blind bake the pastry for 10 minutes and remove it from the oven.
Peel and press or mash the garlic cloves.
While the pastry bakes, combine the cheeses, butter, garlic, salt, and pepper. Mix thoroughly.
Spread half the cheese mixture inside the border of each pastry piece. I found it was easier to spread using two knives.
Return cheese-topped pastry to the oven for ten more minutes.
If you want to brown the cheese a bit more, briefly put it under the broiler and watch the pan carefully, so the cheese doesn't burn!
Let the pastry cool for about five minutes before cutting each piece into six or seven thick slices.
Refrigerate leftovers if there are any!
Notes
I used Parmesan which has added garlic, so I cut back to one clove of garlic. This bread is good at room temperature, but you can reheat it in the oven if you want to.
I used Pepperidge Farm puff pastry.
Sometimes appetizers alone can make a fun dinner! Here are some of our favorite appetizers! Air Fried Pickles With Bacon And Ranch, Ten Minute Cheeseball, Oven-Baked Buffalo Wings. And while we're thinking about puff pastry, here are two fun desserts you can make with them!
Do you use puff pastry to make quick and easy recipes? Are there any you'd like to share? 😉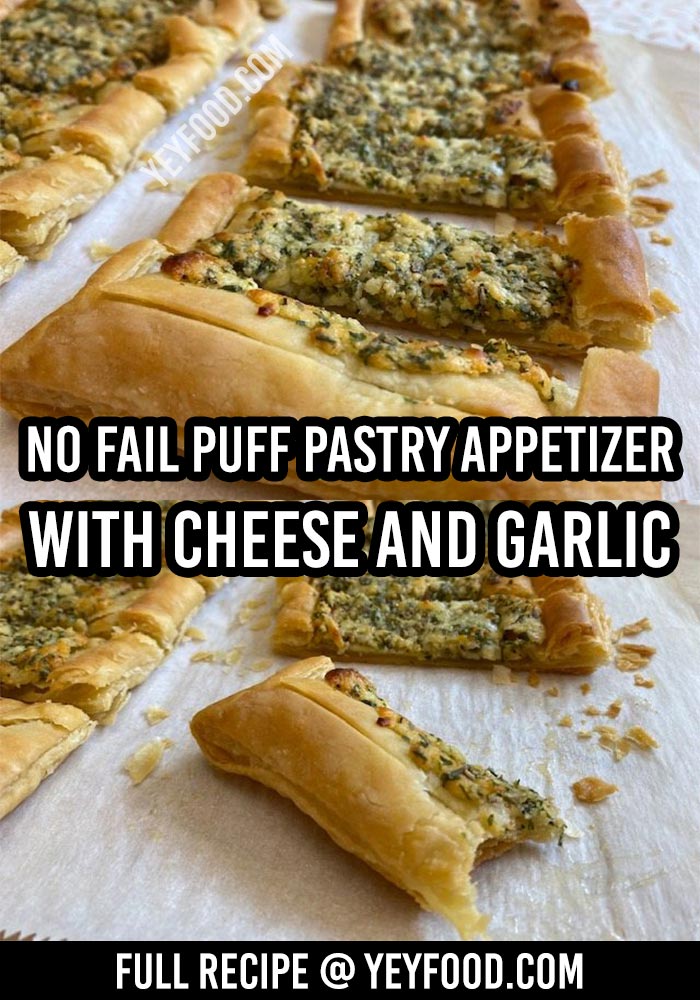 MORE OF OUR QUICK AND EASY FAMILY-STYLE RECIPES: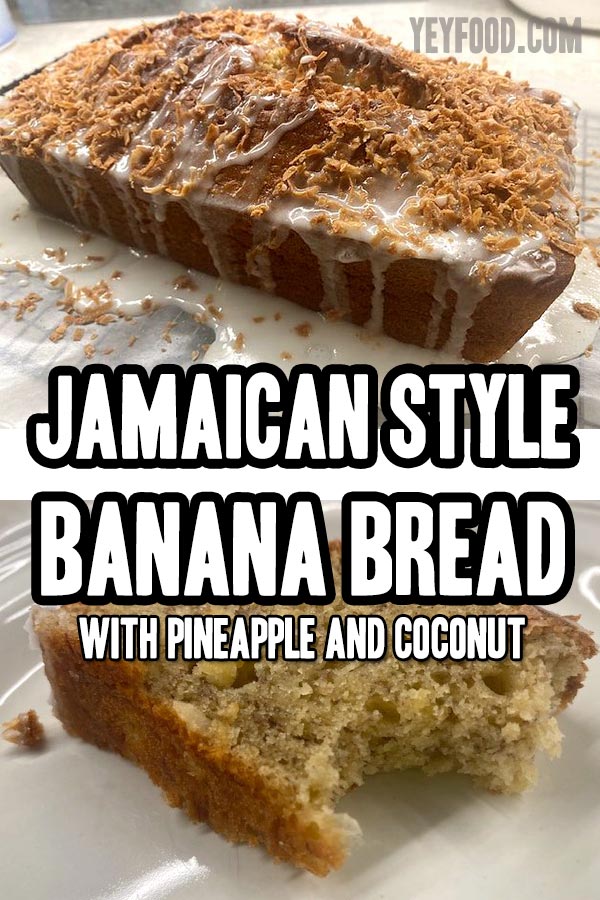 The Ultimate Bread and Butter Pickle Recipe
The Number 1 Practically Perfect Poppy Seed Bread
Oven-Baked Steak With Brown Gravy
If you like these recipes, you are our people! You can check some related articles below or search via categories on the right. But, be warned; you will be on here for hours. Enjoy!