These Oven-Dried Cherry Tomatoes Taste Like Sun-Dried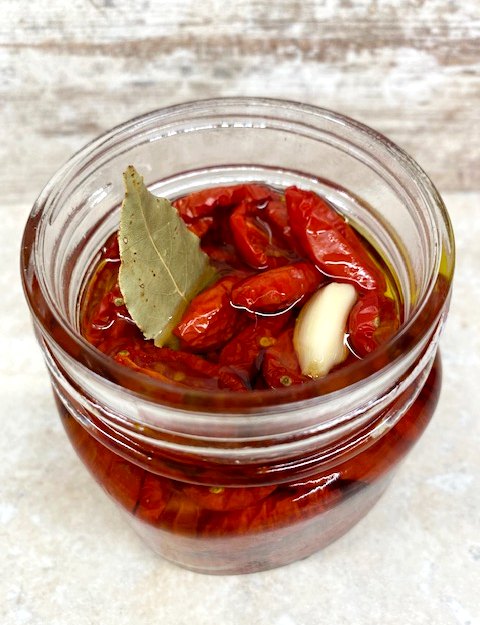 Sun-dried tomatoes taste amazing, even when they've dried in your oven instead of under the Tuscan sun. If you end up with a bumper crop of cherry or grape tomatoes, do this!
Homemade sun-dried tomatoes are far less expensive and taste much better than anything you can buy from a store! Use these sweet, chewy tomatoes in everything from salads to pizza to sandwiches and dressings.
Sun-dried tomatoes, eaten in moderation, are good for you. They provide significant amounts of Vitamins C and A. They are a good source of Vitamin E and heart-healthy fats when you pack them in olive oil. They are also delicious to eat right from the bag or the jar and are a powerhouse of good nutrition.
You Only Need Two Ingredients To Make Yummy Sun-Dried Tomatoes
Small tomatoes, like cherry or grape tomatoes, are perfect for sun-dried tomatoes. You don't need to spread cheesecloth on the ground and hope for sunny days; you don't need to buy a dehydrator.
I started my experiment with a pint of grape tomatoes, and now I am hooked on the process because it's easy and extremely rewarding! (And, oh so delicious!) These wee little tomatoes are fantastic candidates to dry in the oven.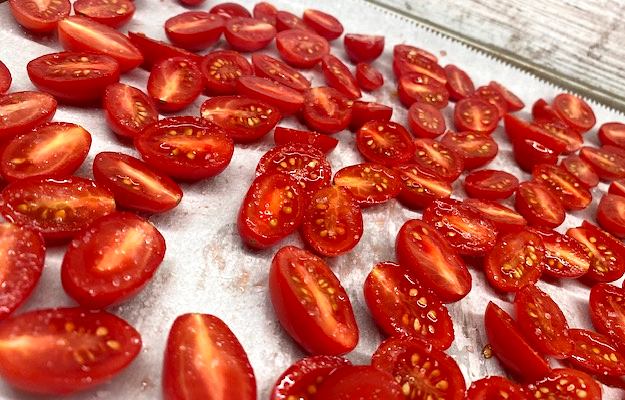 You will need tomatoes and fine salt. If you want, you can sprinkle the tomatoes with Italian seasoning or herbs of your choice.
Begin by cutting each tomato in half. Place them cut side up on a parchment-lined baking sheet with a rim. Lightly sprinkle them with salt. Take it easy on the salt because the tomatoes will shrink to about half their original size.
Salt helps draw moisture out of the tomatoes and enhances the flavor. As the tomatoes roast in the oven, their water content decreases markedly. When it happens, the flavor of the tomatoes is greatly enhanced, and they become sweeter, rather leathery, and more intensely "tomatoey."
Bake them in a low oven, 250 degrees for about two and one-half to three and one-half hours, or until they are as dry as you like. You don't need to turn them or stir them; they will take care of themselves in the oven. I will caution you to keep an eye on them after the first two hours because they can burn.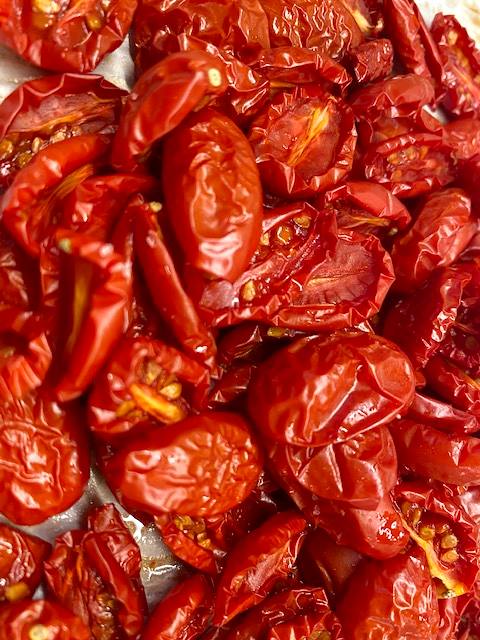 The chewiness of dried tomatoes adds an interesting texture to salads, dips, pizza, scrambled eggs, and my favorite avocado toast. Do you want more ideas on incorporating them into your cooking? Here's a lovely article with 26 ways to fall in love with sun-dried tomatoes.
Here Are Two Easy Ways To Preserve Your Sun-Dried Tomatoes
When your tomatoes are as dry as you'd like, you can freeze them. You can slip the whole pan into the freezer when they have cooled, let them freeze solid, and then scoop them into a freezer bag or container.
They will keep in the freezer for about three months. You can take out as many as you want at a time and plop them into your sauce right from the freezer. They will thaw very fast if you chop them fine for a pizza!
I packed the tomatoes into a small jar, covered them with olive oil, and kept them in the refrigerator. I tucked in a bay leaf and a peeled garlic clove to enhance their amazing flavor even more. A pint of grape tomatoes dried down to fit in a half-pint jar.
Yield: One cup
Easy "Sun-Dried" Tomatoes In Your Oven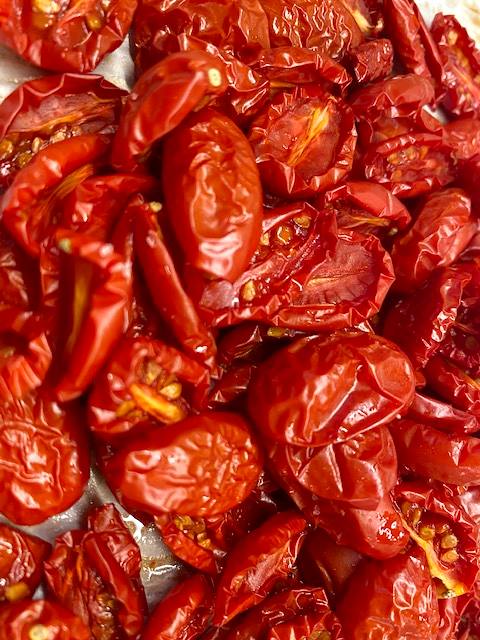 You can make delicious sun-dried tomatoes in your oven, then freeze them or pack them in olive oil. They are so much less expensive and better tasting than "store-bought."
Total Time
3 hours
5 minutes
Ingredients
Grape or cherry tomatoes
Salt
Italian seasoning, optional
Olive oil, optional
Instructions
Wash the tomatoes, then cut them in half.
Place tomatoes on a parchment-covered rimmed baking sheet cut side up.
Sprinkle lightly with salt and Italian seasoning if you like.
Bake at 250 degrees for two and one-half to three and one-half hours or until the desired dryness level.
Watch carefully toward the end of baking time so they do not burn.
Freeze on the sheet in a single layer after they are cool, then pack in freezer bags or containers.
If you prefer, pack the sun-dried tomatoes into a jar and cover them with olive oil. Keep refrigerated.
The olive oil will solidify when refrigerated but quickly liquify when brought to room temperature.
It takes quite a bit of olive oil to cover the little guys, and I will use some of that oil in my cooking as I use them. It is important to add enough oil if needed to keep them covered.
Don't be alarmed at the appearance of the jar when you remove it from the refrigerator. The olive oil will solidify when the tomatoes are refrigerated, but the oil will quickly liquefy when it reaches room temperature.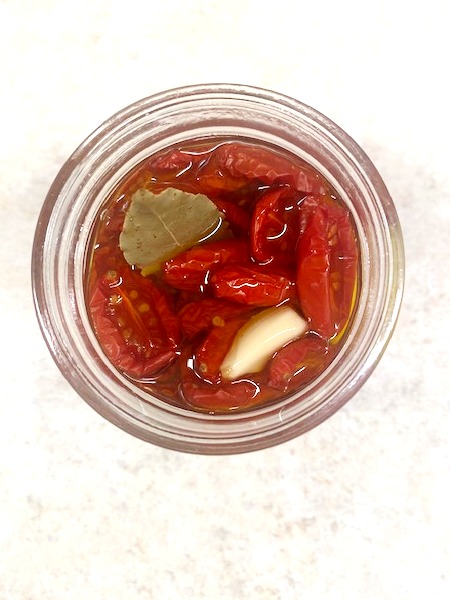 In the last few days, we have shown you how to make caramelized onions in your crockpot, sheet pan beer bread, and roasted garlic in your oven. We can't wait to hear how you will use these yummy ingredients to create something amazing in your kitchen! You are ready to make some fabulous dishes with sun-dried tomatoes.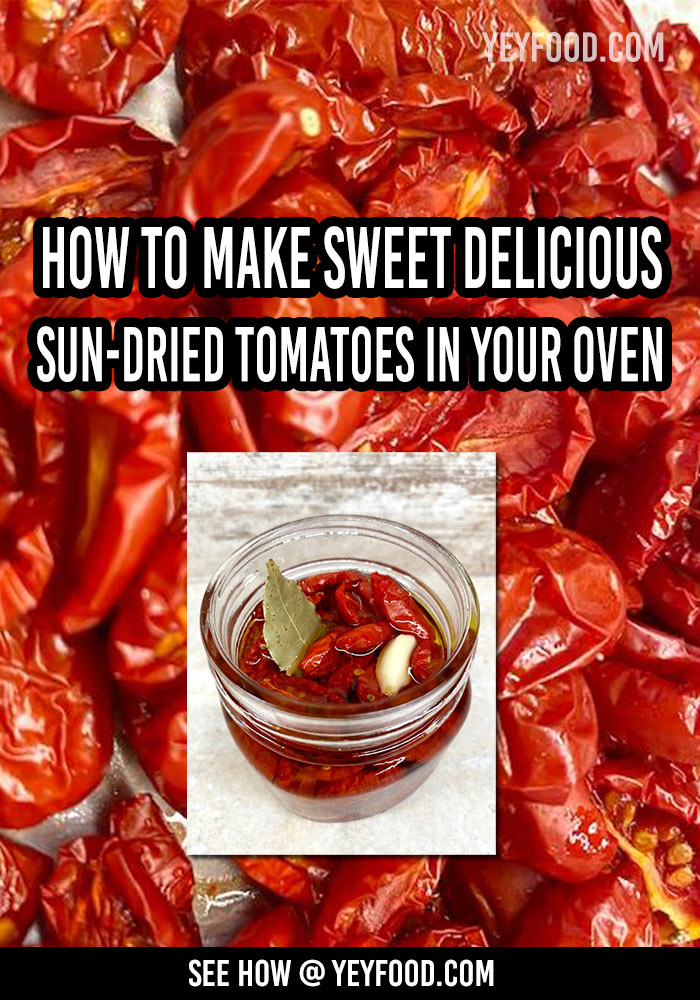 MORE TASTY RECIPES FROM US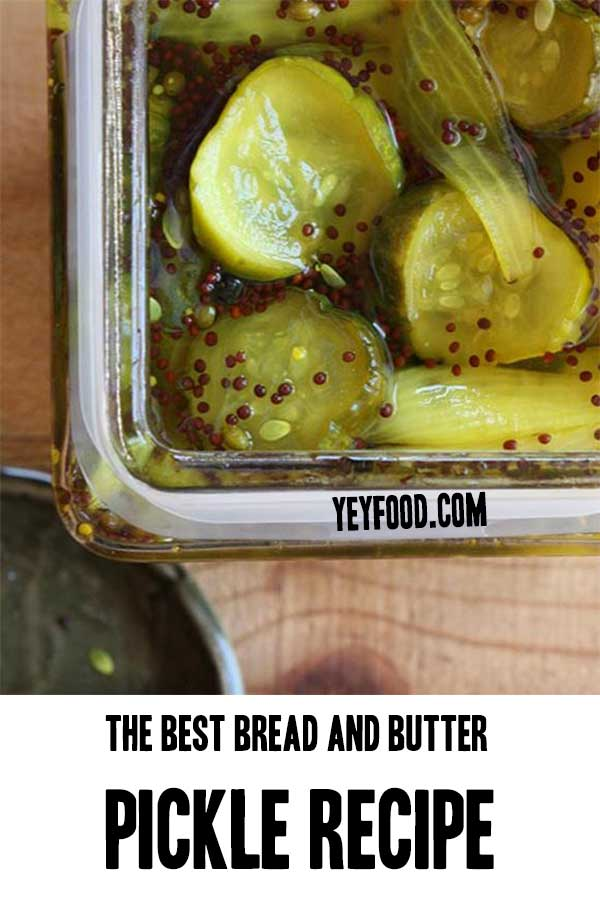 The Number 1 Practically Perfect Poppy Seed Bread
Insanely Crisp and Chewy Peanut Butter Cookies
So, please share this recipe on your social media accounts like Facebook, Instagram, Twitter, and Pinterest. We would be honored and ever so grateful; thank you!